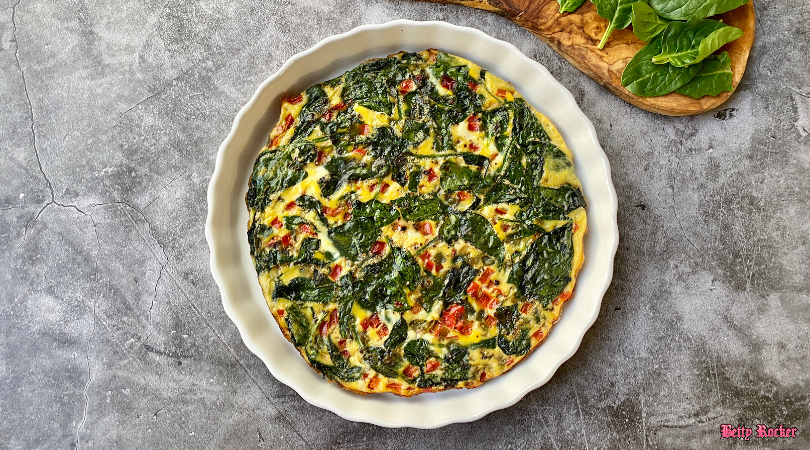 Perfect for any meal from brunch to dinner, frittatas are tasty, versatile and delicious!
This Spinach Red Pepper Frittata is easy to make and is sure to impress anyone sitting down at your table with its colorful array of healthy ingredients.
I used spinach in this recipe giving you a dose of potassium which can reduce your blood pressure (1). The red pepper is high in folate which is important for proper immune function, digestion, and regulating your mood (2). And finally the eggs give you both fat and protein – important nutrients for muscle growth, a healthy heart and brain function (3, 4).
You can get creative with the leftovers (if you have them). I love to use a slice as a sandwich filling, or serve it with a salad for a quick lunch or dinner.
Enjoy Rockstar! 
Spinach Red Pepper Frittata
Yield: 4 servings
You will need: 8×8 or 9×9 square baking pan or pie plate, whisk, mixing bowl, sauté pan, mixing spoon, knife, cutting board
Key: T=Tablespoon; tsp=teaspoon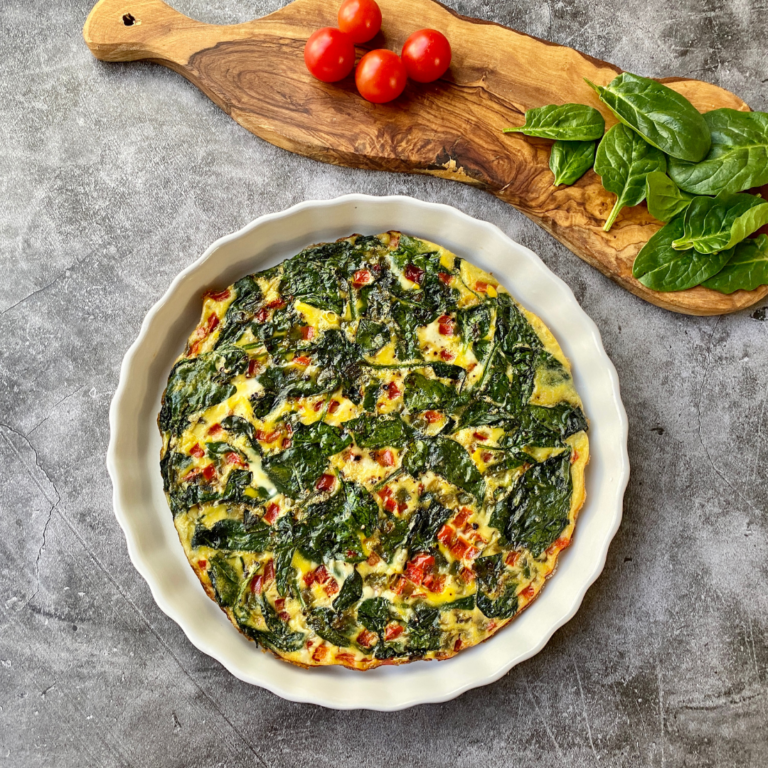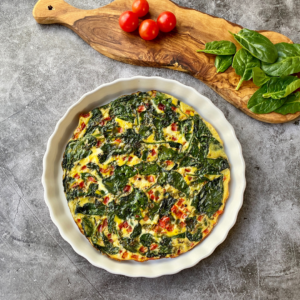 Ingredients:
6 eggs
1/2 cup egg whites
1 T olive oil
1/2 red onion, chopped
1 red bell pepper, diced
2 cups spinach
1/4 cup unsweetened almond milk or milk of choice
1/2 tsp sea salt
1/4 tsp pepper
Directions:
1. Preheat your oven to 350 F. Coat a square baking dish or pie plate with oil.
2. Heat the cooking oil over medium heat in your sauté pan and add the onion, cooking a few minutes until soft.
3. Add the peppers and spinach, cooking until the spinach is wilted. Pour into the baking dish to cool slightly.
4. In a mixing bowl, whisk together the eggs, egg whites, almond milk, salt, and pepper.
5. Pour the egg mixture over the vegetables and bake for 20-25 minutes, until set. Cut into 4 slices.
Nutrition Facts
Calories per Serving:

171
Let me know if you make this recipe and how you served it. I love hearing from you!
---
Looking for some help making healthy eating easy?