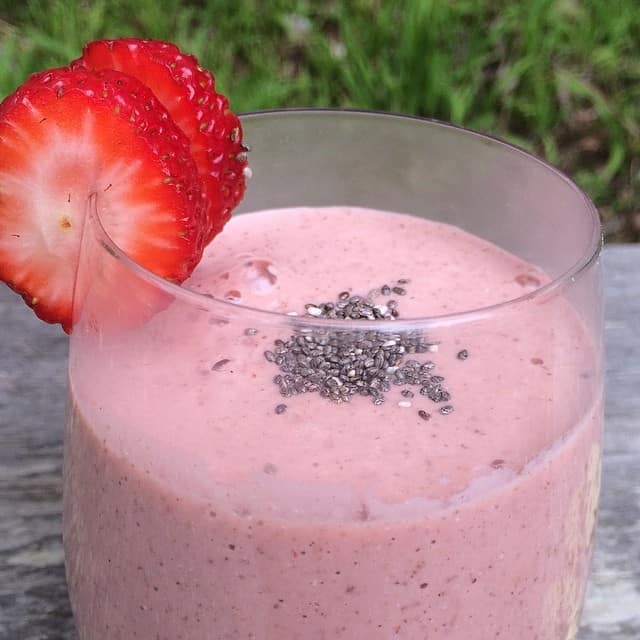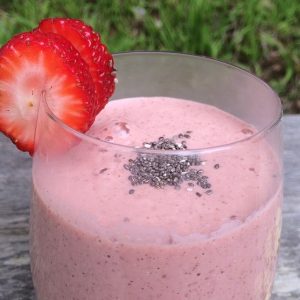 Today I was just craving strawberries. Always a good idea to listen to the body, so I made this tasty strawberry smoothie.
Do you use chia seeds in your smoothies?
They're definitely a staple in mine, and here's why: they're naturally supportive to your gut health, and contain a healthy dose of Omega's and fiber.
If you soak them in some liquid, they'll form a gel that's easy to digest and will help move things through your digestive system.
These powerful little seeds can really help you feel full for much longer than their tiny size suggests. Try out today's recipe for a delicious blend!
---
Strawberry Chia Breakfast Smoothie
8 strawberries
1 T chia seeds, soaked in:
1.5 cups unsweetened almond milk
1 tsp vanilla
1 serving (30 grams) I ❤️ Vanilla Protein
1/4 lemon, squeezed (juice)
I like to soak the chia seeds for about 5 minutes, or as long as it takes me to get out all the other ingredients and get the berries washed and ready.
Blend everything in your blender. Add a little more liquid as needed to get a consistency you like!
Nutrition Facts
Calories per Serving:

294
You can get even more delicious recipes using  I ❤️ Vanilla Protein in the free recipe guide that comes with your first purchase!