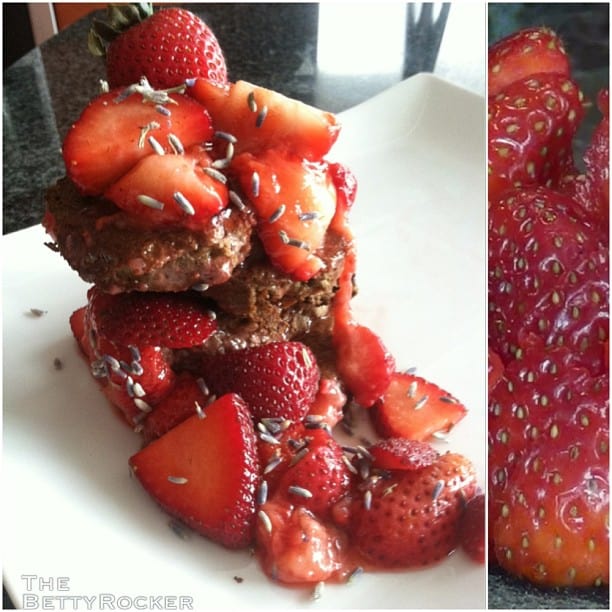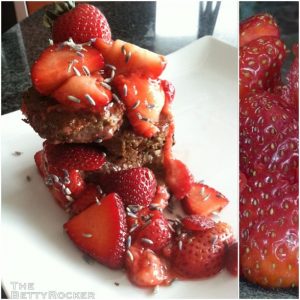 And…this is the kind of awesomeness that happens when I run out of eggs. One of the great things about all of the different eating styles is that they can expand your cooking and eating range immensely.
Whether it's vegan, raw, paleo or vegetarian – people with different eating needs have been getting creative with food for years. In Day 5 of last week's challenge, we talked about the importance of including a broad spectrum of food in our daily diet to increase our nutrient range.
I love my Warrior Force protein powder, but it's plain and doesn't taste like much – which I like to take advantage of in baking quite often to add a little protein to things like muffins, pancakes and today, French toast.
Strawberry Vegan French Toast
Yield: 2 servings
You will need: shallow baking dish, whisk, skillet, spatula
2 heaping tsp Warrior Force plain protein powder
1 tsp milled chia seeds (you can also grind whole chia seeds in the coffee grinder)
1/2 tsp cinnamon
1/4 tsp cardomom
1/4 tsp nutmeg
1/2 tsp vanilla
1/4 cup unsweetened almond milk
4 slices GF or Sprouted Grain bread
Strawberries, lavender if desired for garnish
Directions:
1. Combine dry ingredients and mix together.
2. Add almond milk and vanilla and stir. It will make a thick paste.
3. Soak bread. I was using some home made bread that was baked in mini loaf pans (I used 4 mini slices) – for one serving, 2 regular sized slices work well.
4. Cook evenly on both sides over medium heat in a little coconut oil.
5. Serve with fresh or frozen strawberries. I use frozen and defrost them so they melt like in the picture. It's better than syrup! I had some fresh lavender and that's what's on top.