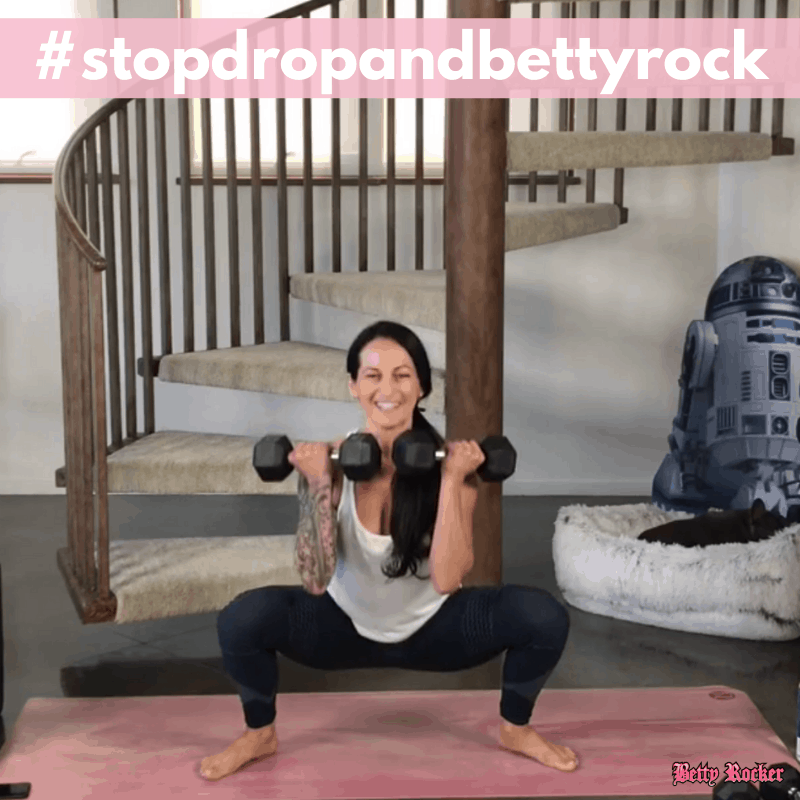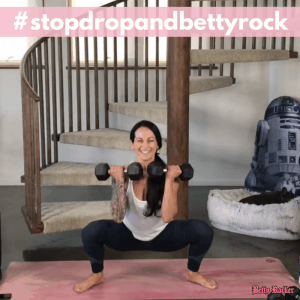 Hey Rockstar! If you're looking to get some cardio and full-body strengthening in today, this workout is perfect for you!
You'll recognize this style of training if you've done my 8- week Home Workout Domination program before which pairs explosive cardio with strengthening moves so you get stronger while burning fat!
In today's workout, you can expect cardio-intensive moves like plank jump ins and surfer pop ups to get your heart rate up (with low impact options) plus toning moves like squats, lunges and bicep curls to sculpt lean muscle!
Remember when it comes to your goals, it's not a sprint or race to reach them.
It's about showing up to all 4 pillars of health, being consistent, and developing healthy, sustainable practices that will serve you in the "long run!"
---
Listen for the breakdown for different fitness levels and form cues so you know how to make each move right for where you're at! Hit play and join me for this super fun superset workout!
---
One-off workouts are great, but having a plan to follow is even better! Check out Home Workout Domination for a total home workout program that uses minimal equipment and will get you on track to feeling and looking your best!
Strength and Cardio Supersets
Click to expand and see all workout move descriptions.
Equipment Needed: Weighted objects (water bottles, dumbbells, etc).
Format: Perform each movement for the prescribed time/repetitions and repeat for 3 rounds. Rest as needed.
Superset 1
Move 1: Squat with Curl (6-8 each way)
Stand with your feet slightly wider than hip-width apart, holding weighted objects in your hands with your palms facing you. 

With your core engaged and your shoulder blades pulled back and down, shoot your booty back behind you as though you were going to sit on a chair – keeping the weight in your heels and chest up.

As you squat down, perform a bicep curl with both arms by curling the weight up to your shoulder while contracting your biceps (palms facing you).

Power through your heels to come back up to a standing position and as you stand, reverse your bicep curl to bring your weighted objects back down to your sides and repeat.

Advanced Option: After you stand up out of your squat, pivot to the left to stand in a split stance position and perform a lunge. Pivot back to your squat stance, perform your standard squat curl and as you come out, pivot to the right for another lunge and repeat that sequence back and forth.
Move 2: Plank Jump Ins (8-12)
Begin in a tall plank position with your core engaged, shoulders stacked over your hands and your lower back slightly up toward the ceiling.

Keeping your hips down, jump both feet in toward your chest and then back out and repeat for the allotted time. 

MOD: Perform this from an elevated surface or step your feet in toward your chest one at a time. 

Superset 2
Move 1: Split Stance Deadlift (8-12 each side)
Begin standing with a weighted object in each hand and your stance offset by placing your right leg slightly behind your left like a kickstand.  

With a slight bend in your front leg, slowly hinge forward at the waist while pushing your hips back.

Bend forward as far as you can while maintaining a flat back and keeping the weight close to your body.

Come to standing by powering through your heel and squeezing your glutes at the top.

Perform all reps with your left leg in front and then switch to your right.
Move 2: Jack Press (0:30 – 0:45)
Start standing with feet together and holding one weighted object in your hands close to your chest. 

Jump your feet out wide as you press the weight straight over your head.

Jump your feet back together as you bring your arms back down to your starting position and repeat.

MOD: Take out the jump and simply step your feet out one at a time while pressing your arms overhead. 

Advanced Option: As you jump your feet out, perform a jump squat.
Superset 3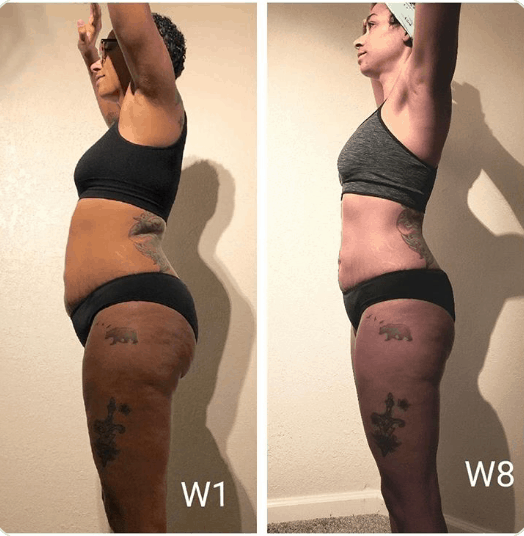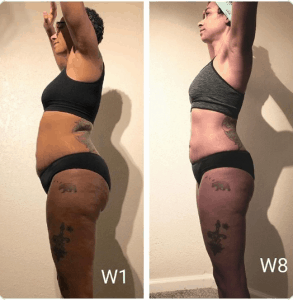 Move 1: Skull Crusher to Leg Extension (8-12)
Start lying on the ground with a weight in each hand, straight over your chest, and your legs bent at 90 degrees over hips, calves parallel to the floor.

Bend your right elbow, lowering the weight toward the top of your head while the upper arm remains perpendicular to the body.

As you bend your arm, extend your opposite leg out toward the floor, maintaining

blueberry spine

. 

Return to your starting position and repeat on the other side. (Try not to lock out your elbows at the starting position; instead, stop just shy of locked position to maintain tension in your muscle.)
Move 2: Surfer Pop Ups (0:30-0:45)
Begin in a tall plank position with your core engaged and shoulders stacked over your hands.

Jump your feet in toward your chest and over to the right side, landing in a deep squat with feet turned out. Pop up to do a jump squat and then plant your hands on the floor and jump back into a tall plank.

On the next rep, jump your feet in toward your chest and to the left side and repeat.

MOD: Perform this move from an elevated surface or step your feet in one at a time to the side and stand up in a body squat instead of jumping. 
Amazing job Rockstar! Check in with me and let me know how you liked the workout and how you're taking care of your health today with nutrition, sleep and stress management too (our 4 pillars)!
---
If you like this style of workout, you'll love Home Workout Domination, an 8-week combination of resistance training, explosive cardio, and yoga that you can rock out at home!