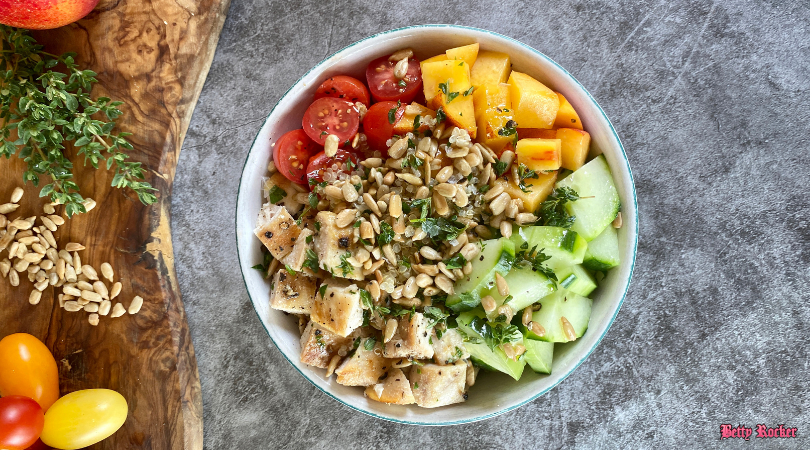 I'm always looking for exciting new ways to use my favorite staple ingredients, and I think you'll really love this fresh and healthy summer salad!
My goal in building a balanced meal is to focus first on protein, and then add in complex carbs, healthy fats and lots of veggies. This recipe combines chicken and quinoa with tomatoes, cucumbers and peaches, and it's sure to bring the taste of summer right to your table. I've included a vegetarian version for you with tempeh as well!
Why do I focus on the protein first? Because it's the most satisfying to your body of the nutrients (even more so than fat or carbs) and the essential amino acids that your body breaks dietary protein down into have important jobs that support your brain, enzyme and hormone function, immune system and muscle tissue.
Unlike carbs and fat, your body has no "storage tank" for amino acids, so it's important to include a solid serving of it with each meal opportunity to keep your body running smoothly. Read more about how protein supports your body right here.
If you haven't had quinoa before, I definitely recommend this tasty and healthy grain. It's rich in fiber, minerals, antioxidants and contains a small amount of all nine essential amino acids which are vital for muscle growth and development (1, 2, 3). It also has a unique balance of protein, carbohydrate and fat which makes it extremely nutrient dense (4).
I also used fresh basil in this recipe which contains some really beneficial volatile oils that have anti inflammatory benefits – a quality that is great to have after you've conquered a tough workout session. It's also great for your gut health. (5)
This salad is super easy to put together and there are endless variations you can try depending on your preferences and what's in season. Let me know how you like it!
---
Summer Quinoa Salad
Yield: 4 servings
You will need: fine mesh strainer, small pot, grill or large skillet, tongs, small mixing bowl, whisk, cutting board and knife, measuring cups and spoons, peeler
Key: T = Tablespoon; tsp = teaspoon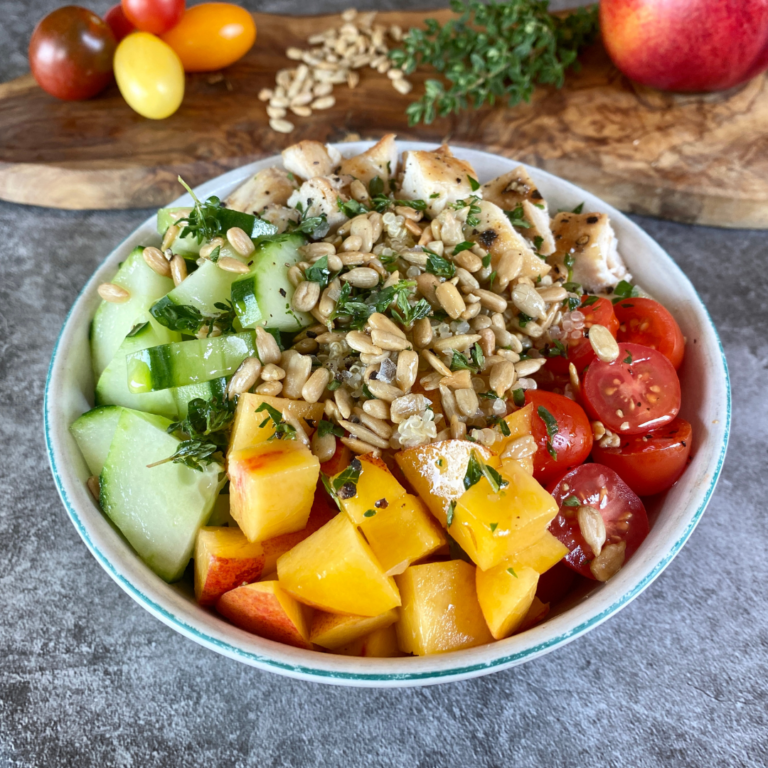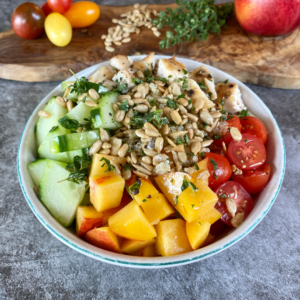 Ingredients
1/2 cup quinoa, rinsed and soaked
1 cup chicken bone broth or vegetable broth
2 (5-6 oz) boneless skinless chicken breasts (or 16 oz package of tempeh)
1/4 tsp sea salt
1/8 tsp black pepper
1 cup cherry tomatoes, halved
1/4 cup fresh basil, chopped
1 peach, pitted and diced
1 cucumber, peeled and sliced
2 T sunflower seeds, toasted
For the dressing:
1 lemon, juice of
1 tsp fresh thyme, finely chopped
1/2 tsp dijon
1/4 tsp sea salt
1/8 tsp black pepper
2 T olive oil
Directions
1. Add quinoa and bone broth to a small pot over medium-high heat and bring to a boil. Cover, reduce heat to low and simmer for 15 minutes, or until all liquid has been absorbed. Once fully cooked, transfer to the refrigerator to cool.
2. While the quinoa is cooking, season chicken breasts or tempeh with salt and pepper and grill (or sauté) for 3-5 minutes on each side, until cooked through. Set aside to cool. Once cool, cut into 1/2 " pieces.
3. Combine all ingredients for the dressing in a small mixing bowl and whisk until well combined.
4. In a large mixing bowl, combine the quinoa, chicken/tempeh, tomatoes, basil, peaches and cucumber. Toss until well combined.
5. Top salad with desired amount of dressing and toasted sunflower seeds.
Nutrition Facts
Calories per Serving:

301
Enjoy Rockstar! Let me know if you make this and how you liked it – I love hearing from you!
---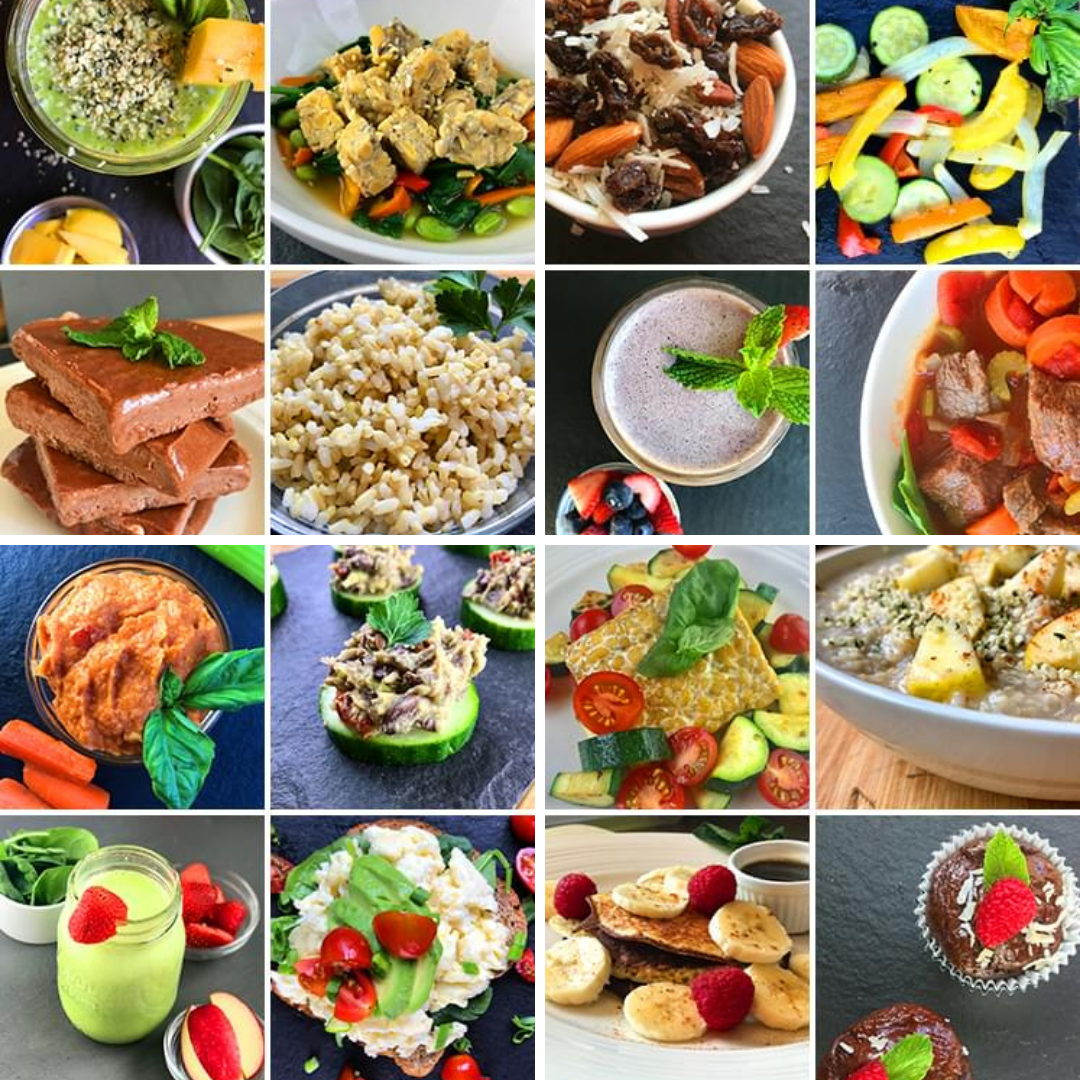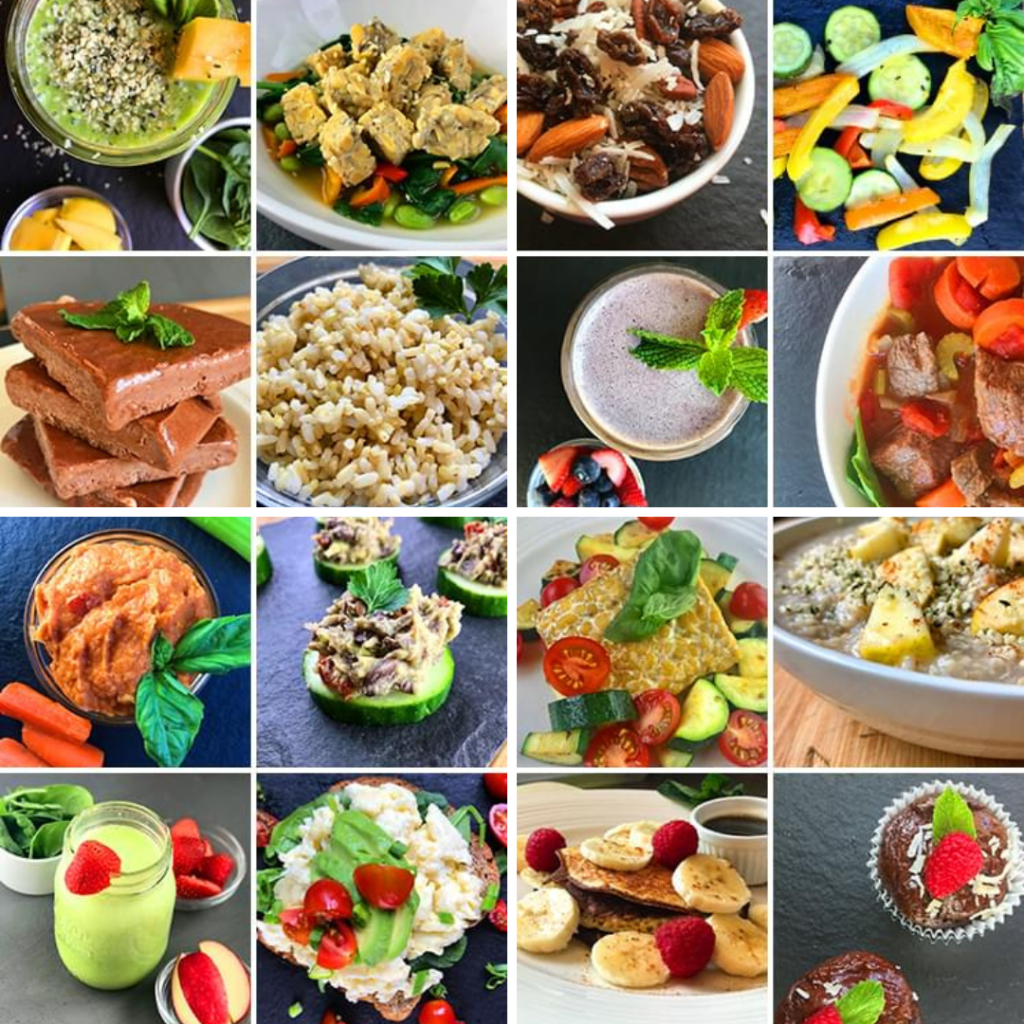 The 30 Day Challenge Meal Plan includes all the recipes and grocery lists for breakfasts, smoothies, sides, snacks and entrees for 4 full weeks – with plenty of delicious options and structure to help you eat right for YOUR life!