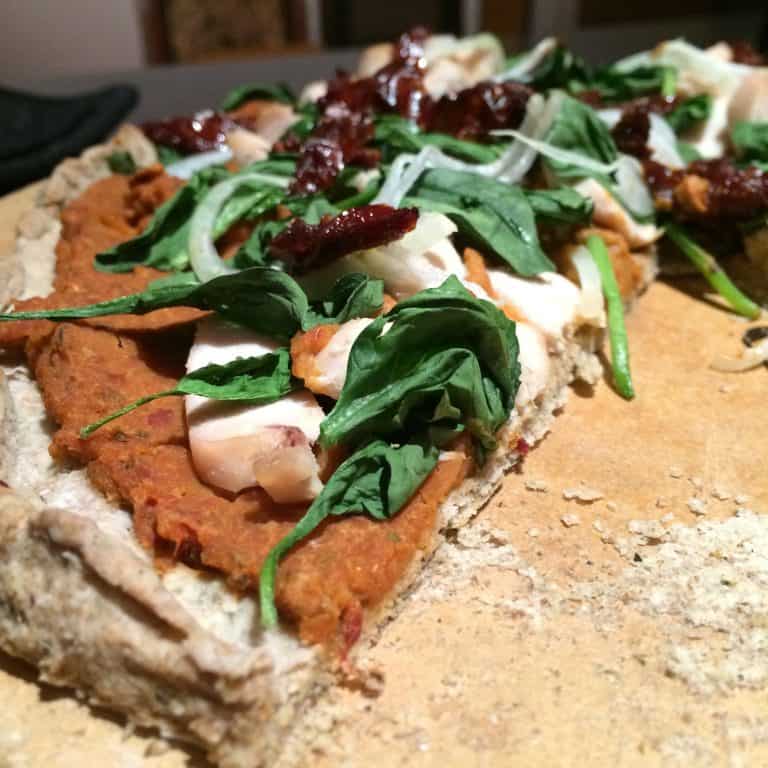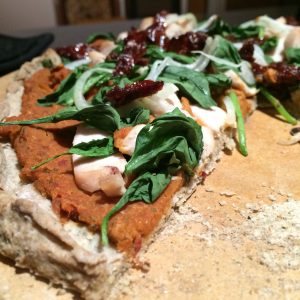 I really loved the Pie Crust recipe I made a couple weeks ago, and wondered if I could adapt it to make an equally delectable Pizza Crust.
For me, there has not been a great alternative to regular pizza crust – I love the way cauliflower pizza crust tastes, but it's a pain to make, and some of the other recipes I've made – while tasty – haven't held up well after a day in the fridge.
And pizza the next day is AWESOME.
I think what you'll find with this recipe is that it's very easy to throw together in the food processor, it rolls out without any trouble, and holds together beautifully without cracking.
Once it's baked, it holds your pizza toppings perfectly in place while you go from plate to mouth. You could try any variety of seasonings you like – this should get you started off right.
Let me know if you have any questions, and please share your toppings and variations with me in the comments below so I can try them!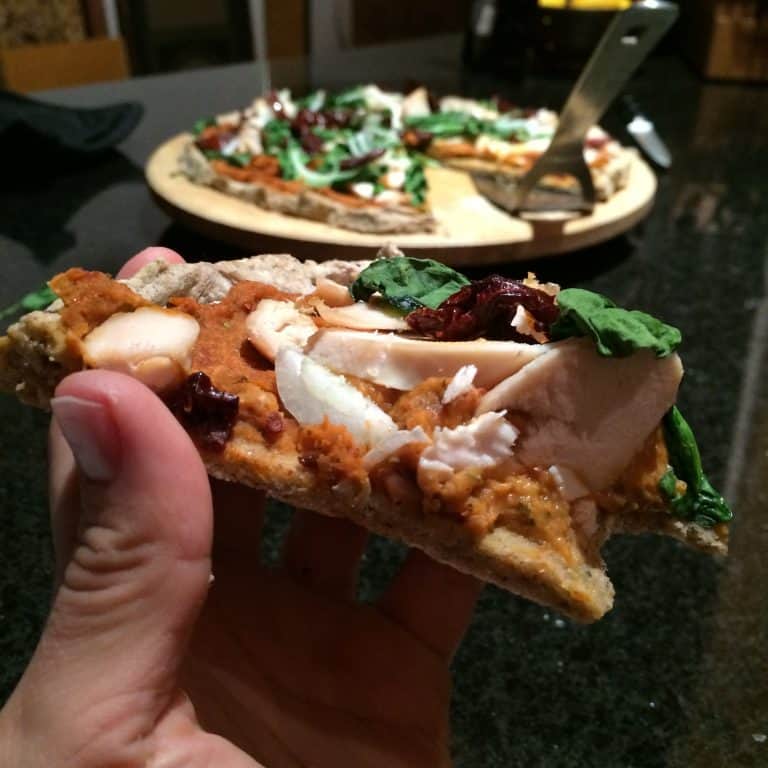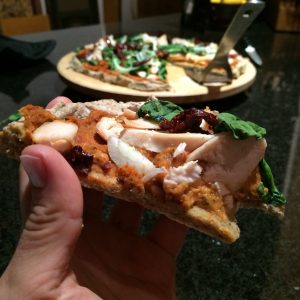 Pizza Crust (gluten free, dairy free, nut free)
You will need: food processor, measuring cups and spoons, pizza stone or baking sheet, parchment paper, rolling pin (optional)
1/3 cup ground chia seeds
½ cup water
1/3 cup arrowroot powder (a little extra for rolling out your crust)
1 tsp sea salt
2 1/2 cups unsweetened coconut flakes (almost an entire 8 oz bag)
1 1/2 tsp dried oregano
1/2 tsp red pepper flakes
1/2 tsp ground fennel
1 1/2 tsp dried basil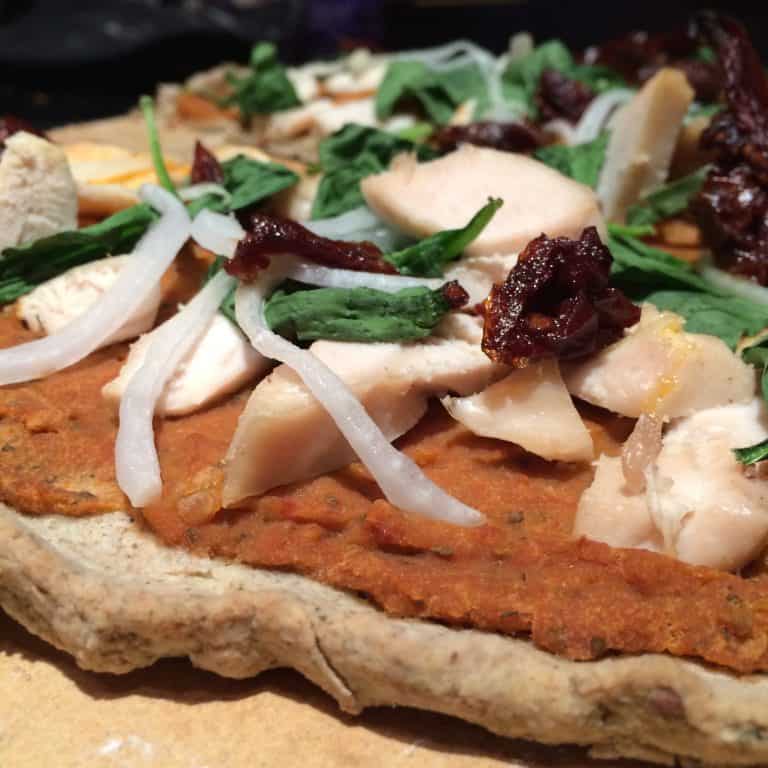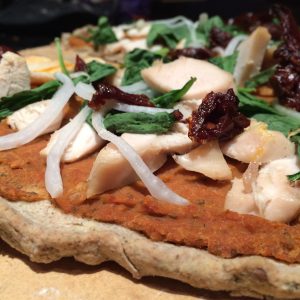 Directions:
1. Preheat the oven to 350 F.
2. Mix the ground chia seeds and water until it gets thick. Set aside.
3. In a food processor, add the arrowroot powder, sea salt and coconut flakes and process until it all starts to clump together (this will take a couple minutes).
4. While the food processor is running, add in the spices. Scrape down the sides if needed.
5. Add in the chia seed and water mixture and process again until it looks uniform.
6. Sprinkle some extra arrowroot powder on a sheet of parchment paper. Form the dough into a ball and place the dough on top of it and top with another piece of parchment paper.
7. Roll out the dough using a rolling pin until it is an even thickness (about ¼ inch thick).
8. Sprinkle a pizza stone or pan with arrowroot powder to prevent sticking and transfer your dough to the pan. Roll up the edges if you want a thick outer crust. Poke it a few times with a fork.
9. Bake for 20-25 minutes.
10. To assemble, add the sun-dried tomato spread on to the pre-baked crust. Top with whatever you like and bake at 350 F for another 15 minutes.

Nutrition Facts
Calories per Serving: 379
Sun-dried Tomato Spread
You will need: food processor, sautee pan, spatula or wooden spoon, cutting board and knife, can opener, measuring spoons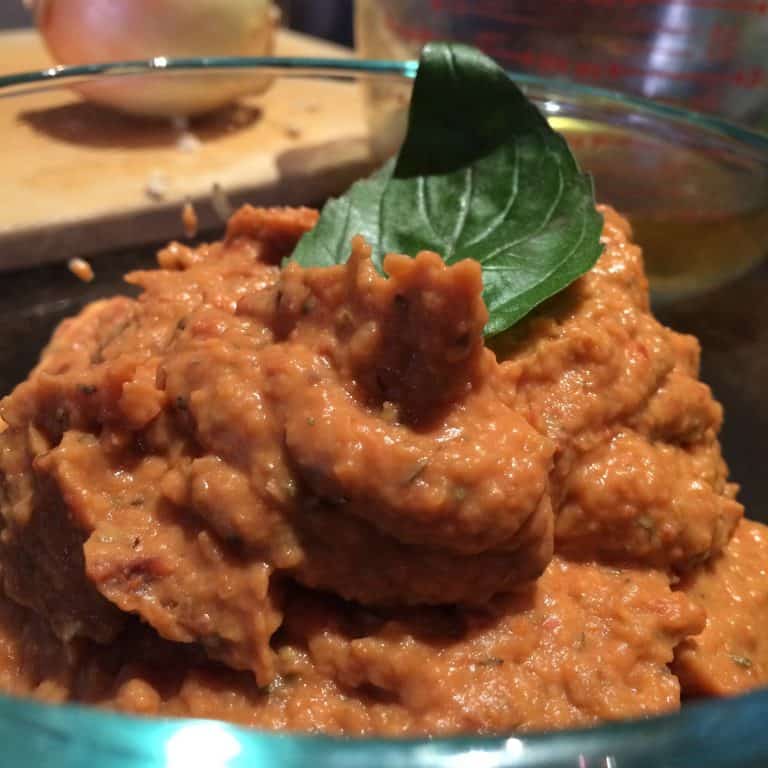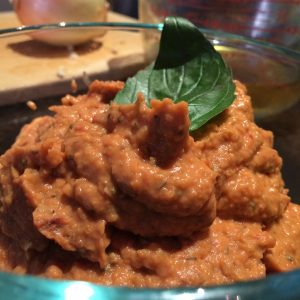 1/4 cup sun-dried tomatoes (dry, not packed in oil)
1 cup warm water
1/4 -1/2 cup chopped onion
1 (15 oz) can cannellini beans (any white bean is fine)
1 clove garlic
2 T olive oil
1 T lemon juice
2 tsp red wine vinegar
1 tsp dried basil
1 tsp dried oregano
1/2-1 tsp sea salt
Directions:
1. Put the sun-dried tomatoes in a small bowl and cover them with the warm water for 15 minutes.
2. While the tomatoes soak, cook the onions in a small pan with a little olive oil until they are brown.
3. Take the tomatoes out of the water and chop them (save the water). Chop up the garlic into little pieces.
4. Put the beans, sun-dried tomatoes, onions and 2 T water from the tomatoes in a food processor and process until fine. Add the rest of the ingredients and blend until it looks creamy. Add more of the tomato water if it looks too dry.
Nutrition Facts
Calories per Serving: 173
My Toppings:
Shredded pre-baked chicken
Baby spinach
Thinly sliced onion
Sun-dried tomatoes, chopped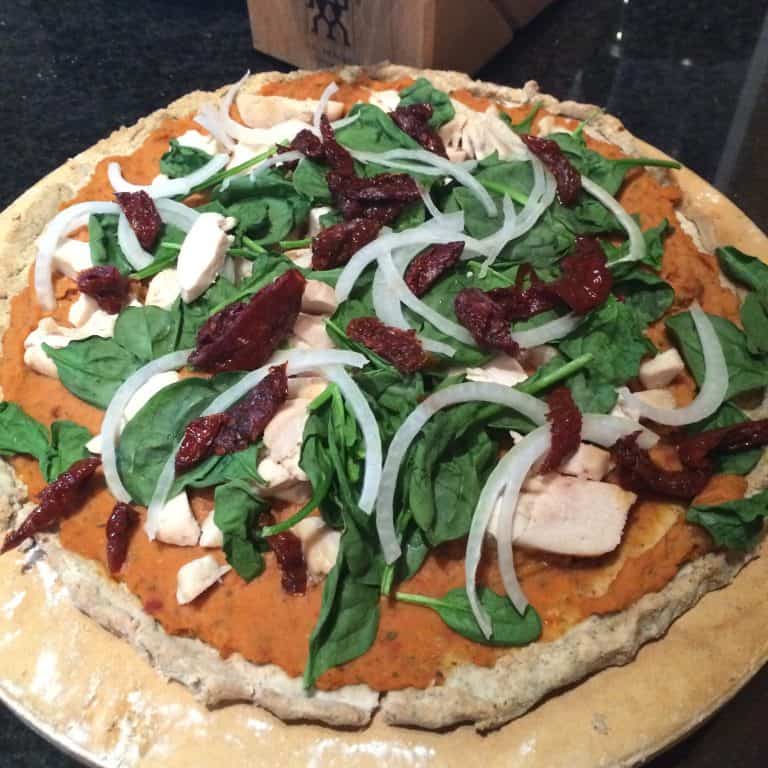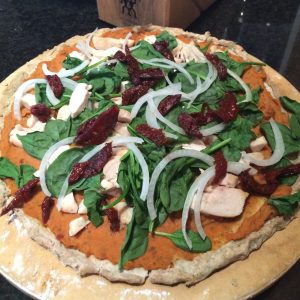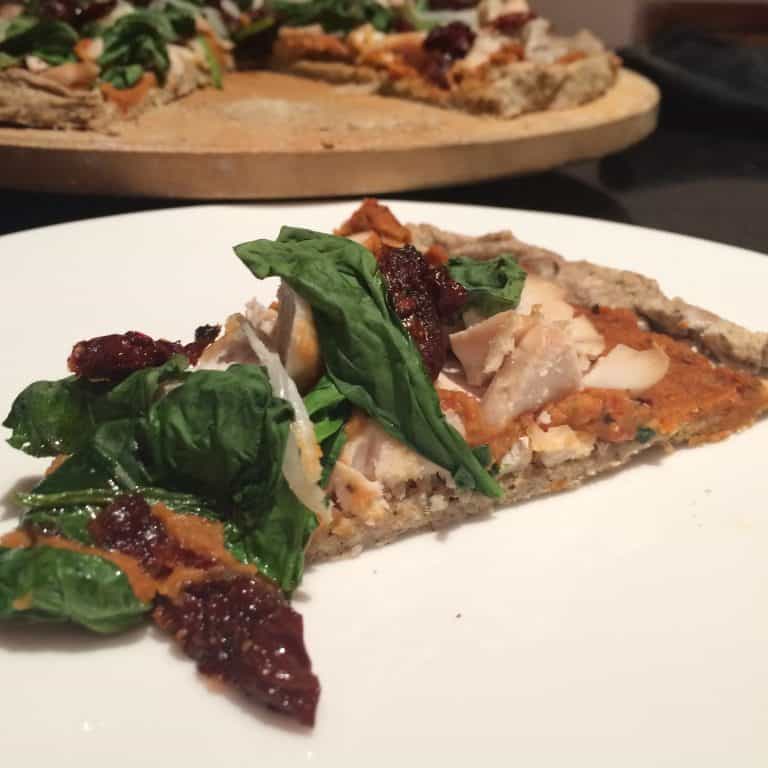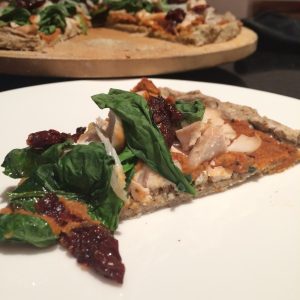 ---

The Body Fuel System uses my simple, proven Eating Types to make it easy to stay on track. It also gives you healthy, fat-burning recipes and foods you can eat to look and feel your BEST every day!
Recipes like….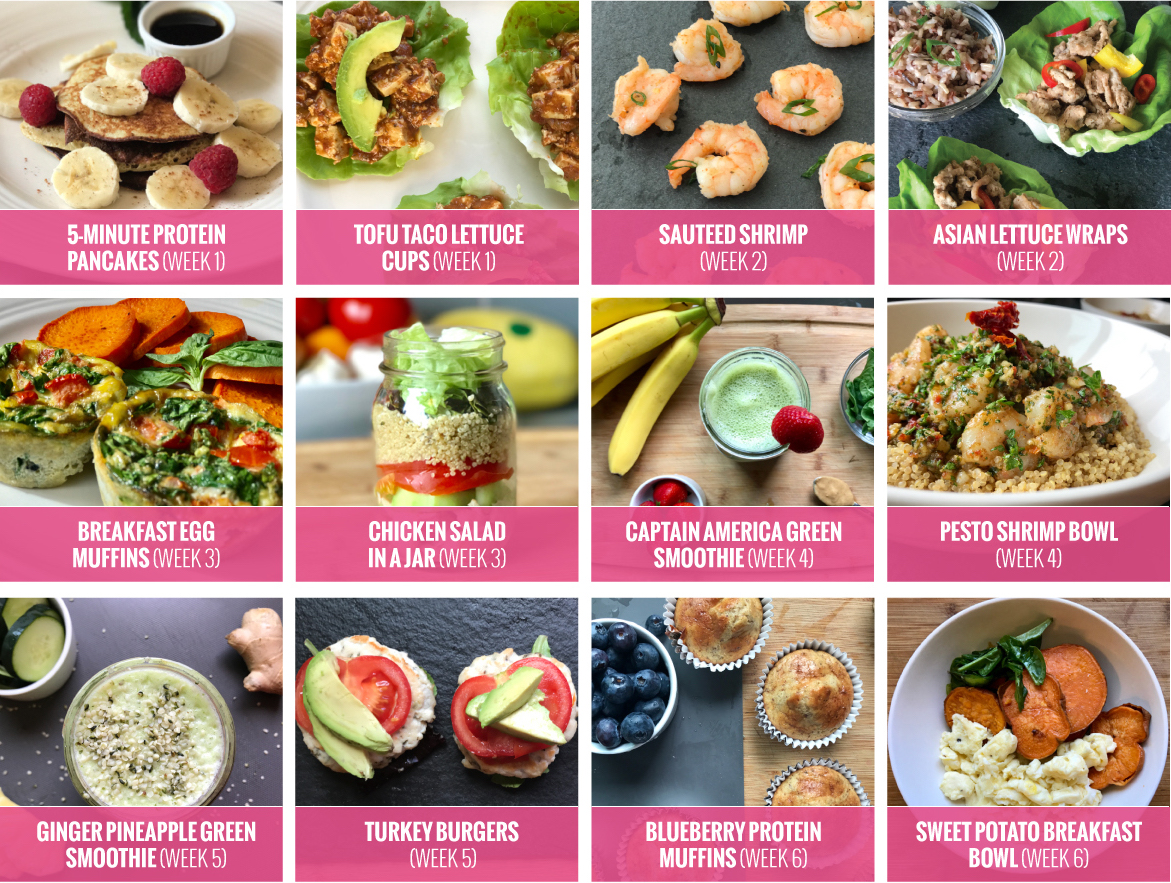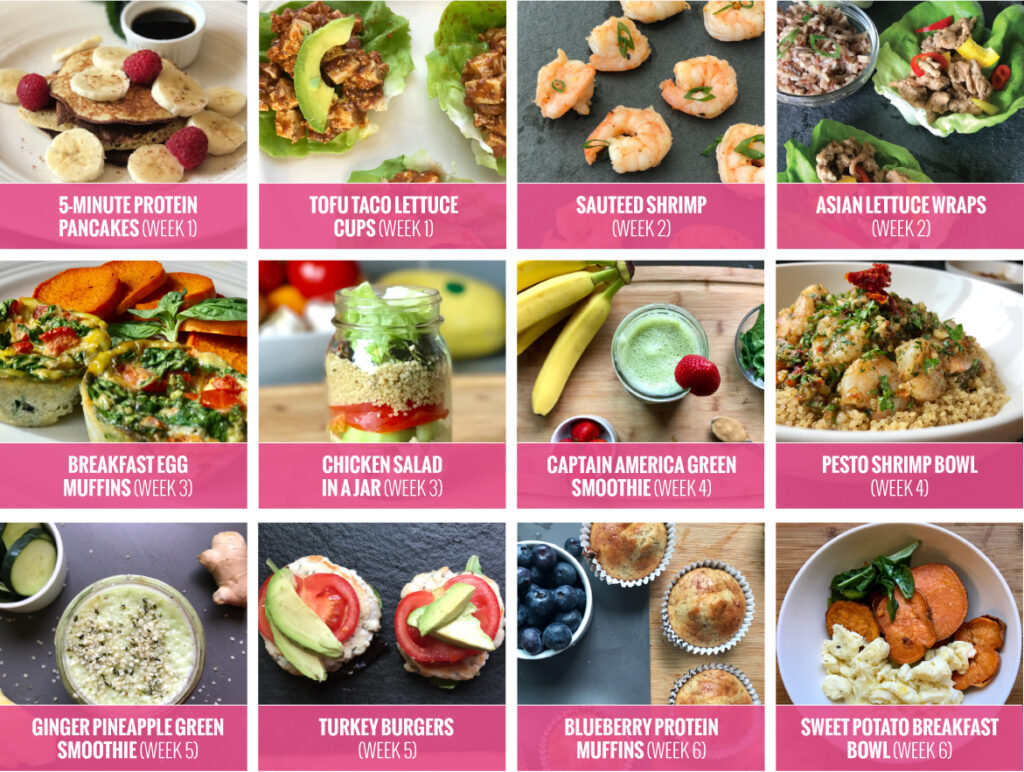 This is my signature eating system and it contains 6 weeks of done-for-you meal planning and recipe guides! You will not only learn the strategies that have given me long-term success, but also enjoy the time-saving benefits of having it all planned out for you!