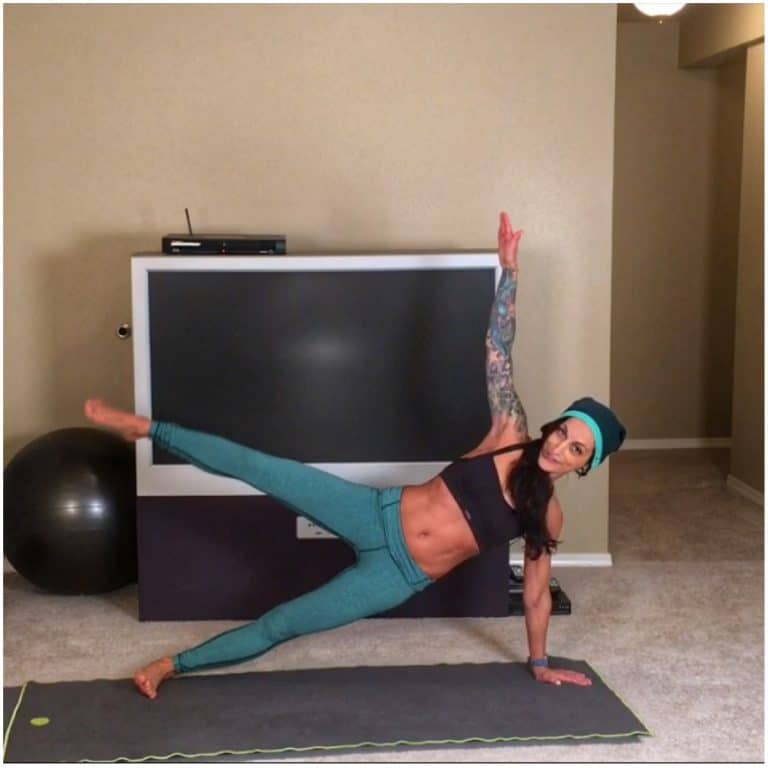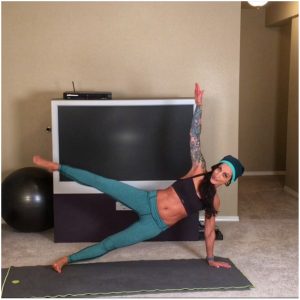 I've got a powerful workout for you today that will really target your core and give you an awesome cardio burn too!
Try this super circuit to shred your abs – no equipment needed!
To really see your abs, you need to focus on 2 important training tips:
1. Your core is more than just your stomach.
It encompasses the lower and upper abdominals, the obliques, the deeper stabilizing band called the transverse abdominals, and the lower back muscles.
Incorporating all of these parts of your core into your abs training will get you faster results, as the balance and stability you create cues your body to build strength more efficiently.
Every major movement you make calls on your core to help you stabilize, so having good strength here will help you maintain good form and have more power in all of your other workouts and daily movements as well.
2. Burn Fat Systemically with explosive movement and healthy eating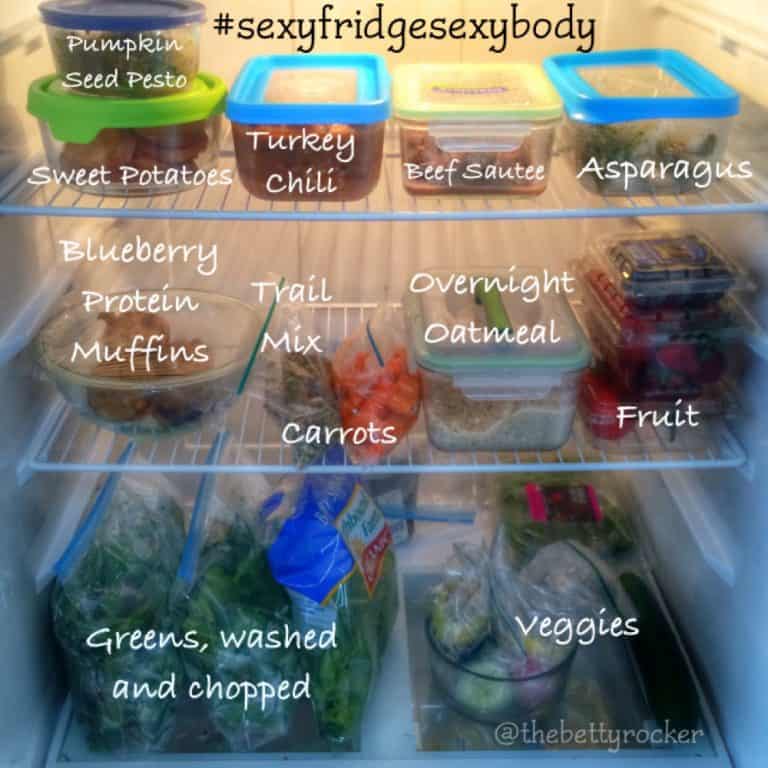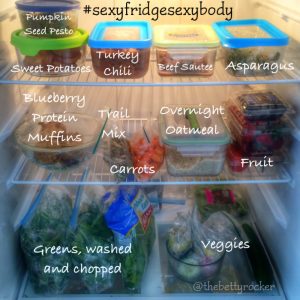 You cannot spot reduce fat. That means doing a lot of ab exercises alone isn't going to magically give you abs – you already have them. They might just be temporarily camouflaged.
To burn off the fat layer that's hiding those strong stomach muscles, perform full body explosive movements (like the burpees in this circuit) to melt fat off, and eat a balance of healthy, whole foods (use my meal plan guides for great done-for-you menus, recipes and everything you need to succeed). Fat comes off in the same order it goes on, which is mostly governed by genetics.
Doing short, fast explosive circuits like the ones on my blog will also really target systemic fat reduction, and when you combine them with proper nutrition, you'll create a healthy, holistic recipe for fat loss that's easy to sustain and will give you the best results without some crazy machines, diet pills or starvation diets.
Ok – let's get right into this circuit!
Super Shredder: Abs and Cardio Home Workout
Click to expand and see all workout move descriptions.
Format: 3 Rounds
Move 1: Straight Leg to Wide Leg Raises – 10 each
Lay on your back, and bend your knees.
Engage your lower back with the floor or mat.
Straighten your legs, keeping your back flat and lift them straight up to 90 degrees.
Lower them down and widen them out.
Lift again with wide legs.
You can also do the lifts with your knees bent as you're building strength in your lower abs and get a great workout!
Move 2: Sit Up to Cross Punch – 10
Lay on your back with your knees bent. Hook your feet under the couch or anything handy to hold your feet down, or if you're more advanced do this without any support.
Bend your arms, placing soft fists by either side of your chin.
Use your upper abdominals to sit yourself up, driving across your body into 2 punches.
Lower down with control, making contact with your lower back on the mat and unrolling fully at the top so your head touches down.
Move 3: Inchworm Side Plank Stars 10 total
Stand at the top of your mat and engage your core. Bend your knees slightly and plant your hands on the mat in front of you.
Walk yourself out to a tall plank, hands beneath your shoulders, core engaged back not arching.
Once you're secure in your plank, rotate yourself to the right, coming into a side plank. You may scissor or stack your feet, or if you're more advanced you can lift one leg up into a star plank.
Pause briefly, then return to tall plank. Walk your hands back to your feet, coming up to stand tall again.
Walk yourself out again, this time performing a side plank to the left. Take the same variation as before.
You can also walk out to a kneeling plank, then rotate to the side, keeping the bottom knee down.
Move 4: Superman Lifts: 12
Lay on your stomach with your legs and arms extended.
Lift your legs up straight behind you, engaging your lower back, and simultaneously lifting your torso, as if you were flying through the air.
Lower with control, and repeat for the prescribed reps.
10 Burpees – Challenge: Add Tuck Jumps in Final 5!
Stand tall, and engage your core. Bend your knees and plant your hands on the mat.
Jump your feet back behind you to bring yourself into a tall plank, hands below your shoulders, core engaged.
Drop into a push up, not allowing your back to arch or sag. When you're back in your tall plank, jump your feet back to your hands and load the weight in your heels. Jump up.
For the final challenge, when you jump up, drive your knees up toward your chest into a tuck jump for an extra core and booty burn!
To modify this movement and build your strength, you can take the jumps out of the burpee. Step your feet back and forward instead of jumping, and remove the push up entirely or perform a half push up.
You can do a body squat in place of the jump squat, and to add the final 5 challenge, perform power knees as shown in the video, where you drive your knees up to your chest one at a time.
Comment below if you have any questions or to check in when you finish today's workout!
…so I can support you in ROCKING your body AND your life! Get stronger and healthier with a community of rockstars to support you, home workout challenges for a fit body, and fresh new workout classes each week to keep you motivated!