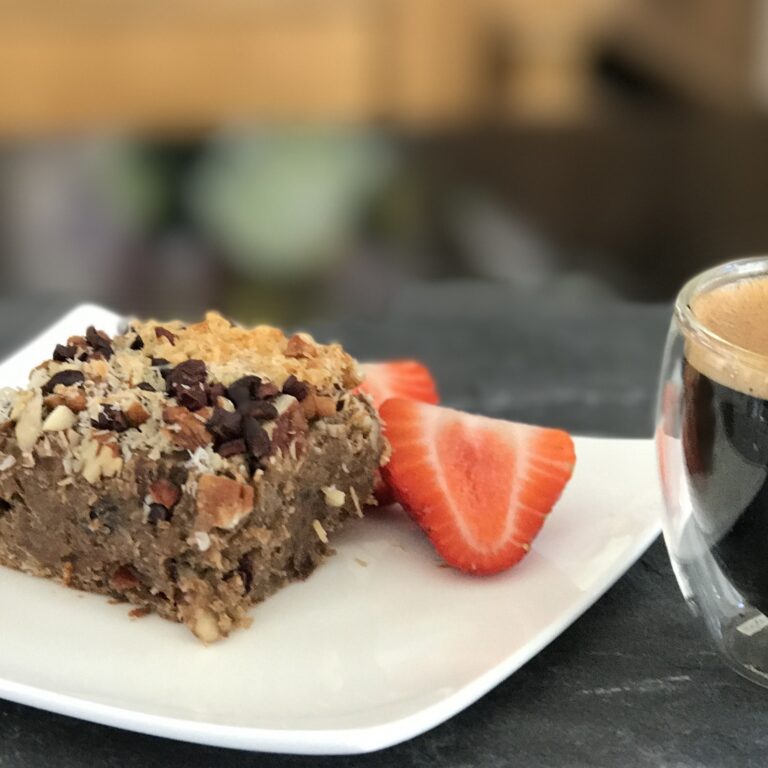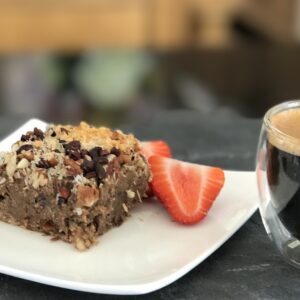 I always look forward to breakfast, especially on the weekend when I have a little more time to bake. I also love making a batch of these to have on hand for the week ahead too!
At breakfast, I'm looking for a good balance of nutrients to carry me through the day, keep my energy stable, and ensure my metabolism is functioning optimally for good health.
In the morning, your body is looking for energy and glucose after going through its stored glycogen while you slept, and it needs the right fuel to replenish.
So I make a point to get some fiber, whole food, fiber-rich carbs, healthy fat and protein.
---
Superfood Protein Cinnamon Spice Breakfast Bars
---
Not only is the texture of these cake-like bars moist and delicious, the superfoods I've included in this recipe will really set you up to feel amazing all day long. They're gluten free and dairy free, and low on the glycemic index (pro tip! use medium to less ripe bananas to keep the sugar levels down).
Check out some of the benefits: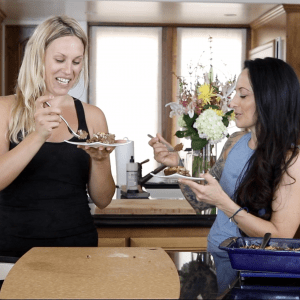 Bananas are high in fiber and minerals, a great source of antioxidants, and are easily digestible carbohydrates that add sweetness in all the right ways.
Almonds are one of the #1 food sources of Vitamin E. They are also rich in healthy fat, protein, fiber, and magnesium. (Did you know magnesium is involved in over 300 bodily functions, including blood sugar control? Make sure you get yours!)
Cacao contains an abundance of antioxidants, fiber, magnesium, essential fatty acids, manganese, iron, copper, zinc, sulfur, and calcium – to name a few.
Ginger is a fabulous source of magnesium, B6, copper, and antioxidants. It has anti-inflammatory properties, protects against motion sickness and/or nausea, and helps boost your immune system.
Cinnamon helps lower blood cholesterol, helps regulate blood sugar (which helps with cravings), can alleviate headache and migraine symptoms, and boosts both cognitive function and memory.
I love getting creative with recipes like this one that you can have on hand to satisfy all your nutrients needs – and I'm looking forward to hearing how you like it!
Superfood Protein Cinnamon Spice Breakfast Bars
You will need: food processor, measuring cups and spoons, cooking oil spray, mixing bowl, spatula, 9″x9″ baking dish
Yield: 9 Bars – Serving Size 1 bar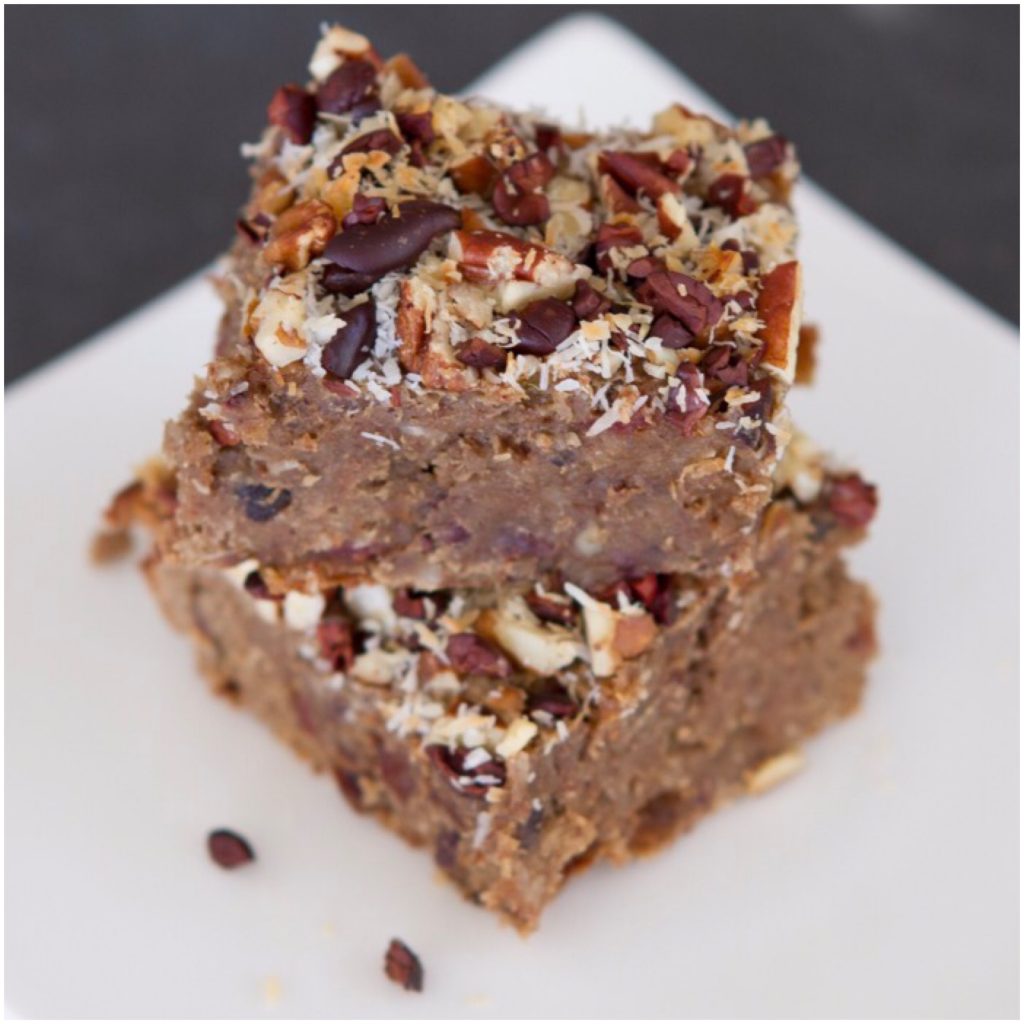 5 bananas
3/4 cup almond butter (or nut butter of choice)*
3 servings (90 grams) I ❤️ Vanilla Protein
2 tsp vanilla extract
1/2 tsp cinnamon
1/2 tsp ground ginger
1/4 tsp allspice
1/4 tsp sea salt
1/2 cup dried fruit
1/2 cup unsweetened coconut flakes
1/4 cup cacao nibs
Additional Toppings:
1/4 cup pecans, chopped
1/4 cup cacao nibs
1/4 cup unsweetened coconut flakes
Preheat oven to 350 F. Coat baking dish with oil.
Blend bananas and almond butter together in food processor.
Add protein powder, vanilla extract, spices and salt, blend until well combined.
Transfer to a mixing bowl and fold in dried fruit, coconut flakes and cacao nibs.
Once combined, layer mixture evenly into the baking dish and add toppings.
Bake for 20 minutes, until a toothpick inserted comes out clean.
Let cool for at least 10 minutes. Cut into bars for serving.
*You can use sunflower butter if you prefer not to use nut butter.
Nutrition Facts
Calories per Serving:

336
Looking forward to hearing from you today ROCKSTAR! Check in and let me know if you're going to try this recipe – and be sure to tag me in your food photos on Facebook and Instagram!
---
The Body Fuel System uses my simple, proven Eating Types to make it easy to stay on track. It also gives you healthy, fat-burning recipes and foods you can eat to look and feel your BEST every day!
Recipes like….
This is my signature eating system and it contains 6 weeks of done-for-you meal planning and recipe guides! You will not only learn the strategies that have given me long-term success, but also enjoy the time-saving benefits of having it all planned out for you!