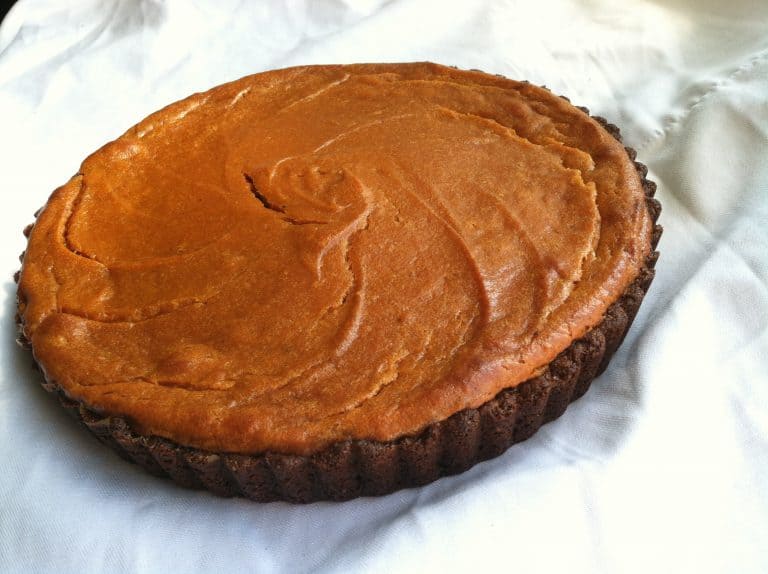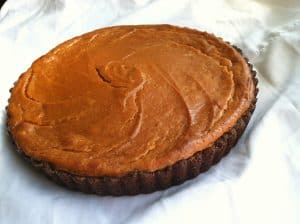 This Thanksgiving, I wanted to share one of my absolutely favorite pie recipes with you.
One that's EASY to make, tastes AWESOME, impresses EVERYONE with its gourmet appeal and, is incredibly good for you!
Not only do I love the texture this silky sweet potato pie comes out to, the crust you're pairing it with will likely become one you'll want to try with other recipes.
This crust took me about a month to get right but it was so worth it! I do different versions of it now with other nuts and it's just super simple and bakes to perfection in a tart pan.
I also have to say I feel great after I eat this pie because it's made from whole food ingredients that will fill you up with nutrients that do a lot of good for your immune system – especially during a time of year that can be a little more stressful than normal.
For example, sweet potatoes are a great source of two really important antioxidants, Vitamin A and beta-carotene. They'll help protect your cells from harmful irritants and pollutants, and boost your immune system.
Sweet potatoes are also a good source of fiber, helping you feel full longer and preventing overeating (we know we're going to eat a little too much at holidays…having whole, nutrient dense foods with fiber will help you keep that at just the right level).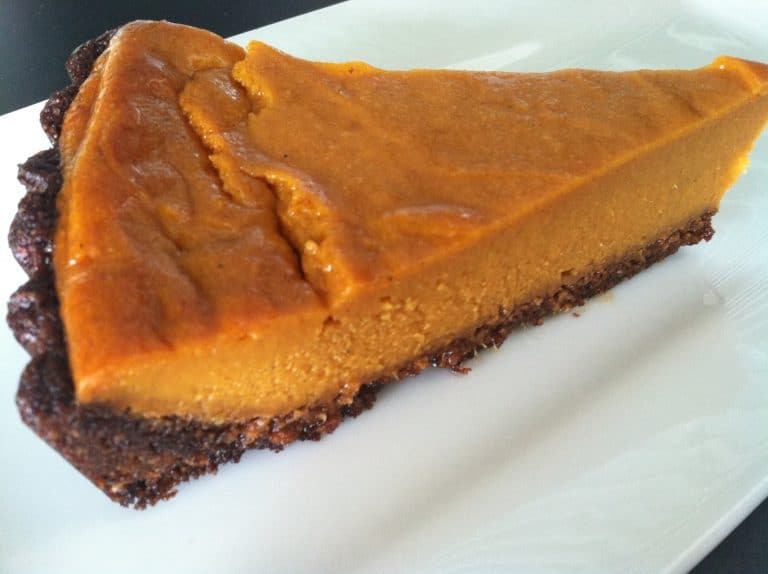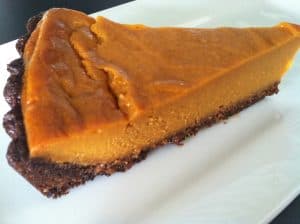 Rather than putting a ton of sugar into this pie, I compliment the natural sweetness of the sweet potato with some coconut milk (naturally sweet), just 6 Tablespoons of maple syrup (get a grade B, all natural for best results) and a heavenly Fall spice blend.
The spices themselves have some great health benefits – get the freshest spices you can to maximize this. For example, cinnamon boosts brain activity, improves circulation and contains anti-inflammatory benefits. Ginger is a powerful anti-inflammatory, and cardamom contains Vitamin A, C, potassium, calcium, copper, iron, manganese, magnesium, phosphorous, and zinc (among others!).
And in your crust you've got delicious, heart-healthy walnuts, rich in essential Omega-3 fatty acid, are an awesome source of Vitamin E – another powerful antioxidant – and are also packed with many important B-complex groups of vitamins such as riboflavin, niacin, thiamin, pantothenic acid, vitamin B-6, and folates.
Be sure to leave me a note below with any questions, adaptations you made for others to try….and let me know how your pie turns out!
Sweet Potato Pie (gluten and dairy free)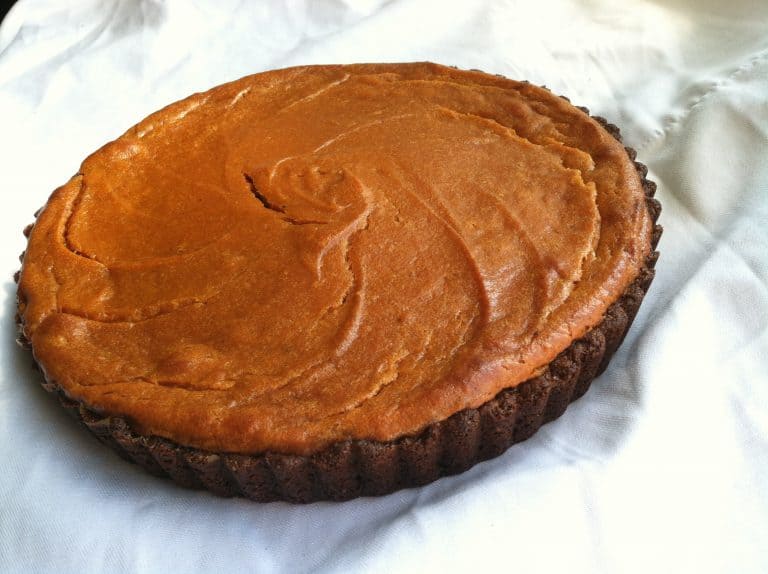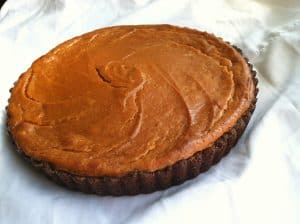 Yield: 8 servings
You Will Need: pie plate or tart pan, food processor, measuring cups and spoons, mixing bowl, whisk
1 lb/2 cups (about 2 medium) sweet potatoes, baked, skin removed
3/4 cup coconut milk (canned)
6 T maple syrup
5 T coconut sugar
1/4 cup bourbon (omit if desired)
3 eggs
2 T coconut oil, melted
1 tsp vanilla
1/4 tsp cinnamon
1/4 tsp ginger
1/8 tsp cardamom
1/4 tsp sea salt
4-5 grinds fresh black pepper
Preheat the oven to 350F.
Puree the baked sweet potatoes in a food processor.
In a large mixing bowl, mix the coconut milk, maple syrup, coconut palm sugar, bourbon, eggs and coconut oil.
Add the vanilla and spices.
Stir in the sweet potato puree.
Pour the mixture into a pre-baked crust, and bake for 50 minutes or until the center is set.
Nutrition Facts
Calories per Serving:

425
Betty Rocker Perfect Nut Crust
2 cup walnuts
1 tsp baking soda
1/4 tsp salt
2 T honey + 1 tsp maple syrup
Preheat the oven to 350F.
Measure the walnuts, baking soda and salt into a food processor until finely chopped.
While the food processor is running, add the honey and maple syrup until a sticky dough forms.
Press mixture into a pie plate or tart pan (preferred).
Bake for 15 minutes.
---