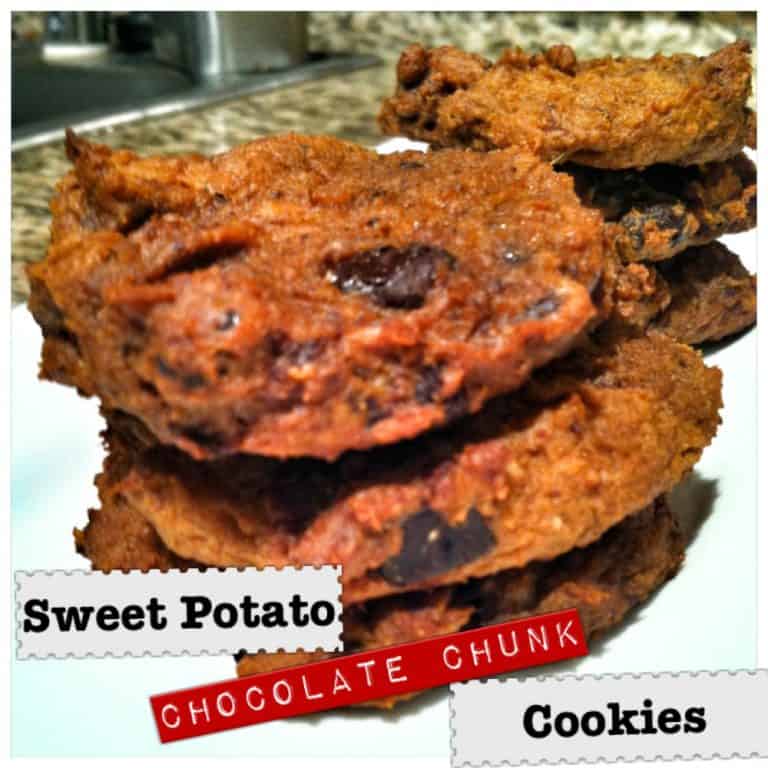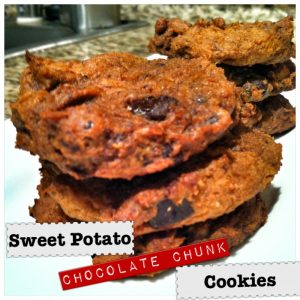 I am such a fan of Fall baking! I have been doing a lot with pumpkin this month, so for this recipe I decided to try sweet potato. Sweet potatoes have so many health benefits: they are rich in beta carotene, help raise our blood levels of Vitamin A, and contain anti-oxidant and anti-inflammatory properties. To get all of their health benefits, including some fat when you eat them is key – which is what makes the inclusion of the almond butter and almond flour in this recipe not only delicious, but useful to your body as well.
I think you'll love this recipe, especially if you're mindful of how much sugar you consume since I've only included only a tablespoon of maple syrup and a tablespoon of honey to compliment the natural sweetness of the sweet potato. A little bit of 70% dark chocolate and my chai fall spice blend sets this off perfectly. Enjoy!
Sweet Potato Chocolate Chunk Cookies *gluten free, dairy free
Yield: 24 cookies
You will need: large mixing bowl, fork, pastry cutter (optional), measuring cups and spoons, cookie sheets, aluminum foil or parchment paper, spatula, cooling racks
3 cups baked sweet potato
1/3 cup almond meal flour
1/2 cup almond butter (click here to see how to make your own almond flour and almond butter)
2 eggs
1 T maple syrup
1 T honey
1 tsp vanilla
Spice Blend:
2 tsp cinnamon
1/2 tsp cardomom
1/2 tsp cacao powder
1/4 tsp cloves
1/4 tsp allspice
1 T grated fresh ginger
1 tsp baking soda
1 tsp baking powder
1 tsp salt
3/4 cup dark chocolate pieces
1. Prep your sweet potatoes. You may bake them – cut into chunks and on a cookie sheet for 45-50 min at 375, or boil them in water – also cut into chunks – on the stove top or in a microwave safe bowl. They are finished when a fork easily pierces their skin. You can do them skin on or skinless.
2. Preheat oven to 350.
3. Mix all dry ingredients together: almond meal, spices, baking soda and powder and salt.
4. Cut in almond butter.
5. Add eggs, maple syrup and honey.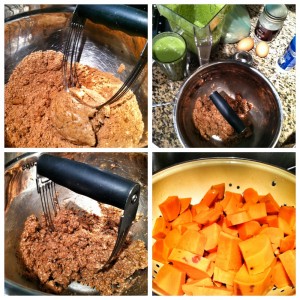 6. Puree the sweet potato in a food processor and mix it into the cookie batter.
7. If the sweet potatoes are hot, you may want to cool the batter a bit before adding the chocolate chunks, but the heat can also work in your favor. I add mine while it's still warm to give it a chocolate swirl effect.
8. Line a cookie sheet with parchment paper or aluminum foil.
9. Evenly scoop your batter out into medium sized balls. Gently press each cookie down with the back of a fork to flatten.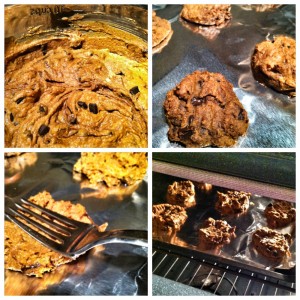 10. Bake for 20 minutes.
11. Cool on a cooling rack.