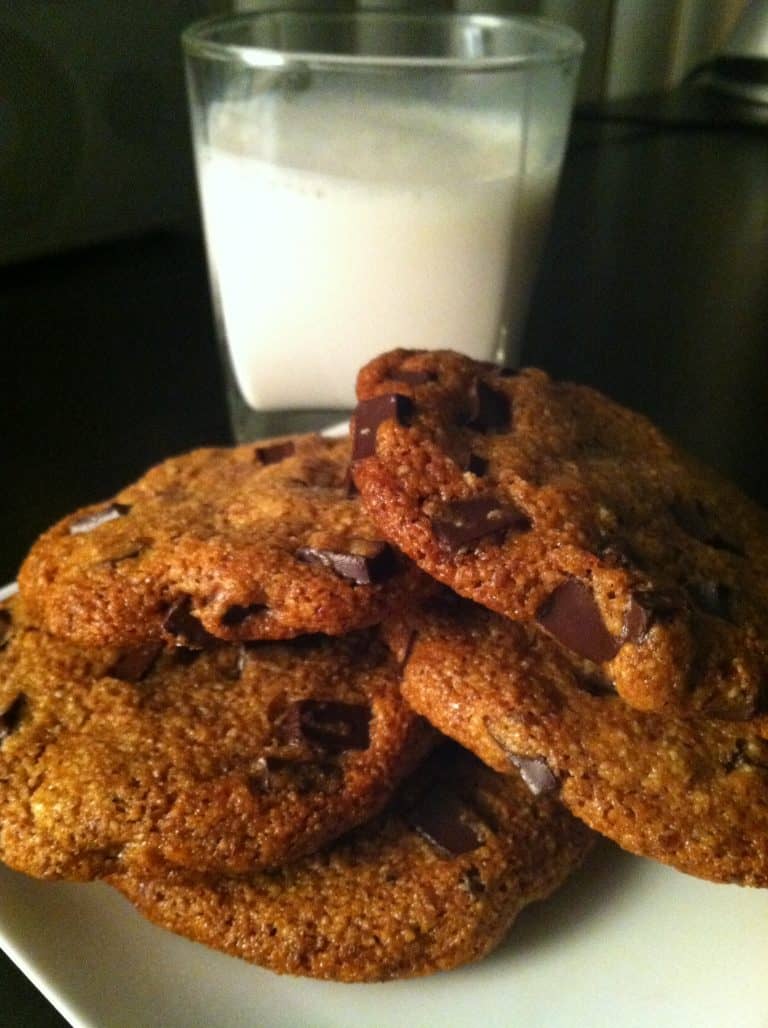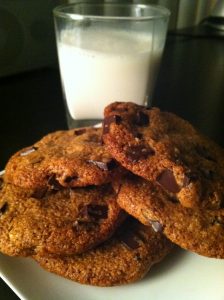 My happy place is milk and cookies.
Boy, am I happy. I'm sitting here right now eating chocolate chip cookies, drinking a big glass of almond milk and writing. Happy place.
I have to tell you though that today wasn't my day. Nothing went the way it was supposed to.
I kept trying to snap out of it, but nothing was working. 99% of the time my diet satisfies my physical and emotional needs for feeling good, but I kept feeling like something was missing.
I realized I was craving cookies – and not just any cookies, I wanted gooey, warm chocolate-chip cookies – the ones that make your house smell like everything is right in the world.
In this world of healthy eating, allergy-friendly cooking and baking it's good to remember that things that are sweet can have a powerful effect on our mood.
Just the thought of chocolate chip cookies was enough to get me enough out of my funk to research gluten-free, dairy-free chocolate chip cookie recipes online – since embracing this way of eating and how much better I feel all the time, I wanted to find an alternative to the one on the back of the Nestle's chocolate chip bag.
I always look at multiple sites when I need inspiration, but my favorite site of all when I want a recipe that's sure to work well exactly as it's written is Elana's Pantry. The creative and talented Elana is an inspiration and a source of excellent recipes and information in all things gluten-free. If you haven't discovered her yet, visit her website.
This is her chocolate chip cookie recipe. I made a half batch tonight using her recipe and they turned out absolutely perfect. I used Whole Foods 365 brand 70% dark chocolate pieces in place of dark chocolate chips, but they're almost exactly the same.
Chocolate Chip Cookies (Dairy Free/Gluten Free)
Yield: 24 cookies
You will need: measuring cups and spoons, baking sheet, mixing bowls, wooden spoon
2 1/2 cups blanched almond flour
1/2 tsp celtic sea salt
1/2 tsp baking soda
1/2 cup grapeseed oil
1 Tablespoon vanilla extract
1/2 cup honey (original calls for agave nectar but let's just switch it to honey. Taste your batter. If you want it slightly sweeter add a couple teaspoons of grade B maple syrup to add a little more depth and sweetness)
1 cup dark chocolate chips
1.Combine dry ingredients in a large bowl
2.Stir together wet ingredients in a smaller bowl
3.Mix wet ingredients into dry
4.Form 1/2- 1-inch balls and press onto a parchment paper lined baking sheet
5.Bake at 350° for 7-10 minutes
6.Cool and serve
I was in Denver when I made these (mile high) and my cookies took about 11 minutes to be perfectly baked. Ovens and altitudes vary and will affect your bake time and dough. Elana has great tips about ingredients and baking gluten free on her site, so be sure to check her out – enjoy your chocolate chip cookies and happy eating!
Nutrition Facts
Calories per Serving:

162
---
Need some help with healthy eating? When planning for the week, I think about:
2-3 breakfast options I like 

A few entrees that could double as dinner or lunch 

A couple smoothie ideas that have complimentary ingredients to give you variety with your greens

A snack option like homemade protein muffins or an easy to make trail mix for days you're just hungrier and want a little more to eat.

Round out your plan with a couple of staple sides that you would like to have on hand daily like a big mixed greens salad and some rice, quinoa or easy to grab sweet potato chunks…
……and then make your grocery list around that.  
Or, you can let me make the whole plan for you, with so many delicious, easy and healthy recipes!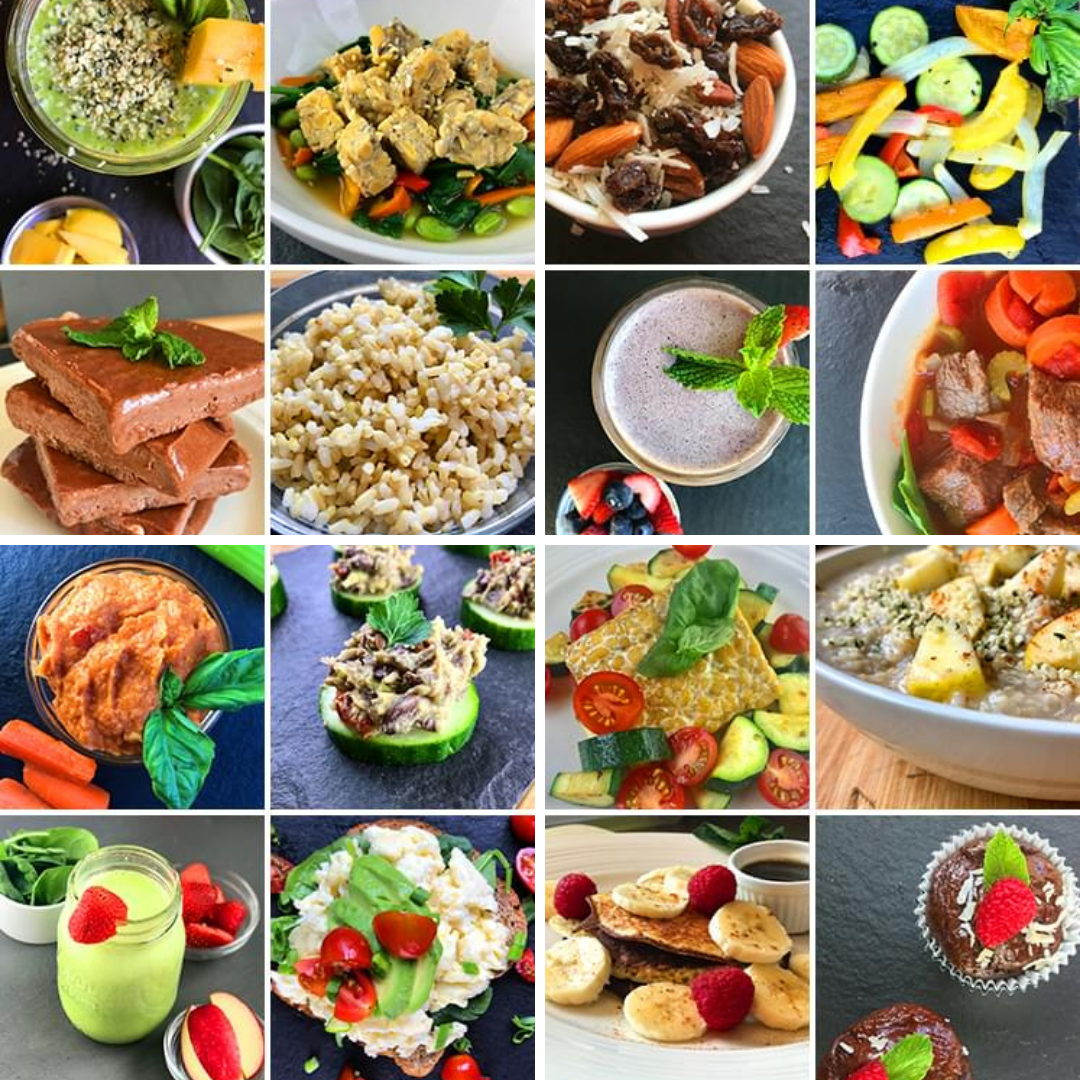 The 30 Day Challenge Meal Plan includes all the recipes and grocery lists for breakfasts, smoothies, sides, snacks and entrees for 4 full weeks – with plenty of delicious options and structure to help you eat right for YOUR life!