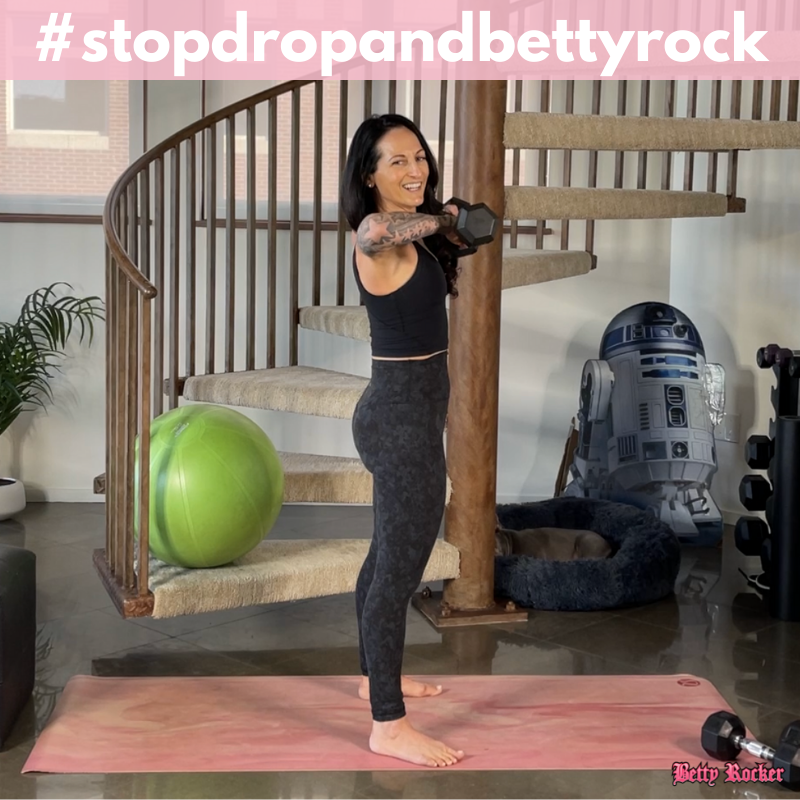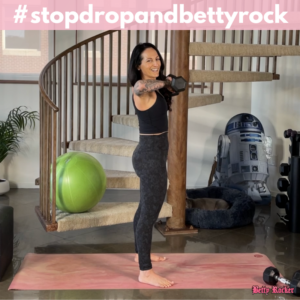 Get ready to work your upper body and core with this low impact strength building circuit – plus a special bonus stretch video designed to go with this workout!
Today I have some of my favorite upper body and core moves for you that will help build strength for functional movement and have you feeling so strong (and sweaty) by the end of this workout!
Functional movement is really just how we move as human beings. Mastering good form can be really helpful in correcting poor movement patterns, building better body awareness, helping us get stronger, and keeping us safe and moving well for many years to come.
Be sure to check out my Foundations of Functional Fitness free online workshop for more on stabilizing your shoulder joint and activating your core when practicing movements like these.
Today's workout will focus on sculpting a strong back, arms and core all at once!
Now grab some weighted objects (water bottles, laundry jugs, dumbbells) and an elevated surface if you have one and let's smash this together!
---
---
Great job with that workout! One of the many resources you'll have access to in my Rock Your Life online home workout studio and women's fitness community is the extensive class library with over 1200 different workout classes.
You'll have unlimited access to many types of classes, from warm-up and cool-down stretches to restorative yoga, pilates, mobility, resistance training, weight training, HIIT circuits, mindset and more! Here's a stretch video I recorded to complement this upper body workout that you would find in Rock Your Life.
In this video I'm drinking Rock and Restore, my free-form essential amino acid formula and drinking out of my Stop, Drop and Betty Rock shaker bottle.
Enjoy this quick upper body cool-down stretch, designed to go with today's workout:
---
---
One-off workouts are great, but having a plan to follow is even better! Take a 30-day Challenge in Rock Your Life and have workouts like this formatted into a plan to follow!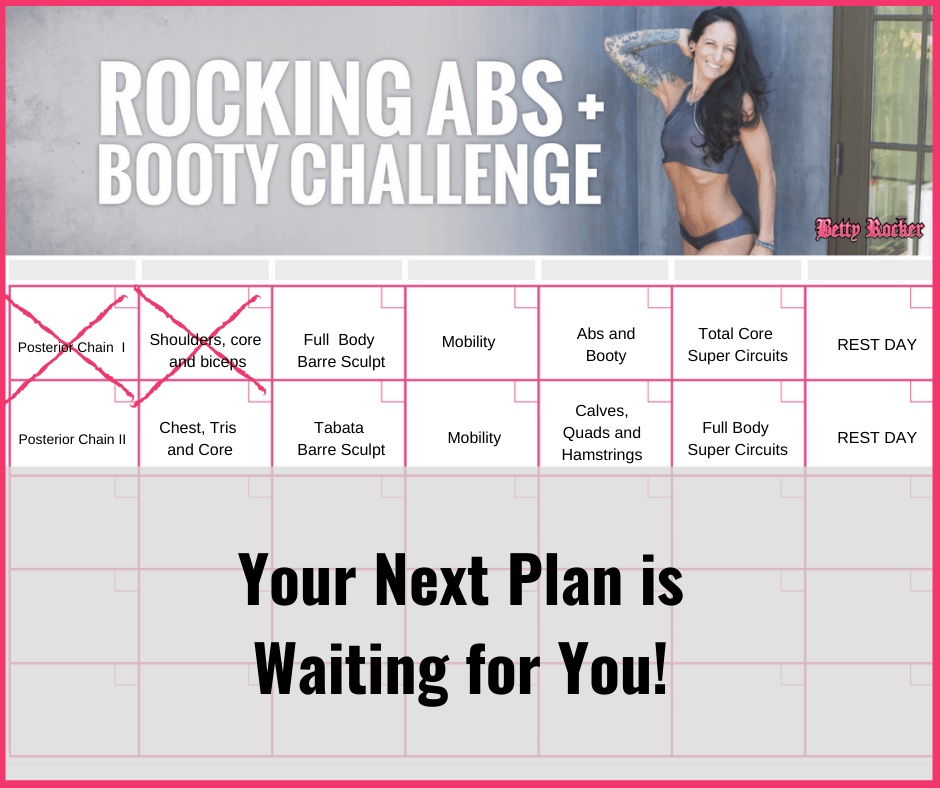 Upper Body and Core Smash
Click to expand and see all workout move descriptions
Circuit
Move 1: Plank Walk Out to Cross Body Climber
Begin standing at the back of your mat.
Bend your knees to hinge at the hips, planting your hands to walk yourself out to a tall plank position with shoulders stacked over your wrists, core braced, and back flat.
Keeping your hips level with the mat, alternate driving your knees to opposite elbows, once on each side.
Walk your hands back towards your feet to stand at the starting position and repeat the sequence.

MOD: Make this an elevated tall plank by placing your hands on an elevated surface at the end of your walkout.
Move 2: Overhead Tricep Extension
Begin in a kneeling position with core braced and shoulders back and down (as if they were against a wall).
Hold one weighted object overhead with both hands (or two lighter weighted objects in both hands) so that your arms are straight overhead.
Slowly lower the weight behind your head by bending your elbows, being mindful of not letting the elbows flare out too much.
Once your forearms move beyond parallel to the floor, bring the weight back up to the starting position and repeat.
Your upper arms should remain in place throughout the movement so that your elbows aren't moving too far forward or backward.

MOD for extra core challenge: As you lower your forearms, sit your butt towards your feet and back up again as you straighten your arms, maintaining a braced core and preventing any arching in the spine.
Move 3: Biceps Curl Bent Arm Lateral Raise
Begin standing with weighted objects in both hands and palms facing forward.
With a braced core and shoulders back and down (as if they were against a wall), bend at the elbows to curl the weights up to shoulder height.
With control, lower the weights half-way so the elbows are at a 90 degree bend. Be mindful to keep your elbows in at your ribcage for the duration of the curl.
From this position, raise both arms out to the side to shoulder height, maintaining a slight bend in the elbows and leading with your shoulders and elbows rather than your wrists.
Slowly bring your elbows back in beside your ribcage and lower the weights to the starting position.
Repeat this sequence for max reps.
---
This 14-day free workshop can be done along side any workout program!
Sign up and start today and get more out of your workouts!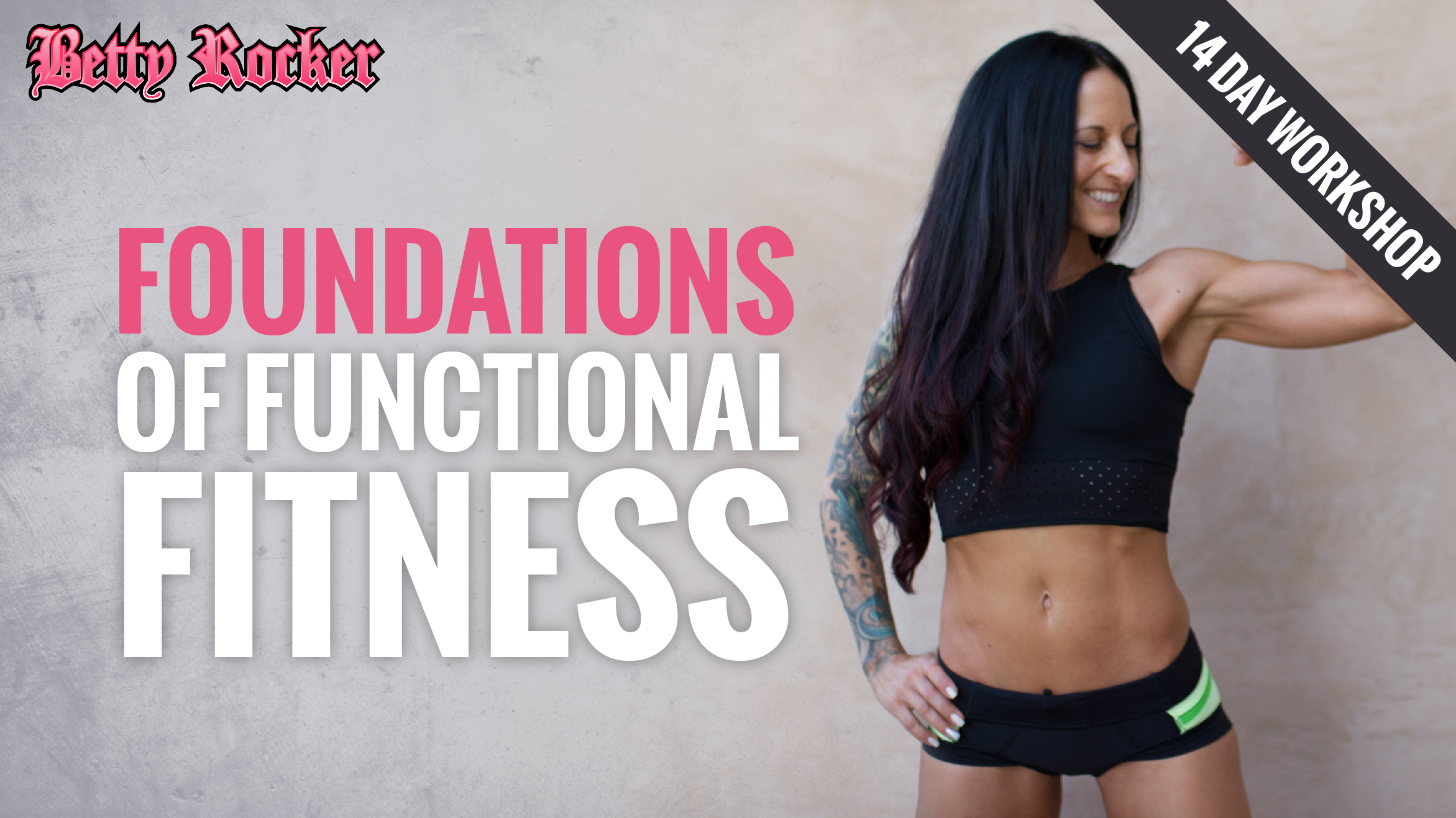 ---
Move 4: Bicycle Crunches – option to use your exercise ball
Begin lying on your back with your legs bent, knees over your hips, and hands behind your head without pulling your head forward.
Contract your abdominals by bringing your chest forward and rotating at the torso to bring your right elbow to your left knee, simultaneously extending your right leg.
Slowly and gently lower yourself back toward the ground and repeat with your left elbow to right knee and extended left leg.
Be sure your lower back stays in gentle contact with the mat throughout this movement.

MOD: Instead of extending the opposite leg, keep both legs bent and tap your toes to the mat.

MOD for the ball: Using a stability ball to support your mid to lower back, begin in a reverse tabletop, knees bent at 90 degrees, with feet firmly planted on the mat (take a wider stance for more stability).

With hands supporting your head, alternate drawing opposite knee to opposite elbow, keeping the other foot planted on the mat

.
Move 5: Chest Press to Alternating Leg Drop
Begin lying on your back, knees bent, feet firmly planted on the mat and weighted objects in both hands.
With a braced core and lower back making gentle contact with the mat, extend your arms straight over your chest with palms facing your knees.
Draw your elbows down in line with your shoulders as you bend your arms, lowering the weights with control. Press the weights back over your chest to return to the starting position.
As you press your arms up, draw one knee into your chest. Then extend the same leg as you lower the weights. Alternate drawing each knee in with every chest press.

MOD: Don't extend the leg after drawing it in towards your chest or remove the lower body portion entirely, keeping the feet planted on the mat.
Move 6: Reverse Fly
Stand with your core braced, chest up, shoulders back and down (as if they were against a wall), and weighted objects in both hands.
Hinge forward at the hips at a 45 degree angle with your body, and engage between your shoulders, so they're not rounding forward. Allow your dumbbells to hang beneath your chest and keep your head and neck in a neutral position.
Using the muscles between your shoulder blades, lift both arms out to the side leading with your shoulders and elbows rather than your wrists. It's natural to have a slight bend in the elbows.
With control, return to the starting position and repeat.
Finisher:
Squat to Press
Begin standing with your feet about hip distance apart, with your shoulders back and down (as if they were against a wall) while holding weighted objects on your shoulders
Send your hips back as you come into a squat, bracing your core and keeping your chest up, allowing your knees to track in line with your toes.
Drive back up using the strength of your glutes and press your arms up overhead. Your weighted objects can face forward or face each other. Bring them back down to your shoulders, and repeat the squat.

MOD: Use an elevated surface like a couch, chair ottoman or bench to check your squat form and ensure you're using the correct muscles. Consider practicing this move without any weighted objects to start, and instead pressing soft fists overhead.
Awesome work! Looking forward to hearing how you liked that workout – be sure to comment below with any questions and to check in.
---
Looking for a well-balanced workout plan with variety, accountability and support for your fitness journey? I've got you covered!
We've got dozens of 30 day Challenge plans to choose from so you always have a plan, hundreds of workouts in our class library so you're never bored, and so much support for you in our private support group!
Check out Voni's amazing progress after just 1 year with me…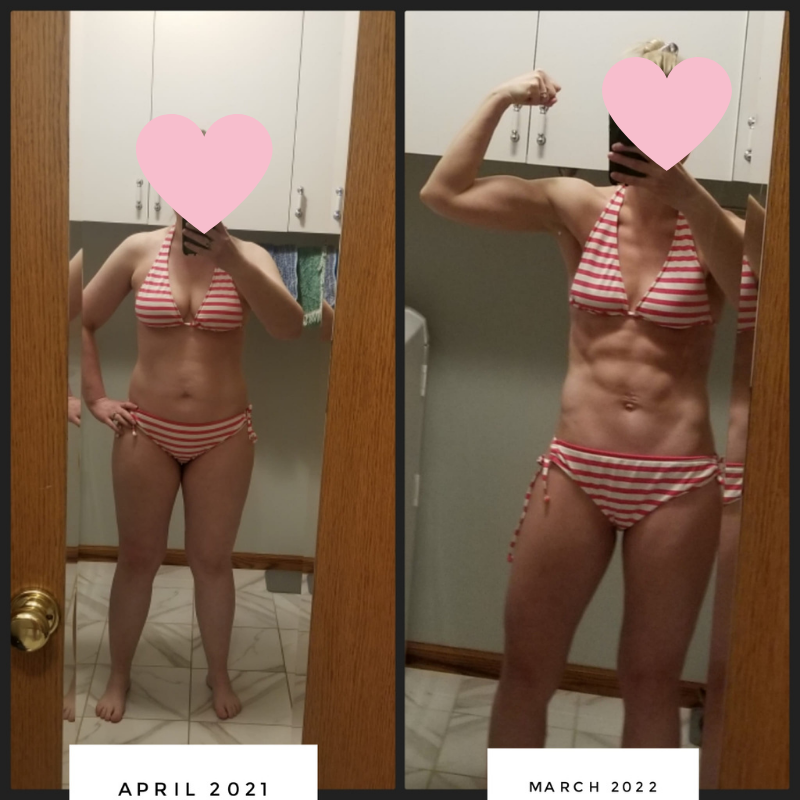 "1 year ago I pressed play to day 1 of Betty Rockers Make Fat Cry free 30 day program. I almost died by the way. 😂 Today I am on day 5 of my 11th challenge.
What I found was a health program that I LOVE! Thank you coaches! After the 30 day challenge, I joined you here on Rock your Life and as a result met the greatest bunch of inspirational ladies ever!
Thank you rockstars!
And of course a 1 year #rockiversary called for progress photos.
Sharing progress photos because I experienced so much inspiration from others sharing theirs. I ALWAYS used them as motivation and NEVER for comparison. Here is to motivation and inspiration!"
– Voni H, Rock Your Life member
---