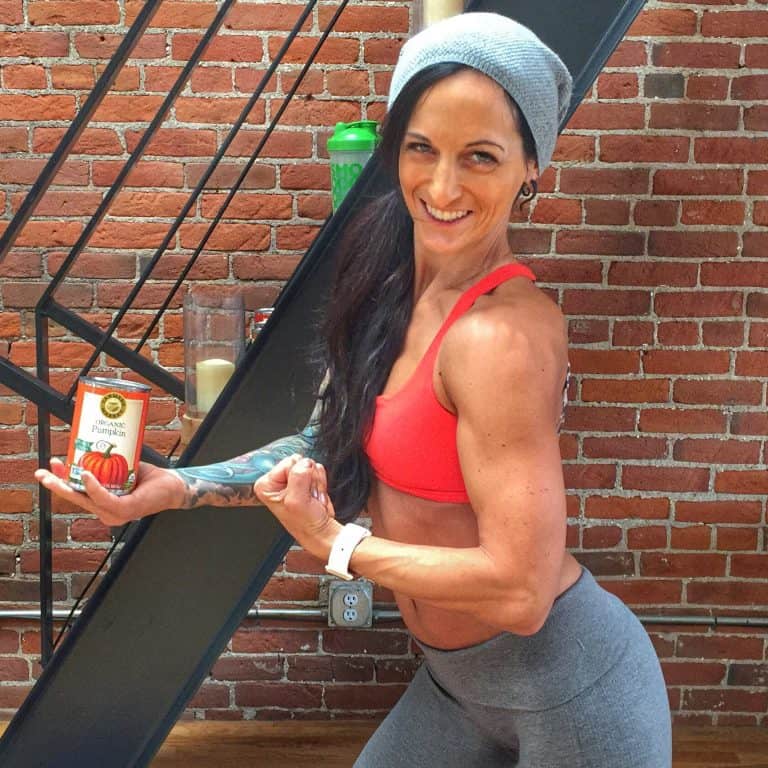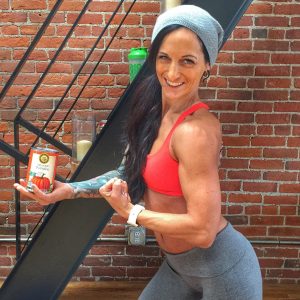 What's up Rockstar, Happy Fall! While I was contemplating doing my upper body workout this week at home, I noticed how many things I had in my kitchen that I could use for weights.
The thing about many of the traditional upper body exercises is they're a lot more effective with some resistance – but what if you don't have weights in your house, and you want to knock out a quick upper body circuit?
In honor of Fall and all the important things we need a strong upper body for this time of year, like rolling out pie crust, carving pumpkins, and carrying heavy bags of groceries for your holiday baking, enjoy this workout!
after you learn the form and do round 1, replay the video starting at 10:44
Upper Body Sculpt: Chest, Arms and Back at Home Workout
Click to expand and see all workout move descriptions.
Format: 3 Rounds; Reps as Listed
Move 1: 3-Way Push-ups (8 each)
Come into tall plank, with your core engaged, back not arched. Hands should be stacked just below your shoulders to start, and legs are straight. You can also do this on your knees, with the same strong form as described.
Push-Up 1: Regular Push Up: From the tall plank position, lower down with control and press back up. The elbows will come out slightly.
Push-Up 2: Wide Push Up: Walk your hands out wide from the tall plank position and lower down to press back up with control.
Push-Up 3: Pike Push Up: Press your hips up high from the tall plank position. Bend the elbows to lower and press yourself up and down, working your shoulders. Keep your hips lifting throughout.
Move 2: Triceps Dips (10)
Position yourself in front of a box, couch, step or bench and place your hands behind you. Open your chest and keep your shoulders back. Bend your knees to 90 degrees, coming into reverse tabletop.
Keep your elbows hugging in parallel as you lower and lift your hips, pressing through your hands to activate the triceps.
A great variation of this move is to do standing triceps extensions. Hold a weighted object overhead and stand, feet about hip distance, core engaged. Keep your elbows hugging in together as you bend them, allowing them to come to 90 degrees, then extend straight up.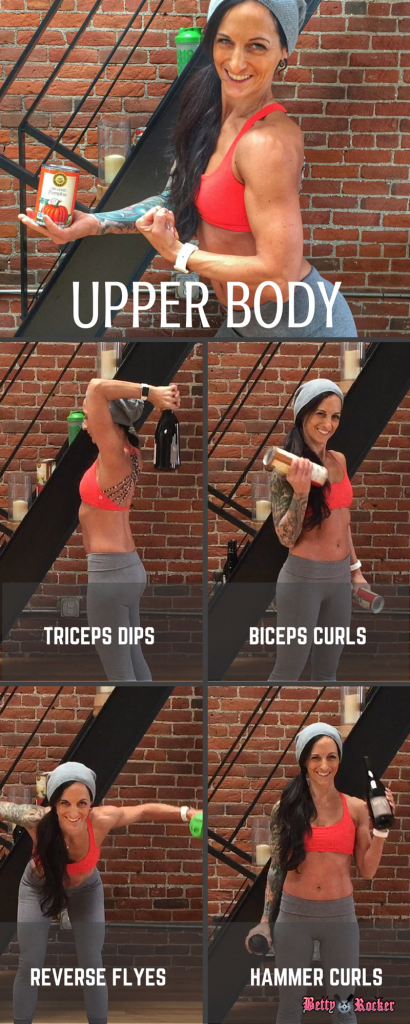 Move 3: Reverse Flyes (12)
Come to standing, feet slightly wider than hip distance. Hold your weighted objects and hinge forward to 45 degrees, and engage between your shoulders so they're not rounding forward.
Turn your pinkies up slightly so that as you lift your weights up to the side, the pinkies come toward the ceiling.
Move 4: Biceps Curls (10 each)
Stand with feet at hip distance, holding your weighted objects at your sides. Engage between the shoulders slightly to hold the shoulders in the correct neutral position (so they're not rounded forward).
Alternate raising and lowering the weights, bringing the palms to face your shoulders as you lift.
Move 5: Back Extension with Trap Activators (15, at the end hold for 5, then pulse for 10)
Lower down onto your stomach and extend your arms and legs out straight.
Engage your lower back and lift your upper and lower body smoothly, bringing your legs and arms off the ground.
When you are raised up, draw your elbows in to your sides. As you lower down, extend the arms back out.
A great way to build up to the full extension is to isolate just your upper or just your lower body to lift. You can also do a variation for your lower back where you drape your body over an ottoman, lifting and lowering your hips.
Move 6: Front and Lateral Raises (10 each)
Hold your weighted objects and stand with feet hip distance apart, palms facing down. Engage your shoulders back and down slightly.
Smoothly lift your arms out straight in front of you to shoulder height. Lower them down. Raise them out to the sides, one at a time or together.
---
Love the versatility of working out from home?
Check out Home Workout Domination for a complete 8-week program designed to sculpt, tone and strengthen your entire body!