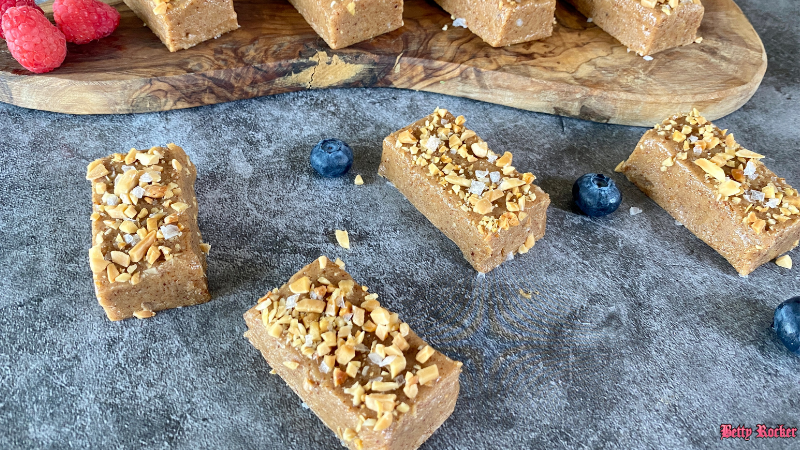 I always get requests for healthy treats you can bring to a party or make for the holidays, so today I wanted to share this easy, delicious and festive recipe.
It's a gluten-free and dairy-free Vanilla Nut Protein Fudge with all the decadence of a sweet treat, plus a healthy dose of protein for stable energy and healthy fat to help slow the release of sugar into your blood stream.
Your body recognizes white sugar, brown sugar, cane sugar, and all the other sugars as sugar. So I just suggest that you make sure you are eating a balanced overall diet and enjoying sweets and treats as a bonus. I also tend to opt for sugar sources like honey, maple syrup, and coconut sugar for their trace minerals. This recipe uses maple syrup which contains antioxidants (1) and is rich in minerals such as calcium, potassium and zinc (2).
This recipe also includes almonds which are nutrient dense in healthy fat, fiber and moderate amounts of protein – plus they contain calcium, magnesium and Vitamin E (3).
I've included my I ❤️ Vanilla Protein powder to add a little extra protein. When you include it in any meal (even a dessert like this), you'll be more satisfied and less likely to keep eating due to the impact protein has on reducing ghrelin (4), your hunger hormone, and boosting peptide YY (which makes you feel full)(5).
Need another reason to love this recipe? It only takes a few minutes to prepare and there's no cooking involved!
---
Vanilla Nut Protein Fudge
Yield: 16 squares
You will need: measuring cups and spoons, food processor or blender, rubber spatula, cutting board and knife, 8 x 8" baking dish and parchment paper
Key: T = Tablespoon; tsp = teaspoon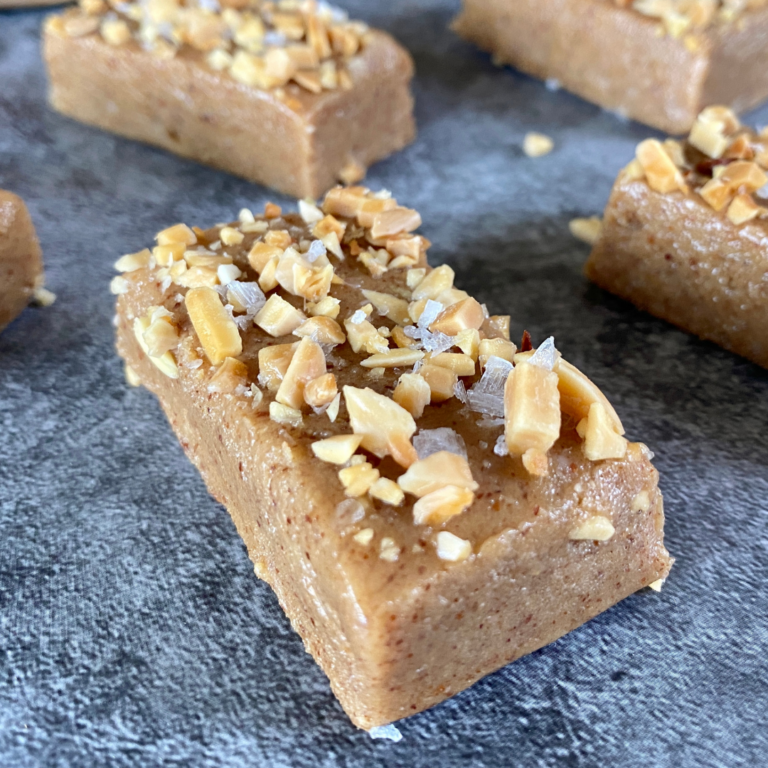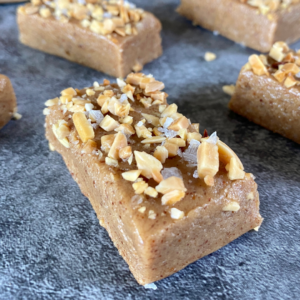 Ingredients:
1 cup almond butter (or nut/seed butter of choice)
3/4 cup maple syrup
1/4 cup coconut oil, solid
1 T vanilla extract
1/2 tsp sea salt
3 servings (90 grams) I ❤️ Vanilla Protein powder
3 T crushed almonds (or nuts/seeds of choice)
Directions:
Line a 8 x 8" baking dish with parchment paper.
Add almond butter, maple syrup, coconut oil, vanilla extract, sea salt and protein powder to a food processor and blend until smooth.
Transfer fudge to the baking dish and top with crushed almonds. Freeze for 2-3 hours, until set.
Once set, remove from the baking dish and cut into 16 equal sized bars. Store covered, in the freezer.
Nutrition Facts
Calories per Serving:

208
Be sure to share this recipe with a friend who might like it, and comment below if you try it!
---
Looking for more healthy dessert options?
The 30-Day Challenge Meal Plan comes with a BONUS COOKBOOK, that is dedicated entirely to desserts!
The 30 Day Challenge Meal Plan includes all the recipes and grocery lists for breakfasts, smoothies, sides, snacks and entrees for 4 full weeks – with plenty of delicious options and structure to help you eat right for YOUR life!