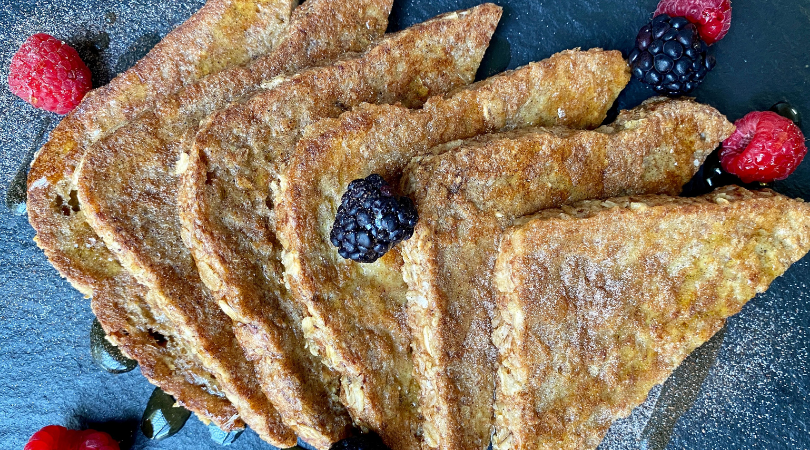 Who says French Toast can't be healthy? This recipe is packed with protein, complex carbs and healthy fats – all of the nutrients you need to start your day. Plus it's absolutely delicious!
Vanilla Protein French Toast
Yield: 2 servings
You need: shallow baking dish, whisk, skillet, spatula, cooking oil spray
Key: T = Tablespoon; tsp = teaspoon
Ingredients: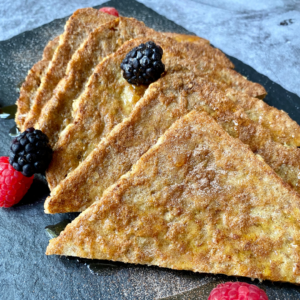 4 slices sprouted grain or gluten free bread (2 slices per serving)
1 egg
1⁄2 cup unsweetened almond milk (or milk of your choice)
1 serving (30 grams) I ❤️ Vanilla Protein powder
1⁄2 tsp cinnamon
1 cup berries of your choice
2-4 T maple syrup (optional)
Instructions:
In a shallow baking dish, whisk together the egg, almond milk, protein powder and cinnamon.
Heat a skillet to medium and spray with cooking oil. Soak each side of the bread for 30 seconds in the mixture while the pan is heating.
Place the soaked bread on the skillet and cook until browned on each side. Top with berries and syrup.
Delicious AND Nutritious! I can't wait to hear how yours turn out. Be sure to leave me a comment and let me know – I love hearing from you!
---
I ❤️ Vanilla Protein is a 100% ORGANIC, high protein (20g protein per serving), nutrient-dense whole food protein powder combining 4 plant-based protein sources into a delicious vanilla shake to support an active lifestyle!
You Can Mix It In Water, Blend It In A Smoothie Or Even Bake With It.
Get Yours Today!