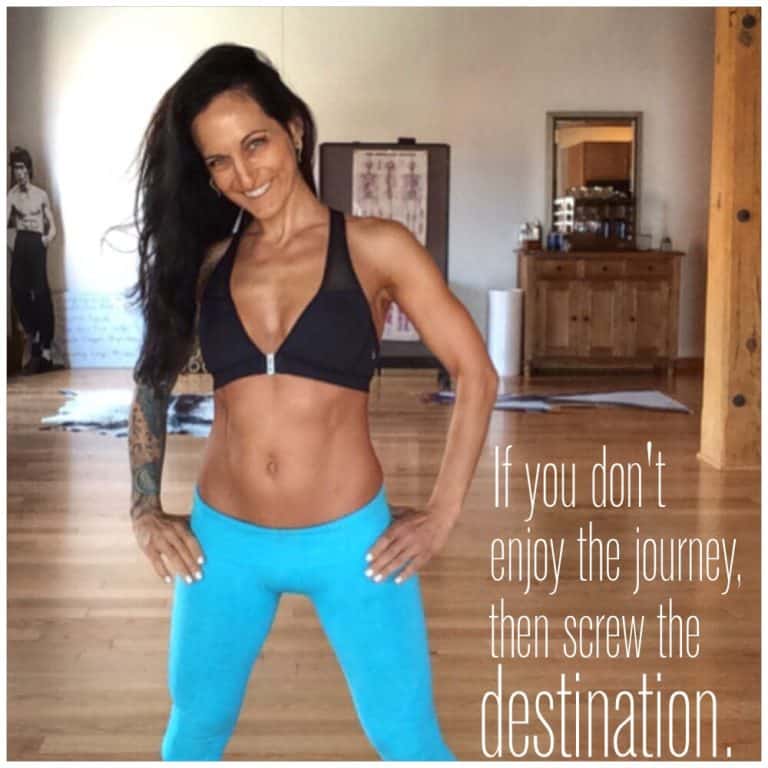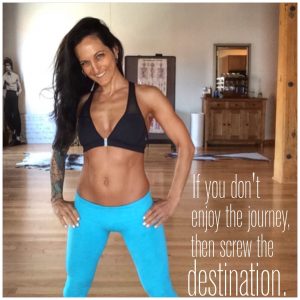 Get ready for the weekend with this crazy fun circuit that strengthens your ENTIRE BODY and absolutely torches fat!
I thought my face was going to melt off after 3 rounds of this – and I did 0:45 seconds of each move!!
The modifications I'm going to show you are a great place to start if you're a beginner, but try one or two of the more advanced move in your set  – you never know what you can do until you try!
If you're intermediate to advanced, do as much of the move shown as you can and if you burn out before your interval is up, go right into the modified move to complete your time.
Don't stop moving.
Full Body Shred Workout
FORMAT:
3 Rounds. Little rest (0:05-0:10) between each move, short rest (0:10-0:20) between each round.
BEGINNER: 0:30 seconds each move
INTERMEDIATE: 0:45 seconds each move
ADVANCED: 1:00 each move
Full Body Shred Home Workout
Click to expand and see all workout move descriptions.
1. Heismans
Get your arms and legs moving with this full body warmup move I learned from the famous Shaun T! Knees drive up high and to the sides as you pump your arms. This is like high knees, but you're driving your knees out and to the sides and really working your arms.

MOD: If you need a break, take it down a notch and do alternating high knees.
2. Roll Back to Jump
Also known as "reverse burpees" this is a great move for core stability, your glutes, legs and your HEART. Roll back and as you come forward, bring your feet in close to your glutes creating a strong base to support you as you stand and jump.

MOD 1: When you're learning this move, keep your hands down at your sides to support you on the jump to stand.

MOD 2: If you start to get winded but want to finish that interval, take the jump out and roll back to stand.
3. Decline Push-Ups
Get your feet up on an elevated surface and come into a strong plank: wrists in line with your shoulders and hug your belly button up to your spine to engage your deep stabilizing core muscles. Don't let your back arch.
Press yourself up and down. Go as deep as you can while maintaining good form.

MOD 1: Take it down a notch to regular push-ups without the elevation.

MOD 2: Come down to your knees whenever you need to – you'll be getting a great workout in this position too. This will help you build strength to do it on your toes, or if you're burned out it will let you get in those last few reps.
4. Lunge Circle
This is super fun and incredibly effective for your legs – quads, hamstrings, glutes and calves – as well as your core. Begin by lunging in front and across. Lunge straight in front, then out to the side. Lunge back and then back and across.
In every lunge, let your knees track in line with your toes. Maintain your balance. Keep your chest up. Slow it down if you get wobbly and focus on form, coming down as deep as you can in each lunge. In your front lunges don't let your knee go past your toes.
When you get to the last lunge, begin again with the other leg exactly where you left off, forming a complete circle.

MOD: If you need a break or some of the positions make you uncomfortable, come right into lunge pulses in place and switch legs every 5.
5. Tuck Jumps
Get your heart rate back up with tuck jumps, my favorite move that I like to watch people do in slow motion haha. Jump vertically, driving your knees up to your chest. As you start to get tired, they'll have a harder and harder time coming up but keep pushing.
Be sure you're landing on something giving.

MOD: Come right into body squats if you need a little breather but want to stay in the game, or if you have any trouble jumping. In your body squats, shoot your butt back behind you, keeping your chest up and don't let your knees go past your toes.
6. Rotating Elbow Planks
Come into a strong elbow plank, with your shoulders in a straight line with your elbows. Keep your head and neck neutral. Draw your belly button up toward your spine and don't let your back arch.
Keeping your back in a straight line, rotate your hips to the right, and then to the left. Your legs should stay straight and your upper body shouldn't move.

MOD 1: If you have any trouble with the rolling, hold your plank and don't move.

MOD 2: If you want to try it on your knees, that's a great way to get used to the movement.
7. Alternating Dip Kicks
Come into a reverse tabletop. Dip with your arms and alternate kicking your feet. Try not to let your hips dip too low, keep them up.
Position your hands so they're facing toward your body. You can hold light dumbbells to align your wrists if that's more comfortable for you.

MODS: Take a break when you need to and hold your reverse tabletop, and add in slow dips with alternating lifted legs to finish your set. Holding reverse tabletop is a great place to start with this move, and slowly add in the dips, then alternate lifting legs. The dip kicks are super advanced, so start where you are and work your way up! 
---
Doing one-off workouts like this is great, but following a plan is better!
Take my quiz to find out what the best workout system for reaching your goals is!