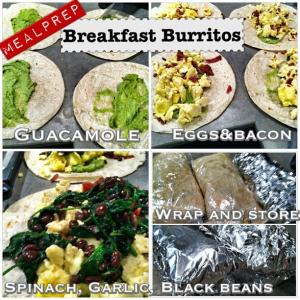 One of the best ways to stay consistent and be successful with healthy eating is to prep some of your food ahead of time.
In the Body Fuel System, I wrote a section to help you do this for each of the individual weeks of recipes, whether you're doing a session of batch prepping each week, having a busy week and taking shortcuts (minimal), or fall somewhere in between (hybrid).
I really like the idea of homemade breakfast burritos – they can easily be adjusted for your favorite fillings, and you can make them as a batch for a quick and easy grab and go meal.
You have the option here to make all the elements of these burritos and assemble them each morning, OR roll them up as shown.
There are a lot of great options out there for gluten free wraps – I'm partial to Siete wraps myself. In the past I've tried rice wraps and other gluten free wraps that would just totally fall apart.
I thought making about 4 at a time (or 4 days' worth) would be good, to ensure the freshness of the ingredients.
Breakfast Burritos to Go
Yield: 4 burritos
To make:
1. Cook 4 strips of bacon, nitrate-free turkey bacon, or sliced ham or turkey
2. Drain and chop into bits.
3. Scramble 1-2 eggs plus 1/3 cup egg whites per burrito
4. Drain a can of black (or other) beans
5. Sautee beans with 3-4 grated garlic cloves, olive oil, and 2-3 cups spinach.
To assemble:
6. To assemble, lay out 4 wraps.
7. Add 1/4 avocado, 1/4 of your scrambled eggs, 1 portion of your turkey/bacon, and 1/4 of the bean/spinach mixture.
8. Wrap and refrigerate.
These are awesome, tasty and filling. A great on the go breakfast, or if you wake up hungry, or post workout.
You could make these spicy too, or add any number of different fillings – the trick is to think about making something yourself that is an acceptable substitute for the high-sodium (among other things) options you'll find pre-made.
And it's not always that they're really "bad" for you, it's really just that you don't have as much control over what's in them, and when we're hungry we'll just destroy a burrito and pay the price later.
---
Can I help you get your food prepped for the week so you have tasty options ready to go?
Check out the BODY FUEL SYSTEM – my signature eating system, packed with helpful tips and 6 weeks of done-for-you meal plans, healthy recipes and prep steps!