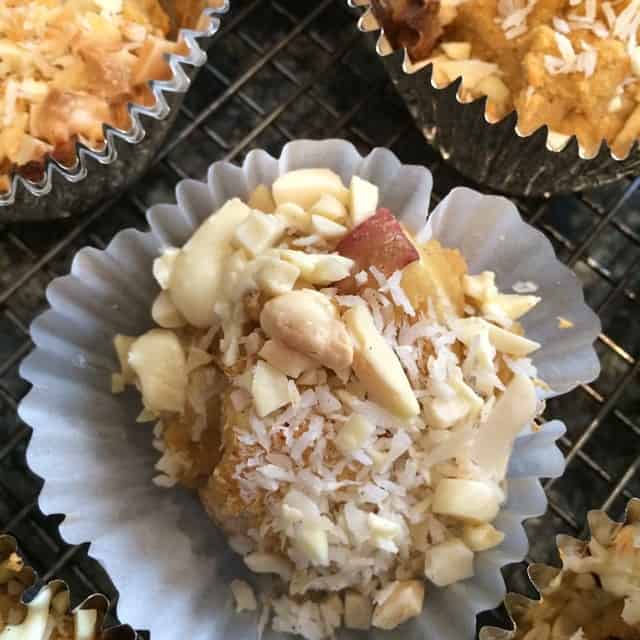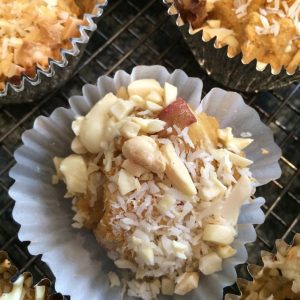 Try these easy, delicious muffins – they're super fun to make (and eat) with your family and the ingredients are all wholesome and delicious.
If you're not familiar with coconut flour, it's a wonderful addition to your gluten-free baking. It's made from the pulp that's extracted during the coconut milk-making process, and has the highest fiber content in any flour (58%).
It's super absorbent, and keep in mind a little goes a long way so measure with care. This is not a flour that can be swapped out like some of your other nut and rice flours can.It adds a wonderful texture to this batter and a hint of coconut flavor.
These muffins are a perfect post-workout snack – the white chocolate topping is of course optional  – though if you're going to have a little sugar, post workout is one of the best times.
I had some help from my little cousin TJ making these and his 5 brothers and sisters helped us out EATING them haha.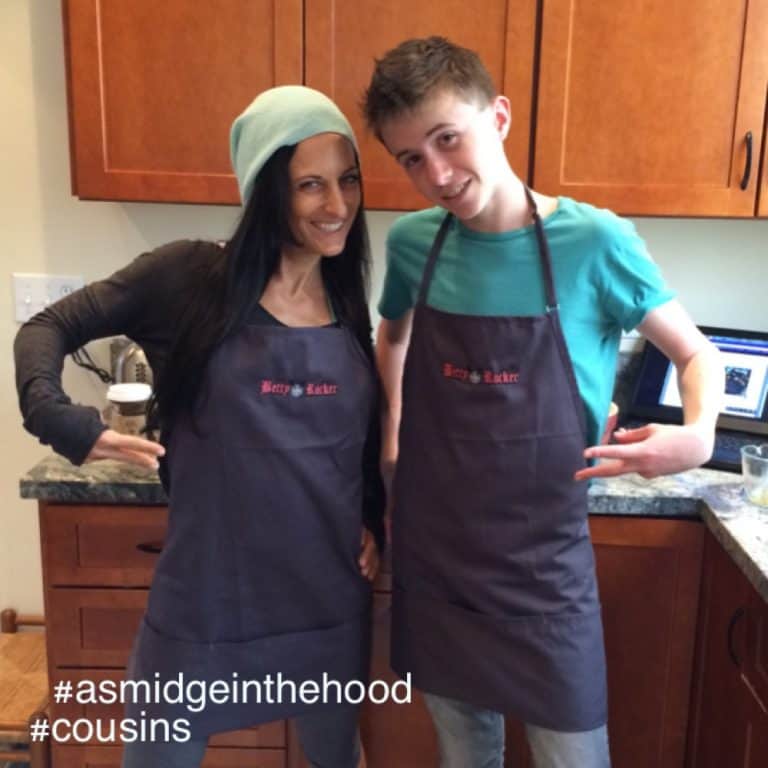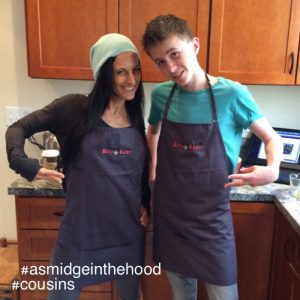 Enjoy!
White Chocolate Peach Protein Muffins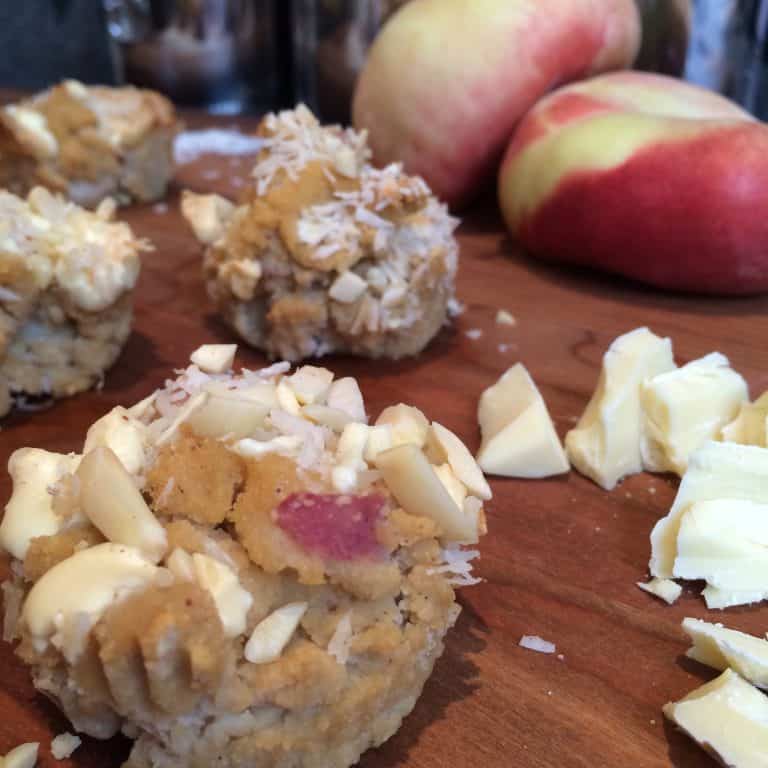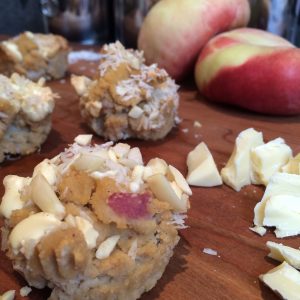 Yield: 12 muffins
You will need: measuring cups and spoons, mixing bowl, whisk, muffin tins, cooking oil spray
2 eggs
1/2 cup egg whites
1/2 cup lemon juice
1/4 cup maple syrup
1/2 cup coconut flour
1 serving (30 grams) I ❤️ Vanilla Protein 
1/2 tsp baking powder
smidge (pinch) salt
1/2 tsp nutmeg
1 peach
1. Preheat oven to 350.
2. Beat eggs and egg whites with lemon juice and maple syrup.
3. Add in coconut flour, protein powder, baking powder, salt and nutmeg and mix well.
4. Wash, remove pit and chop up 1 peach. Fold into the batter at the end.
5. Prepare topping:
TOPPING (kid inspired)
1/4 cup white chocolate, chunked up
1/4 cup blanched almond slivers chunked up
1/4 cup unsweetened coconut flakes
1/4 tsp nutmeg
6. Line muffin tins with cupcake liners and evenly distribute the batter.
7. Top with a spoonful of topping.
8. Bake for 20-25 minutes, or until toothpick comes out clean.
Nutrition Facts
Calories per Serving:

106
---
Need some help with healthy eating? When planning for the week, I think about:
2-3 breakfast options I like 

A few entrees that could double as dinner or lunch 

A couple smoothie ideas that have complimentary ingredients to give you variety with your greens

A snack option like homemade protein muffins or an easy to make trail mix for days you're just hungrier and want a little more to eat.

Round out your plan with a couple of staple sides that you would like to have on hand daily like a big mixed greens salad and some rice, quinoa or easy to grab sweet potato chunks…
……and then make your grocery list around that.  
Or, you can let me make the whole plan for you, with so many delicious, easy and healthy recipes!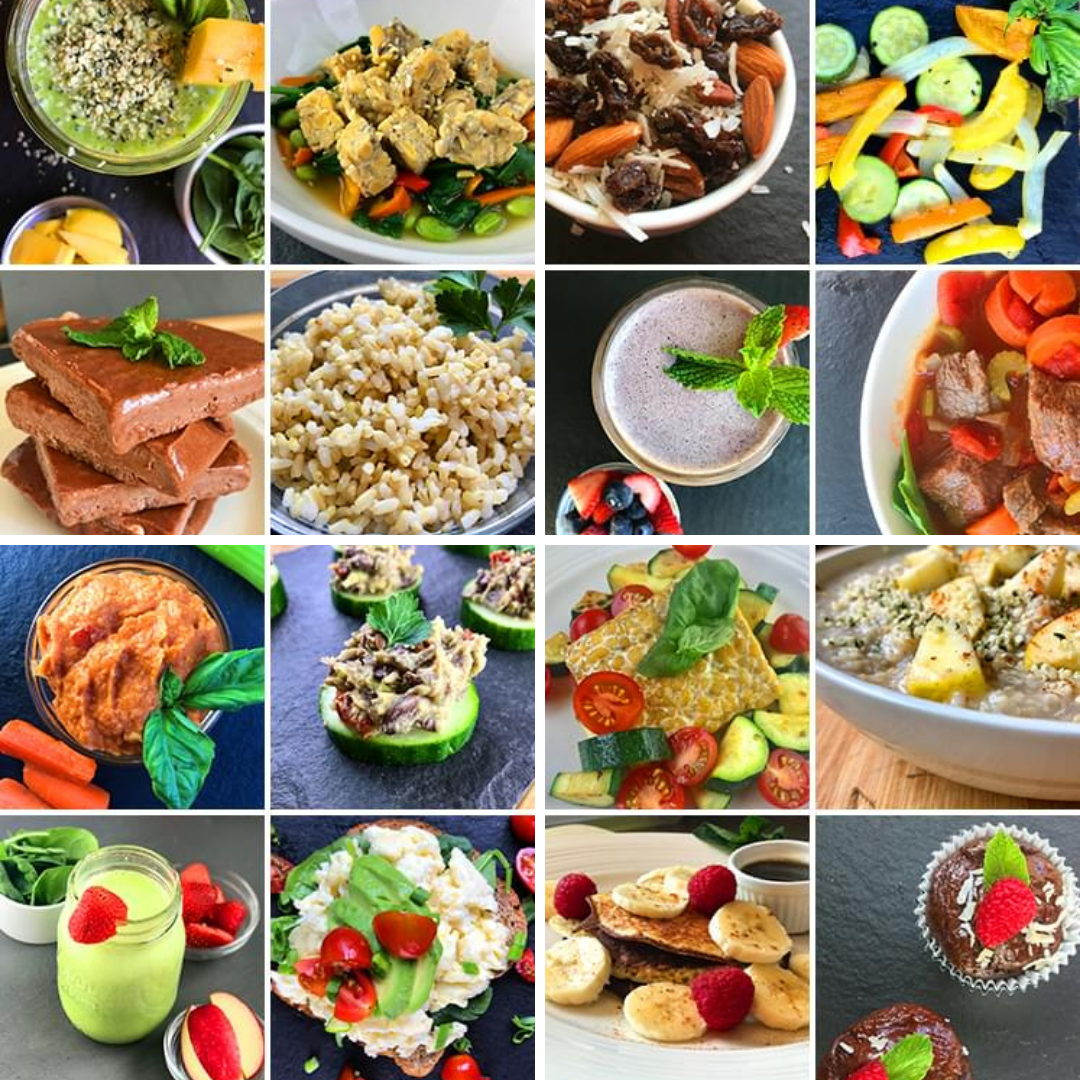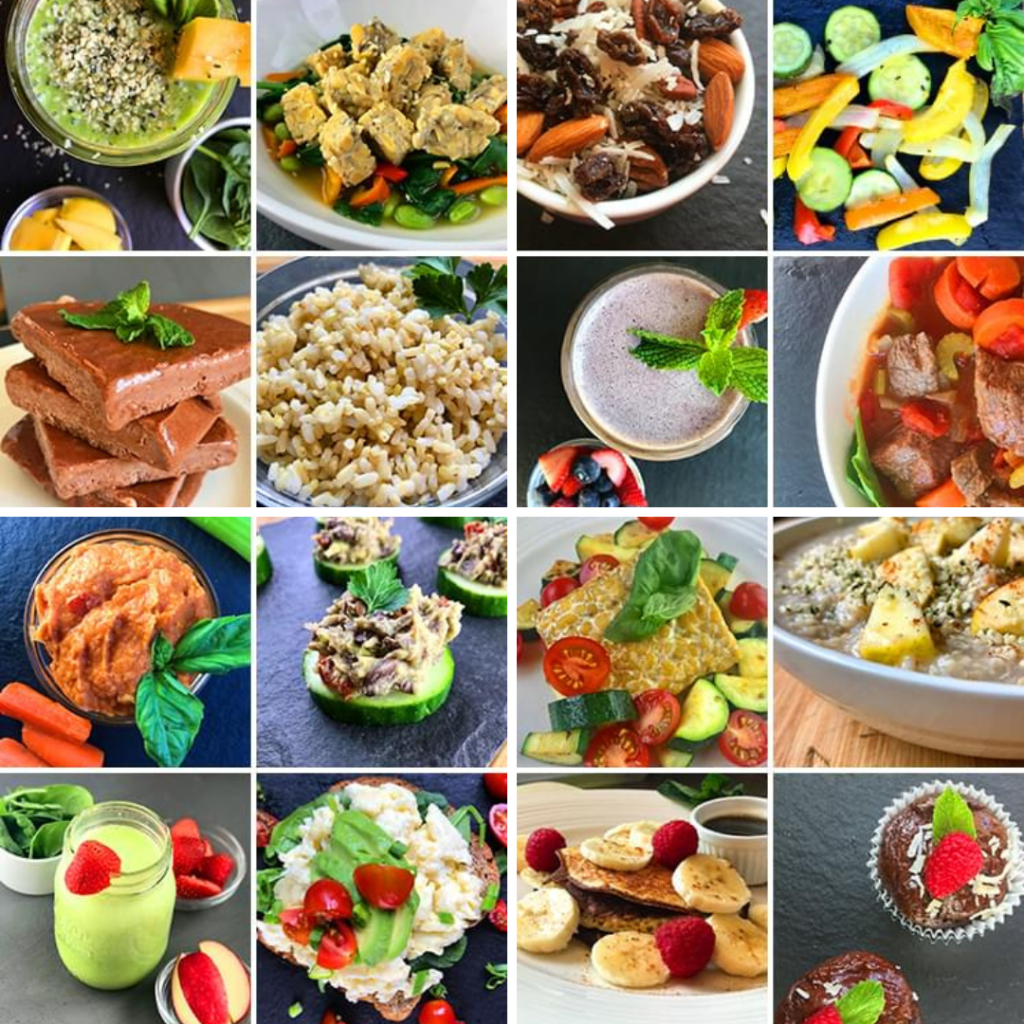 The 30 Day Challenge Meal Plan includes all the recipes and grocery lists for breakfasts, smoothies, sides, snacks and entrees for 4 full weeks – with plenty of delicious options and structure to help you eat right for YOUR life!