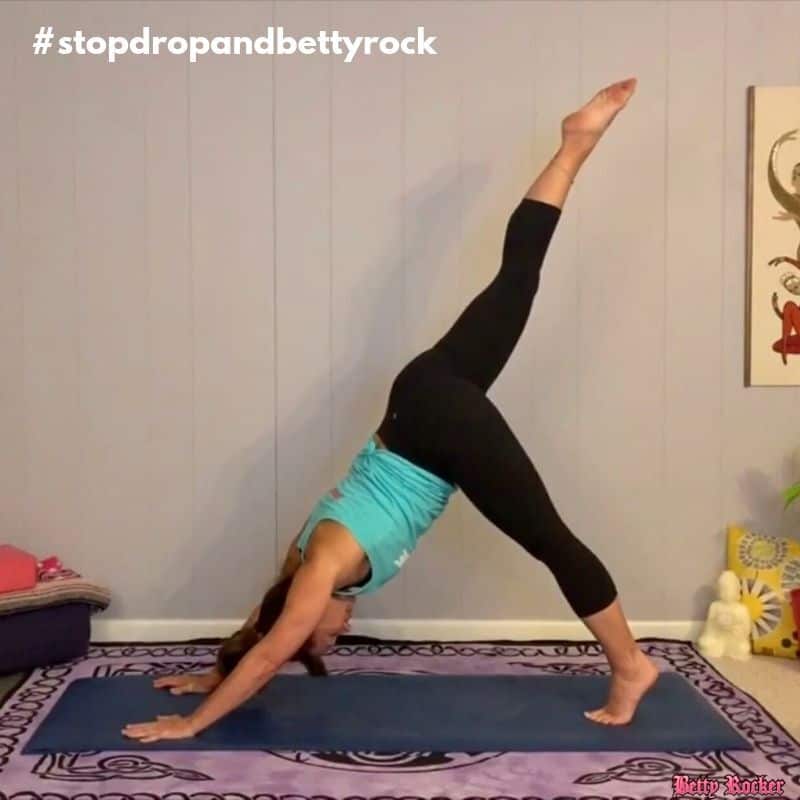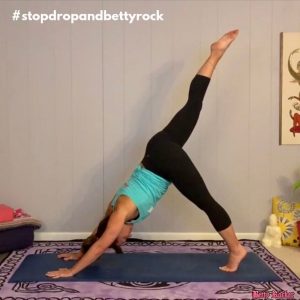 I've got an awesome abs and core focused yoga sculpt for you today!  This yoga strength flow will work your entire core, your glutes and your upper body, leaving you feeling grounded, strong, and centered in just 30 minutes.
I invited the amazing Coach Nikki from Team Betty Rocker to teach today's flow, because she's so popular in Rock Your Life, and has such a wonderful teaching style.
Nikki is a certified Yoga Instructor ERYT200, AFAA Certified Personal Trainer and Mat Pilates instructor.  She teaches weekly classes in our fabulous online fitness studio and coaching community, Rock Your Life – and we'd both love to see you there!
While I didn't used to love yoga, I slowly began adding in some flows in my early 30's. I had always had this perception that in order to get "shredded" I needed to focus on going "as hard as possible," as much as possible.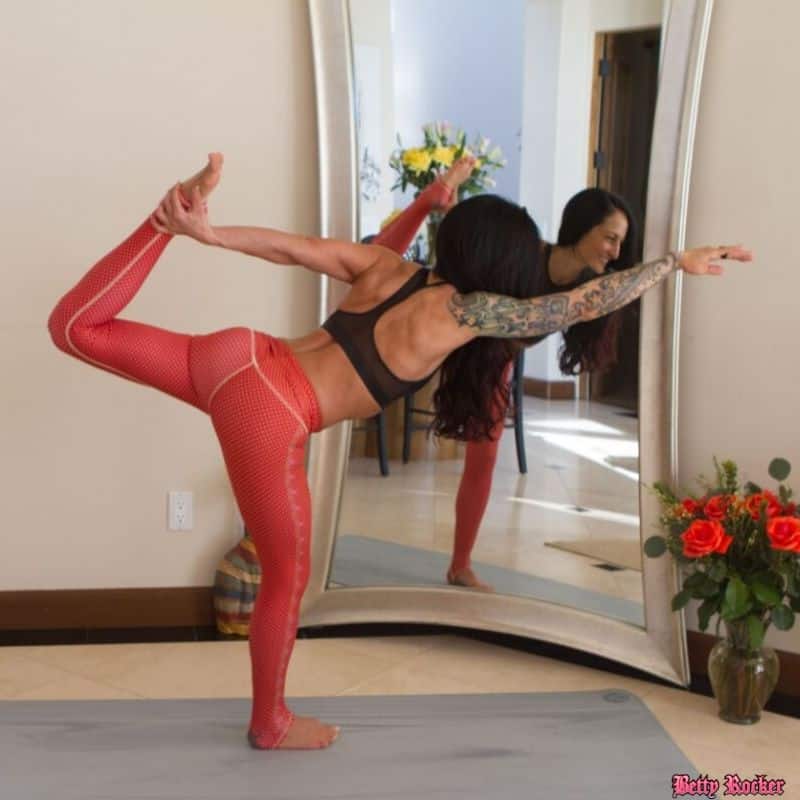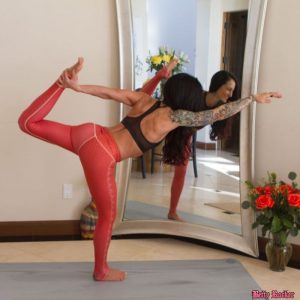 If you've followed me for a while, you may know how that turned out for me. I ended up totally burned out, and never really saw the results I was after. As I began to dip my toe in the water of yoga, I discovered that it was actually very challenging. Not only the slower, more flowing pace of it but also the way I was tuning into my body like never before.
What started as a love/hate relationship with yoga blossomed into a love/love relationship – and had I known then what I know now, I would have started my practice much sooner. 
Yoga has made me more supple. It's helped me increase my flexibility, it helped me get more in tune with my body, and ultimately I've increased my strength because I'm training with more balance.
Yoga has many benefits – including lengthening and strengthening our muscles, reducing stress, depression and chronic pain, improving sleep patterns, promoting and improving respiratory and cardiovascular function, and enhancing our overall well-being and quality of life (1).
You don't need any equipment for this one, just meet Coach Nikki on the mat and let her guide you. You are in great hands.
---
One-off workouts are great, but having a plan to follow is even better! Take a 30-day Challenge in Rock Your Life and have workouts like this formatted into a plan to follow!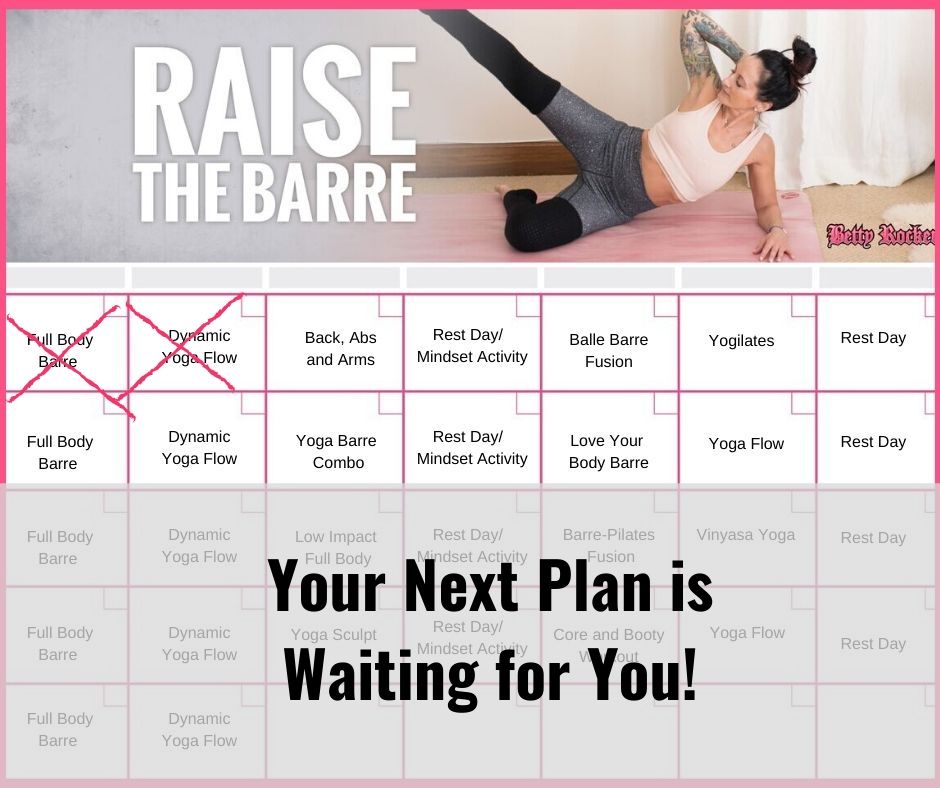 Yoga Sculpt Your Abs
Click to expand and see all workout moves.
1st Sequence
Cat/Cow from all fours (on your hands and knees)
Knee to Nose from all fours- 5 on each side
Alternating Child's pose to Down Dog flow – 5 rounds
Down Dog walk back to Chair Pose
Moving Chair Pose (up/down) -5 rounds
Chair walkout to Plank -5 rounds
Modified Side Plank on knee with lateral leg lift – 5 on each side
Resting Child's Pose
Back to Downward Dog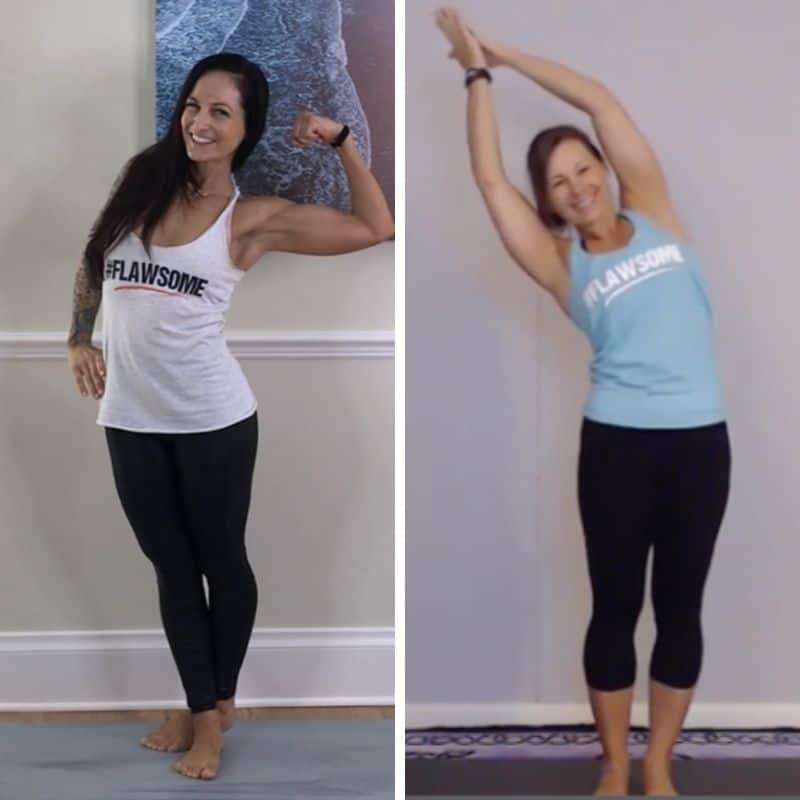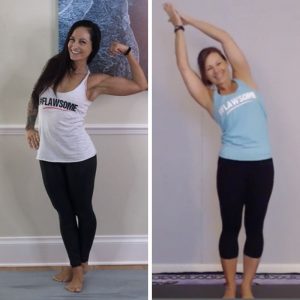 2nd Sequence
Three leg down dog with knee to nose- 5 reps
High crescent lunge slow pulse w/ arm sweep (up/down) – 5 reps
Revolving Warrior II twist variation with Goal Post arms- 5 reps
*Repeat other side
Resting Child's Pose
3rd Sequence
Three leg down dog (right side) knee to nose step through to Warrior II with Oblique Tick Tock Side Crunch- 5 reps
Turn to left long edge of mat coming into wide leg forward bend with sweeping twist-5 reps
Turn back to front of mat and step back to down dog
Three leg down dog (left side) knee to nose step through to Warrior II with Oblique Tick Tock Side Crunch- 5 reps
Turn back to front of mat and step back to down dog
Resting Child's Pose
4th Sequence
Come onto knees and take one leg out to side to Gate Pose.
Alternate from Gate Pose to Modified Side Plank pose with lateral leg lift- 3 reps,
Holding position, add in a front/back leg kick- 4 reps
Repeat on other side
5th Sequence 
Seated Half Boat Pose with alternating toe taps- 10 reps
Seated Half Lord of the Fishes Pose (hugging knee variation)
Easy Seated Pose with Cat/Cow
Hands to heart and bow to finish the practice
Thank you so much for joining Coach Nikki for this flow! And I totally "get" if yoga isn't your "thing" – I've been there – but I encourage you to practice it just the same.
Anytime we tune into our mind and connect to our body this way in our busy lives, it's a win.
Leave me and Coach Nikki a comment below to let us know where you're working out from today, how you're doing with your fitness goals, and what we can do to support you in reaching them – we love hearing from you! 
---
Looking for MORE YOGA?
We have so many awesome yoga workouts inside ROCK YOUR LIFE, my online home workout studio! And that's not all, you'll find barre, HIIT, strength training and more – plus 30-day Challenge programs you can take anytime to fast track your fitness goals!
We're there to support you on the journey in our private women's fitness community while you rock these workouts!