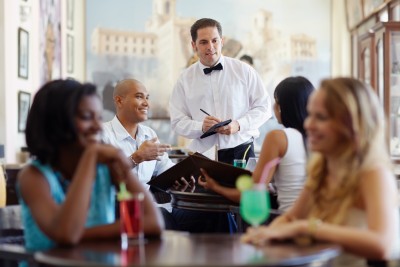 Something I get asked a lot is "how do you order when you're out to eat?"
For me, going out to eat is a treat and a source of inspiration. I always have a goal in mind for my body and how I want it to look and feel, and I know that eating processed foods and spiking my blood sugar are the quickest ways to get derailed.
I stick to foods that are similar in nutrient density to what I make at home (unless it's my NSA Day!) and focus on getting some protein, healthy fat and good carbs in my body.
Armed with the following tips, you can do the same thing: just focus on your goals, and deciding what to order will become stress-free.
1. Choose quality venues that advertise where they source their foods from.
The more quality the restaurant, the more knowledgeable the staff will be about the ingredients in the food they're serving. Therefore it is far easier to accommodate your needs if you're sticking to dairy-free or avoiding gluten. It's also likely their ingredients are high quality, and often times locally purchased.
2. Scan the menu for ingredients, not necessarily for dishes.
Most restaurants list the major ingredients featured in each dish (and if they don't your server should be able to help) or the name of the item will tell you what's in it. This will give you an idea of what they have in the kitchen. Then it's easy to request the setup of a dish you like with a different protein option, or an extra side of vegetables in place of the mac n cheese. I've never had a problem with this kind of request.
3. Focus on greens and healthy fat (think nice meat cuts, salmon, avocados, healthy oils, nuts, and seeds), and consider substituting starchy carbs cooked with oil for an extra side of greens.
With dinner especially, I stick to protein and greens, with some healthy fat and keep my refined carb intake (that's anything premade, including pastas and breads) to a minimum, or not at all. I'd rather enjoy a glass of red wine than have a roll made from processed flour that's just going to increase my blood glucose without adding any noticeable fiber, minerals or vitamins to my body.
Lunch is an important time for me to eat some complex carbs – and it may be for you as well, especially if you had a tough morning workout. I'll definitely enjoy some greens in a salad (and I'm not talking about lettuce), and I'll be sure to add some protein, a little fat and healthy, complex carbs. That could look like black beans, brown rice, quinoa or any other gluten free grain (works well for me in particular), a scoop of sweet potatoes or sprouted grain bread (if you read Part 1 of this series, you'll recall that sprouting grains helps us digest them and access all of their nutrients).
Choose a good protein, and your fat can be as easy as including a couple tablespoons of olive oil with a fresh squeeze of lemon to your mixed greens. Usually very easy to order. Get extra greens whenever you can – they're the best thing for you!
4. Go out with a PLAN. Stick to it.
What I was saying before about your goals is exactly how I make going out work for me. We all need room to enjoy social occasions, and it's important to allow some space for that. But when you've determined that your goal is to lose body fat, or have sculpted hamstrings, you'll naturally monitor how often you deviate from your clean eating.
For example, if I had friends over last night and we drank some wine, I know that if I'm dining out tonight, I'll be moderating my liquid carbs by drinking water or green tea so that at the end of the week everything balances out. Going out with that goal-oriented mindset helps me stay on track week to week, while still having space to enjoy myself.
5. As a general rule, leave the sauce on the side.
Unless you're sure the sauce contains ingredients you can eat, get it on the side and use a smaller amount than they bring you. This goes for dressings too as many pre-made dressings have sugar added – and I mentioned before how easy it is to just use a squeeze of fresh lemon and a drizzle of olive oil to be sure you're just getting the nutrients you want.
At certain types of restaurants this doesn't really apply – for example Sushi, (which is one of my favorites) the fish doesn't come drenched in soy sauce, you dip it in. Also, more upscale restaurants tend to drizzle sauce on the plate (like the one below) rather than covering the entire dish.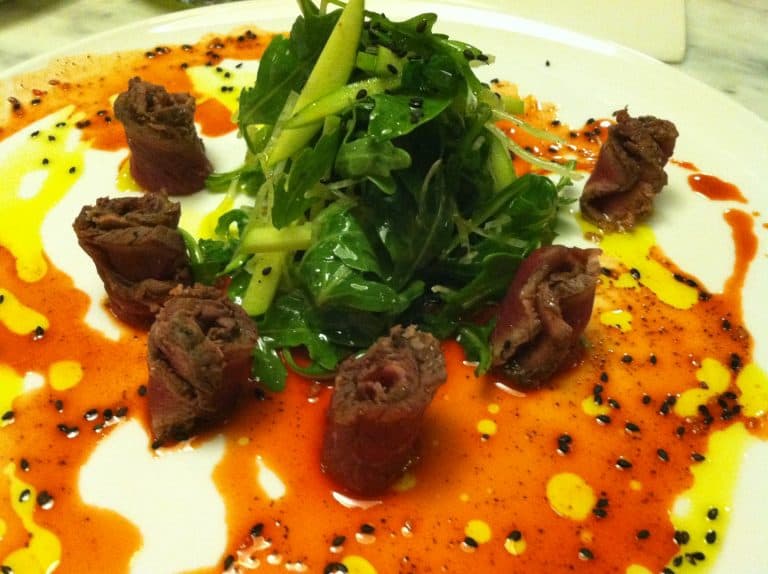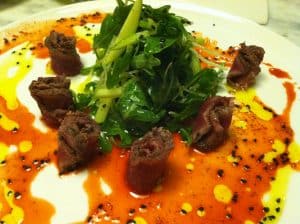 6. Consider ordering a combination of appetizers.
Sometimes the best way to get the right sized portion for your needs at dinner is ordering a few smaller items. If I order an entree and it's huge, I'll be tempted to devour the entire thing and regret it later.
7. Go to dinner with a friend who shares your taste.
I love sharing dishes. Eating out with my friend Maddie for example is the best. She's Paleo (she doesn't eat grains or legumes, and focuses on protein and fat from natural foods) and I'm more just whole-food nutrient dense focused, so we'll often scan the menu for protein and vegetable items, or ways we can adapt certain dishes we see. Then we'll order a few and share them.
8. Look for dishes that maximize the natural flavor of the food.
Think herbs, citrus and spices rather than butter, fried, cream, or salted (btw, there is NOTHING wrong with butter, cream, salt or fried foods – in moderation, and if they fit into your eating system). If you're not sure how something is prepared, just ask. Thai, Japanese, Vietnamese and generally the cuisines of Asia have influenced our cooking in this exact way, and if I'm out for dinner at a fusion style restaurant or 'New American cuisine' style place, I'll look for an Asian-influenced dish. Or pretty much just choose to eat at a Thai, Sushi or Vietnamese restaurant.
9. Plan to go for a walk after dinner.
Regardless of what you eat for dinner, walking post-meal is relaxing and will help your digestion. Friends who dine with me know that if we're having dinner, we're having a walk too! I used to be big on ordering dessert, until I began implementing this strategy.
One of the benefits of planning to go for a walk after dinner that is that because I'm looking forward to it, it makes me less likely to linger about ordering dessert. In fact, I'll often think of someplace fun to walk to for an after-dinner tea, coffee or nightcap that gets me  up and moving.
"Walk after a meal, and your monitoring system senses that you're heading for the next campsite or hunting ground. It doesn't know whether you're going to walk one mile or twenty. Because of this uncertainty, it doesn't make sense to store the food you just ate as fat, as you may need all those calories on your trek."- Dr. Steven R. Gundry, Dr. Gundry's Diet Evolution
10. Worst Case Scenario:
You're somehow in a restaurant that would be the LAST place you'd pick. And this is probably the most common – birthday party, company dinner, someone else's choice for lunch…etc. Just look for protein on the menu, order the cleanest version of it you possibly can and get a big side of veggies. You'll be fine.
Remember, everything in moderation, including moderation…eat for enjoyment, sustainability and longevity in equal parts and you'll be healthy for as long as you live.
To your health, your body and your dinner!
---