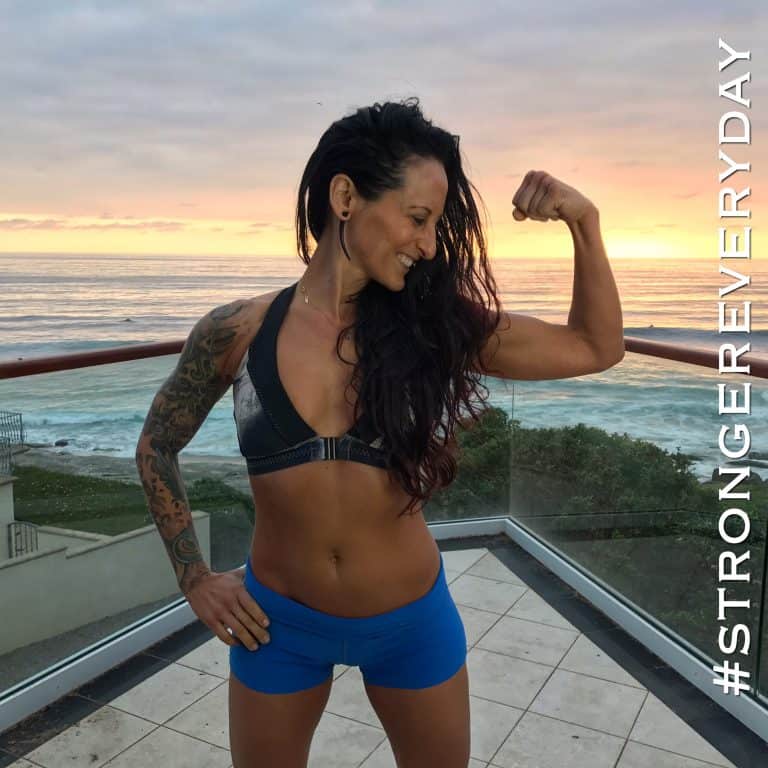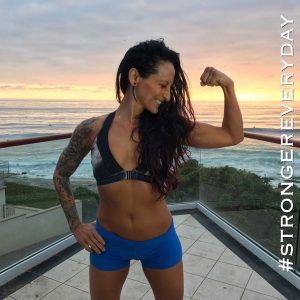 If you're like me, you are always looking to up-level your workouts without sacrificing your time. Good news, Rockstar – today's 15-minute Total Body Sculpt is for YOU!
One of the best ways to sculpt a lean, sleek physique is to add resistance to your routine. Resistance training (also called strength training) not only helps you burn fat and strengthen muscle, it also supports your metabolism and helps you sleep better at night.
No equipment? No worries!
It doesn't take fancy gym machines to get the job done – you can use common weighted household items (think water jugs, bottles of olive oil, heavy books), dumbbells, or even your own bodyweight to increase the intensity of your strength-training sweat sesh.
Today, I've got my mat, the option to use a couple of full water bottles OR some dumbbells, an ottoman or elevated surface like the side of your couch, and a rolled up towel (a Bosu ball would also work). You can use the same, something similar, or nothing at all – no matter what, this workout will rock you head to toe, so let's go!
---
One-off workouts are great, but having a plan to follow is even better! Check out Home Workout Domination for a total home workout program that uses minimal equipment and will get you on track to feeling and looking your best!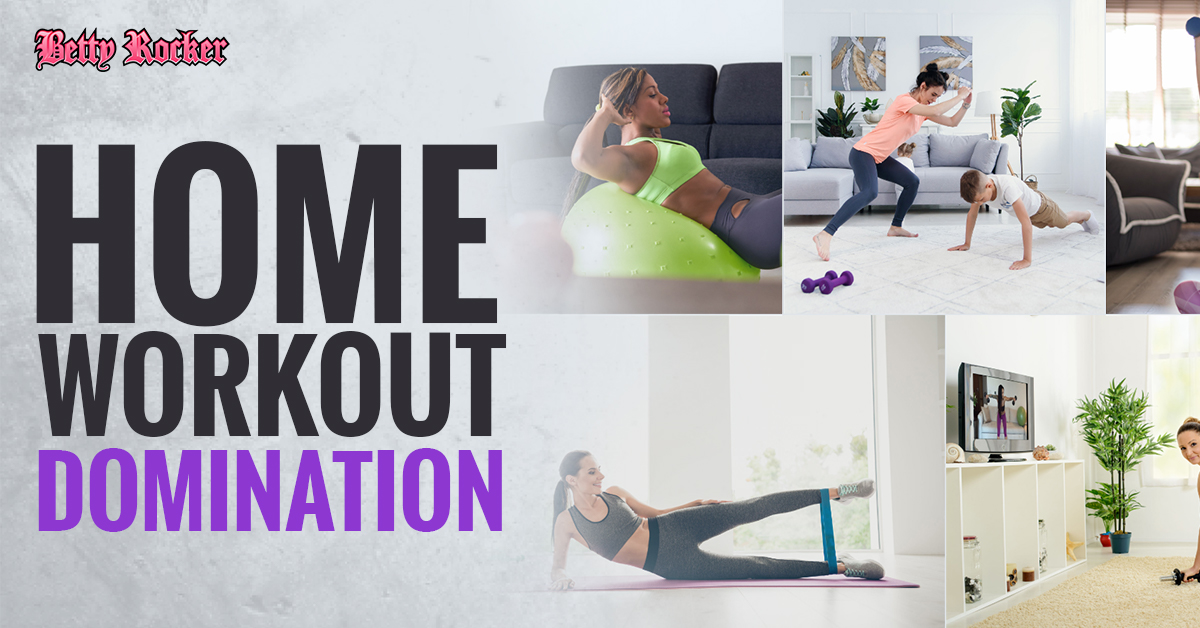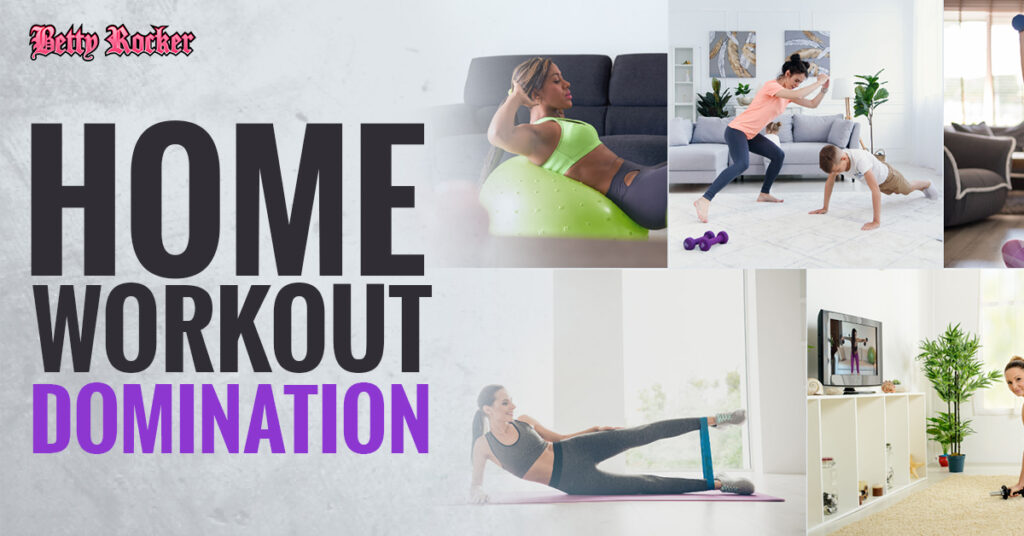 15-Minute Total Body Sculpt
Click to expand and see all workout move descriptions.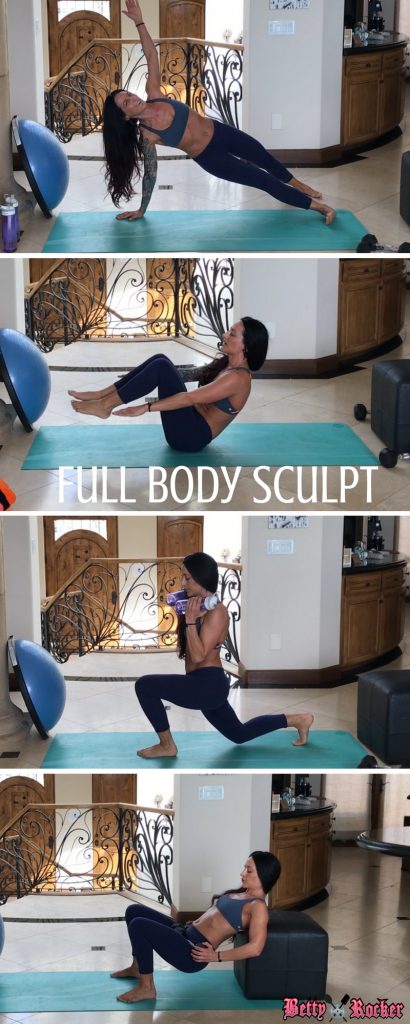 Warm Up (1:19 – 2:44)
Workout (2:50 – 19:27)
Format:
2 rounds shown in video, for prescribed amount of reps. You can watch the video again to make it 3 or 4 rounds if time and/or energy allow. Rest as needed.
1. Reverse Lunge with Lateral Raise (10-12 each leg)
Grab your weights or water bottles. Stand with your core engaged, chest up, shoulders rolled back.
Step your right foot back into a reverse lunge. Be sure the left knee stays lined up with the left toes, and you maintain your upper body form.
For lateral raises: As you step back into reverse lunge position raise your arms up, out to the sides coming up nice and even. If your shoulders get tired you can switch to a bicep curl.
For bicep curls: Engage between the shoulders slightly to hold the shoulders in the correct neutral position (so they're not rounded forward). Raise and lower the weights, bringing the palms to face your shoulders as you lift.
Step back to your starting position with control and repeat on the opposite leg.
If you're feeling secure with that movement you can add in a knee drive. Keep your weight steady through your front foot, light in your toes and as you step forward, drive your right knee up to your chest.

Mod: Take the weights and the lateral raise out and just focus on the reverse lunge.
2. Rotating Planks (10 each side)
From your plank, keep your core engaged and rotate to your right, stacking your right hand below your right shoulder. You can scissor or stack your feet.
With control, rotate back to tall plank. Pause briefly, then rotate to the left.
If you're feeling pretty confident in this movement add in a push up in the middle for a little extra challenge.

MOD: Drop your knees down and hold plank in a kneeling position. Keep the bottom knee down as you rotate from side to side.
3. Hopovers (10 each side)
Stand at the right side of your mat.
Laterally step up onto your elevated surface adding a hop at the top and switching your feet to end up on the other side with one foot on your elevated surface and one foot on the floor coming into a squat.
Your booty is shooting back behind you, chest is up.
Continue to hop from side to side.

Mod: Take out the towels and focus on the move without the elevation change.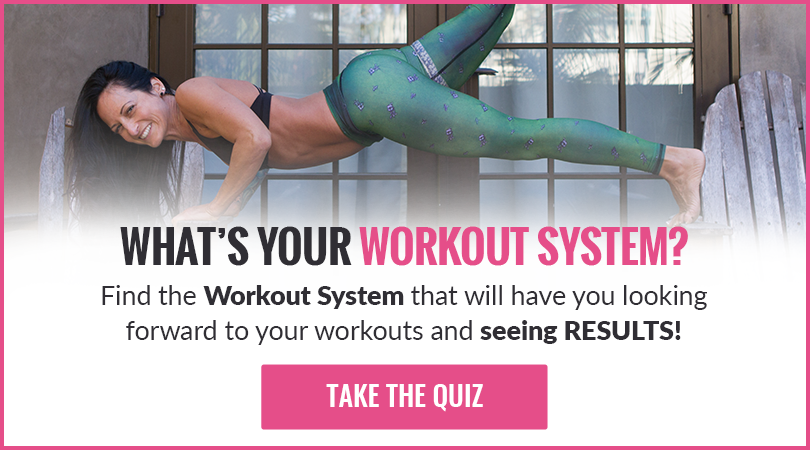 4. Triceps Dips (10-12)
Come into reverse tabletop facing away from your box or raised surface, with your hands behind you on the box.
Keep your chest open and your elbows parallel to each other as you lower down and press up.
Keep your knees bent, and engage between your shoulders to help keep your chest open and not put too much pressure on your shoulders.
After you complete 5 and want to add in a little challenge you can add in a knee tuck by bringing your knee up to your chest.

Mod: Take a standing or kneeling position holding a water bottle or weight overhead. Lower and lift it toward your back, keeping your elbows in parallel to each other and your chest open. Don't let your back arch.
5. Hip Thrusters (15)
Come down, balance your upper body on the side of your chair, couch or ottoman.
If you're using weights, position them in your hip creases.
Squat your booty down, press up and away. Position yourself so your weight is going straight down into your heels.

Mod: Take out the weights and use only your body weight.
6. Knee Ups (10)
Lay on your back, and engage your lower back with the mat. Extend your arms and legs out straight.
Bring your knees up to your chest as you raise your torso. Your hands will come to the outside of your knees.
Return to start and repeat.
If you're feeling confident and strong, switch to a v-up.

Mod: Keep your torso on the mat and lift your knees up and out.
---
I can't wait to hear from you!
Leave me a comment below and let me know where you worked out today, and what you used for your muscle-sculpting resistance – your creativity always inspires me! #strongertogether
---
Ready for more? I've got you covered!
The Home Workout Domination program is perfect if you're looking for a time-saving resistance training plan to do at home, at the gym, or on the road – it will torch body fat, and tighten and strengthen your legs, glutes, abs, and arms – total body domination!