Get ready for some 4th of July fun!
It's time for the Betty Rocker Independence Day Red, Workout, and Blue Challenge!
⭐Red:
CHALLENGE PART 1: Eat a RED FOOD! 
Here's why: red fruits and vegetables get their hue and nutrition boost from lycopene and anthocyanin.
Lycopene is an antioxidant that has been shown to reduce heart disease risk, protect the eyes, fight infections, and protect against damage from tobacco smoke, while anthocyanins are believed to protect the liver, improve eyesight, and reduce blood pressure and inflammation.
Deeper colors, like the dark hue of beets, usually means that the vegetable is richer in these phytonutrients including antioxidants, vitamins, and minerals. These nutrients have been shown to help prevent cancer, fight chronic illnesses, and strengthen the immune system.
Try any of these beauties today to reap the benefits of eating red!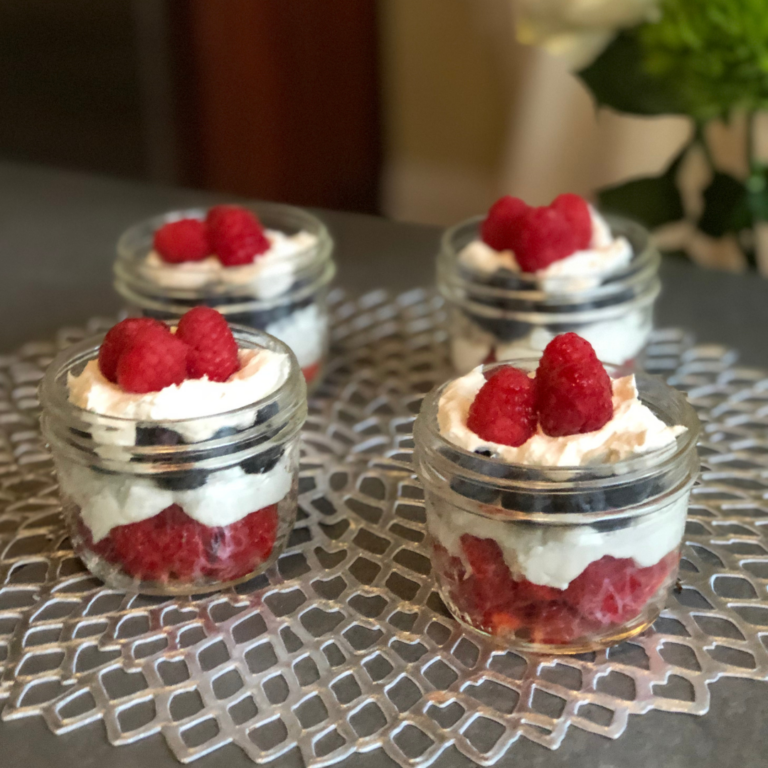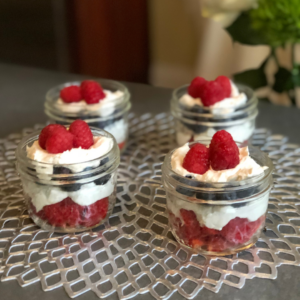 tomatoes
beets
watermelon
red cabbage
radishes
raspberry
red bell pepper
rhubarb
red onion
---
⭐Workout:
CHALLENGE PART 2: Rock out today's brand new 10-minute full body circuit below!
You don't need a lot of time or a lot of space to shred your body head to toe. Use just your bodyweight, or try using light weights or water bottles for added resistance.
---
⭐Blue:
CHALLENGE PART 3: Speaking of water bottles, your blue challenge is to drink at least 64 oz of water today!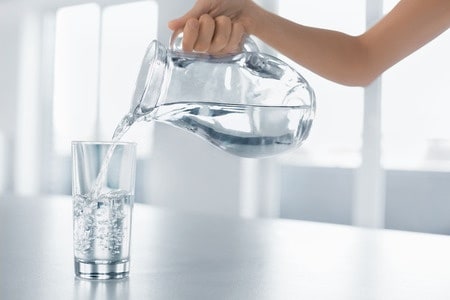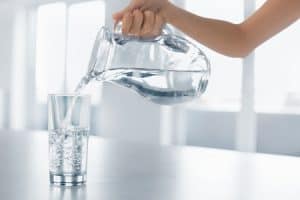 It's easy to get dehydrated if you're out in the sun for extended periods of time, especially if there are cocktails involved. Staying hydrated is crucial to staying healthy and maintaining the function of every system in your body, including your heart, brain, and muscles.
I have a couple of great tools I use to make sure there's always a clean drinking water option with me. At home, the AquaTru water filtration system removes the impurities from the tap water right on my kitchen counter – so easy!
Let's go, Rockstar!
---
4th of July Workout Challenge
Click to expand and see all workout move descriptions.
Format:
2 rounds for time shown. To add more, go back to 1:00 and begin workout again for extra rounds!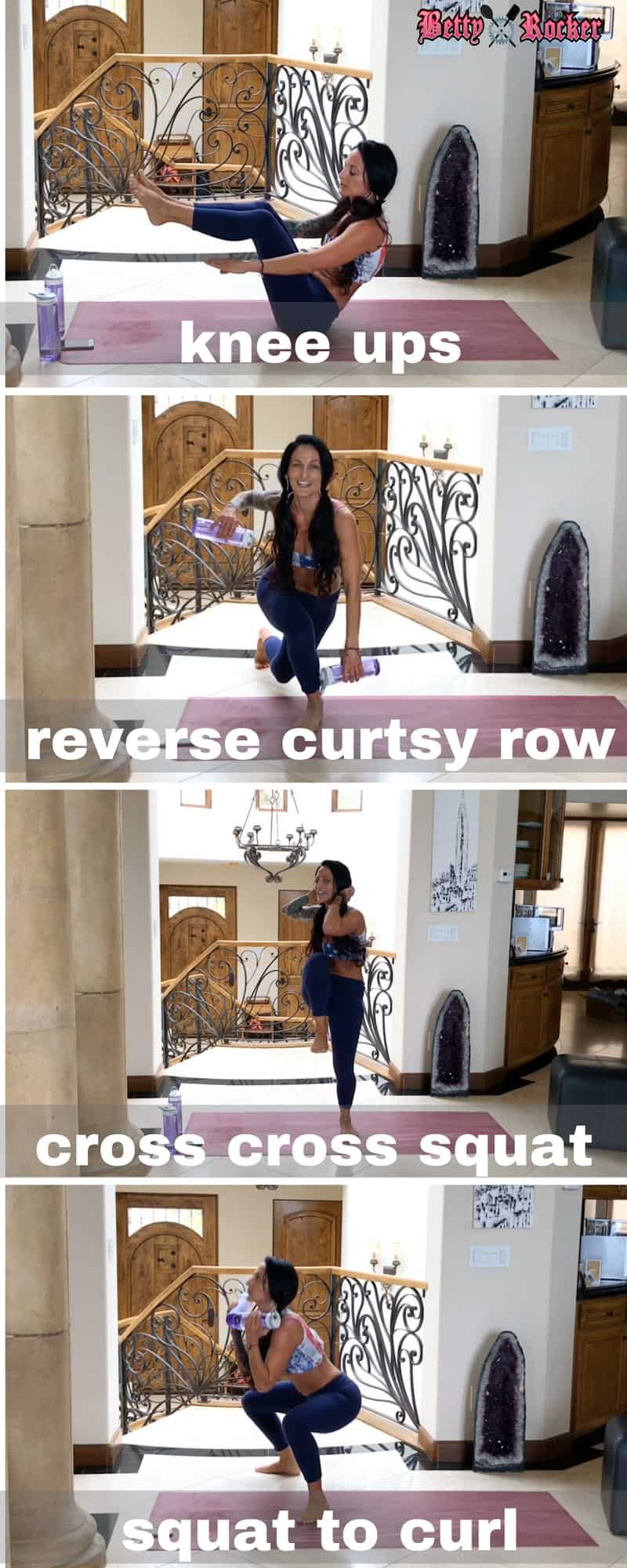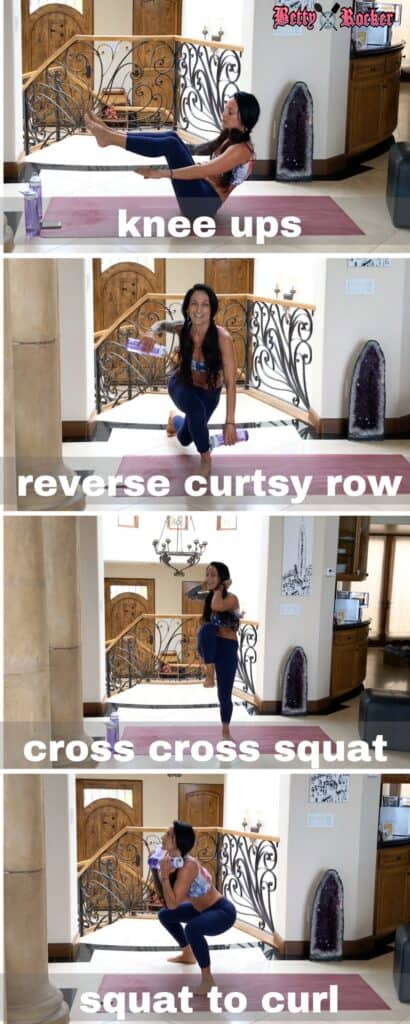 Workout
Move 1: Reverse Alternating Curtsy Lunge with One Arm Row (0:45)
Grab your weights or water bottles. Stand with your core engaged, chest up, shoulders rolled back.
Start in a curtsy lunge position by stepping your knee behind your heel.
For one arm row: The arm that rows back will be the same side arm as the front stable leg. Row your arm back, chest is elevated and squeeze between your shoulder blades.
Step back to your starting position with control and repeat on the opposite leg.

Mod: Take the weights and the one arm row out and just focus on the reverse curtsy lunge.
Move 2:  Squat Thrusts (0:30)
Stand tall, engage your core then bend your knees to plant your hands below your shoulders.
Jump your feet back to tall plank. Maintain a strong plank, no arched back, belly button in and up.
Jump your feet back into your hands, load the weight in your heels and jump up!

Mod: Come down to your elevated box or surface and do a body squat instead of the jump.
Move 3: Step Out Squat to Curl (0:45)
Grab your weights, hold them at your side, shoulders back and step out to a wide squat.
For bicep curls: Engage between the shoulders slightly to hold the shoulders in the correct neutral position (so they're not rounded forward). Raise and lower the weights, bringing the palms to face your shoulders as you lift.
Step back to your starting position with control and repeat on the opposite leg.

Mod: Take out the weights and bicep curl and just focus on the step out squat.
Move 4: Mountain Climbers (0:30)
Begin in a tall plank position, hands stacked just below your shoulders.
Run your knees into your chest, alternating legs. Keep your core engaged.

Mod: do this elevated against a couch or chair
Move 5: V-Ups (0:45)
Lay on your back, and engage your lower back with the mat. Extend your arms and legs out straight.
Use your lower abdominal strength to lift you up into a V-shape, reaching your hands to meet your feet. As you come back down, re-engage your lower back with the mat.

Mod: Knee Ups are an awesome variation to use if you're building strength or need a break. Bend your knees as you lift up to take the full weight of your legs out of the move and allow you to get stronger.
Move 6: Cross Cross Jump Squat (0:30)
Stand with feet slightly wider than hip distance apart.
Engage your core and shoot your booty back behind you as though you were going to sit on a chair – keeping the weight in your heels and chest up.
Drive your heels down to power up to jump, landing lightly on your feet.
As you land, drive your right knee up and across your midline, rotating your torso as you bring your left elbow to meet your knee. Repeat on the other leg, then back to the squat.

Mod: Take the jump out to lessen the impact, instead performing a body squat with good form. Only squat as deeply as you can comfortably go without bending forward at the waist.
Be sure to comment below to let me know when you complete this Challenge – and have a fabulous 4th!
---
Love working out anywhere, anytime – no equipment needed?
For my most effective bodyweight shred program, check out the 90 Day Challenge!
In 15 minute workout sessions, you will get stronger, leaner and build endurance as you progressively increase your strength!