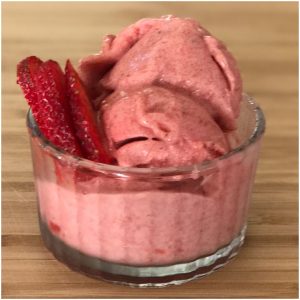 "Life is short.
Eat dessert first."
-Jacques Torres
Summer is right around the corner, which means the days are getting warmer, and we all know one of the best things about warm days is cool treats!
Today, I've got another refreshing Nice Cream recipe to share with you that I know you're going to want to add to your summer rotation.
But why wait until summer?
This dessert is simple to make (only 4 ingredients!), packed with flavor, and full of nutrients like potassium and Vitamin C, which makes it a fabulous go-to any time you're craving a little something sweet.
Plus, I boosted it with a little vanilla protein powder. If you're having this as a treat after dinner, that addition of the protein will help satisfy you and make you less likely to keep looking for snacks. You don't have to add it in to make the recipe work, but it's a great option to have and the recipe holds it well!
Enjoy!
---
Strawberry Nice Cream
Yield: 2 servings
You will need: Ziploc bag, food processor or blender, measuring cups and spoons, container with lid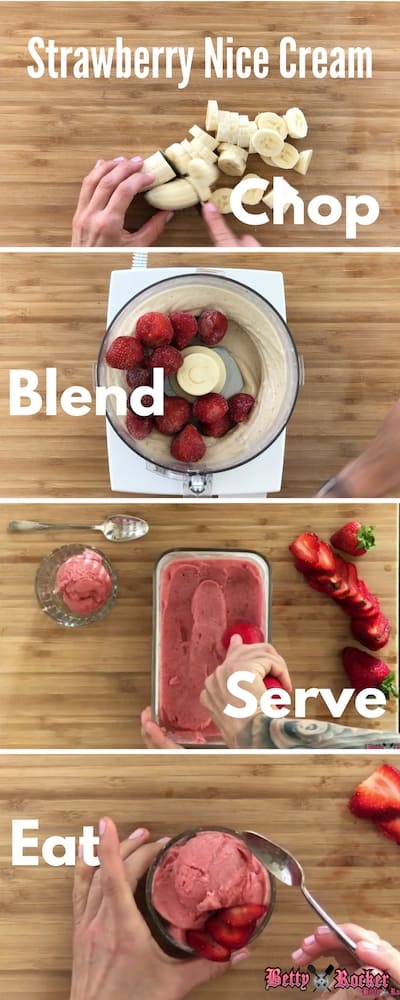 Ingredients:   
2 bananas
1 tsp vanilla extract
2 T unsweetened almond milk (or non-dairy milk of choice)
1 cup strawberries, frozen
2 servings (60 grams) I ❤️ Vanilla Protein (optional)
Directions:
1. Peel and chop your bananas, freeze in a Ziplock bag.
2. Add bananas to food processor and blend until smooth.
3. Add in vanilla and almond milk and blend again.
4. Add in strawberries and blend until smooth.
Eat right away, or transfer to a container and freeze for an hour for an ice-cream-like texture!
Toppings I Love:
mixed nuts
cacao nibs
culinary grade coconut cream
fresh mint
shredded coconut
hemp seeds
fresh fruit
Nutrition Facts
Calories per Serving:

257
What if…
…I prefer chocolate? No problem! You can click here for Chocolate Nice Cream!
…I don't like bananas? Try subbing mango – you'll get a similar consistency with the same fiber benefits.
…I'm not into strawberries? That's ok, give cherries a try!
…I can't have almond milk? Any kind will do; use your favorite, or just use water for a thinner consistency.
---