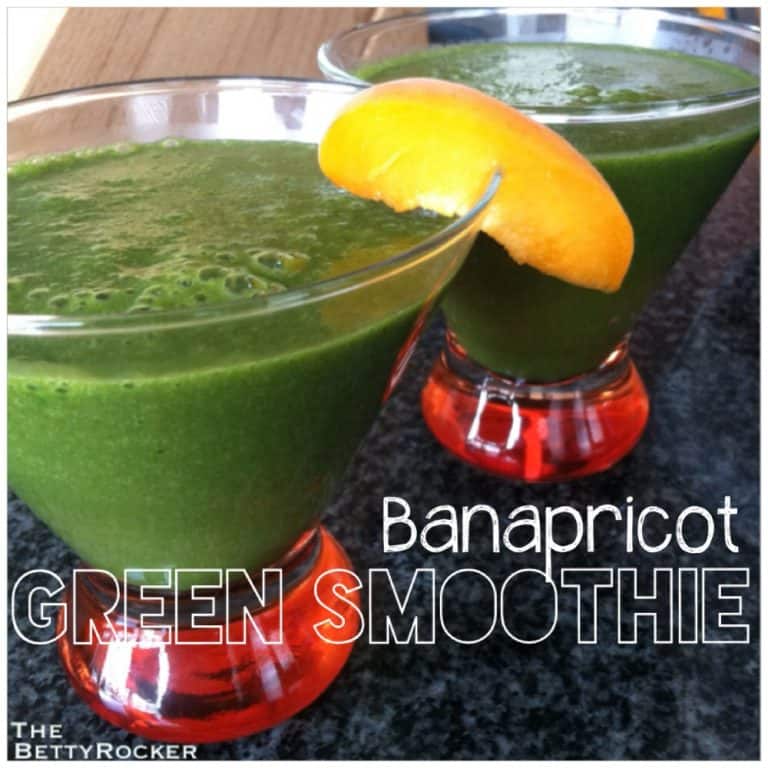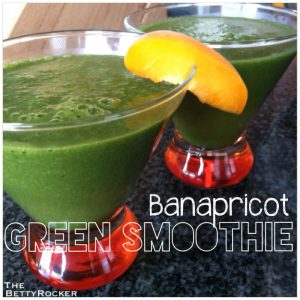 I could not resist the plump, delicious organic apricots that just showed up at the store last week, a sure sign that we are on summer's doorstep!
3 Health Benefits of Apricots:
AntioxidantApricots are a wonderful source of vitamin C and beta carotene, antioxidants that protects the body from the damaging effect of free radicals. Antioxidants help boost our immune system and are important substances that reduce the risk of heart disease and cancer.
Good source of fiber – having healthy fiber in your diet prevents constipation and a sluggish or stagnant digestive system. Whole fruits provide us with an excellent source of dietary fiber, and are preferable to juice.
Promote good vision – apricots contain vitamin A, a powerful antioxidant that fights off free radical damage to the body's cells and tissues, and protects the delicate lenses of the eyes.
Try out this delicious Banapricot Green Smoothie that balances some sweeter fruits with the bitter greens – add a little spice and a scoop of my favorite I ❤️ Vanilla Protein Powder, and you'll have a complete warrior meal in a glass!
Banapricot Green Smoothie
Yield: 1 serving
You will need: blender, knife, cutting board, measuring cups and spoons
1 apricot
1 banana
1/2 orange
Mixed greens – a handful or so
Dandelion greens – a handful or so
Fresh mint – 2-3 stalks
1/4 tsp nutmeg
1 serving (30 grams) I ❤️ Vanilla Protein
1 cup (+/-) almond milk, water or other liquid
Nutrition Facts
Calories per Serving:

332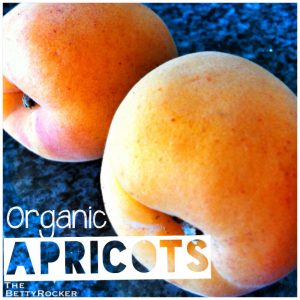 —-> I don't give you exact measurements on your greens, because what I do is sort of eyeball the blender and add roughly the same or slightly more volume of greens as I've added fruit.
A handy tip for your weekly greens –
Say this is a week you haven't made green smoothie prep bags, and instead you just want your greens on hand so you can make randomly delicious green smoothies.
Simply wash your greens in a sink about half full of water with 1/2 cup of apple cider vinegar, and then chop them up into even sized chunks. Store in large ziplock bags so you can easily assemble green smoothies, sauteed greens or salads on the fly.
Download YOUR copy of the Body Fuel System, the ultimate natural fat loss and get insanely healthy guide, and enjoy 2 green smoothie recipes per week, fitness food recipes for breakfast, lunch, dinner and snacks, 6 weeks of done-for-you meal planning, shopping lists and food prep set up – an entire crash course to what the best foods to eat are, and how to combine them to get maximum lasting health benefits!

The Body Fuel System uses my simple, proven Eating Types to make it easy to stay on track. It also gives you healthy, fat-burning recipes and foods you can eat to look and feel your BEST every day!
Recipes like….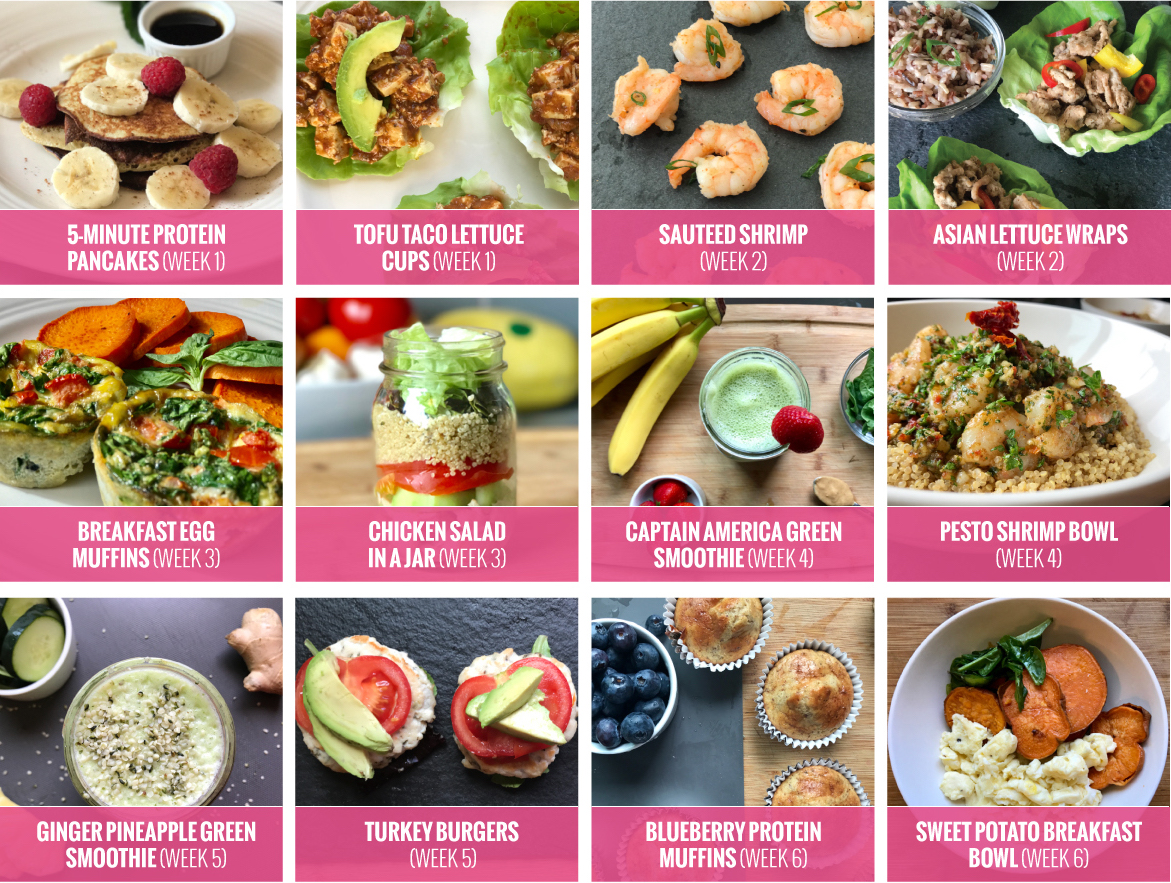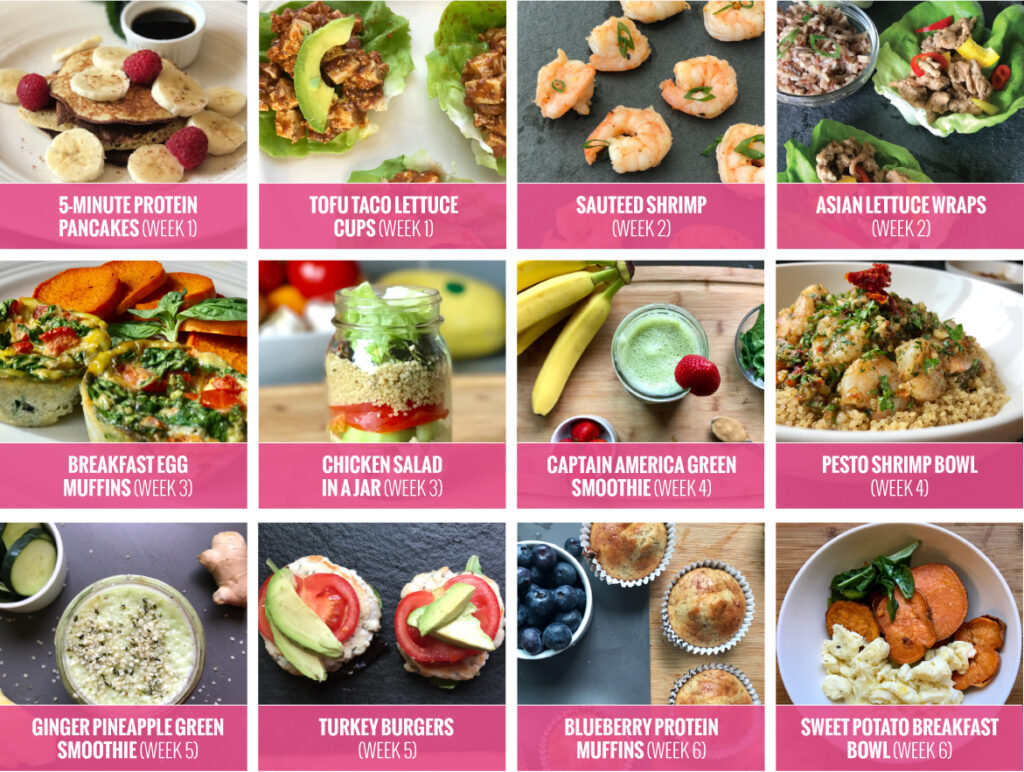 This is my signature eating system and it contains 6 weeks of done-for-you meal planning and recipe guides! You will not only learn the strategies that have given me long-term success, but also enjoy the time-saving benefits of having it all planned out for you!