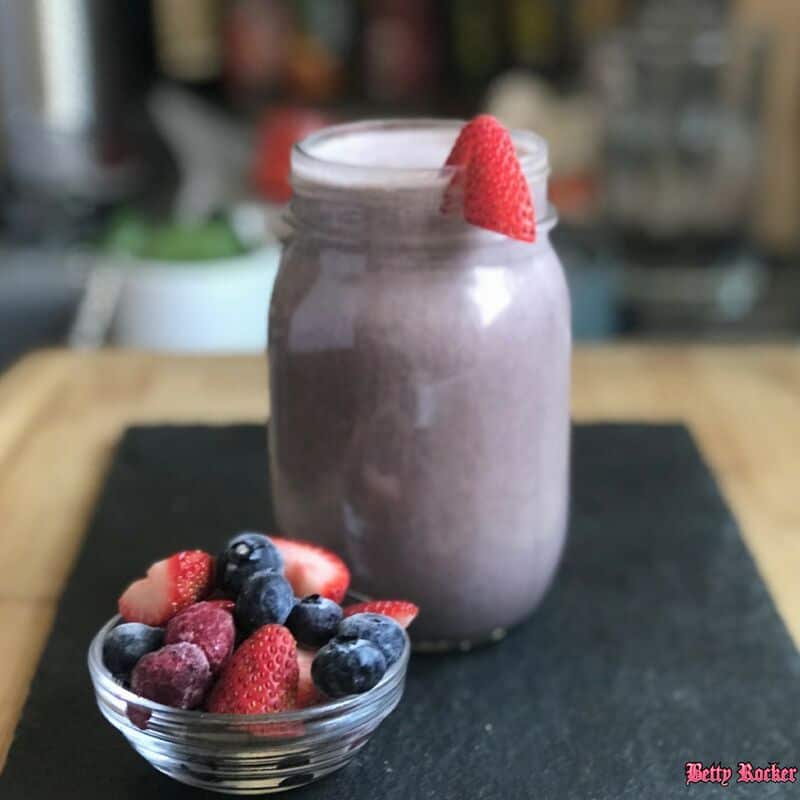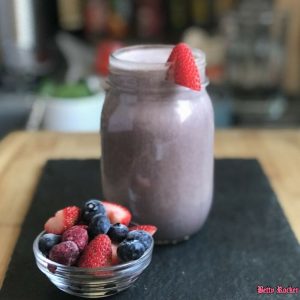 I've been drinking smoothies for the convenience of a simple and nutrient packed fit-body meal on the go for years. I love being able to get an extra serving of greens, fiber, protein and any other nutrients I know I need all in one tasty shake.
To make smoothie-making fun and varied without breaking the bank, I always choose 2 complimentary recipes for the week so I can alternate greens, fruit and other key ingredients for variety and simplicity.
This week, I paired this Berry Bliss recipe with my Easy Strawberry Chia Smoothie recipe, and picked up enough complimentary ingredients so I could alternate these two recipes for the week.
I actually do this in all of my meal plans – these 2 smoothie recipes happen to be from week 2 of the 30-day Challenge Meal Plan which has some of my favorite recipes for all of my daily meals, including smoothies.
For this easy recipe, you'll start with a base of dark leafy greens, which are an excellent source of both fiber and micronutrients to give your body the vitamins and minerals it needs for healthy body maintenance and muscle growth.
I chose banana to add a little tropical sweetness and for the potassium, magnesium, vitamin C, and vitamin B6. You can totally swap that out for something else if you prefer.
I went with mixed berries to round out my recipe. You really can't go wrong with any combination of these.
I chose berries rather than another tropical fruit like mango or pineapple because tropical fruits are the highest in sugar. While I want my smoothie to taste good, I want to balance the amount of fruit sugar in it as well. Berries are on the lower end of the sugar spectrum for fruit sugar, and also have lots of other wonderful benefits.
Blueberries contain fiber, iron, phosphorous, potassium, calcium, magnesium, manganese, zinc, vitamin K, and vitamin C.  Blueberries are also repeatedly ranked as having one of the highest antioxidant capacities among ALL fruits, vegetables, spices, and seasonings!
Blackberries are packed with antioxidants, high in vitamin C and vitamin K, and full of fiber and manganese, too
Cherries, which contain anthocyanins, a powerful antioxidant that can aid in the reduction of heart disease and cancer, can reduce not only inflammation after exercise but also symptoms of arthritis and gout. Cherries are also a good fiber source and are rich in Vitamins A, C, E, potassium, folate, magnesium, and iron.
Raspberries are one of nature's powerhouse inflammatory foods. These juicy berries are high in Vitamin C, manganese and fiber. They also contain vitamin K, folate, omega 3's, copper, Vitamin E, and potassium. Plus! Raspberry phytonutrients have been shown to play an important role in lowering oxidative stress, reducing inflammation, and thereby altering the development or reproduction of cancer cells.
Strawberries are full of essential nutrients like vitamin C, fiber, folic adic, calcium, manganese, and potassium.
I can't wait to hear what you use and how it turns out!
---
Berry Bliss Smoothie
Yield: 1 serving
You need: blender, measuring cups and spoons
KEY: T = Tablespoon; tsp = teaspoon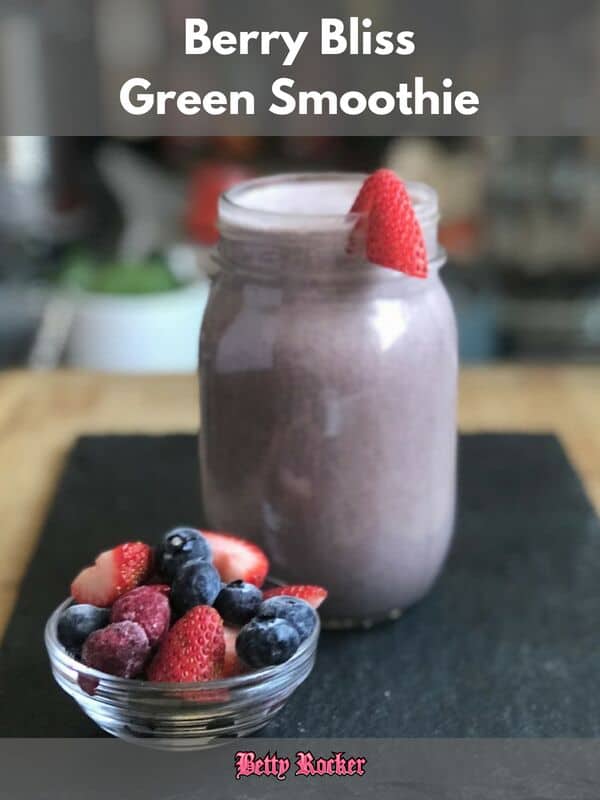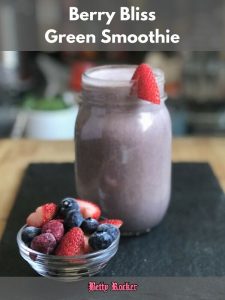 Ingredients:   
1 cup dark, leafy green like spinach, kale or chard
1 cup almond milk (or other milk)
1 banana (fresh or frozen)
1 cup fresh or frozen mixed berries
1 serving (30 grams) I ❤️ Vanilla Protein
Instructions:
Add the kale and almond milk to a blender and blend until smooth.
Add the fruit and blend well again.
Finally, add in the protein powder and blend until no chunks remain.
When you're planning your week of food, be sure to take into consideration what smoothie recipes pair the best together and shop accordingly. This really helps save money and ensures you have delicious options on hand.
Be sure to check out my complimentary recipe to this one, the Easy Strawberry Chia Smoothie!
Nutrition Facts
Calories per Serving:

352
---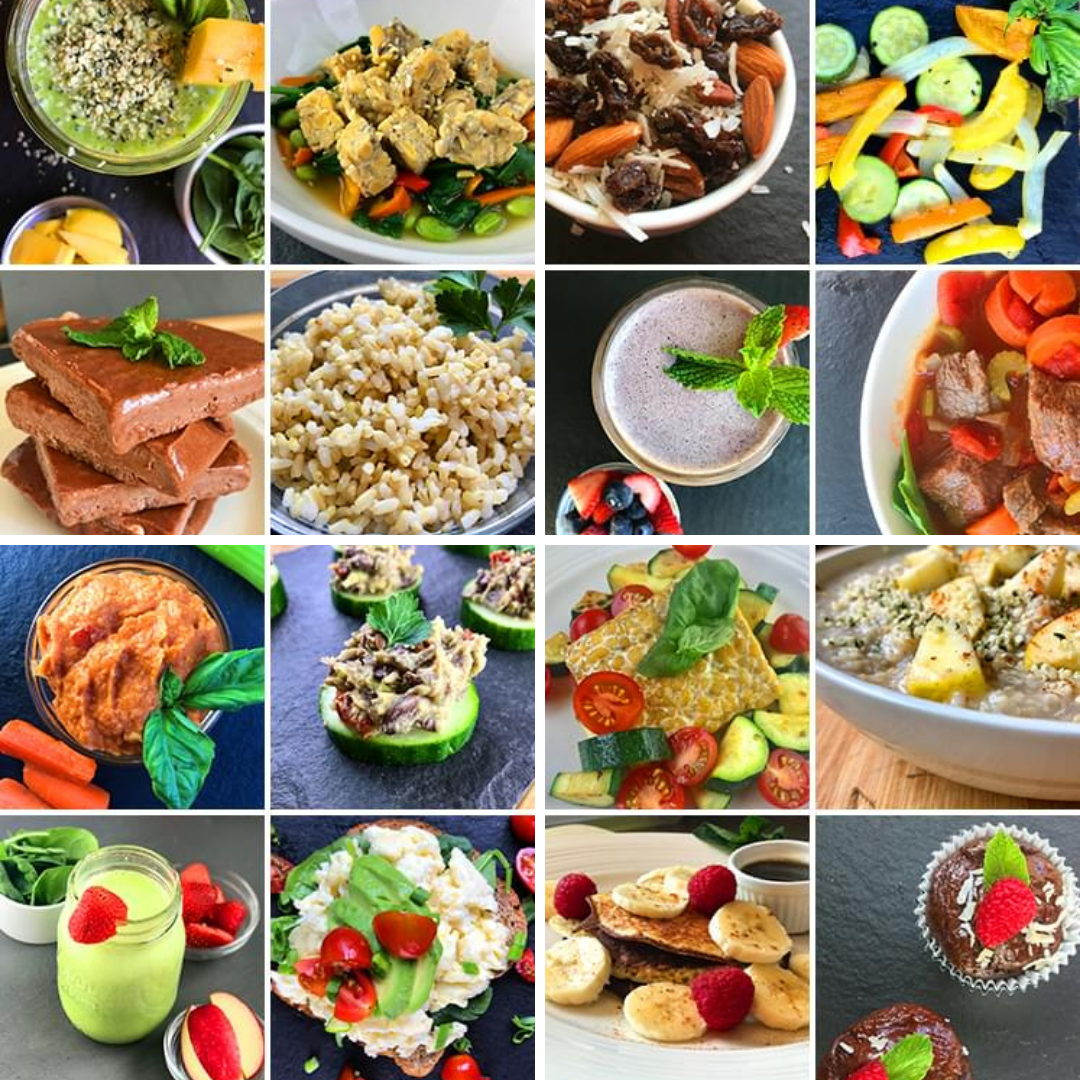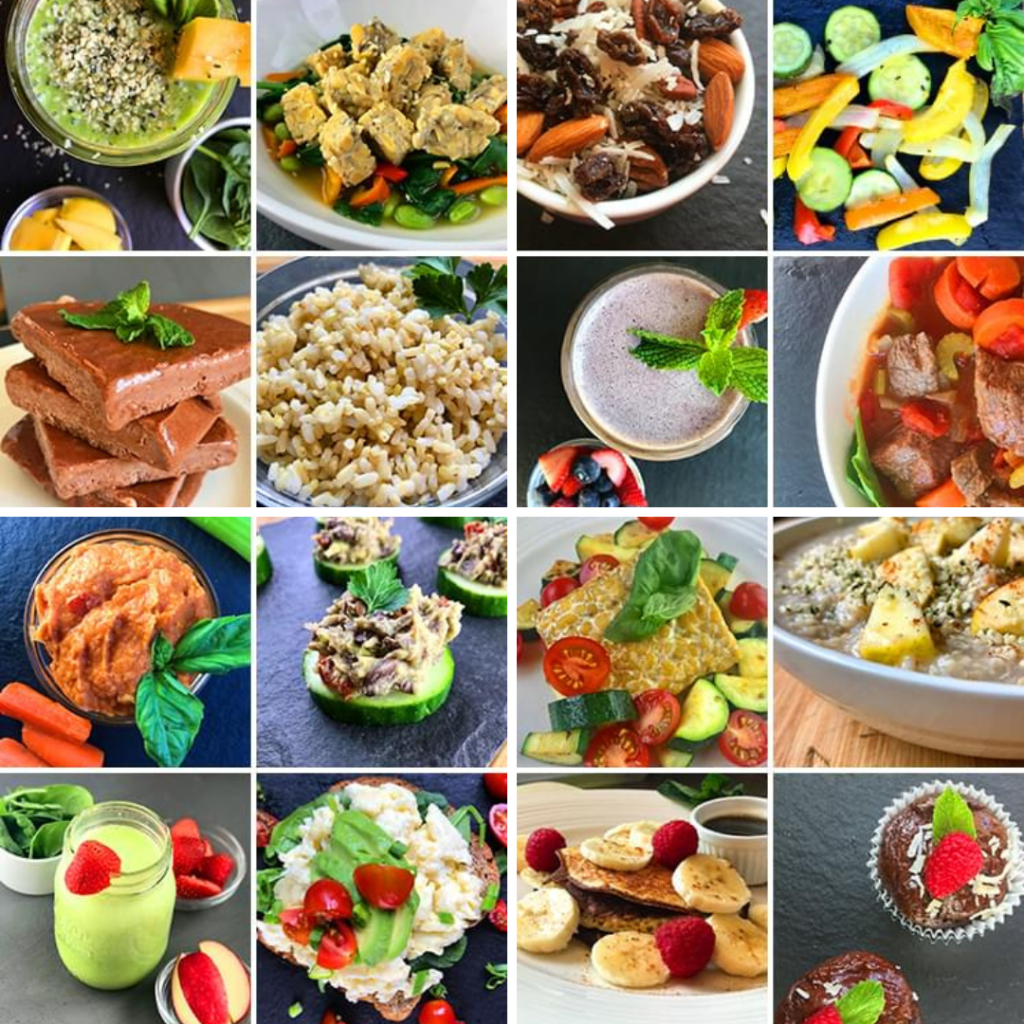 Get set up for total eating success with this done-for-you Plan that delivers great energy, a healthy, fit physique, and supports your workouts and energy levels too!