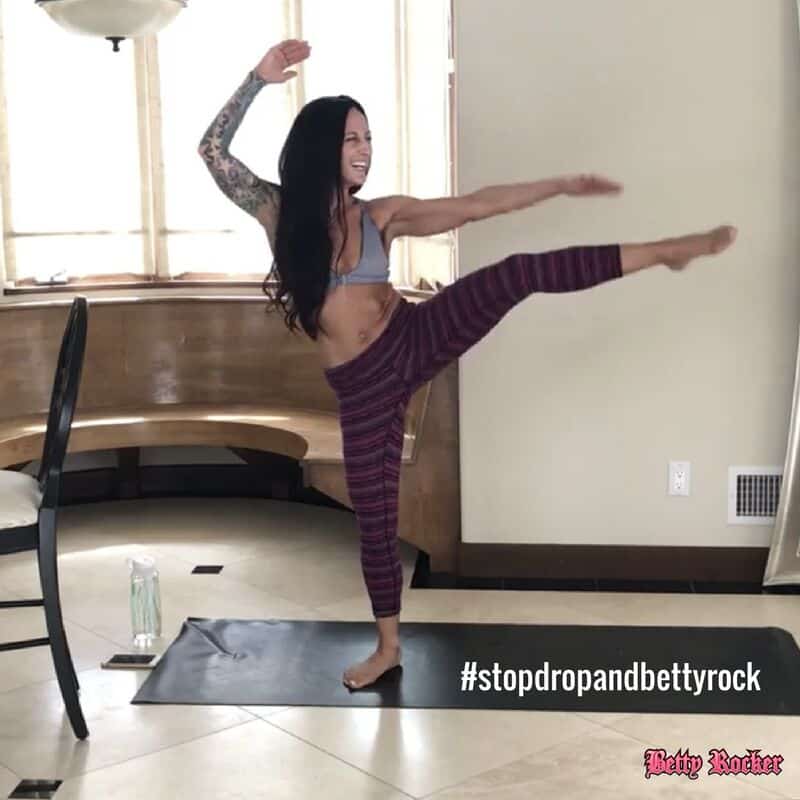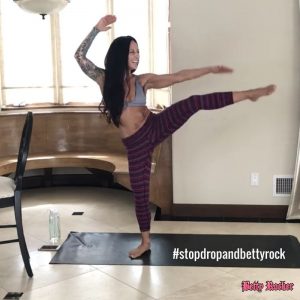 You're invited to join me for a head-to-toe Cardio Booty Barre sculpt session that will work your body, target your booty, and possibly even improve your mood.
Did you know?
Regular exercise has tons of benefits for both your physical AND mental well being. Studies show exercise not only helps with weight loss, but also results in stress reduction, better sleep, increased energy and stamina, and improved memory.
This workout will do even more than lift your spirits – it'll also activate your posterior chain, engage your core, and sculpt your rear end while lengthening and strengthening your entire lower body.
No equipment is needed – you can do this one anywhere – so grab a water bottle and let's #stopdropandbettyrock!
---
Cardio Booty Barre
Click to expand and see all workout moves.
Workout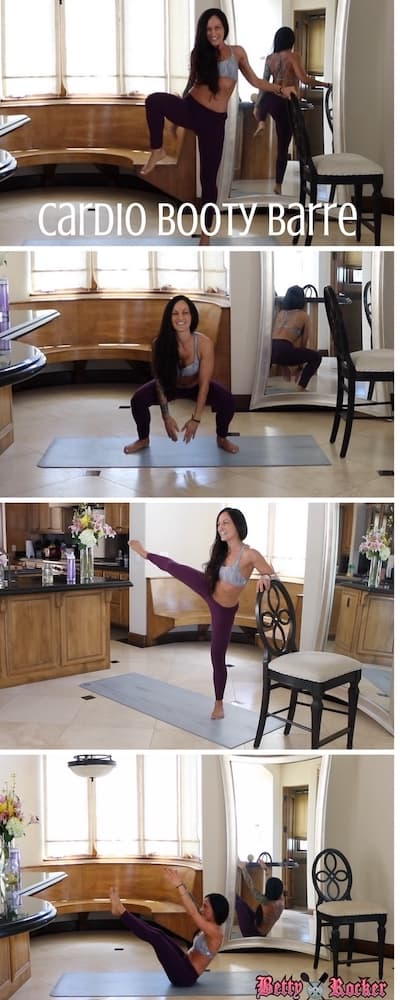 Warm-Up:
1st Position Heel Lifts
1st Position Squats
1st Position Squats on Toes
In/Out Pulse on Toe
1st Sequence:

Step out to Plie
Step out Plie Passe
Plie Passe with Jump
Plie Jump Squats (Do on Left side, then repeat sequence on Right)
Cardio Blast: Skaters with Ballerina Arms
2nd Sequence:
Reverse Curtsey Lunges
Reverse Curtsey Passe
Reverse Curtsey Knee Lift (come to toes)
Plank Walkout to Push-ups to Mountain Climbers (Do on Left side, then repeat sequence on Right)
3rd Sequence:
Low Squat Heels Up Hold
Low Squat Heels Up Pulse
Low Squat Pulse with Alternating Leg Extensions
4th Sequence:
Step out to Wide Plie Lateral Lift
Step out to Wide Plie Jump to Lateral Lift
Lateral lift and touch with arm
Reverse Lunge to Lateral Lift with Arms
Plie Thigh Pulse (Do on Left side, then repeat sequence on Right)
No matter what your personal goals are, making regular exercise an integral part of your week is bound to bring benefits to every corner of your life.
Don't get me wrong, I'm proud of my physical appearance because I know all the hard work I did to build a strong physique, but an active lifestyle has helped me with so much more beyond what you see on the outside.
I WISH I could take a progress picture of the inner journey I've been on so you could really see the mental and emotional "weight lifting" exercise has also empowered me to do. It hasn't always been easy, but it is ALWAYS worth it.  
These days, instead of flaws, I see #flawsome.

Nutrition and fitness were my gateways to personal mastery – and my programs have helped thousands of people around the world with the same! 
If your life isn't painting a picture that you'd like to step inside of, it's time to start choosing some other colors to paint with. Your life is a one of a kind masterpiece.
There is only one YOU.
Eat like you love yourself. Move like you love yourself. THINK like you love yourself.
You freaking deserve it!
---
One-off workouts are great! But a plan to follow is the BEST!
…in my online home workout studio and women's fitness community that has dozens of 30- day challenges to choose from, hundreds of classes in the workout library, and so much more!