Chocolate Nice Cream
---
This recipe is seriously easy, healthy and can be made so many different ways.
---
Chocolate Nice Cream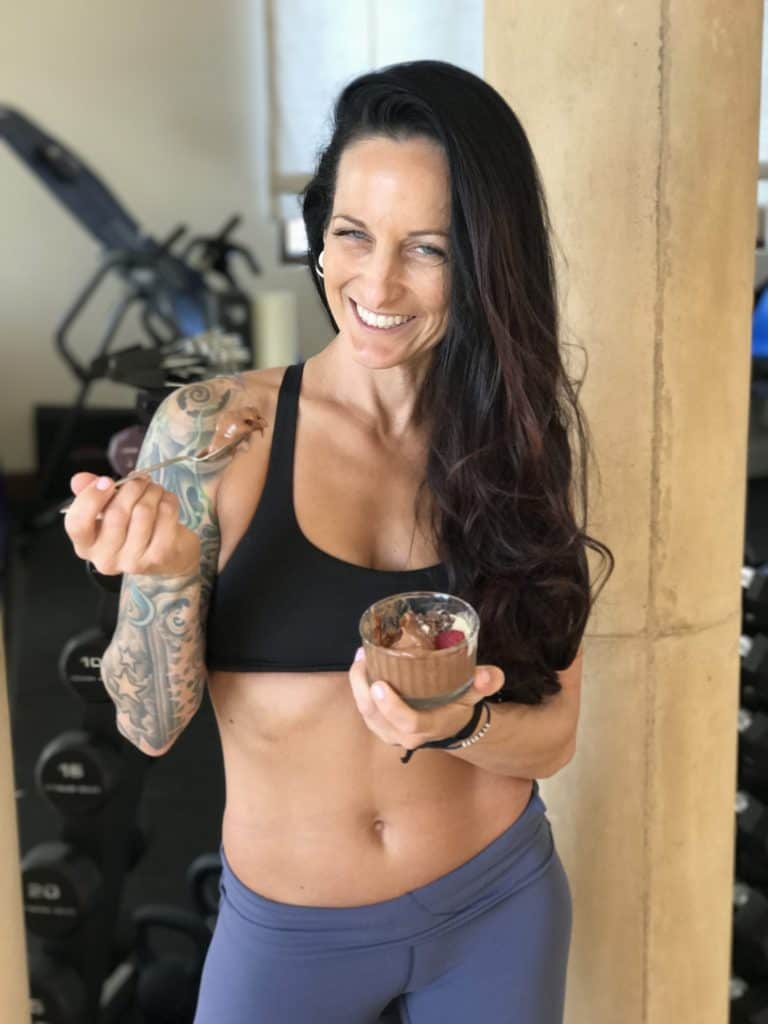 Key: T=Tablespoon; tsp=teaspoon
Ingredients:
2-3 bananas, frozen
2 T almond milk
1 tsp vanilla extract
1/8 tsp salt (optional)
2 1/2-3 T cacao powder
1. Peel and chop your bananas, freeze in a Ziplock bag.
2. Add bananas to food processor and blend until smooth.
3. Add in vanilla and chocolate and blend again.
Eat right away, or transfer to a container and re-freeze for an hour for even more scoop-ability.
Nutrition Facts
Calories per Serving:

169
Toppings I love: fresh raspberries, cacao nibs, culinary grade coconut cream, fresh mint
VARIATIONS:
For a Chocolate Fit Nice Cream variation, try adding 1 serving of I ❤️ Chocolate Protein powder or your favorite chocolate protein powder + 1 T cacao powder.
For a Chocolate Peanut Butter Nice Cream variation, add 1 T peanut butter (or almond butter) to either the original or the Fit Nice Cream recipe above.
What if…
…I don't like bananas? Try subbing mango – you'll get a similar consistency with the same fiber benefits.
…I can't have almond milk? Any kind will do; use your favorite, or just use water for a thinner consistency.
…I prefer strawberry instead? No problem! You can click here for Strawberry Nice Cream!
…I prefer cherry instead? No problem! You can click here for Dark Cherry Nice Cream!
---
What variations do you want to try? Let me know how yours comes out!
---
Looking for some healthy, easy recipes and a plan to make your life easier week by week?
Check out my meal plans for done-for-you planning that includes grocery lists, daily eating guides, options for prep and healthy cookbooks!