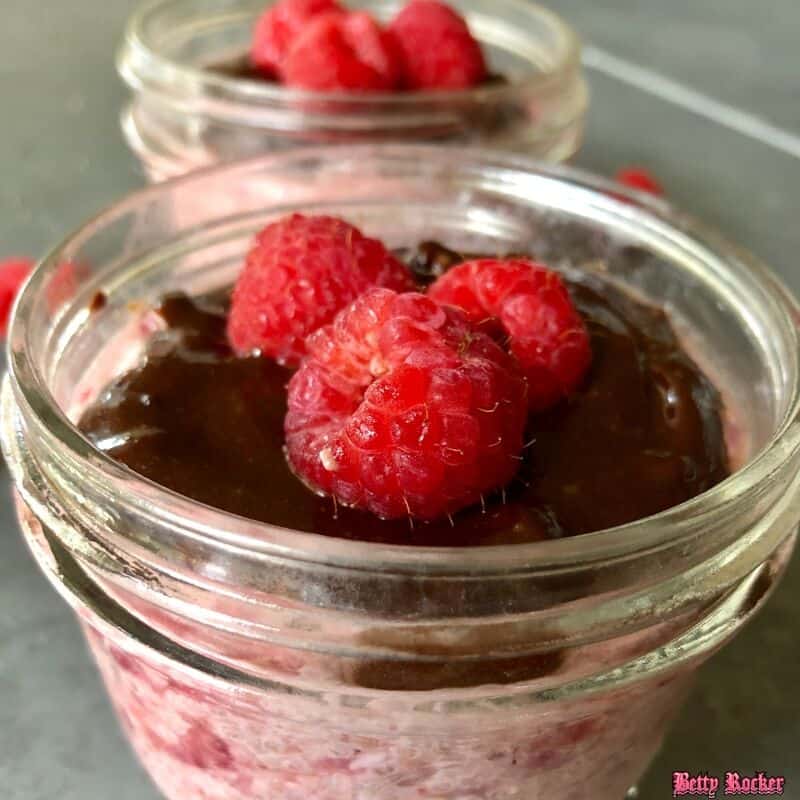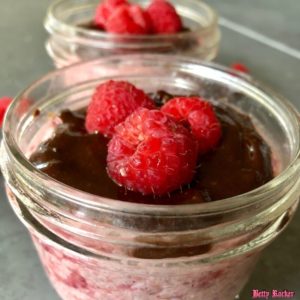 This Chocolate Raspberry Chia Breakfast Parfait will be a delicious start to your morning!
Because it's made with whole food sources of fiber, protein, and healthy fats, you'll get all the energy you need to rock your day and your goals.
Not only is this recipe easy to make, it's satisfying and delicious all while supporting your health. 
Coconut is a great source of digestion-friendly and satiating fiber which is essential for our gut microbiome.
The gut microbiome is the ecosystem of bacteria that lives in our gut that helps us digest food, control our weight, fight infection and regulate our sleep (1) – all great reasons to pay attention to what we're eating.
Also a great source of fiber, Chia seeds have an absorbent quality that make you feel full longer. After you eat chia seeds, they expand in your intestinal track absorbing liquid and binding to toxins in the gut wall. When they are excreted from your body, these toxins are carried out improving the state of your microbiome (2) and your overall well being.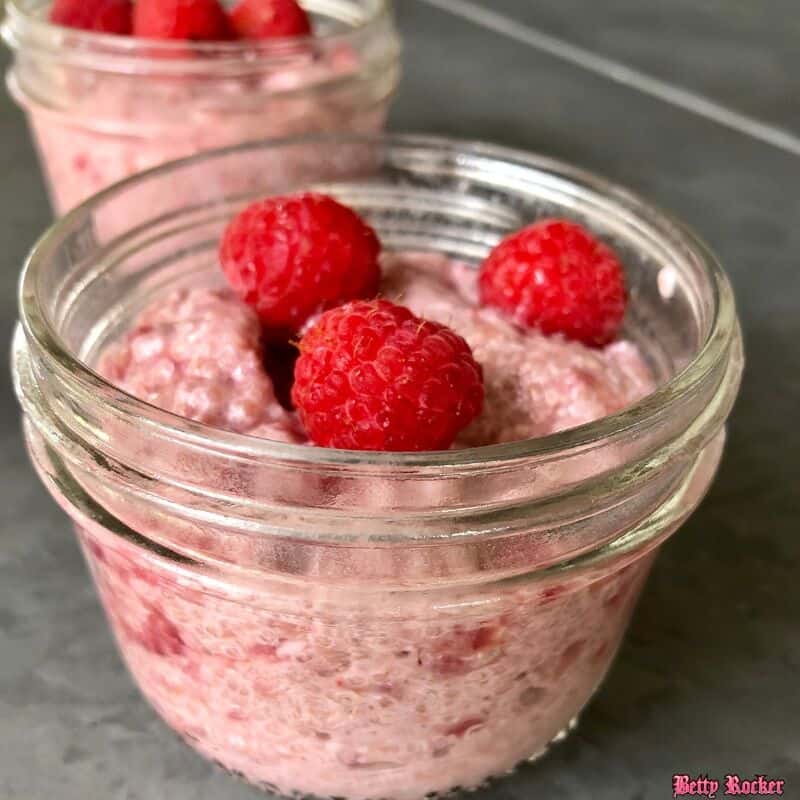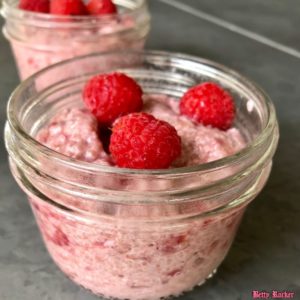 Raspberries also have a high fiber content, keeping your digestive system regular. They are also high in Vitamin C, manganese and flavonoids (phytonutrients), that play an important role in lowering oxidative stress and reducing inflammation in the body (3).
Lower levels of inflammation are key when it comes to decreasing your risk of disease, obesity and premature death.
I'm using my organic I ❤️ Vanilla protein powder to add a satisfying complete protein source to this tasty recipe to ensure you're getting a complete breakfast!
This clean, delicious vanilla protein is made from a blend of 4 different plant-based protein sources, organic pumpkin seed protein, organic chia seed protein, organic pea protein, and organic cranberry seed protein. Highly recommended!
---
Chocolate Raspberry Chia Breakfast Parfait
Yield: 2 servings 
You will need: measuring spoons, measuring cups, small mixing bowl, serving bowl, fork
Key: T=Tablespoon; tsp=teaspoon
Ingredients:
Raspberry Chia Pudding 
Instructions:
In a small mixing bowl, mash up the raspberries using a fork.
Mix in the vanilla extract, coconut, chia seeds, and 1 cup of almond milk.
Soak the mixture for a minimum of 30 minutes or overnight in the fridge.
Remove from the fridge and stir in the remaining almond milk and vanilla protein.
Top with healthy nutella and fresh raspberries.
*You can replace the raspberries with any other berries or mashed fruit that you like. 
Nutrition Facts
Calories per Serving:

306
I hope you enjoy this breakfast parfait as much as I do! This recipe is topped with my Healthy Nutella but you can leave that out if you prefer.
Chocolate Nutella Topping (optional)
In a small bowl, stir together cacao powder and collagen protein. If you take any powdered supplements, like a glutamine powder, you can also mix that in.
Add your nut butter. It's best if it's slightly soft. I usually buy nut butter packets that I keep for this exact purpose, as one packet is the perfect amount for your mixture – but you can also just scoop it right out of the jar.
Drizzle in about 1-2 T water. Then stir. You'll be able to tell if you need to add a little more water. Too much water and it will be runny (but still delicious). Too little water and it won't combine completely.
Enjoy Rockstar!  Leave me a comment below and let me know how it turns out and if you made any modifications – I love hearing from you!
---
Let's up your nutrition game with my 30 Day Challenge Meal Plan so you can sculpt your body from within with every delicious bite of food you take!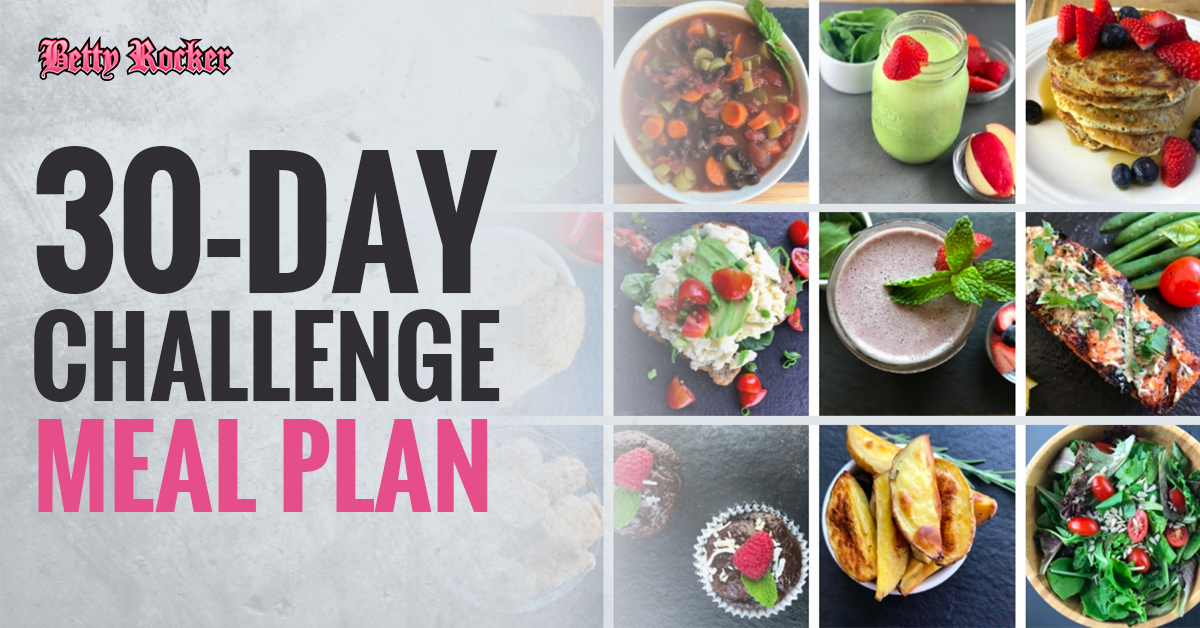 You get…
4 weeks of done-for-you daily meal plan guides
70+ healthy, easy recipes (gluten and dairy free + vegetarian options)
grocery lists
food prep steps
BONUS healthy Desserts Cookbook