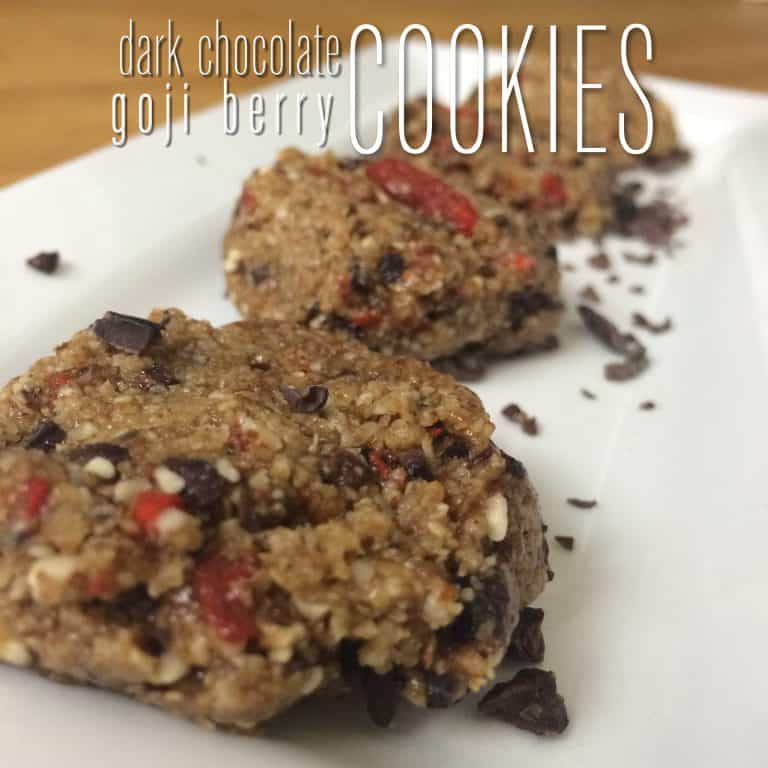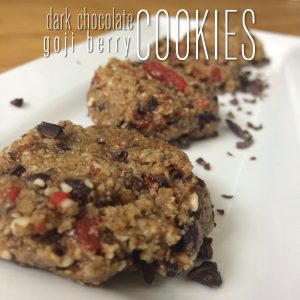 I've been enjoying the slightly sweet and unique taste of goji berries lately – in my smoothies, plain as a snack, on my overnight oatmeal, and most recently in my cookies.
You can whip this recipe together in 5 minutes in your food processor, it's so easy.
It uses just a little honey for sweetness but these cookies will totally satisfy your sweet tooth – all while infusing you with antioxidants, omega-3 fats and that special feeling we get from eating cookies 🙂
Some Fun Facts about GOJI BERRIES….
Goji berries are unique among fruits, because they contain

all

the essential amino acids.
Loaded with vitamin C, they contain more carotenoids than any other food.
The berries contain 21 trace minerals, including iron, zinc, selenium and calcium (and 15 times as much iron as spinach to give you an idea!)
They're tasty and easy to use like a raisin.
---
Dark Chocolate Goji Berry Cookies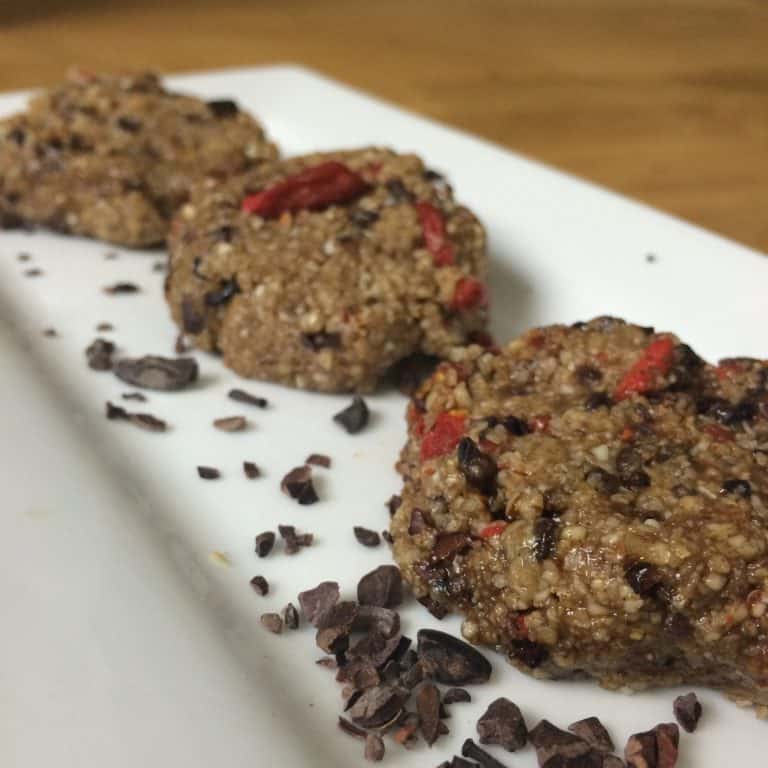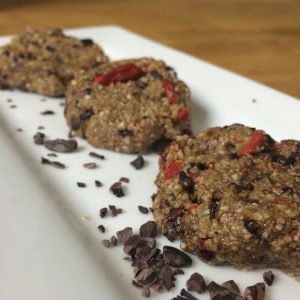 Yield: 12 cookies
You will need: measuring cups and spoons, food processor
2/3 cup walnuts
2/3 cup almonds
2/3 cup oat bran (#paleo use flax seed)
1 tsp cinnamon
1/4 tsp sea salt
1 T vanilla extract
1/4 cup honey
1/4 cup raw cacao nibs
1/4 cup goji berries
1. BLEND: nuts, oat bran, cinnamon and salt.
2. When they're evenly mixed fine, drizzle in honey and vanilla with your machine running til a sticky dough forms.
3. PULSE in nibs and berries.
4. FORM into balls or cookie shapes and enjoy!!
Nutrition Facts
Calories per Serving:

141
Want more healthy and delicious recipes…and a plan that lets you eat healthy desserts like this?