Oatmeal is one of my favorite breakfast staples. But I don't go for the quick oats, or packets of sodium and sugar packed instant oatmeal – I buy old fashioned, Irish oatmeal, also known as steel-cut oats because I want ALL the fiber, lasting energy, and vitamins and minerals the oat in its natural form provides.
Oat groats are the harvested oat grain in its natural form, and "steel cut" refers to the steel blade that's used to cut them into even-sized pieces.
(For a breakdown of all the different types of oats, read this)
Oats are digested slowly, keeping blood sugar levels stable and are an excellent long-lasting energy source.
Like all grains, proper preparation makes all the difference in how our body processes them – which is why ancient cultures soaked or sprouted their grains before consumption which helps make digestion easier while retaining all the gut-healthy fiber and other nutrients that fuel our bodies with lasting energy.
Initially, that might sound like more work, but it actually saves time! Pre-soaking your steel cut oats overnight makes the cooking time far less than what you'd need to cook the same kind of whole oats in one go.
Here's what I do:
Overnight Oatmeal
Yield: about 4 Servings
You will need: measuring cups and spoons, saucepan with a lid, mixing spoon
KEY: T = tablespoon
The Night Before: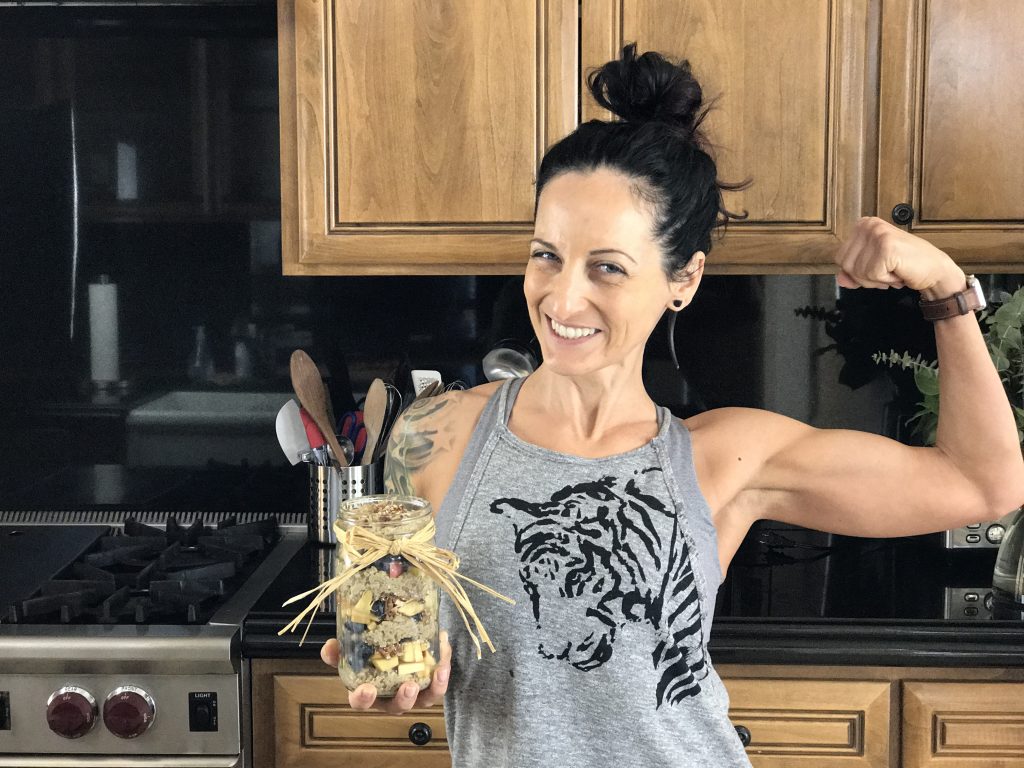 1 cup oats
2 cup filtered warm water
2 T of an acidic medium of your choosing (i.e. lemon juice – I most commonly use this – apple cider vinegar, yogurt, or kefir)
Place oats in bowl, and cover with warm water acidic medium.
Cover and leave on the counter  (NOT in the fridge!) for at least 7 (but no more than 24) hours.
The Next Day: Strain off soaking water from the oatmeal and give the oats a quick rinse with fresh water.
Combine soaked oats with 1-1.5 cups of fresh, filtered water on stovetop. Allow to simmer for several minutes, stirring occasionally.
Remove from heat, and add in/top with anything that sounds good to you, like nuts, fruits, spices, seeds, honey, raisins, or maple syrup. (What you don't eat right away can marinate in those flavors while you store it in the refrigerator.)
I always make extra so it's an easy grab and go breakfast or snack that I have on hand for a few days.
REHEATING  – A lot of you have asked the same question below about whether you should reheat your oats the next day or eat them cold. This is personal preference, there's no rule 🙂 Do what is the most enjoyable for you. Sometimes I enjoy reheating them, other times I'll just eat them cold with berries and coconut milk and hemp seeds. They're delicious either way.
Try blending your overnight oatmeal with some protein powder, frozen or fresh fruit, and a little almond milk in the blender to make a Unicorn Bowl!
Nutrition Facts
Calories per Serving:

120
Additional Notes: Not including toppings.
Choosing your oats
All oats start off as oat groats which is the whole, unbroken grains. What differentiates steel-cut, rolled, and instant oats from another is simply how much the oat groat has been processed.
Steel cut oats are the least processed of the three types, and are the product of when the whole oat groat (in its natural form) is cut into several pieces with a steel cutter. They feel hard and look like small pebbles. They contain the most fiber, and benefit from the overnight soaking method so they absorb water, soften and then cook quickly the next day (using the process described above) so you can easily digest them while still getting all the fiber and other healthful nutrients.
Whole oats or old-fashioned oats are the product of when the oat is cut and flattened into slightly textured discs and steamed to make them soft and pliable. This is probably the one you have seen the most. They contain less fiber than the steel cut oats, but take longer to cook than instant oats.
Instant oats or quick oats are pre-cooked, dried, and then rolled and pressed making them the most processed of the three types, with the least amount of fiber and the quickest to cook. Many instant oats come in packages with added sugar and flavors, so be mindful of that if you're using them.
(For a breakdown of ALL the different types of oats, read this)
Processing grains removes many of their vital nutrients and reduces the amount of fiber the whole grain contains. And we want that fiber! It's fiber that allows for a slow, steady release of energy after you eat the oats, and it's fiber that stabilizes your blood sugar. Not to mention, fiber is essential for good gut health and a healthy digestive system.
Additionally, keep in mind that whole grains can sometimes cause digestive issues when prepared quickly. Grains naturally contain a variety of enzyme inhibitors that can interfere with digestion and put stress on the pancreas, sugar complexes the body can't break down, hard-to-digest proteins like gluten, and irritating tannins.
These substances are not meant to harm us – they are simply part of the plants' protection adaptations to prevent premature sprouting – but they can have harmful side effects if consumed in large quantities over time.
So what to do? Well, to make grains easier for our system to process so we can utilize all of their wonderful nutrients and energy, we simply need to take simple steps to imitates nature's process: they need a little warmth, a little time, and a bit of acidity to sprout properly.
Soak, Sprout or Ferment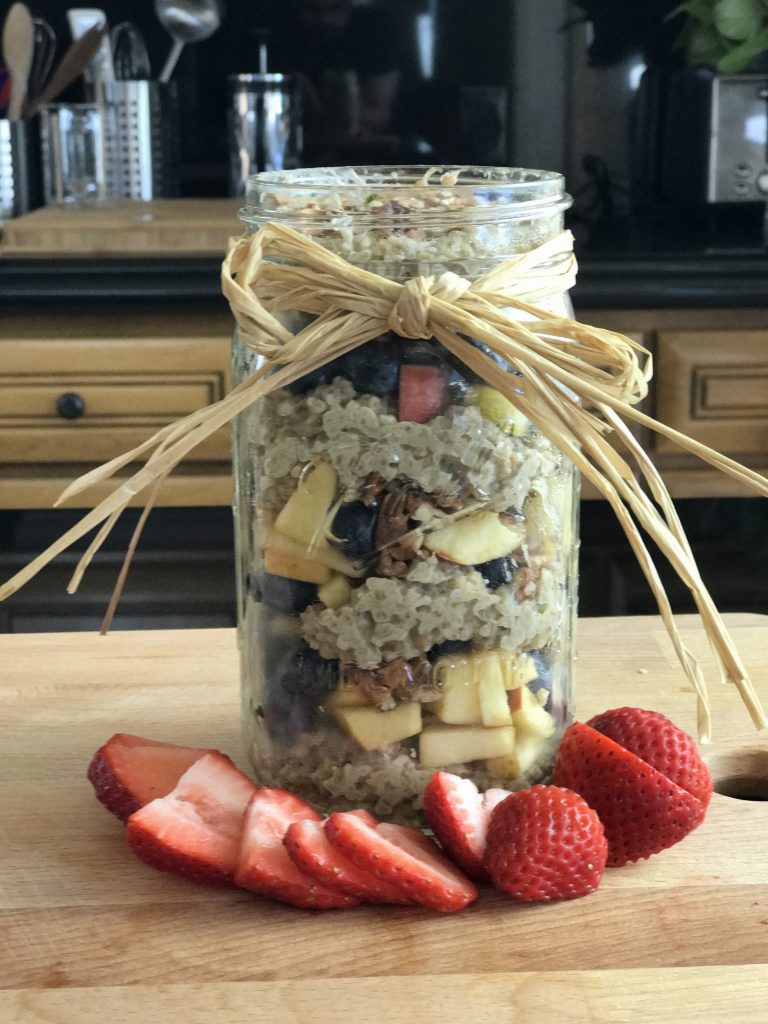 This brings us to our next step, an important one rooted in ancient traditions from around the globe. Our ancestors knew what modern society has all but forgotten: that soaked, sprouted and fermented grains reap bigger benefits!
Soaking, sprouting or fermenting your grains for as little as 7 hours allows for the breakdown of the harder to digest outer protective coating of the grain, the neutralization of enzyme inhibitors, and the dismantling of the complex gluten-protein (in gluten-containing grains) into simpler components, all of which add up to easier digestion, increased nutrient intake, and more energy.
Including this prep step also adds beneficial enzymes to the grain, noticeably increasing the amount of B vitamins (which have a host of benefits, like helping us convert food into fuel!)
What's more, soaking effectively begins pre-digestion of a grain so that your body doesn't have to struggle with handling it, and can focus on enjoying that long-lasting, stable energy you get instead.
These days, it's pretty common to know someone (or be someone!) who chooses to eat a gluten-free diet. Sometimes that's a well-thought out plan, but sometimes, it's an unnecessary trade-off. A big reason many people feel better going "gluten free" is because they stop eating so many processed breads and cereals, and become more aware of eating more whole food based products.
But as this trend caught on, more and more products were made with a "gluten free" label and they were made with more processed ingredients and sugar too, meaning you were still potentially getting an extra load of work for your digestive system and would have done better with a whole grain – regardless of its gluten content – than a packaged pre-made version of it with all the additives.
The body can handle some gluten just fine, but eating it in an abundance of it day after day along with processed meats, rich dairy foods and sugar (none of which are a big deal in moderation) can just overload the body's capacity to process and break it all down, leading to inflammation of the gut lining and problems with digestion, nutrient absorption, elimination and more.
This may not apply to you at all, so take it with a grain of salt – like everything.  Just keep in mind that the less processed your food is, the easier it is for your body to assimilate it. Genetic preferences, food intolerances and food allergies notwithstanding of course (and getting bloodwork done to see what your genes have predisposed you to, or getting a food intolerances test done can be very illuminating).
Sometimes, what is ACTUALLY needed is to simply add this pre-step to your food prep or to look for products that do.  Have you ever tried Tru Roots sprouted quinoa or Ezekiel sprouted grain bread? You can find the bread in the freezer section at Whole Foods, Trader Joe's, and many other grocery stores.
I know lots of people who have had luck transitioning from a gluten-free diet to a soaked/sprouted/fermented diet, so experimenting might be something to keep in mind!
Remember though, just like "gluten-free" doesn't automatically mean "healthy," neither does "sprouted." Nutritional theory, information, and best practice is an ever-evolving science, and we are each unique in our physiology, so YOU are the expert on your body and your health.
Always, always read the food label, and be aware of what else is in your gluten-free or sprouted product – if it's lots of added sugar, you probably want to re-think it.
I'd love to hear about your experience – have you experimented with eliminating gluten, eliminating grains, trying out sprouted or sourdough breads, fermented or sprouted grains, or have an opinion?
Be sure to leave your thoughts in the comments below.
---
Food References mentioned in the post:
For further reading, I recommended: Weston A. Price Foundation: Be Kind to Your Grains….and your grains will be kind to you
---