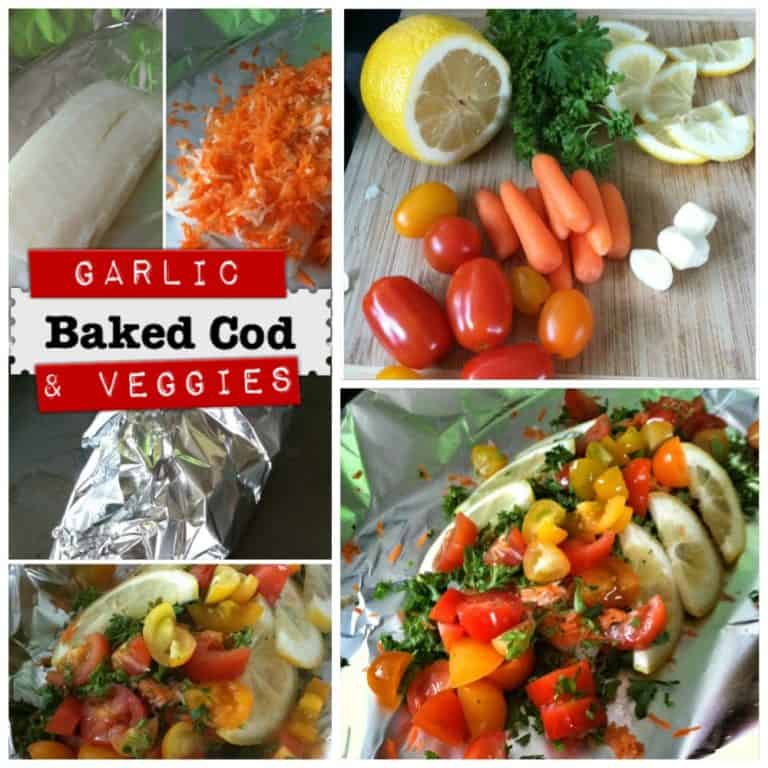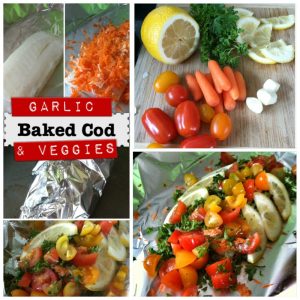 One of the easiest ways to make a quick, easy and delicious fish dish is to simply bake it.
For this quick dinner recipe, I threw a bunch of vegetables on a piece of cod and baked it for 20 minutes.
I actually made this a day before I was planning to eat it, and to reheat just threw it in a pan with some coconut oil, allowing the garlic and veggies to flavor it even more.
Cod is an extremely healthy fish and excellent protein source. Cod promotes good heart health because it contains both blood-thinning, essential omega-3 fatty acids AND two B-vitamins, B12 and B6 – both of which work to keep homocysteine levels low. Homocysteine is a dangerous molecule that is directly damaging to blood vessel walls, and high levels of it are associated with an increased risk of heart attack and stroke.
Easy Garlic Baked Cod with Vegetable Medley

Yield: 2 servings
You will need: aluminum foil, cookie sheet, grater, cutting board, knife
2 servings cod (for me 1/3 lb is a serving – this piece is about 2/3 lb)
3-4 baby carrots
2-3 garlic cloves
1/4 cup fresh parsley
1/2 cup fresh cherry tomatoes
Fresh lemon slices
Salt and pepper to taste
Walnut oil (other oil like coconut oil or olive oil is great too)
Preheat oven to 350.
1. Line a cookie sheet with a piece of aluminum foil, and place fish on top. Drizzle with oil, and sprinkle a little salt and pepper over the top.
2. Grate garlic and carrots onto the fish.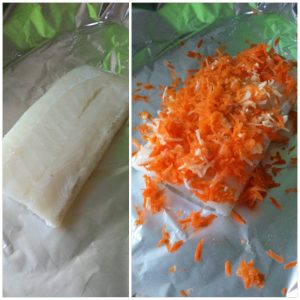 3. Add parsley and lemon slices.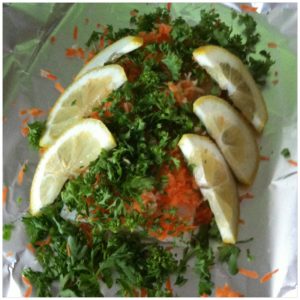 4. Top with tomatoes.
5. Wrap fish in foil and bake for 20 minutes.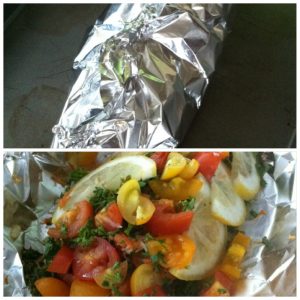 6. Serve immediately, or store for up to a day. I added some red quinoa when I made this originally 🙂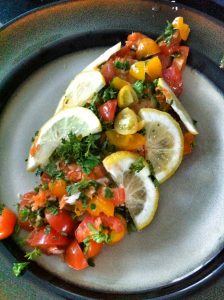 Nutrition Facts
Calories per Serving:

207
---