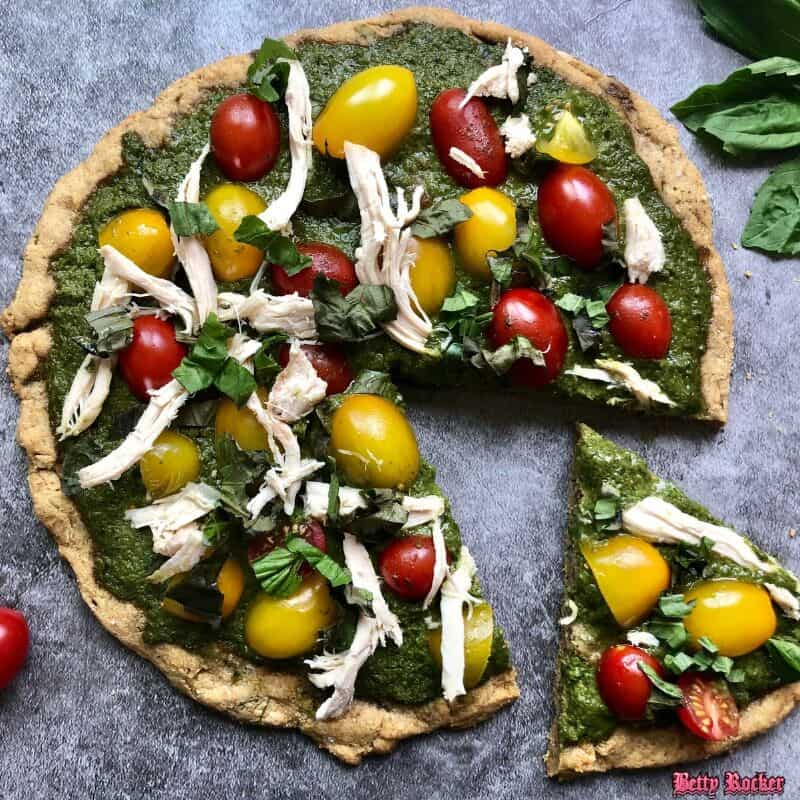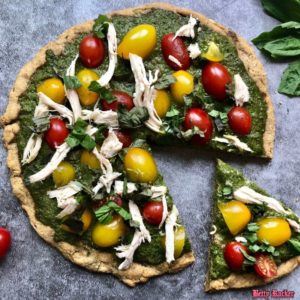 I love pizza! When I was a kid, some family friends would come over in their VW bus and make amazing pizza piled high with fresh herbs and vegetables from the garden.
These pizzas didn't look anything like what you'd get at a pizza parlor, instead they were kind of like giant open-faced amazing flatbreads, with a chewy and crispy crust, layers of pesto, sauce, veggies, and assorted toppings.
There really is nothing like fresh pizza, so I wanted to share this delicious crust recipe and topping ideas with ingredients that are made from simple, whole foods.
The crust rolls out without any trouble, and holds together beautifully without cracking. Once it's baked, it holds your pizza toppings perfectly in place while you go from plate to mouth.
I added some ground walnuts to the crust, which makes it extra tender. Walnuts are one of the richest nut sources of antioxidants, which decrease inflammation in the body. This comes from their high levels of Vitamin E, and concentrated polyphenols which are found in their papery skin. They are a great plant source of Omega-3's, the essential fat that may reduce heart disease.  You'll also find almonds in this crust – another great antioxidant rich nut and healthy fat source.
---
This pizza is easy to make, has just a few ingredients, full of flavor, and bursts with nutrient-dense whole foods from start to finish.
---
Easy Gluten Free Herbed Pizza
Yield: 4 servings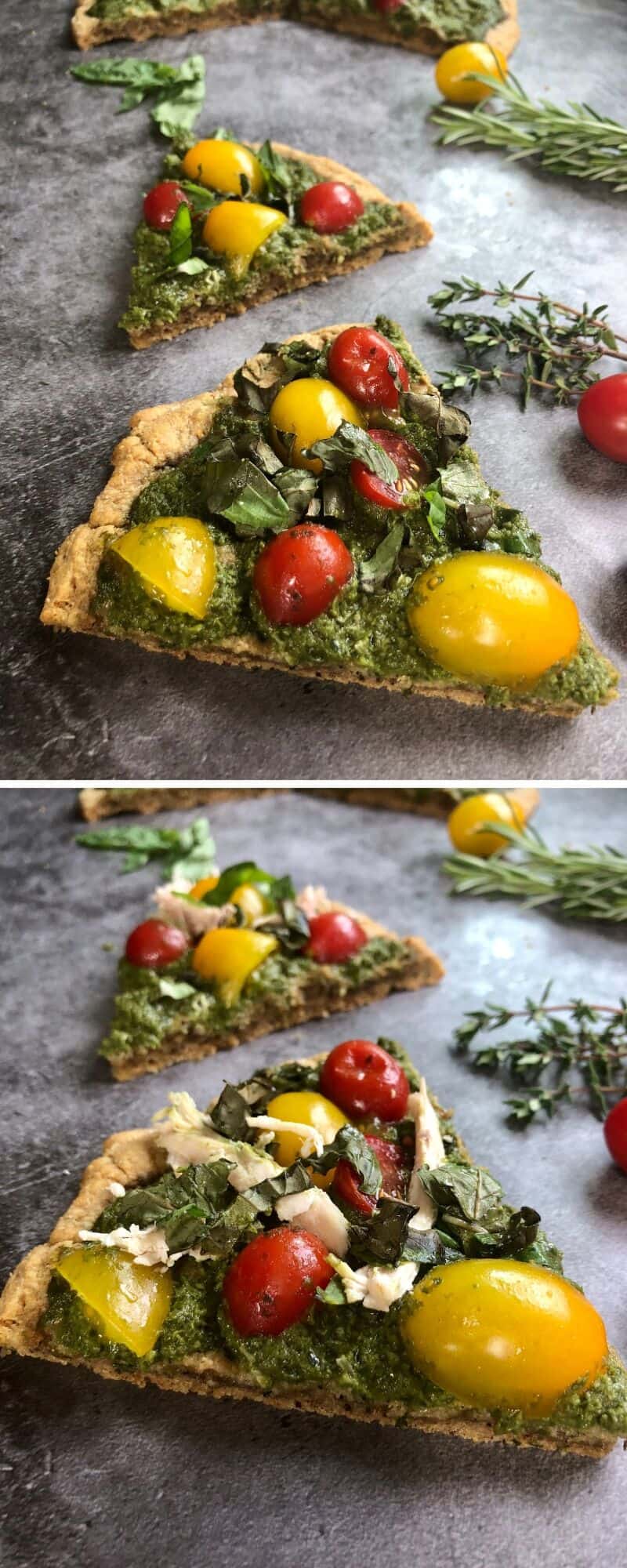 You will need: food processor or high speed blender, measuring cups and spoons, baking sheet (like a cookie sheet), parchment paper, spatula, knife, cutting board
KEY: T = Tablespoon; tsp = teaspoon
Herbed Pizza Crust
Ingredients:
Pizza Crust
1 cup almond flour
1/2 cup ground walnuts/walnut flour
1 tsp sea salt
1/2 tsp baking soda
Spices:
1 tsp onion powder
1 tsp garlic powder
2 T fresh or 1 tsp dried rosemary
1 T fresh or 1 tsp dried thyme
1 T toasted sesame oil (or other oil)
1 egg
Instructions:
Preheat oven to 400 F.
In a large bowl, whisk together almond flour, walnut flour, sea salt, spices and baking soda. (Walnut flour is easy to make in your food processor if you aren't buying it, and will make your crust texture just amazing).
Stir in the sesame oil and the egg.
Press or roll pizza dough into a 1/4 inch thick circle onto an oiled and dusted (almond flour works great) baking sheet. You can place parchment paper on top of your dough to press or roll out if it's sticking at all.
Bake for 15-18 minutes, or until slightly crispy*
*oven temps vary so you may need to cook your crust for less time or more depending on how hot your oven gets. I recommend checking the crust at the 15 minute mark to make sure it doesn't burn.
Nutrition Facts
Calories per Serving:

364
---
Pizza Sauce Options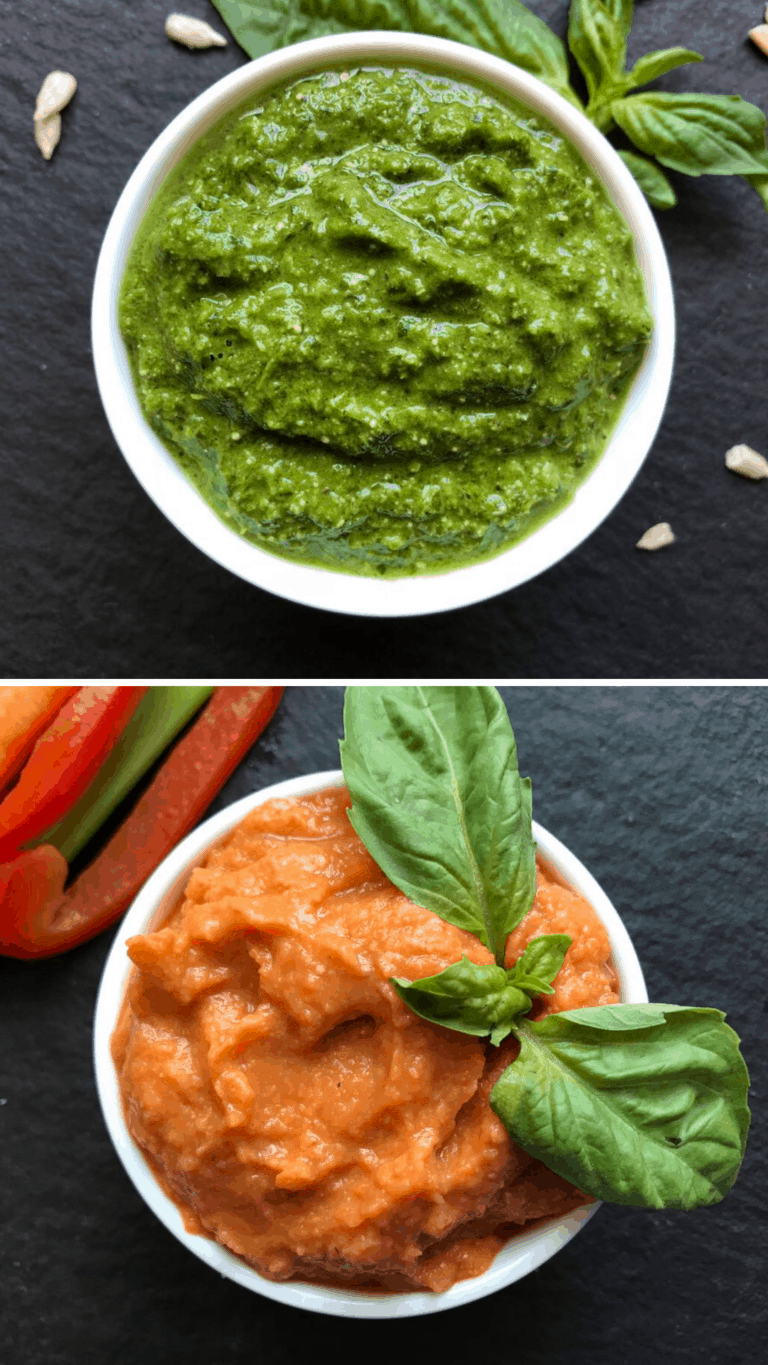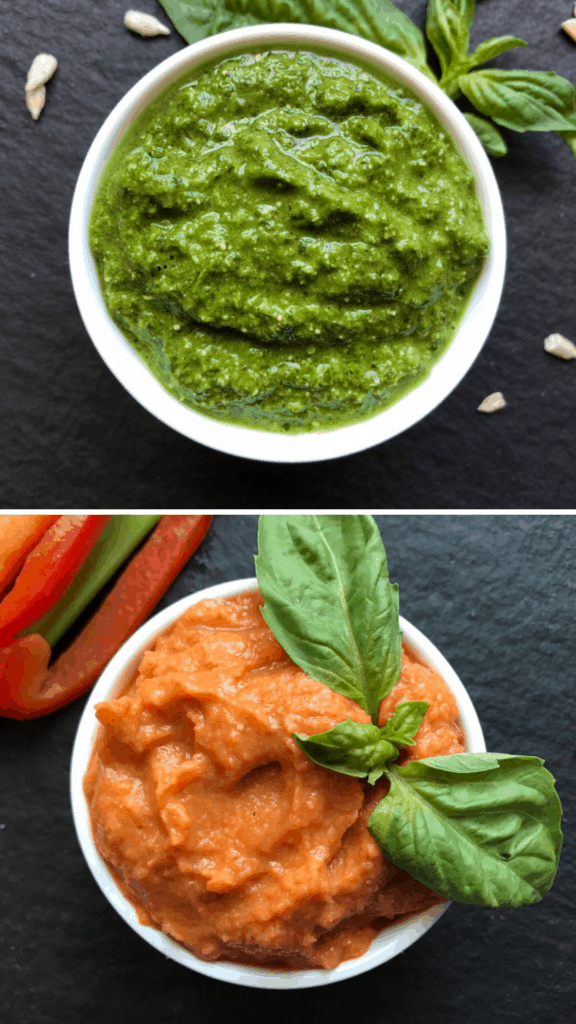 PESTO PIZZA
4-6 T Basil Pesto (use my recipe or any kind you like)
1 cup cherry tomatoes, sliced
2-3 sprigs Fresh basil
Protein source like 6 oz shredded or baked chicken, turkey, or white beans
Instructions:
1. When the crust is done and has cooled for a few minutes, spread it with pesto.
2. Layer tomatoes over the pesto.
3. Top with protein of choice (optional).
4. Sprinkle fresh basil over everything.
5. Bake for about 5-8 minutes at 350 F to soften the tomatoes and warm everything up.
Nutrition Facts
Calories per Serving:

595
Let me know how your pizza turns out and if you make any modifications – I love hearing from you, and when you share, others can learn!
---
Get more amazing, easy and healthy recipes like this in the 30 Day Challenge Meal Plan! 
Includes 4 weeks of done-for-you meal plans, complete with grocery lists, daily menus, food prep tips for each week, and delicious, healthy recipes! Gluten and dairy free and including vegetarian options for extra variety.
Save time and make this your own with everything all mapped out so you can shop and prep with ease – with 3 options for how to do your prep – all at once (batch), not much at all (minimal), or a flexible option in the middle called hybrid that lets you do some prep, and also cook on the fly.