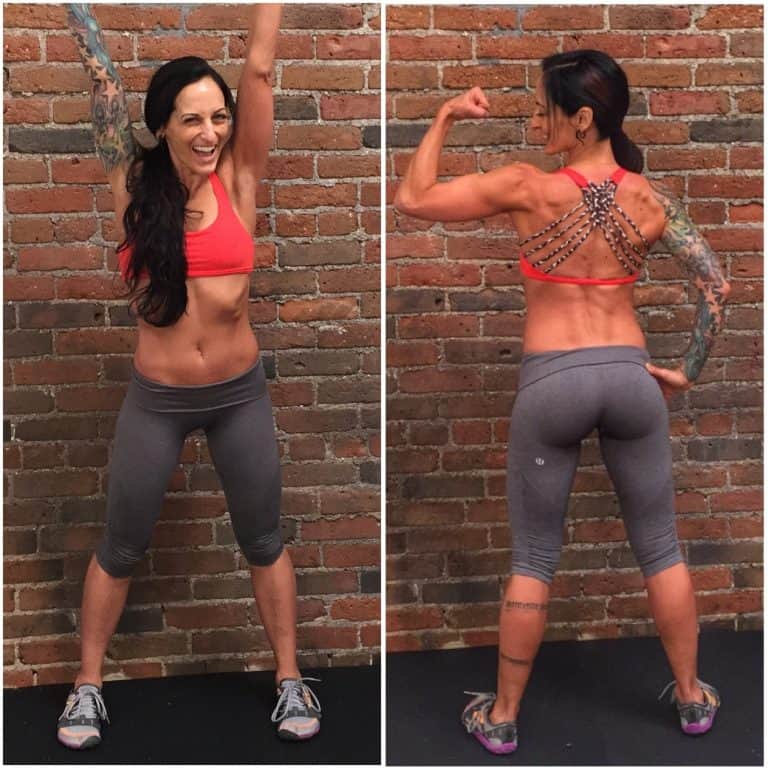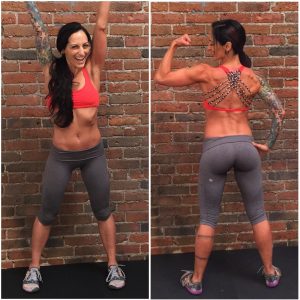 I was home in upstate New York this past week visiting family, and I wanted to get a workout in.
You guys know how tough it can be to find time for yourself when you're doing family stuff – but this workout is quick, doesn't require any equipment (unless you can call washcloths equipment lol), and will work your booty, core, legs and upper body.
We're going to include the single leg deadlift that I had you work on last week so you can keep building that posterior chain strength and working on your balance, and I think you'll like some of the bonus challenges I've added to the workout!
In fact, in many of my most effective challenges, we do a workout very much like this one and I challenge people to do the workout 3 times total that week.
Everyone who does it says they are amazed at how much better and stronger they get by their third workout – and a lot of that is that the mind-muscle connection strengthens each time you practice.
That's why these workouts are so effective for both fat burning AND strength building. Integrating complex movement patterns in a fun way is just an AWESOME way to progress your fitness.
Full Body Home Workout Blast
Click to expand and see all workout move descriptions.
Format: 3 rounds. Take a rest between moves as needed and rest briefly between rounds as needed.
Move 1: Mountain Climbers: 0:30-1:00
Place your hands below your shoulders, keeping your chest open and core engaged. Don't arch or sag your lower back. Legs straight and strong. Begin running your legs up toward your chest. A great alternative is to do high knees, as shown to get off your hands and wrists.
Move 2: Alternating Reverse Lunge to Knee Driver: 10-15 each leg
Stand with your core engaged, chest up. Step your right foot back into a reverse lunge. Be sure the left knee stays lined up with the left toes, and you maintain your upper body form. Push off with your right toe and drive the right knee up to your chest. Step back to your starting position with control (use the wall for support as needed) and repeat on the opposite leg.
Challenge: Reverse Lunge to Hop
A super fun way to take this move up a few notches is to add a hop to the knee drive. If you do this, don't alternate legs, just do 10-15 on the right leg, then switch to the left leg.
Move 3: Skater Slides 15 each leg
If you have the ability to slide on your floor, place your sliders beneath your feet and slide your right foot out to the right, bending your left knee. Keep your weight back over your glutes and your head and chest lifting.
Use your arms to propel you bring the right foot back in to center, sliding the left foot out. Be mindful of your knee alignment on the bending knee, and don't slide out too far and strain your inner thigh or straight leg.
You can hold onto a chair back to help you balance and stay upright as needed, or do skater lunges if you don't have sliders.
Move 4: Single Leg Deadlifts 10-15 on each leg
Stomp your right foot to feel the engagement of the entire foot with the ground. Hinge forward at the hips, allowing your left leg to raise behind you. Gaze stays in front of you and your shoulder comes to parallel with the hips – not below. Keep a soft bend in the right knee. Don't let your hips roll to one side or the other, keep them very flat and engage your core.
You can hold onto the wall for support, or use a wooden dowel (or broom handle) to help balance as you fold forward.
Challenge: Reverse Burpee to Single Leg Deadlift 5 total on each leg
Sit down, roll back and then use your momentum to roll forward. Use your hands as needed for support. Bring your feet in close to your butt and try standing on one leg (you can do it on both legs if this is your first attempt!).
Use the wall for support as you stand fully, then hinge forward at the hip into a single leg deadlift. Put both feet on the ground and roll back again, this time coming up on the other leg and into another single leg deadlift.
Move 5: Incline Push Up 10-15
Place your hands on a box, window ledge, bench, ottoman or any raised surface. Legs are straight (you may do these on your knees as an alternative), core is engaged – no arched backs. Gaze is in front of you. Keep a slight engagement between the shoulderblades to keep your shoulders from rounding forward. The elbows will come out slightly as you lower and press away.
If you're working on building your upper body strength, you can do standing push ups against the wall. The farther you bring your feet back, the harder they will be – it's a great way to build up to the incline push up, and once you've mastered the incline, you can go to regular push-ups on the floor.
Challenge: Alternating Leg Lifts with each Push Up
Move 6: Sit Up Cross Punch 15
Optionally hook your feet under a chair or use your core strength. Keep your knees bent.
Engage your lower back with the floor as you come down and fully unroll your upper back. Use your core strength to sit up and add 2 cross punches each time you sit up.
Move 7: Lateral Lunge to Cross Drive 15 each leg
Step out to the right into a lateral lunge. The right knee stays aligned with the right foot, knee not going beyond the toes. Keep your weight back in your hips and over your heel.
The left leg is straight, with a soft bend. Keep your chest up.
As you step back to the center, you'll drive your right knee up and across your body toward the left elbow. Complete the right lateral lunge set and then move on to your left leg.
Doing one-off workouts like this is great, but following a plan is better!
Take my quiz to find out what the best workout system for reaching your goals is!