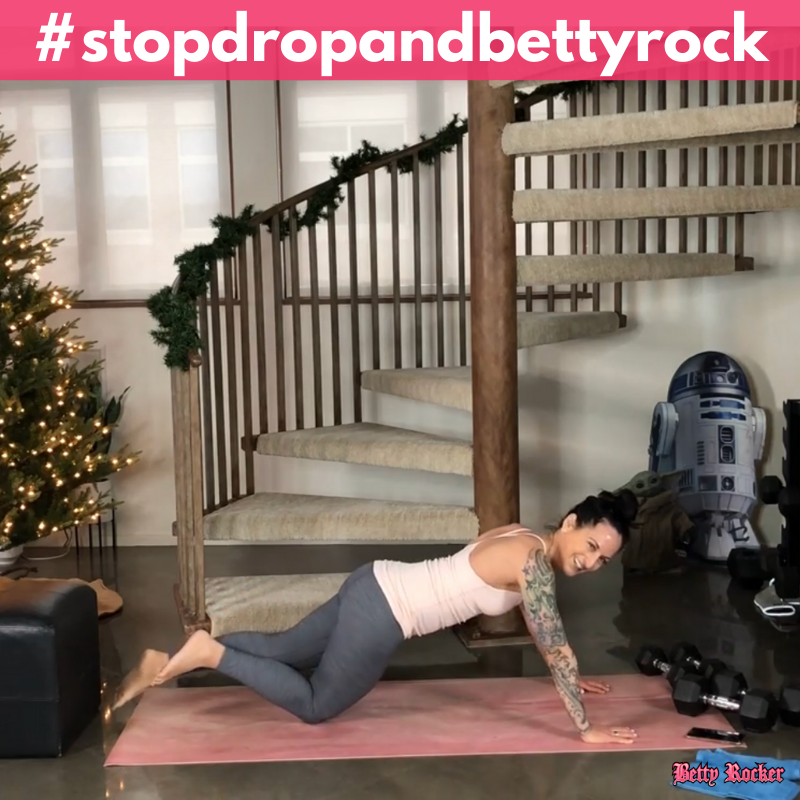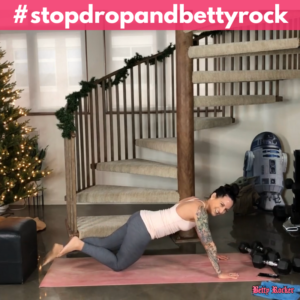 I have a super fun full body workout for you today that will leave you strong and sculpted in just 30 minutes!
We'll turn up the heat with some cardio to burn body fat (low impact versions shown too!) and strength moves that will challenge your body and help sculpt lean muscle.
Remember we are all in different places with different goals so be kind to yourself during the process of growth and discovery – no one says you have to "know it all" at once.
Everything I know comes from a combination of formal study combined with personal application and experience – much of which started with me experimenting on myself and understanding how hard I was on myself.
I'm here to remind you it's "all or something" NOT all or nothing and that taking action toward your goals, even if it doesn't always turn out to be the "perfect" steps, even when you don't "do everything right" – is always for a greater purpose that serves you, and inevitably accelerates your learning curve as you figure out what works best for YOU.
So jump in, take action, do something – the most effective workout is the one you DO ❤️ And be sure to check out my delicious I ❤️ Vanilla protein powder to support your active lifestyle! It's 100% organic, plant-based, and contains 20 grams of protein per serving. I worked on it for 2 years to get it made with simple, whole food ingredients without compromising on taste, texture or sweetness! I've been using it every day, and I can't wait for you to try it!
---
---
Did you enjoy this workout? Then you will LOVE the Warrior Woman Challenge inside of Rock Your Life! The Warrior Woman challenge is designed to strengthen your entire body with an added focus on  endurance and flexibility. If you are looking for a sculpted physique, core work and cardio to burn fat, you will love this one!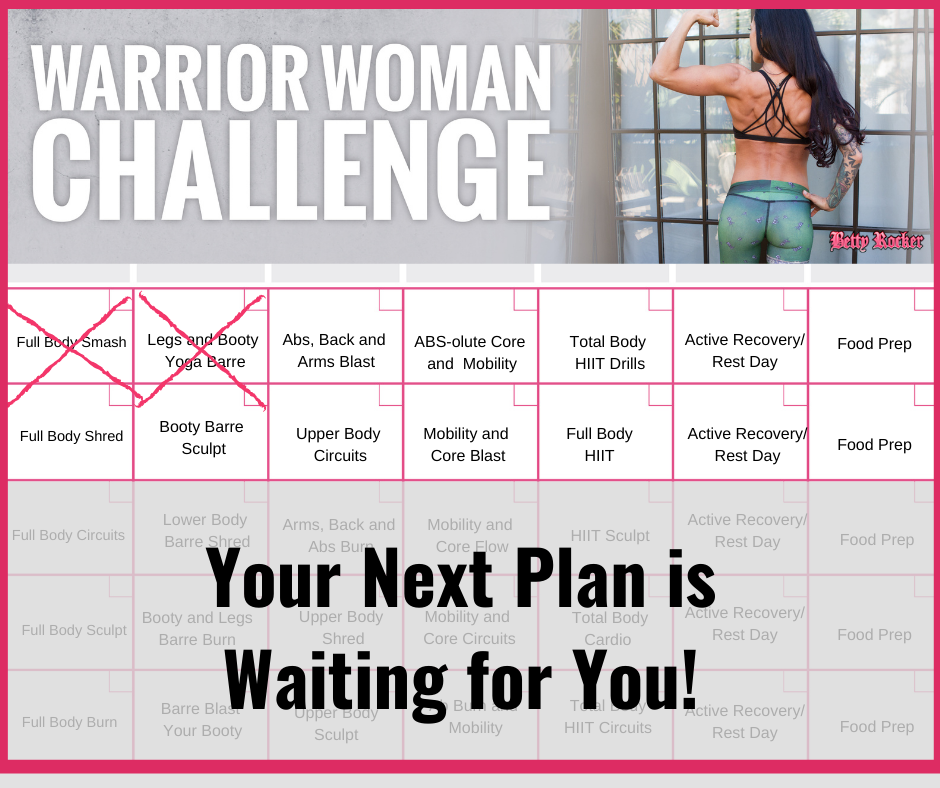 Full Body Strength and Sculpt
Click to expand and see all workout move descriptions.
Equipment Needed: Weighted Objects (water bottles, gallon jugs, dumbbells) 
Format: Perform each move for 1:00 and repeat for 3 rounds.
Move 1:  Jack Touch Down
Start standing with feet slightly wider than shoulder distance apart. 

Shooting your hips back and your knees tracking your toes, squat down and reach  your hands toward the floor maintaining an upright chest.

As you come out of the squat, power through your heels and jump your feet together as you reach your arms overhead.

MOD: Take out the jump and simply step your feet out one at a time while bringing your arms over head.
Move 2: Incline Push-Ups
Place your hands flat against an elevated surface directly under your shoulders and extend your legs out behind you.

Lower yourself down by bending your elbows, keeping your shoulders away from your ears and your elbows shooting back behind you. Keep your gaze about 6 inches in front of you rather than looking up or down, to maintain a neutral spine.

Keeping your core engaged and your shoulders away from your ears, powerfully press back up and away from the floor or elevated surface to return to your starting position.

MOD: Perform the push up with your hands on the side of your couch or other elevated surface. Alternatively, remain on the mat, but in a kneeling, or single knee down position.

Check out my Push-up Progression Tutorial for tips on perfecting form and building strength!
---
Refuel post workout with I ❤️ Vanilla Protein! With 20 grams of plant based protein, it's a delicious way to support your active lifestyle.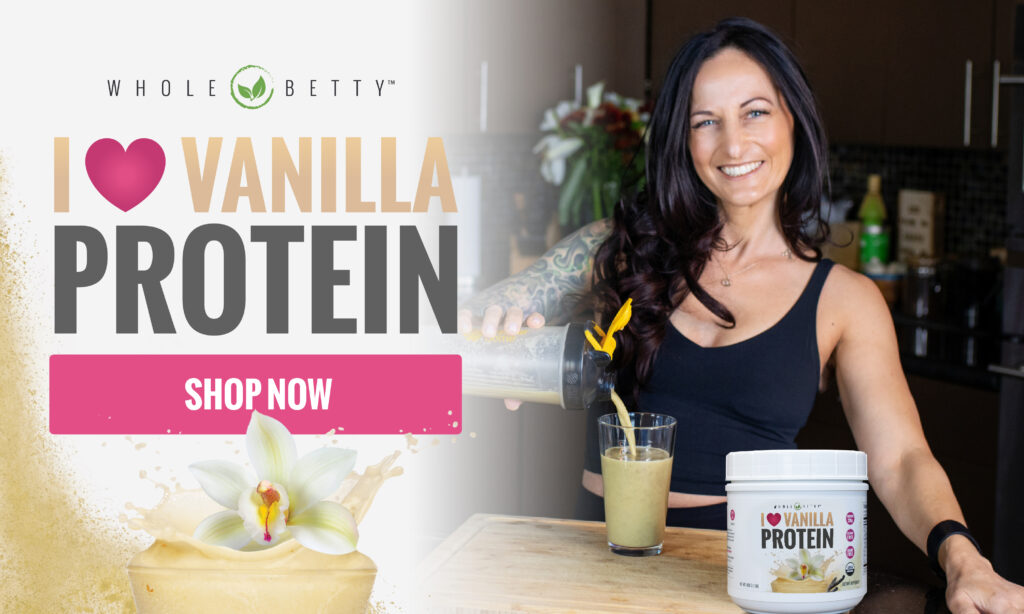 Move 3: Skaters
Begin standing with your core engaged and chest upright.

Perform a curtsy lunge by stepping your right foot back behind you and over to the left as your left knee bends behind you and reach your hand down to touch the ground. 

Power off your front heel and as you come back up to standing, step or hop laterally to the right side of your mat to perform a curtsy lunge with your left leg and repeat. 

MOD: Take the hop out and do alternating reverse lunges.
Move 4: Hamstring Pull Throughs
Begin in a seated position on the floor with your legs straight out in front of you, torso up tall, arms back behind you with your chest open wide and hands on the floor – fingers facing forward.  

Press your heels into the mat and lift your hips up and through, squeezing your booty at the top to end in a reverse tabletop position with your knees bent.

Slowly lower yourself down and repeat.

MOD: Lie flat on the ground with your knees bent and perform a glute bridge.
Move 5: Alternating Front Kicks to Cross Punch
Come into a fighter stance with your arms bent and fists at chin level.

With your core engaged, powerfully punch your right arm across your body followed by your left. 

Return to your starting position, plant your feet and kick straight forward with your right leg and then repeat on your left. 

Repeat this sequence for the prescribed time. 
Move 6: Single Leg Deadlift
Begin standing with a weighted object in each hand and your stance offset by placing your right leg slightly behind your left like a kickstand.  

With a slight bend in your front leg, slowly hinge forward at the waist while pushing your hips back.

Bend forward as far as you can while maintaining a flat back and keeping the weight close to your body.

Come to standing by powering through your heel and squeezing your glutes at the top.

Perform all reps with your left leg in front and then switch to your right.
Awesome job, Rockstar – I'm proud of you for giving it your all!
Leave me a comment below and let me know how you're feeling, where you did this workout, and anything else you'd like to share! I love hearing from you!
---
…so I can support you in ROCKING your body AND your life! Get stronger and healthier with a community of rockstars to support you, home workout challenges for a fit body, and fresh new workout classes each week to keep you motivated!