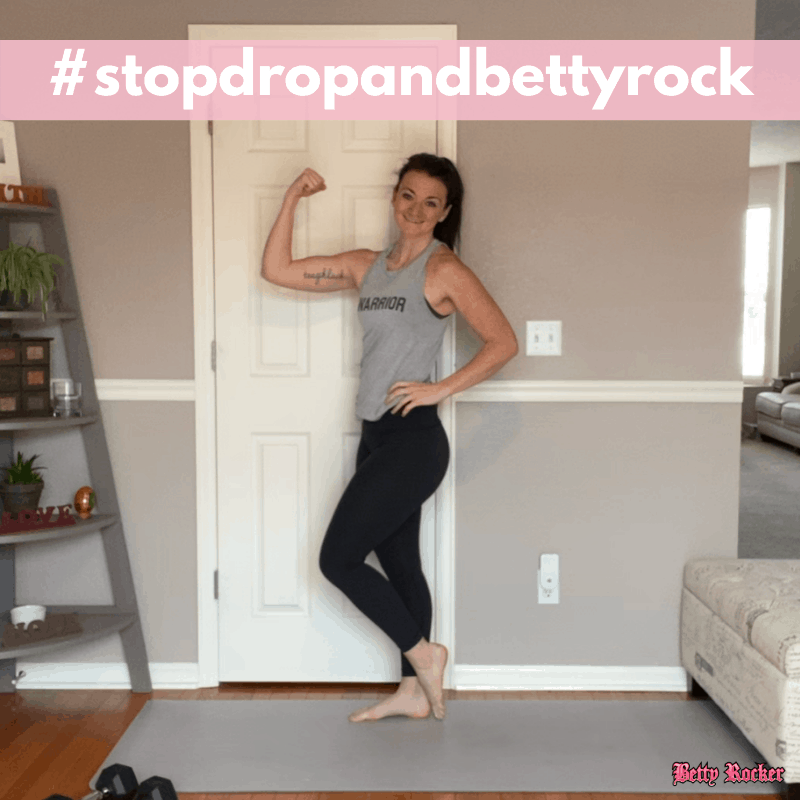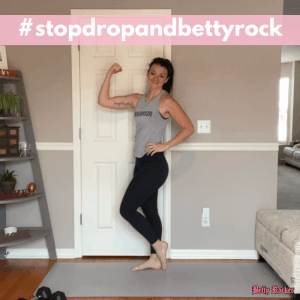 Get ready to sweat it out with this fun Full Body Super Circuit home workout! We'll get our heart rate up with cardio bursts, and tone the body with effective strength-building moves.
Join Coach Amanda from Team Betty Rocker – one of our amazing trainers. If you've never worked out with her before, you're going to have so much fun!
Throughout the workout, she will encourage you to focus on your strengths to push you to power through, and you'll love how sweaty she gets you in just 20 minutes!
Coach Amanda is a NASM and NESTA Certified Personal Trainer, Crossfit Level 1 Trainer, TRX Qualified Trainer and a Team Betty Rocker Coach in Rock Your Life.
Keep reading for a special message from Coach Amanda below.
---
Coach Amanda here! I'm so excited to bring this awesome cardio and strength workout to you today! I want to challenge you to go into it with 100% effort – that means YOUR 100%. Not the effort someone else gives or what you used to be capable of….100% of what you have to give at this exact moment.
So often we finish a workout and get sucked into the thought patterns of "I used to be stronger," "I bet other people did better squats than me," "I had to modify the pushups," etc.
Today we're turning those voices off!
Show up, give the best you've got today (while working within your limits) and walk away with your head held high! And that doesn't mean doing exactly what I'm doing or what another person would do. That's doing YOUR best.
Here at Betty Rocker we like to call this the #allorsomething approach. Today, I want you to give 100% of your ALL…or…100% of your SOMETHING. You can give your 100% even when you're not feeling 100%, it may just look a little different.
Be present with yourself, take the modifications or variations you need and let's go!
---
One-off workouts are great, but having a plan to follow is even better! Take a 30-day Challenge in Rock Your Life and have workouts like this formatted into a plan to follow!
Full Body Super Circuits
Click to expand and see all workout move descriptions.
Optional Equipment: Elevated surface, weighted objects (water bottles, dumbbells, household objects)
Format: Perform each movement for the prescribed time/repetitions and repeat for 3 rounds.
SUPER CIRCUIT 1
Move 1: Down Dog Alternating Side Crunch (8-12 each side)
Begin in a tall plank position with your core engaged and your shoulders stacked over your hands.

Press your hips back, keeping your head in line with your arms as you come into a down dog. Your weight should be evenly distributed between your palms, and your heels should reach toward the floor.

Shift back to your tall plank position, engaging your core and flattening your hips.  As you shift forward, smoothly bring your right knee out toward your right elbow for a side crunch. 

Return your leg back to start in your plank position and repeat the full movement, alternating each knee for a side crunch. 

MOD: Place hands on an elevated surface (chair, couch) or perform from a kneeling position. 
Move 2: Sumo Squat to High Pull Row (8-12)
Start standing with your feet wider than hip distance. Allow your feet to turn out naturally.

Hold your weighted objects in your hands, arms hanging straight down in front of you with your shoulders back and down to counter balance the weights pulling you forward.

Send your hips back behind you, pulling your belly button in and up to engage your core, keeping your chest up tall (don't bend forward), weight back in your heels and knees tracking in line with your toes.

Drive through your heels and squeeze your glutes as you power back to standing, drawing

your weighted objects up and back evenly for a high pull row. Notice the muscles working between your shoulder blades.  

MOD: Use no weighted objects as you begin.

SUPER CIRCUIT 2
Move 1: Jumping Cross Cross Squat (0:30-0:45)
Stand with feet slightly wider than hip distance apart, with your core engaged and hands behind your head.

Perform a squat by shooting your hips back behind you as though you were going to sit on a chair – keeping the weight in your heels and chest up, engaging your core.

Power through your heels to a jump and d

rive one knee up and across your midline, rotating your torso as you bring your opposite elbow to meet your knee. Crossover with both knees before dropping back to your squat.

Reminder: Only squat as deep as you can comfortably go without bending forward at the waist.

MOD: Use a chair or box to help cue you with good form in your squat so you're not loading all your weight forward, or bending at the waist. As you're beginning, do body squats instead of jump squats for a lower impact version.
Move 2: Prisoner Squat to Overhead Triceps Extensions (8-12)
Begin in a kneeling position on your mat, holding a weighted object overhead with both hands so your arms are directly above your head. Engage your core so your back is not arched. 

Come to standing by stepping each foot up one at a time. Start with your right foot by pressing through your heel and follow it with your left foot. Each subsequent squat, work to lead with the opposite foot.

Once standing, reset your core so your back is not arched and perform an overhead tricep extension by slowly lowering the weight back behind your head and then press the weight back up to your starting position. (Be careful not to flare your elbows out).

Come back down to a kneeling position by kneeling one leg down at a time and repeat this entire movement.

MOD: Perform standard squats (or on to a box) while doing an overhead extension. 
SUPER CIRCUIT 3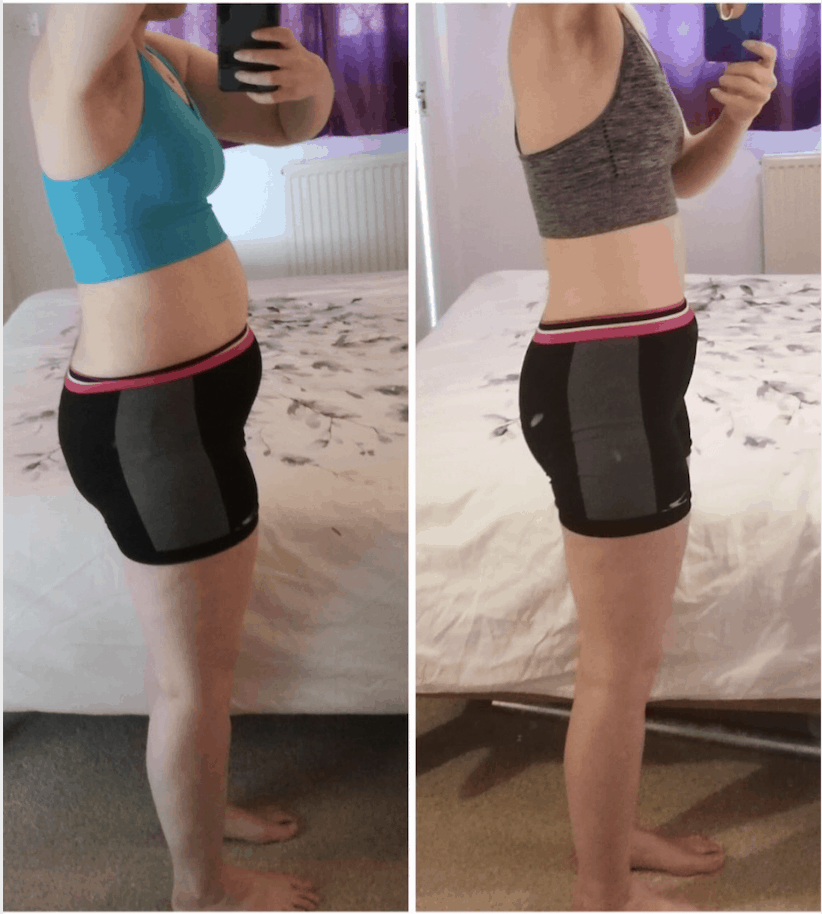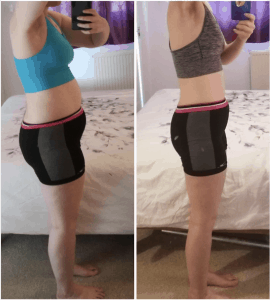 Move 1: Push Ups (8-12) 
Come into a tall plank, with your hands stacked below your shoulders and your core engaged (no arched back).

Lower yourself toward the mat by bending your elbows, keeping your body straight. Keep your gaze about 6 inches in front of you rather than looking up or down, to maintain a neutral spine.

Keeping your core engaged, press back up to your start position.

MOD: Perform the push up with your hands on the side of your couch or other elevated surface. Alternatively, remain on the mat, but in a kneeling, or single knee down position.

Use the Push-up Progression Tutorial to work your way through all the types of push ups.
Move 2: Single Leg Step Ups (8-12 each side)
Begin standing in front of an elevated surface – height of your choosing. Engage your core and if you're holding weighted objects, bring them up to your shoulders or by your sides, keeping your shoulders back and down so your shoulders don't round forward. 

Step your left foot onto your elevated surface, powering through your left heel as you come to stand. Fully extend through your hips. Your non-working leg lifts slightly, but remain straight.

Step back down to the floor and reset. 

Complete all reps on one side before switching for this workout. 

MOD: Use bodyweight only, and use a very low surface like a stair to help with balance. Hold onto a wall or chair as needed.
Congratulate yourself for crushing your workout today Rockstar! We are so proud of you!
Check in below and let us know how you enjoyed the workout and what move was your favorite – we love hearing from you!
---
How about new workouts to do daily, from anywhere?
…in my epic home gym that has new classes every week, 30-day Challenges to keep you on track with a program, your own personal workout library, over 300 healthy recipes, an exclusive support group, access to the Team Betty Rocker coaches, and so much more!