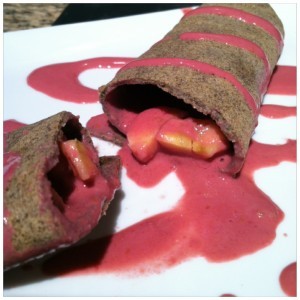 If you thought you had to give up delicious food like Crepes to create a lean physique, think again. Muscles like protein to grow, carbs to replace glycogen stores, and healthy fat to use as an energy source and allow for the proper uptake of many nutrients.
The trick is to create a delicious meal that includes the nutrients you need, with a low glycemic index so you won't spike your blood sugar. I maximize my intake of protein, carbs and fats – plus micronutrients – by combining whole, real foods like gluten-free grains, fruit, raw protein powder, eggs or organic or grass-fed meats, lots of greens, spices, herbs and seeds, avocados, nuts and natural, unrefined oils.
I have been craving crepes for ages, and had made several attempts at making a gluten free version that all failed miserably. They wouldn't hold together or they'd taste awful – so I stepped away from trying for a few weeks to focus on other things.
I highly recommend this strategy both in, and out of the kitchen. When something seems to be going wrong, it's easy to get overly focused on a perceived failure. But really, no attempt is ever a failure. Everything you attempt is a triumph of learning.
Countless kitchen experiments have taught me that in royally screwing up recipe #14, I learned a key trick that came in handy in recipe #27. Every experience is an opportunity to learn – if we allow it to be. This applies to relationships, it applies to jobs, it applies to exercise – and definitely to cooking.
I eventually came across a wonderful basic buckwheat crepe recipe, and decided to make some modifications (from experiments I've made in the past) to boost the recipe into the realms of Fitness Food. As a big fan of chia seeds, I used a small amount in this recipe to boost its antioxidant and omega-3 profile, and to add additional binding (buckwheat might sound like it has wheat in it, but it's actually gluten free – and we need the crepe batter to stick together).
The topping was an experiment that I hadn't planned on – I just got caught up in the moment and threw some things together, and was delighted what came out. The frozen berries combined with just the right amount of protein powder and almond milk created a sorbet-like result. I topped it with banana, and demolished 2 crepes in short order!
I think this recipe is open to other ideas too, I'd try it with different spices, you could make a chocolate raspberry protein sorbet instead of vanilla – get creative! That's what I do in my kitchen – and how I learn a lot of the lessons I apply to my life.
Gluten-Free Buckwheat Crepes
Yield: 3 medium sized crepes
You will need: measuring cups and spoons, mixing bowl, whisk or fork, skillet, spatula, coconut oil
1/2 cup almond milk
1 egg
2 T egg whites
1 tsp chia seeds
1/4 tsp cinnamon
1/4 tsp nutmeg
1/4 tsp vanilla
2 oz, or approximately 5 1/2 Tablespoons buckwheat flour
1. Combine egg, egg whites, almond milk, cinnamon, nutmeg, vanilla and chia seeds in a small bowl and allow the chia seeds to soak for 10 minutes.
2. If you have a kitchen scale, weigh out 2 oz buckwheat flour. If not, use approximately 5 1/2 Tablespoons.
3. Mix the flour into the egg/chia mixture and beat until well combined.
4. Heat a skillet to medium and add enough coconut oil to coat the pan.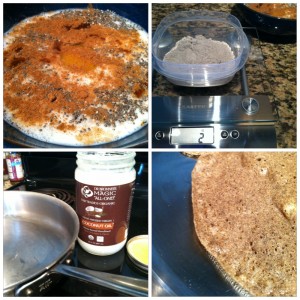 5. Pour about 1/2 cup of batter into the skillet and tilt it so the batter spreads evenly as wide as possible – it will start to cook as soon as it hits the skillet, so be quick.
6. When the edges begin to lift and small bubbles begin to form in the surface of the crepe, slide a thin spatula underneath and flip it briefly.
7. Transfer to a plate and cook remaining batter.
Raspberry-Protein "Sorbet" Filling
Yield: enough for 3 crepes
You will need: measuring cup, blender
1 packet or 1 scoop Vanilla Raw Protein Powder
2/3 cup frozen raspberries
2/3 cup almond milk
Blend. Your mixture will be thick. Evenly distribute it on each crepe. Optionally, top with pieces of banana.