---
How can I stay healthy while eating out?
I just got back from 5 days of travel myself which meant a LOT of eating out so I wanted to share some tips with you that I used to feel my best.
1: Pack Snacks and Protein Powder
Always bring snacks with you while traveling. It's easier to make good choices when you're in a restaurant if you've had a healthy snack beforehand and don't go into it really hungry. That way you won't be tempted to reach for the bread or chip basket.
I bring along my own nut/seed blends in small ziplock bags, my favorite simple protein bars, squeezable snack packs – similar to baby food packets they usually have just real food in a portable pouch that will give you a small boost of nutrition – and protein powder and a shaker bottle.
2: Surf the menu
When I'm at a restaurant I like to do something I call "Menu Surfing," where I'll browse through the menu looking at what ingredients they have while thinking about what nutrients my body needs, and what the best option is wherever I am.
A: Protein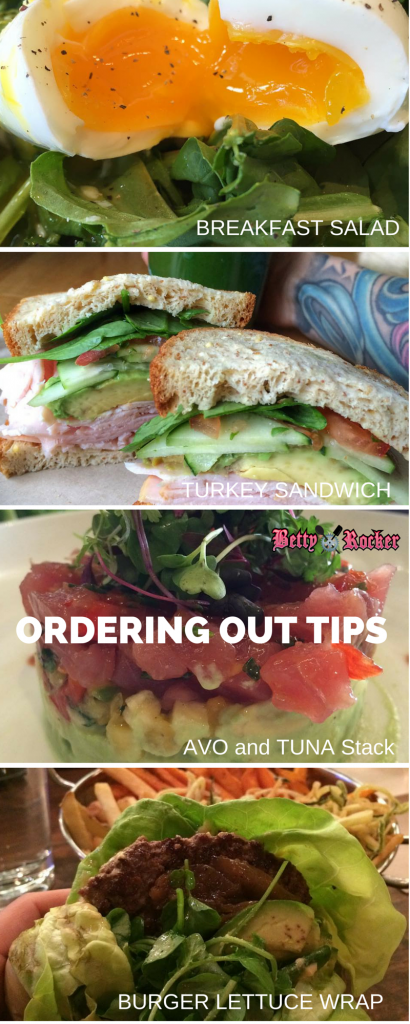 I choose my protein first, then look for different sides or salads that sound good and build on that. I'll ask to leave off any ingredients that don't agree with me – and will add an easy extra like a quarter of a lemon to squeeze over my salad instead of a heavy dressing.
B: Carbs
Healthy carb options can be tough – but not impossible. Your main goal is to find something that is as close to a whole food as possible for your complex carb. It can be as simple as avoiding the bread basket or side of chips or fries, and opting for the rice or potatoes instead.
If you are eating gluten free, you can sometimes find a gluten free bun or bread, but that's not always the best choice as many GF products aren't made with the best ingredients and will have added sugars and preservatives that you have no control over.
A lettuce wrap for a burger or sandwich can sometimes be a great option too.
C: Fat
Speaking of fat, consider adding a healthy, nutrient-dense fat like avocado in place of cheese (if dairy bothers you) so you still get that yummy creaminess without the extra dairy.
Also look for dishes that already combine healthy fat, healthy protein and greens. A great option if you're going out to breakfast is to order poached eggs over a green salad and a side of oatmeal.
D: Beverages
When it comes to beverages, try to avoid soda – order unsweetened iced tea instead or sparkling water if you like bubbles. I like to squeeze some lemon or lime into my water, or get a side of fresh berries and infuse my water myself for variety. Strawberries taste awesome in sparkling water!
I'd also caution you from falling into the trap of always ordering a cocktail or a glass of wine. If it's a special occasion or your NSA day by all means!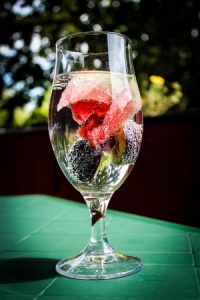 If your goal is weight-loss, I would caution you to be extremely moderate in your choice to consume alcohol, because of the effects it has on your fat-regulating hormones and your willpower to consume sweet and salty foods.
Alcohol consumption will: increase your appetite, lower your fat metabolism and testosterone levels for up to 24 hours, and block the production of an energy-building molecule called Acetyl-Co-A. Energy depletion affects metabolism, and hence, fat loss. Alcohol also causes cortisol levels to rise – increasing the breakdown of testosterone. Testosterone is responsible for muscle growth, among other things. The more muscle you have, the better your body's ability to burn fat – so decrease in testosterone=decrease in fat burning
Alcohol, in a nutshell adds calories, makes you hungrier, decreases your energy and makes you care less about what you eat. If your goal is fat loss, limit your consumption of alcohol while you're trimming down. If your goal is weight maintenance, save your alcohol consumption for your NSA day.
E: Locally Sourced Food
Try dining at restaurants that locally source ingredients because they often have the freshest, healthiest choices.
The Bottom Line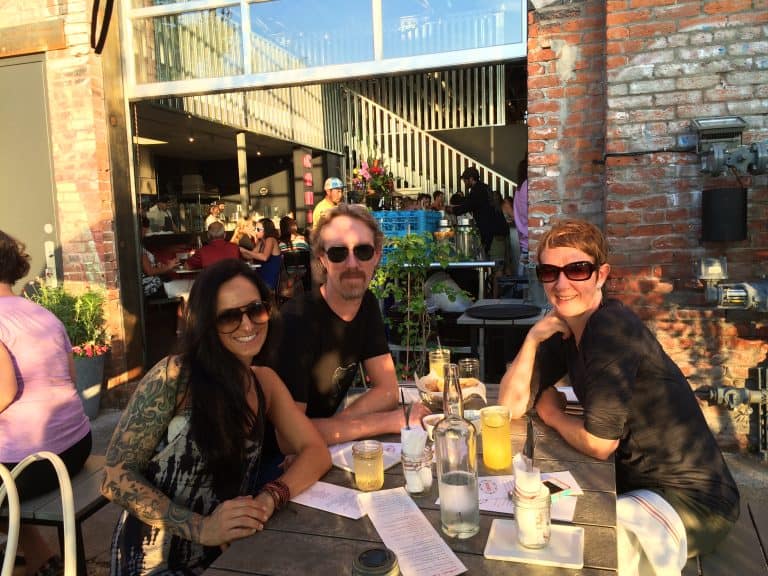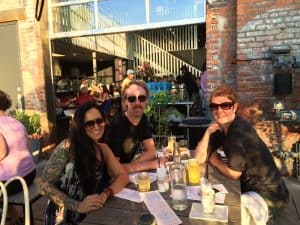 Think about what nutrients your body needs, and what the healthiest options available to you are. A few occasional things you can't control won't hurt, but just being mindful is better than not putting any thought into it at all.
Think about how you would eat at home – be mindful of what your body needs and don't get sidetracked or overwhelmed by all the options available at the restaurant.
Eating out isn't always about ordering "perfectly" – if you eat out quite a bit these tips are great, but you should also feel free to enjoy yourself! I love meeting friends for a good meal, or going out to eat with family.
We all have so many happy memories and occasions around food and great meals – so don't sweat it if you can't eat exactly like you would at home. How we FEEL when we eat is often just as important as WHAT we eat.
---
Get my Best-selling Eating Guide that comes complete with a 6-week meal plan to set yourself up for amazing results with 3 different eating styles:
Minimal: This eating style works perfectly when you're new to cooking or don't have much time to cook and are eating out some/taking shortcuts – but still want to see results and eat healthy!
Hybrid: This eating style works perfectly when you're doing a little cooking, but need a flexible, easy system to follow so you can save time and see results!
Batch: This eating style works perfectly when you like to cook but are short on time. You can do one main efficient batch prep session for the week and have your food on hand and ready to go!