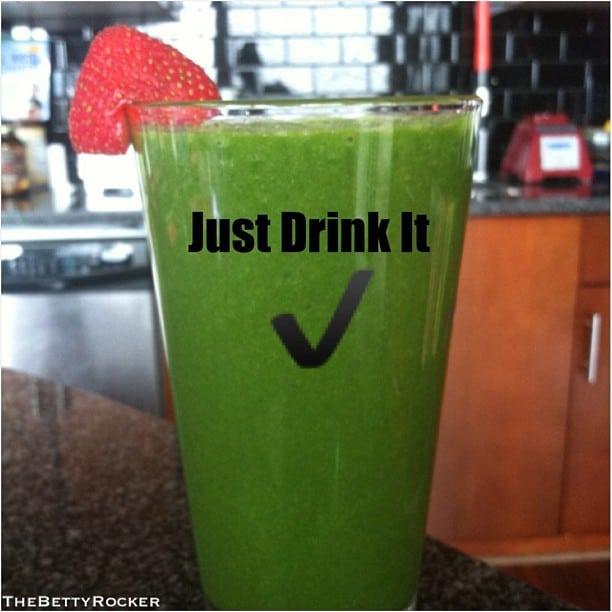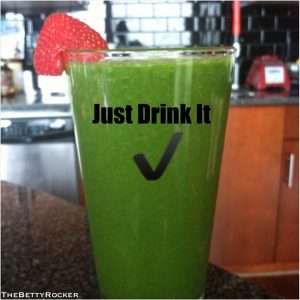 Yes, Just Drink It…swoosh!
Green smoothies are an AWESOME and RAW-SOME way to get a serving of fruits and vegetables, complete with healthy fiber and all the minerals and nutrients those foods contain.
It is helpful to have a good blender – I use a Blendtec – but you can still make a good blend by chunking up your greens and fruits well before blending, and another option is to food process it – optionally blending second.
Add protein powder to boost your nutrient intake (plain flavor works best for me, and I like to add spices to mine – see below).
Mix up your greens. Don't just do spinach every day. Have at least the same amount of greens to fruit volume – this is not a "fruit smoothie" though it's great to add some fruit
Just Drink It Green Smoothie
Yield: 1 serving
You will need: blender, measuring cups and spoons, knife, cutting board
Kale – about a cup or more
Cucumber – chunk
Parsley about 1/4 cup
Fresh mint – a few stalks
Fresh ginger, small chunk – yep, I peel mine but you don't have to
Pear
2-3 strawberries
1 serving Warrior Force protein powder (read more of my protein powder recommendations here)
1 tsp cinnamon
Almond milk – Add enough to blend.
This was a meal replacement for me, I had it post-workout.
What kind of Green Smoothie did you make today?