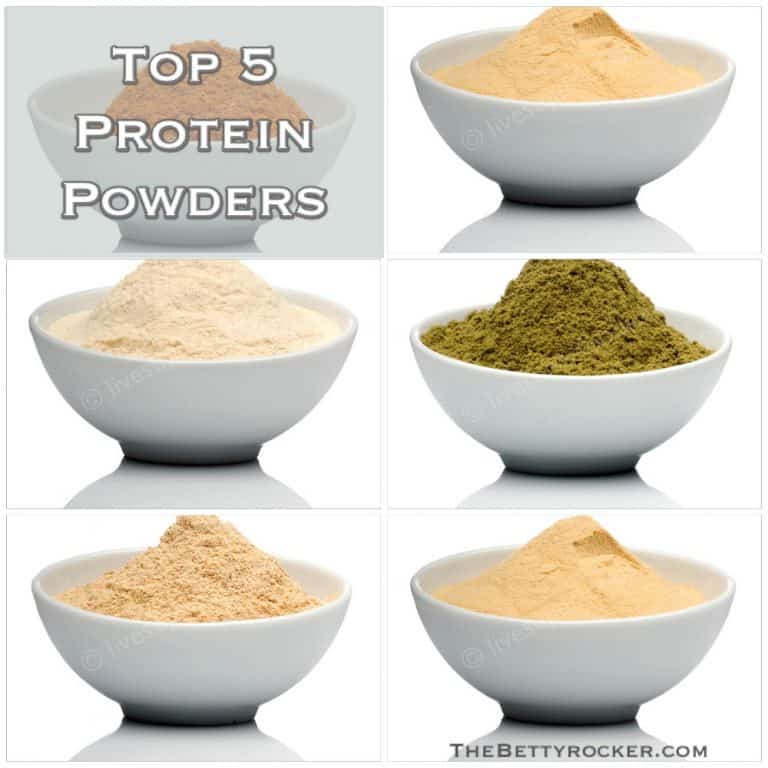 With so many protein powders out there, how do you know which one to choose?
If you're like me – eating as many foods in an all-natural state as possible and minding your added sugar intake – even some of the "all-natural" protein powders can present a challenge.
This guide will help you navigate the often confusing maze of choices in protein powder out there, and give you some of my recommendations on trusted brands.
My hope is that you can use the guide to find the best option for you, whether or not you use my recommendations.
Protein powder is a SUPPLEMENT to a healthy, whole food diet, and is not something you have to have to be healthy. That said, it can definitely be a very helpful and cost-effective way to get enough protein in your system without having to cook all your meals.
Please read Protein 101 to understand why you need it, how much you need, and to see if having a supplement is a good idea for you.
---
What to Look For:
When it comes to your protein powder, it's more about the ingredients and their source than it is anything else. What's in a powder mix (or what's NOT) is what gets my stamp of approval. Is the source of the protein one that's readily absorbed by your body? Is it a complete protein (all essential amino acids present)? 
PDCAA's (protein digestibility-corrected amino acid score) measure the nutritional quality of a protein. Not only "how much" but also how well our body can use and absorb it. As you can see from the chart, the animal-based proteins weigh in at the top. However, soy, rapeseed and pea are strong contenders in the plant protein spectrum.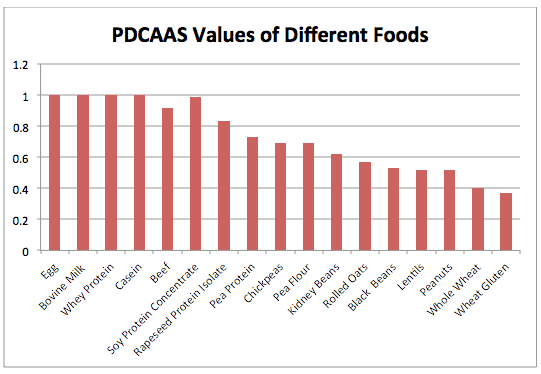 Why does this matter? Well, if you're going to buy a protein powder supplement, you want to get your money's worth. You want high quality bioavailable protein full of amino acids that promote muscle protein synthesis and support your cellular activities.
There are 20 total amino acids your body needs to function. Eleven of those are made IN your body, but the other 9 need to come from the foods you eat – we call those "essential amino acids." Some of the most common plant-based sources of protein you'll find in protein powders are pea and hemp (which is not on this chart, but should be!), which both contain all 9 of the essential amino acids. 
While soy scores high marks, I do not recommend soy protein powder generally, as the majority of available soy in the US is genetically modified. Organic, fermented soy – which is a staple food in many Asian cultures (think miso, natto, tempeh and certain soy sauces) is a wonderful food. The processed soy we find in protein powders, however, should be avoided – especially soy protein isolates.
In addition to the raw material, you also want to look at the source of those ingredients. If it's plant-based, is it organic, or at least non-GMO, grown in good, healthy soil, and free from potentially harmful chemicals? If it's animal based, where does it come from? What is the source?
It's also about how the protein is actually made. There is an extraction process that takes the raw material into a powdered concentrated protein, so I'll give you some things to look for there in the different kinds.
---
Added Sugar in Protein Powder
A note on added sugars: the plain version of the protein powders I use generally don't have added sugar (even natural sugars). However, if you're not planning to add any fruit or natural sweetness to your shake, this can be pretty unpalatable! I generally opt for a protein that's been sweetened with a natural plant source like monk fruit, coconut, or stevia.
As I was designing my own protein powder, I learned a lot about different kinds of sweeteners. Ultimately, I went with monk fruit for most of my products, as I just like the way it tastes. Also known as "luo Han go" or "Buddha fruit," monk fruit is a small, round fruit native to Southeast Asia.
Monk fruit contains natural sugars, but actually derives its sweetness from unique antioxidants called "mogrosides" which are the part that we separate out and use to add sweetness to Whole Betty protein powders like Berry Green Protein, I ❤️ Chocolate and I ❤️ Vanilla. It contains zero calories and is far sweeter than regular sugar – which means we only need a tiny amount to give every serving the perfect balance.
A lot more companies than ever before are opting to use low-calorie, or no-calorie sweeteners in their supplements to meet the growing consciousness about the detriments of overconsumption of sugar. I strongly encourage you to avoid any sucralose (aka Splenda), dextrose, maltodextrin, and sugar alcohols.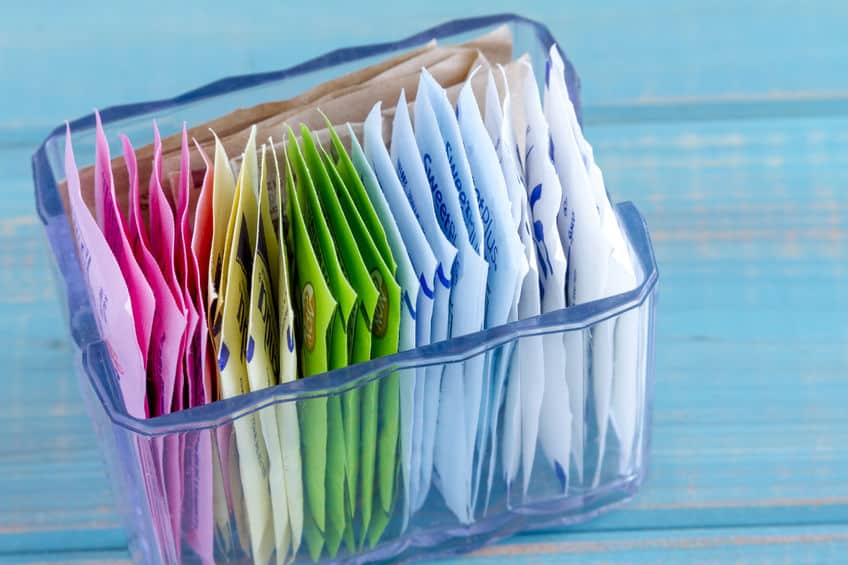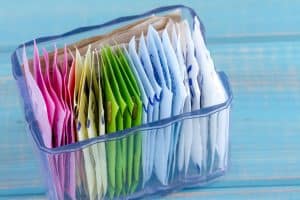 Sugar alcohols like erythritol and xylitol are very popular right now in mainstream products because they are a no calorie sugar that adds a lot of sweetness.
Sugar alcohols don't digest in the body and when taken in high amounts can cause bloating or irritation to some people. Many people will be fine and notice no effects, I just want to remind you to always listen to your body and notice the source of sugar in your foods. Also, erythritol is made from cornstarch, which may be GMO cornstarch. If you're ok with sugar alcohols, I'd give priority to organic products.
I do pay attention to added sugar in my protein powder – just like I would with any food I'm buying that's pre-made. Swapping out "natural sugar" for other sugar is still adding sugar to the diet – but as long as you're being mindful of your daily overall sugar intake, a little natural sweetener in your protein powder from a wholesome source probably won't send you over the edge…just be sure you know what you're putting in your body and choose mindfully.
Read the label and be sure you know how much sugar is included in a serving (for example if the label is referencing 1 scoop, and it's 6g of sugar – but you need 2 scoops to make 1 serving, that's actually 12g of sugar – nearly half of the daily recommended limit for women).
Even some sugars that sound healthy can be overused – I've seen some "healthy" protein powders just loaded with sugar from rice syrup or another non-threatening sounding sweetener. So just pay attention.
I know that the more accustomed I get to eating sweet things on a daily basis, the more I want them. My goal is to avoid added sugar as often as possible, and enjoy it on purpose when I do eat it. So just be aware and mindful and be sure you're not "nickel and diming" your sugar intake away in your supplements.
---
How I Use It:
I rotate through different protein supplements just like I rotate through different whole food protein sources, different greens in my smoothies, different forms of complex carbs, etc. It's important to give your body a variety of amino acids – but key to give it the ESSENTIAL aminos – meaning the 9 that the body can't make on its own.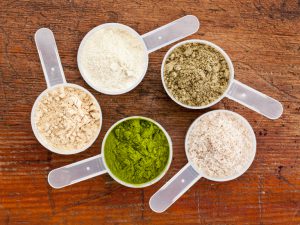 I like to rotate between a couple different kinds of protein supplements over the course of the week – which stretches out my supplies. I'm basing most of my protein intake in the food that I make or cook, so this just rounds out my protein intake.
Of note: I sincerely appreciate my readers who help me stay on top of the protein powders on my list, as companies do change their formulations periodically (for various reasons, i.e. to save money, or because an ingredient is no longer available). If you notice something in this article that isn't what you're seeing on a manufacturer's label, please feel free to tell me in the comments, as I WILL investigate, and I do update this list* and stand by my recommendations – these are all brands that are in the heavy rotation in my cupboard!
---
#1 SUPERFOOD PROTEIN POWDER (PLANT-BASED)
Why I recommend this: I like to get more for my money. If I'm using a protein powder that I'm already paying for, I want the added boost of other nutrients that add diversity and variety to my micronutrient intake.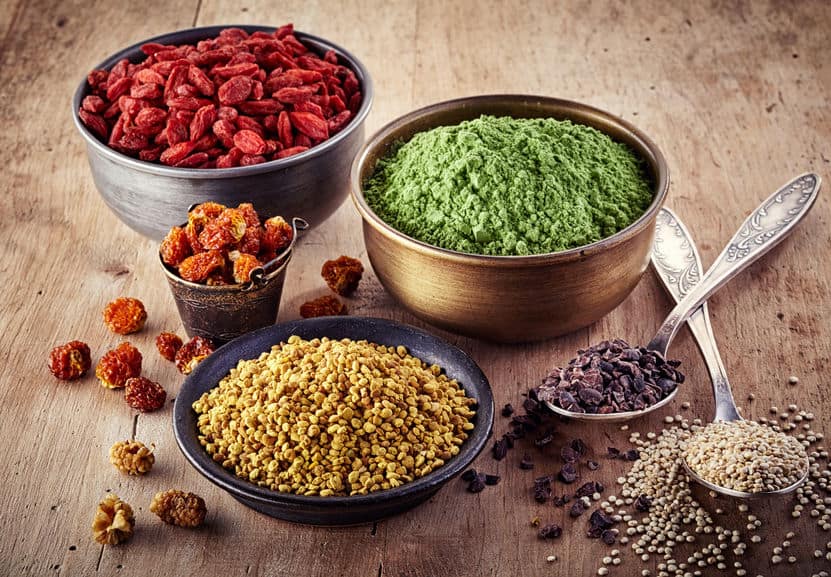 I give preference to organic protein in this case, and also am looking for a non-GMO label. 100% Certified Organic means non-GMO, but if you can't find an organic protein (sometimes it's hard to source ALL the ingredients as organic), look for the non-GMO label to ensure you're not putting genetically modified foods in your body inadvertently.  
---
What to Look OUT for:
It's so important to know how the plant protein has been extracted from its source. There are 3 main methods for extraction:
Hexane based: hexane is a

chemical neurotoxin derived from petroleum that can damage your central nervous system, and is commonly used to remove the plant oils in soy protein as well as some other types.

AVOID

.

High Heat: when plants are exposed to high heat in order to remove the natural oils to make the protein powder, other nutrients are damaged and this can make the end result not as absorbable or beneficial to you. AVOID

.

Enzyme-based or fermented: natural enzymes are added to the plant seeds to remove the oils. This is the preferred method for making plant proteins. RECOMMENDED (this is how my brand, Whole Betty does it)

.
---
What to Look FOR:
Read your label and make sure you know what everything in those ingredients are, number one. I look for a plant-based protein that includes sprouted or fermented grains when grains are used (rice, for example).
You may see ingredients like superfoods, enzyme blends, probiotics, BCAA's, or other components that may be useful. 
RECOMMENDED SUPERFOOD PROTEIN POWDERS: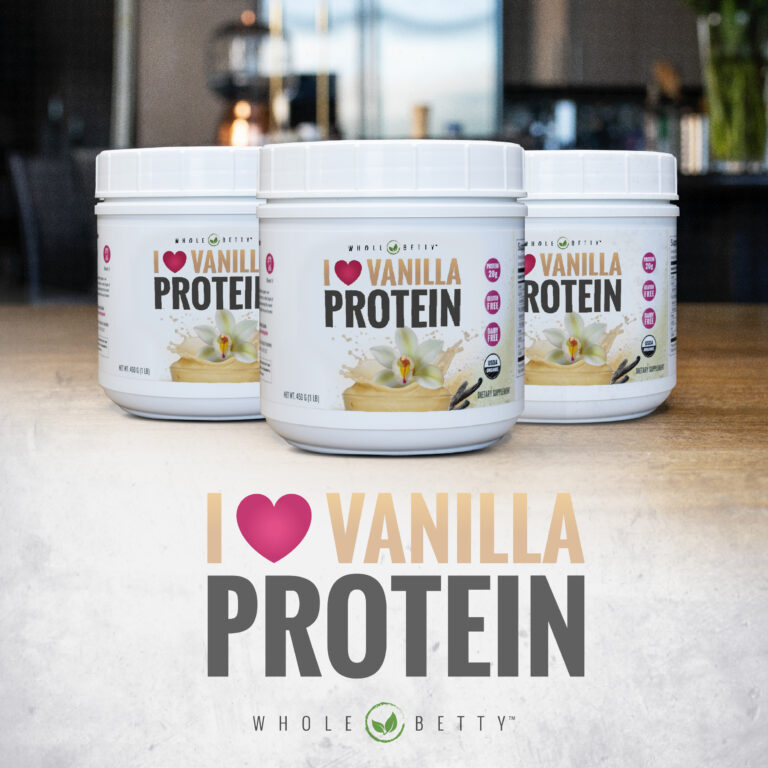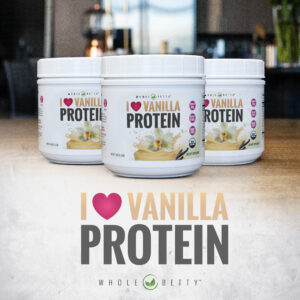 Whole Betty I ❤️ Vanilla Protein Powder and I ❤️ Chocolate Protein Powder
Features: USDA Certified Organic and Certified Non-GMO, complete (contains all essential amino acids the body cannot make on its own) plant-based vanilla protein powder.
Made with a blend of 4 superfood protein sources, pea, chia, pumpkin seed and cranberry seed. Sweetened with monk fruit.
I was so tired of buying expensive vanilla protein powder only to discover it tasted plant-y, or was a gritty texture. I worked for 2 years to source and create a delicious smooth vanilla blend, made from organic plants that can be shaken up in liquid for a quick, on-the-go nourishing protein shake, blended up in a smoothie with fruit and greens, or baked in any of my tried and true recipes to boost the protein content!
You'll be saying "I love vanilla" or "I love chocolate" right along with me when you try this delicious protein powder!
GLUTEN FREE, DAIRY FREE, ORGANIC
Protein: 20 g/serving
Superfoods: I used only the best quality organic ingredients, harvested at their peak potency, including: organic pea, organic cranberry seed, organic chia seed, and organic pumpkin seed


---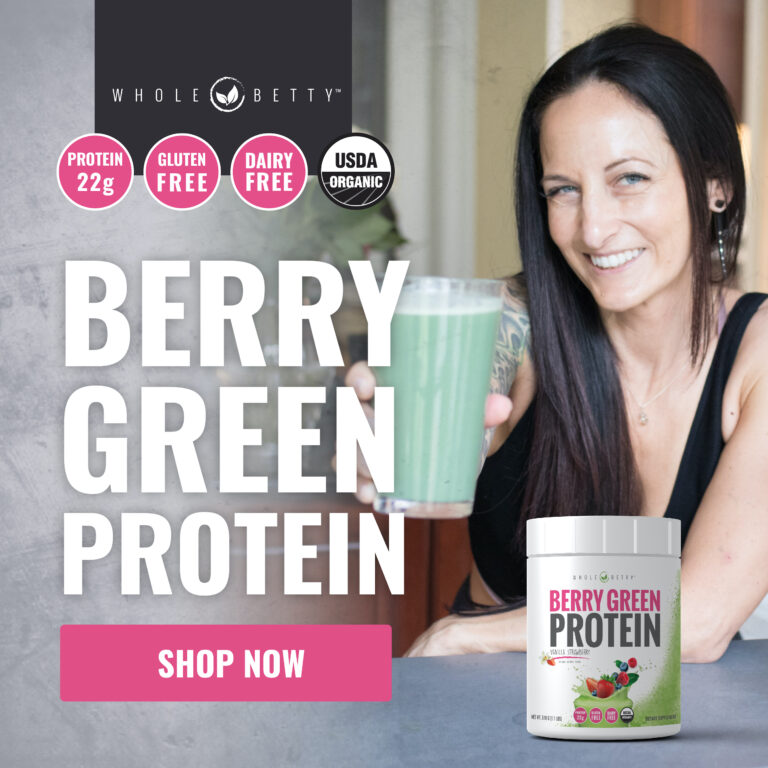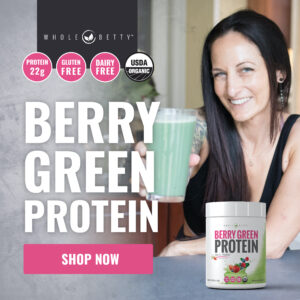 Whole Betty Berry Green Protein
Features: USDA Certified Organic and Certified Non-GMO, unique in that it features both complete plant-based protein and 15 superfoods in a veggie, greens and fruit blend. Sweetened with monk fruit.
All 20 amino acids, including an excellent BCAA profile. The organic pea protein is sourced from North American yellow peas produced with a natural fermentation process which uses no chemical solvents.
I know this because I founded this company after years of frustration not being able to get what I wanted.
We work closely with our certified organic growers to harvest the greens, vegetables and fruits at the optimal time, then concentrated to preserve their nutritional potency. The brightly-colored, non-oxidized powders are protected from direct heat, UV light and moisture during the manufacturing process.
GLUTEN FREE, DAIRY FREE, ORGANIC
Protein: 22 g/serving
Superfoods: I used only the best quality organic ingredients, harvested at their peak potency, including: organic pea, spirulina, barley grass juice, wheat grass* juice, chlorella, spinach, carrot, beet, tomato, kale, parsley, apple, raspberry, cranberry, blueberry 
*wheat grass is GLUTEN FREE – the grasses of the plant do not contain gluten.
Amino Acid Profile: all 9 essential amino acids, BCAA's, plus a broad spectrum including: alanine, arginine, aspartic acid, cysteine, glutamic acid, glycine, histidine, isoleucine, leucine, lysine, meethionine, phenylalanine, proline, serine, threonine, tryotophan, tyrosine, valinee.


---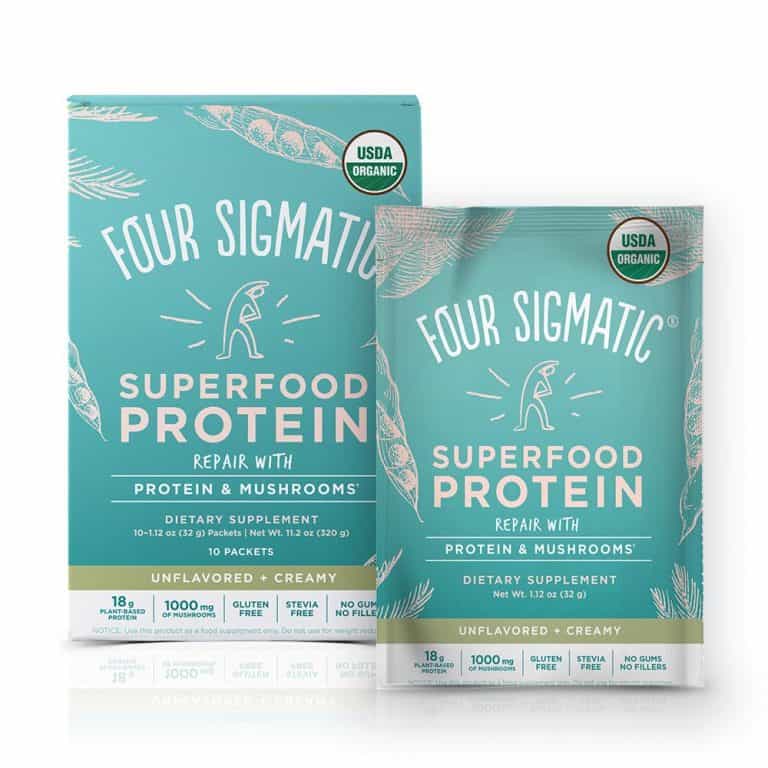 Four Sigmatic Superfood Protein
Features: A 100% organic blend of pea, hemp, chia, pumpkin and coconut this 100% plant-based, highly-digestible, and complete protein powder is unflavored – contains no sweeteners and has 18 grams of protein per serving.
Plus they offer it in individual packets for easy, on-the-go goodness. I also love the addition of mushrooms and adaptogenic herbs, something Four Sigmatic is known for (check out their other products).
Sweetened with coconut sugar and monk fruit, this checks in at 2g of sugar per serving, putting it on par with most of the lower sugar proteins. Really an excellent and versatile product. 
GLUTEN FREE DAIRY FREE ORGANIC
Superfoods: Pea, Hemp, Chia, Coconut, Pumpkin, Ashwagandha, Eleuthero, Cordyceps, Reishi, Lion's Mane, Turkey Tail, Chaga
Protein: 18g/serving
NOTES: This one is not flavored so you'll want to be sure you're mixing it into a smoothie or shake or something you're adding a natural flavor or sweetness source to, think smoothie for example with banana, strawberries, greens and nut milk. Consider adding a scoop of cacao powder for chocolate superfood goodness. 


---
#2 SINGLE-SOURCE PROTEIN (Plant-Based)
Why I recommend this: As an alternative to a multi-source or superfood plant-based protein, a simple, single-source protein is also a great option, as long as the source of the plant is highly absorbable (see the PDCAAs chart above), quality grown in fertile soil (organic is preferred) and has not been treated with chemicals during the manufacturing process. 

It's hard to tell for sure these days if everything has been optimal, so usually, the best we can do is to look for the label to have the certified organic seal and "NON-GMO." I also recommend you just look up the company and read about anything you can to do with their sourcing practices.
I like using single-sourced plant protein in baking, so when I have it on hand that's what I'll normally use it for. It's also great to use in a smoothie or shake.
---
What to Look for: Look for the organic and non-GMO labels on your protein. Read the label on the back to see what kind of sugar was used to sweeten the protein.
Try to get a protein powder with less ingredients than more, especially with a single-source protein powder. If it's a flavored one like vanilla, you should recognize the ingredients being used – a protein source, a vanilla flavor and a sweetener.
RECOMMENDED PLANT-BASED, SINGLE INGREDIENT PROTEIN POWDERS:
---
Features: Made from raw hemp seeds; Certified organic and non-GMO; Vegan; All 20 amino acids, including the 9 essential; Essential fatty acids (omega 3 & 6); Good source of dietary fiber; Gently cold-processed; Never hexane processed; Always chemical free; Non-irradiated; Non-BPA container
Protein: 15g/serving
Amino Acid Profile: All 20 amino acids, including the 9 essential


---
#3 Whey Protein Isolate
Why I recommend this: Whey is a great and natural protein source if you tolerate dairy well. Whey contains whey proteins, lactose, minerals and small amounts of fats.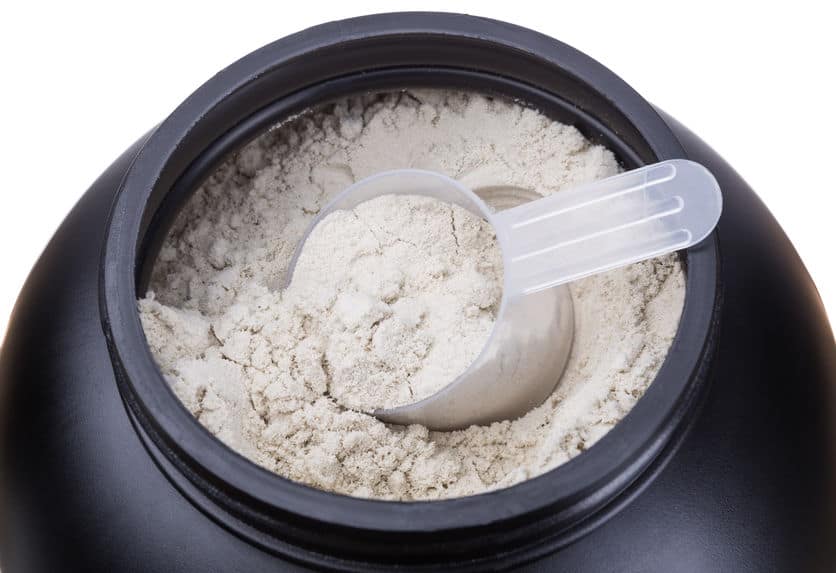 What to look for: When it comes to protein powder it's ALL about the quality of the process the manufacturer uses – not to mention the source ingredients. What you want to look for is a high-quality grass-fed whey that doesn't contain all the fillers, artificial sweeteners and junk that you'll, unfortunately, find in far too many whey-based protein powders.
Here is how whey protein powders are made, so you can know what to look for and how to find a quality whey protein. READ YOUR LABELS and ingredients always.
There are several different methods that accomplish the filtration of the whey protein from whey – and may often be heated, sprayed or flavored, colored, etc (no different than non-dairy protein powders – which is why it pays to read the labels).
---
There are 3 ways whey protein is processed:
Whey Protein Concentrate (WPC) – Produced via ultrafiltration of whey, this refers to whey proteins that contain greater than 90% protein concentration, but could be as little as 20%. Usually the specific concentrations will be notated following the term "WPC", such as WPC "85". The rest of the concentration is made up of lactose, minerals, and fats.
—>avoid this if you are lactose intolerant, instead opting for one of the 2 below (which are often more expensive due to their processing)
Whey Protein Isolate (WPI) – May be produced by a variety of membrane filtration techniques, with the goal of reaching greater than 90% protein concentration and removal of most (if not all) lactose. This is known as the "purest" whey. Manufacturers will also often combine filtration with an ion-exchange technique to selectively filter out particles by ionic charge rather than just molecular size.
Whey Protein Hydrolysate (WPH) – Whey protein hydrolysates are produced via enzymatic hydrolysis of either WPCs or WPIs. Essentially, this acts as a method of "pre-digesting" the protein by separating (i.e. lysing) peptide bonds; hence the time for digestion and absorption of amino acids will be reduced – which may mean there is greater muscle protein synthesis post-workout. The process produces a bitter taste, so it's often masked by sweeteners.
Avoid brands that have sugar added in the form of fructose, dextrose, and maltodextrin.
Other things that add to the quality of a whey protein is whey from farm-raised, pasture-grazed, grass-fed cows that haven't had any bovine growth hormone injected – something that is HUGELY important to me as a consumer and should be a strong consideration in purchasing your dairy products. The quality of any animal product is going to be vastly affected by its environment, diet and treatment.
I don't use dairy very often as I don't digest it easily so I don't have one from experience to recommend at the moment.
---
#4 Egg White Protein Powder
Why I recommend this: Egg white protein is one of the most bioavailable proteins in existence. It's got all the essential amino acids, and it's great for anyone without a specific dietary restriction.

You may find lecithin added into this kind of protein – avoid soy lecithin, opt for sunflower lecithin or none. Look for egg whites from hormone-free chickens, and be sure there is no added sugars you don't want in your body, and minimal to no additional products in the protein you buy.
---
What to Look for:
Where do the eggs come from – for example, are they farm raised or commercial?

Have the chickens had growth hormone injected?

How has the protein powder been processed? Typically they will pasteurize it (heat) to kill any harmful bacteria. Flash pasteurization, with no additional heating, will ensure the protein isn't inactivated.

Is there any added sugar, sweetener or additional products added?
I personally think it's important to get a variety of protein sources, so this is one I keep in the mix on occasion and use in baking. I don't use it as a staple since I prefer to just eat whole eggs in their natural form, and usually opt for a collagen and a plant-based protein as my main 2 staples.
But when it comes to absorbable, quality protein, egg white is right at the top. I often use it when I'm making protein pancakes or muffins – though be sure to add a little extra liquid if you do as this is a protein powder that will affect the texture of your baked goods.
I use this type of protein powder the least, but it is a great option and these are 2 brands that meet my standards:
RECOMMENDED EGG WHITE PROTEIN:
Features: Non-GMO, Egg Whites from US Farms, No Additives, Paleo, Dairy Free, Gluten Free, Soy Free
Protein: 25g / serving


---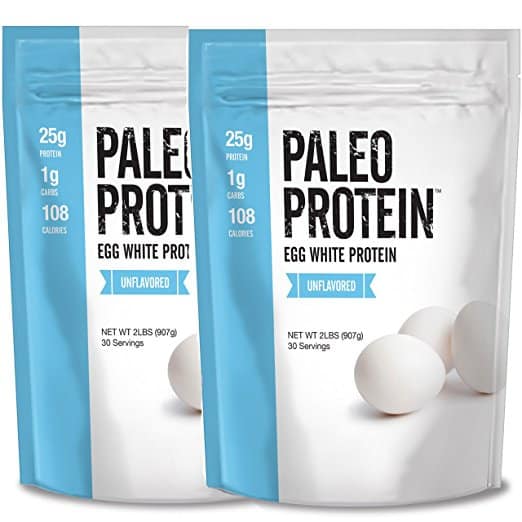 Features: Soy Free, GMO Free, Egg Whites From USA Farms, Dairy Free, Gluten Free, Soy Free
Protein: 25g / serving


---
#5 Collagen Peptides or Powdered Bone Broth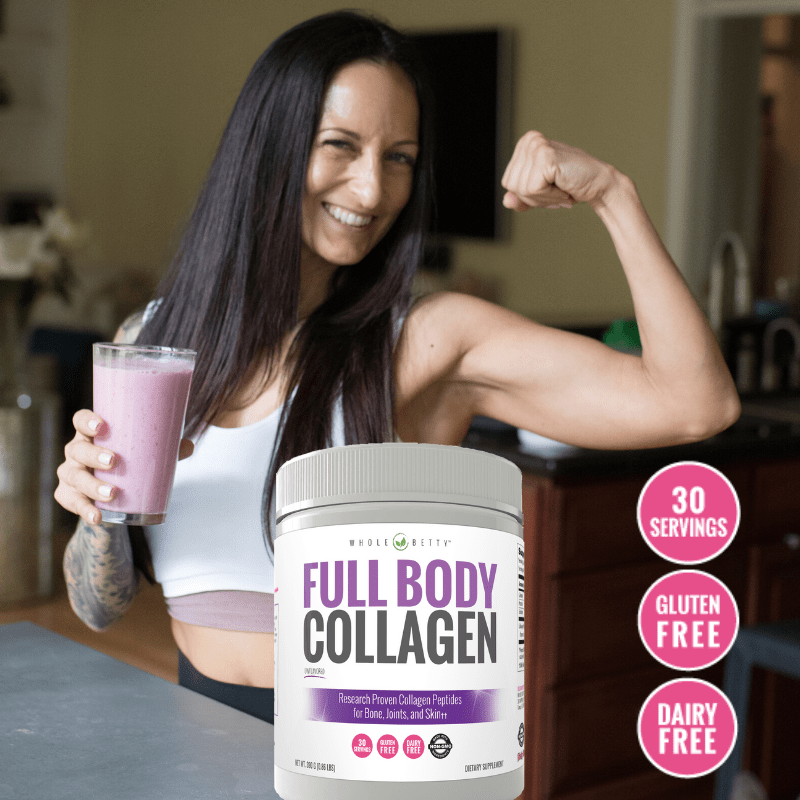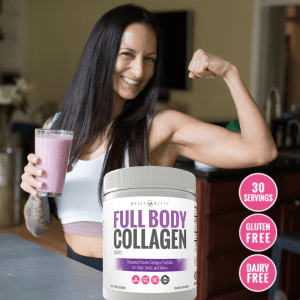 Why I recommend this: Collagen peptides are always in my rotation for supplementing in additional amino acids. While collagen powders generally contain as many as 19 amino acids, there are 3 that are highly concentrated and support skin, bone and joint health.
I would not substitute collagen for a complete protein (see above recommendations) but definitely use it as a supplement to the others.
Here's a video where I talk about why I use Collagen Peptides, go over some of the research and share ways to use it.
Collagen used to make its way into our diets through foods like bone broths, slow-cooked organ meats, kidney pies, baked beef hearts, whole crustaceans, and whole-fish soups and stews. But if you're not regularly eating these types of foods, you may not be getting any of this goodness into your body.
It's really versatile in that the plain ones are tasteless, can be mixed in anything, dissolve well, and the benefits of collagen protein are many.
You can find a lot of uses for it outside of adding it to a smoothie, for example, I make a delicious chocolate nut butter spread I call "healthy Nutella" that I have for breakfast with my homemade buckwheat bread. I add it in my baking, and swirl it into my hot chocolate.
What to look for: Look for hydrolyzed collagen – which just means that the naturally larger molecules of collagen are broken down into smaller molecules called peptides for better absorption in our bodies.
Check to see that other ingredients have not been added. It's not necessary to take in anything other than pure collagen peptides.
Collagen peptides are well absorbed by the digestive system and make their way to targeted tissues where they act as building blocks and trigger our own internal collagen production.
---
You can also get flavored collagen – and with that I would stress looking for one with the LEAST amount of added ingredients be mindful of added sugars. 
RECOMMENDED COLLAGEN PEPTIDES: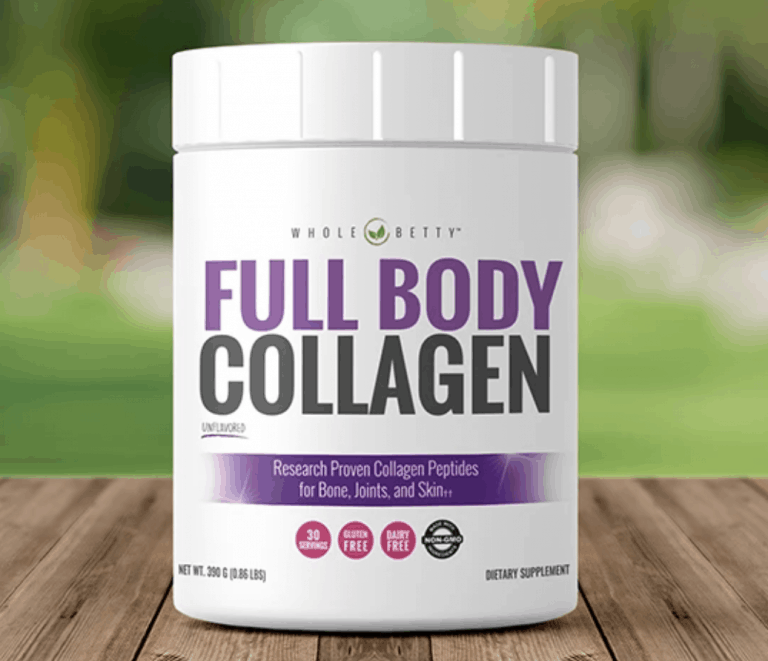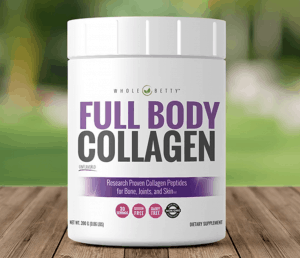 Whole Betty Full Body Collagen 
Features: hydrolyzed collagen protein powder sourced from pasture-raised German cows  
Peptides: 12.5 grams/serving
30 servings per container


---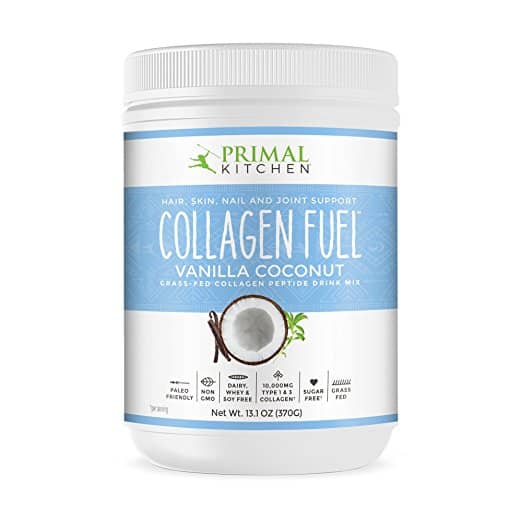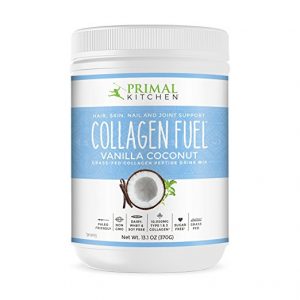 Primal Kitchen Vanilla Coconut
Features: grass-fed collagen, sugar-free, dairy-free, gluten-free, soy-free, paleo-approved
Peptides: 10g/serving (serving = 1 scoop)

---
Other natural Protein Sources:
Also of note, nutritional yeast and brewer's yeast are good sources of protein that also contain selenium, chromium and B-complex vitamins that most people need.
I love sprinkling nutritional yeast on my popcorn (non-GMO popcorn, just look for the label!) with a little extra virgin olive oil, or adding it to a salad for a cheesy flavor.
Spirulina also has 2 of the same amino acids found in collagen, and is a great plant-based source of additional protein. I added Spirulina to Berry Green Protein, along with many other nourishing greens.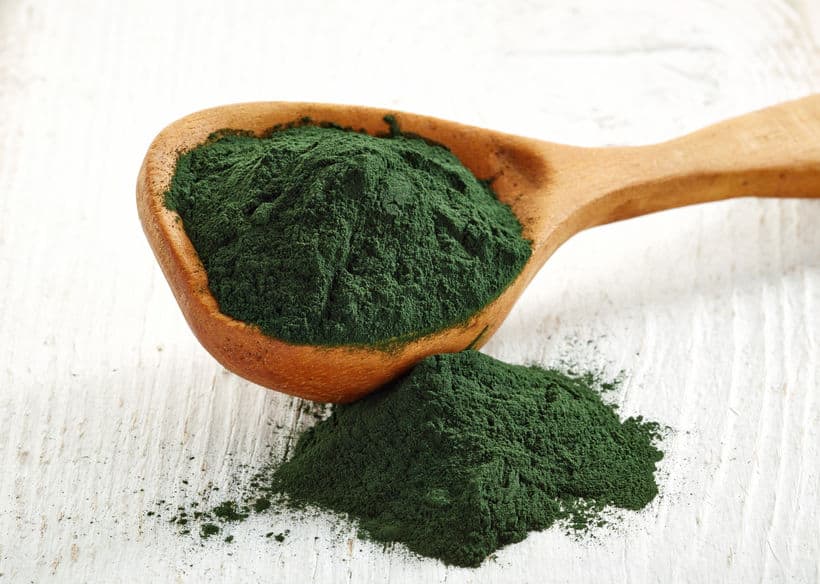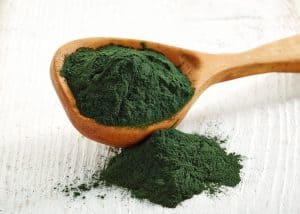 ---
Last Updated: 1/30/20 -Betty Rocker ❤️
For more information about Protein, how much you need, the best food sources for it, and how it works in your body, be sure to read Protein 101.
---