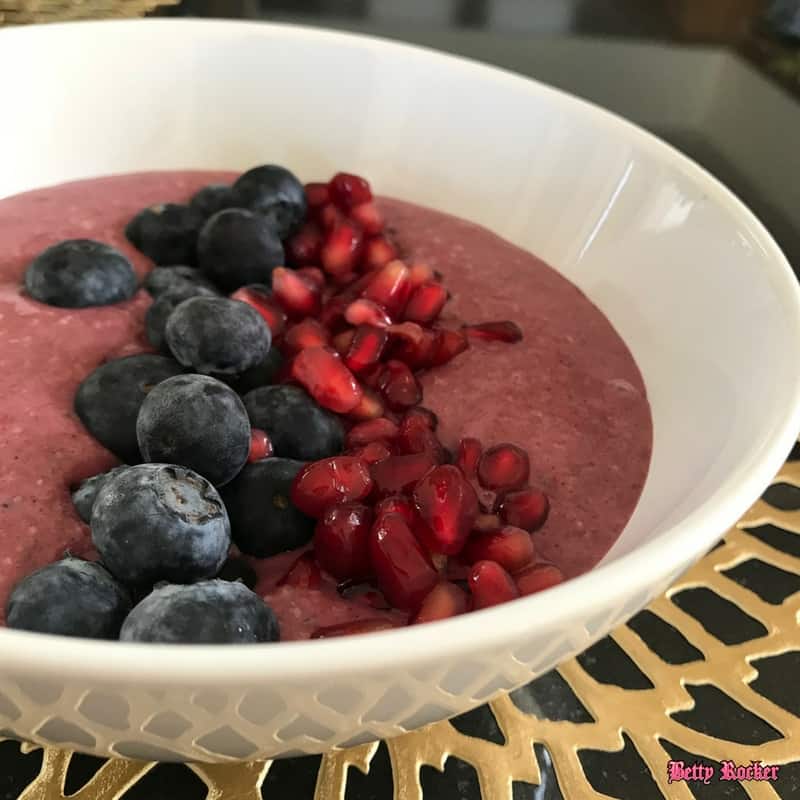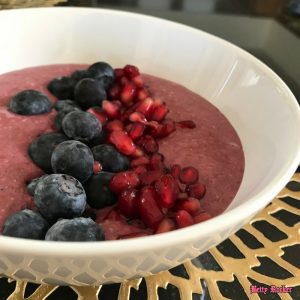 I've been posting my Unicorn Breakfast Bowl on my Instagram feed for months now, and after being asked multiple times to share the recipe, I am finally putting it down here for you for easy, anytime reference!
This is a super fun, easy breakfast to make that you can vary in lots of ways.
My keys for this are to include nutrients I want in the morning, namely protein and carbs – because I'm usually planning to do a workout at some point in the morning.
Eating around your workouts, you always want to include protein and carbs for optimal energy and recovery.
Adding protein powder to your oatmeal might seem weird, and until I learned this technique I was also at a loss. The key is to blend your protein powder into your oatmeal, usually with a little liquid (I use almond milk – you could use coconut milk or another milk) and part of a banana.
I like to use the organic Vanilla protein my own company (Whole Betty) created because it's smooth, tastes great, and has 20 grams of complete protein per serving – but you can use any kind you like. For a guideline to how to choose protein powder, go here.
If you're not a fan of bananas not to worry! I've also blended in strawberries, and it was just as amazing.
Be open to trying stuff out and don't worry if I don't list out every possible option you want to try – experimentation is your friend! Quite frankly, it seems like that's how I come up with all of my best recipes; either I'm out of something or limited by something I can't (or won't) eat and it just makes me innovate – you can, too!

Here is the baseline recipe for the Unicorn Breakfast Bowl, very much inspired by my trip to Jeffrey's Bay, South Africa, where I had something similar many mornings in a beautiful cafe that Coach Chelsea and I visited before work.
Ingredients (for one serving):
BLEND everything in your blender until smooth (I use a Blendtec blender).
Depending on your blender and the thickness of your oats, you may choose to add a bit more liquid. The consistency I go for is usually thick but smooth, not clumpy. You don't want your protein powder sticking to the corners of the blender so if that's happening just use your spatula to scrape it a bit for an even blend, adding a little more liquid as needed.
Use a spatula to get it into a bowl.
Take the other 1/4 of your banana and slice it up to top your bowl. I usually add other toppings at this point as well, like a teaspoon of chia seeds and some sliced strawberries. Other toppings I love include chopped nuts, unsweetened coconut flakes, any kind of berries, and/or dried fruit.

Nutrition Facts
Calories per Serving:

343
Notes: I don't add any additional sweetener to this since I like to keep my daily intake of sugar to a minimum, and this Unicorn Bowl has plenty of fruit sugar.
If you're needing a little something more, heat up about a tablespoon of your favorite nut butter and drizzle it on top. Nuts work great as toppings, too. Feel free to increase the portion size of the oatmeal; I usually start at this amount because of adding the other ingredients.
Have fun experimenting with this, and Happy Breakfast! Leave me a comment below to let me know if you're going to try this – and share a pic if you do!
---
The 30 Day Challenge Meal Plan includes all the recipes and grocery lists for breakfasts, smoothies, sides, snacks and entrees for 4 full weeks – with plenty of delicious options and structure to help you eat right for YOUR life!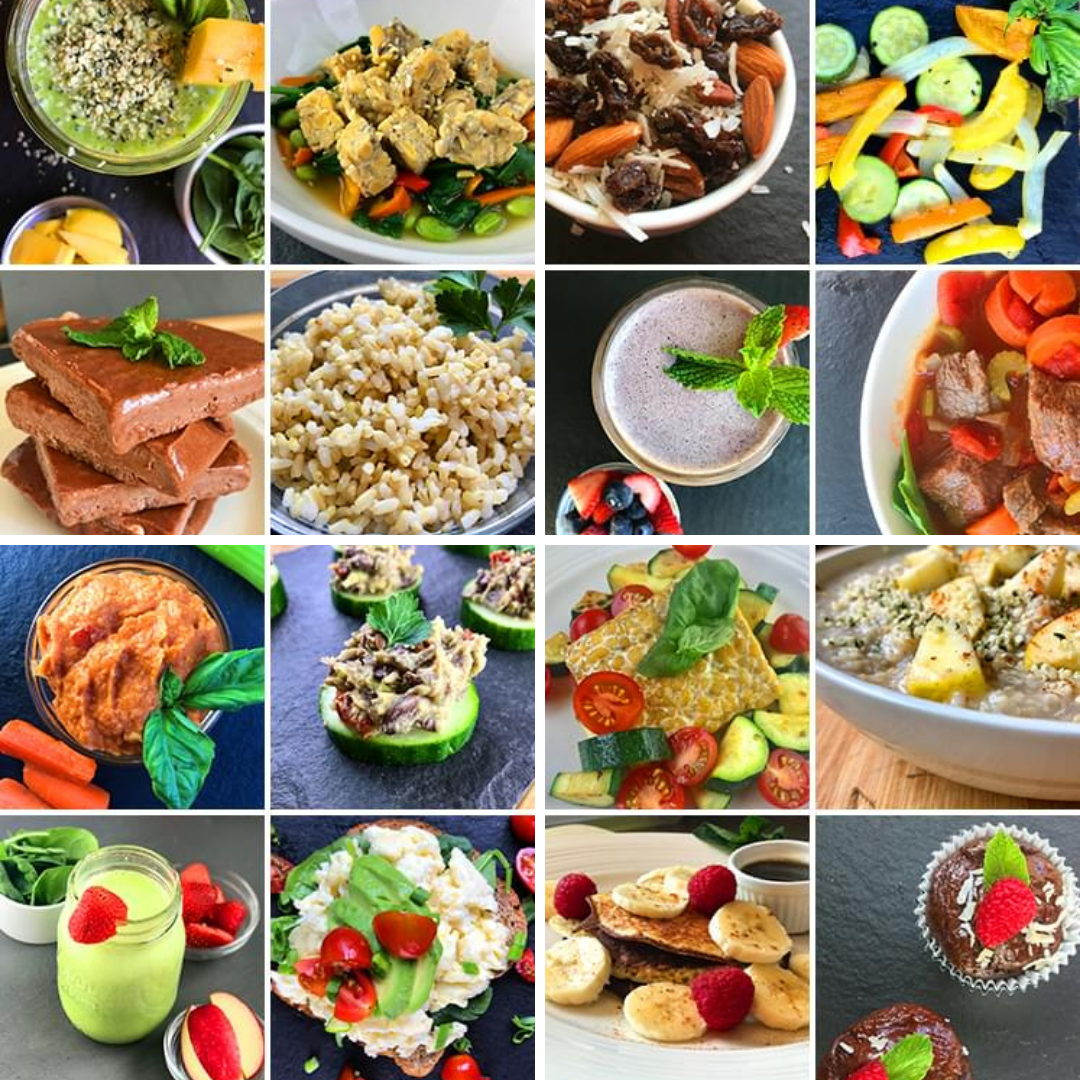 Save time and make this your own with everything all mapped out so you can shop and prep with ease – with 3 options for how to do your prep – all at once (batch), not much at all (minimal), or a flexible option in the middle called hybrid that lets you do some prep, and also cook on the fly.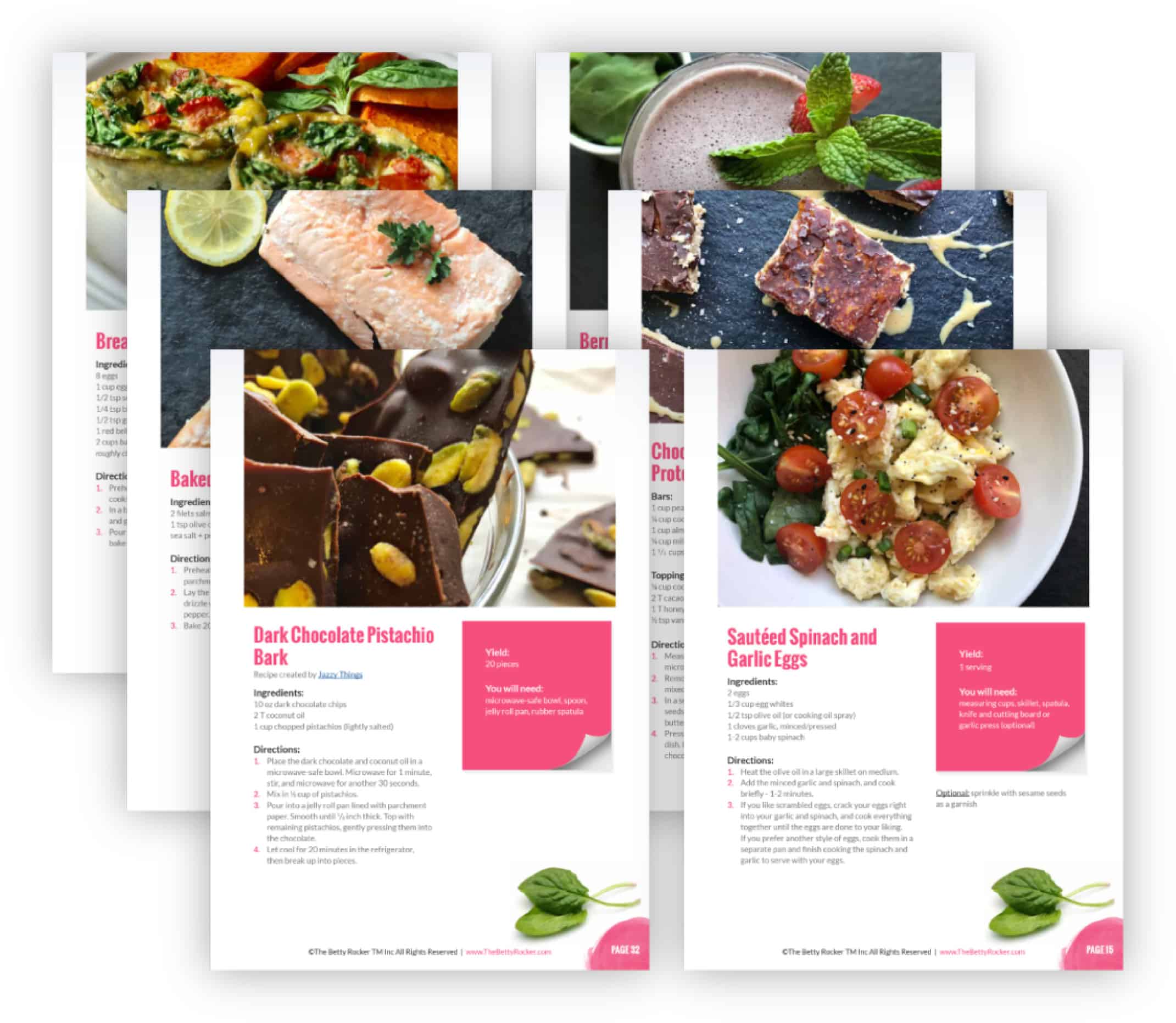 Never run out of healthy eating options again!