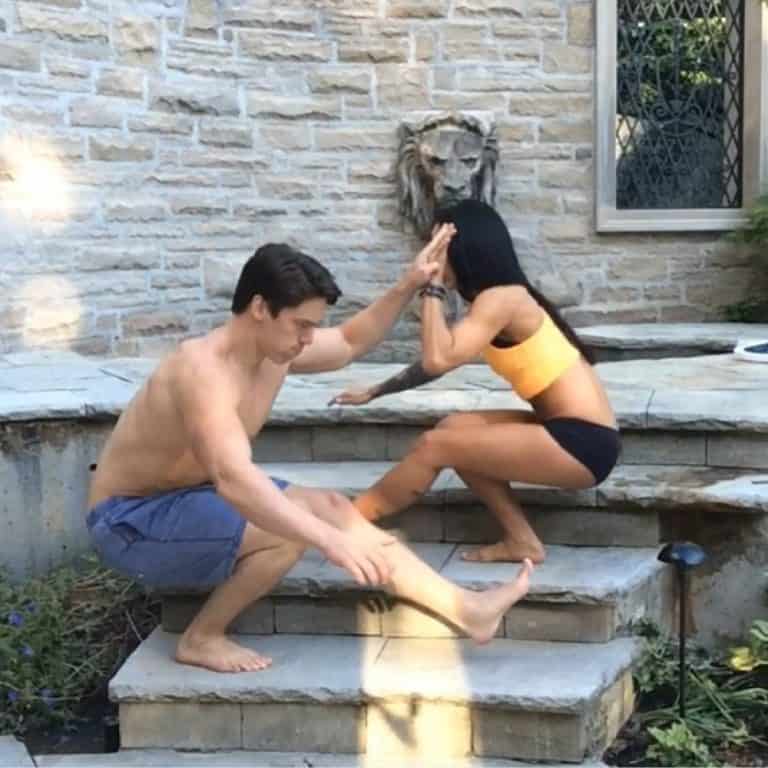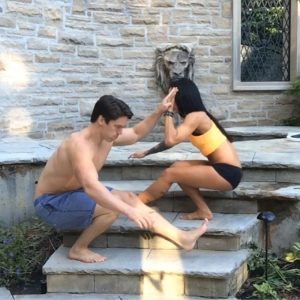 Last week I showed you how to work your way through a progression to do alternating pistol roll ups.
The roll up takes advantage of the momentum from the roll back to help you come up to standing, and it's a great way to build strength and coordination.
Pistol roll ups, and pistol squats are great unilateral (single side) movements which you can practice every week.
Because they simultaneously target the strong, working muscle groups AND the intrinsic, proprioceptive muscles that aid our body's alignment and balance, they can really help give you the edge in your training.
The key in strength training – with weights or with bodyweight movement should always be a balance of strength and function.
The goal is to increase the power of your muscle without sacrificing your form or adding too much bulk.
Pistol squats are one of my favorite exercises for this end goal, and today I want to show you the progression to use to work up to them. I was visiting a friend of mine in this video, he makes a guest appearance doing pistols with me.
---
Pistol Squat Progression
1. Body Squat:
Before doing single leg squats or getting close to a pistol, perform regular body squats. This serves two important purposes: one, it warms up the legs and two, it will help you set your form correctly for the pistol.
Keep your weight back in your heels, lift your chest and keep your back flat. Do not dip forward. Each time you rise, engage your glutes to bring you up. Keep your knees tracking in line with your toes, not going beyond them.
2. Assisted Single Leg Squat – shallow
Once you're nice and warm, position yourself beside a wall, chair or bench. Keeping a light contacting pressure on your surface of choice, shift your weight to one foot and squat – but only as deeply as you can without compromising form.
The tendency will be to pitch your weight forward over your knee as the body seeks to balance and will immediately try to call on muscles most commonly used. Avoid this by ONLY GOING AS DEEP IN THE SQUAT AS YOU CAN WITHOUT SACRIFICING FORM.
3. Assisted Single Leg Squat – add depth
Continue to work on your single leg assisted squats adding a bit more depth as you feel stronger, until you are able to perform a deep squat fully on one leg before moving on to a full pistol squat.
4. Full Pistol Squat with Assistance
Using the wall or chair, drop back to a full pistol squat. Keep your chest up. Don't allow your hips to rotate one way or another, keep your weight evenly distributed over your knee. Press through your heel to come up, engaging your glutes.
5. Full Pistol Squat
Full Squat is without assistance. Use your arms for balance. Drop as low as you can with good form, imagining you were about to sit down onto a box or low chair. If that chair or box was there, your weight would naturally be back – think about it when you're attempting this to help you, and feel free to put a medicine ball or fit ball below your glutes to contact as you come down to help aid you in making that mind body connection.
Press back up through your heel, and try not to touch your foot down. Perform 5-10 on each leg.
Try this out, and be sure to share it with a friend!
---
Looking for a strength training program?
Take my quiz to find out the best workout system for you!