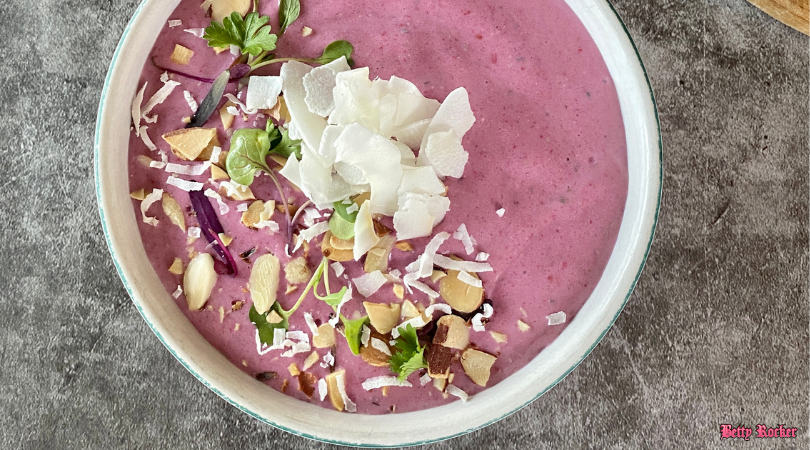 I enjoy smoothies and smoothie bowls for the convenience of a simple and nutrient packed mini-meal. This Raspberry Chia Protein Bowl makes a nice breakfast, can serve as a quick (and pretty) refuel after a workout, or be made anytime you're feeling like treating yourself!
I love being able to get an extra serving of greens, fiber, and especially the protein I know I need – all in one beautiful and delicious place. With raspberries, banana, chia and Berry Green Protein, this sweet (but low sugar) refreshing smoothie bowl recipe is the perfect way to boost your health!
Just take a look at what's inside:
Raspberries are one of nature's powerhouse anti-inflammatory foods. These juicy berries are high in Vitamin C, potassium and fiber (1). Raspberry phytonutrients have been shown to play an important role in lowering oxidative stress, reducing inflammation, and thereby altering the progression of chronic diseases such as diabetes, cardiovascular disease and Alzheimer disease (2) (3).
Chia seeds are proof that good things come in small packages! They are high in omega 3 fatty acids, which have been shown to reduce inflammation and protect against autoimmune diseases such as rheumatoid arthritis, Crohn's disease, psoriasis, and even migraine headaches (4). A great source of protein and fiber as well as vitamin and minerals, chia seeds have been used for centuries as a staple food in Central America (5).

Berry Green Protein (from my Whole Betty line) is something I love to include in my smoothies. It's 100% organic, packed with protein (22g protein per serving), and combines 15 superfood greens and berries. It's an excellent source of dietary protein (your body treats it just like food where it breaks it down to amino acids) and can boost your overall daily intake of essential amino acids – and broaden the spectrum of greens you're accessing as well.
If you're interested in learning more about the products I make and how to use them, check out this article!
If you're not able to use my protein powders (which are organic and plant-based), check out this guide I created to help you in choosing a good protein powder for yourself.
This recipe is so delicious! Let me know if you make this and how you like it!
---
Raspberry Chia Protein Bowl
Yield: 1 serving
You will need: measuring cups and spoons, blender, rubber spatula
Key: T = Tablespoon; tsp = teaspoon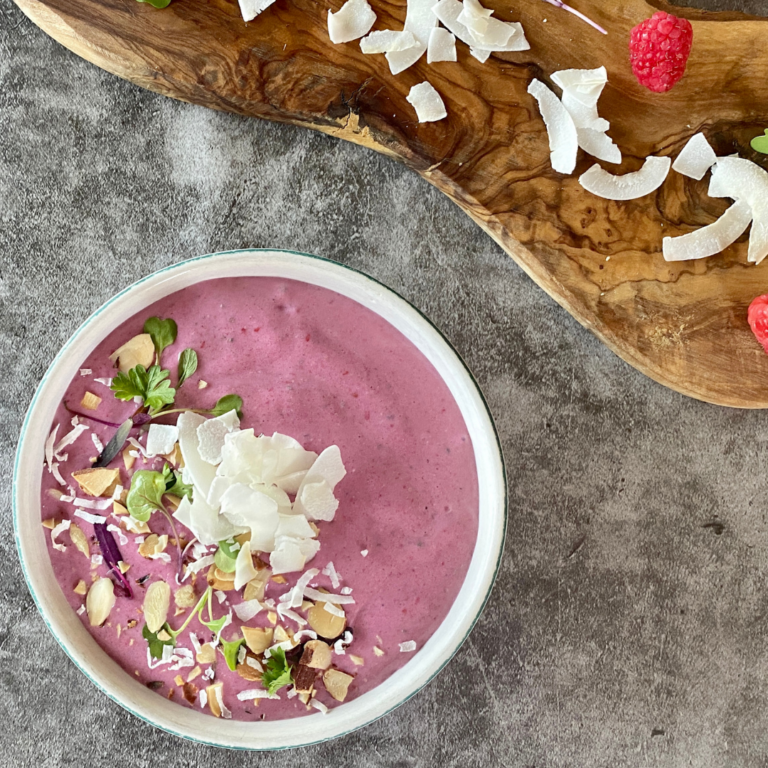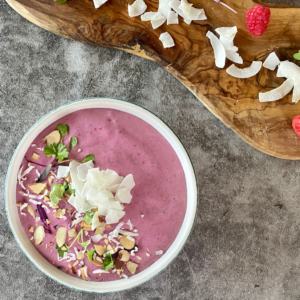 Ingredients:
1 cup raspberries, fresh or frozen
1/2 banana, sliced (frozen is nice)
1/2 cup unsweetened almond milk
1/2 T chia seeds
1.5* servings (48 grams) Berry Green Protein
Additional Toppings:
2 T shredded coconut
1 T toasted sliced almonds
Directions:
Add the raspberries, banana, almond milk and chia seeds to a blender.
Blend until no chunks remain.
Add protein powder to the blender and blend until smooth.
Serve topped with shredded coconut and toasted almonds.
*It's totally optional to increase your protein serving. I like to because it doesn't change the texture of the recipe at all, and it helps ensure I'm getting plenty of aminos from my fuel. Bumping this up to 1.5 servings gives me 27 grams of protein (plus even more greens) to add to the overall protein content of the dish. You could also do a half serving of my I ❤️ Vanilla protein and a serving of Berry Green Protein for 28 grams of added protein. Lots of options!
Enjoy!
Nutrition Facts
Calories per Serving:

451
Let me know if you make this recipe and how you liked it – I love hearing from you!
---
Berry Green Protein is a delicious plant-based vanilla strawberry blend that has 22g of highly absorbable protein per serving. It also has an impressive array of organic ingredients including barley grass, wheat grass, spirulina, chlorella, spinach, kale, tomatoes, carrots, beets, parsley, apple, blueberry, cranberry and raspberry.
If you are following a healthy lifestyle, seeking support for sustained energy, mental clarity and overall well-being, Berry Green Protein is a convenient, delicious and powerful nutrient-dense option for you!