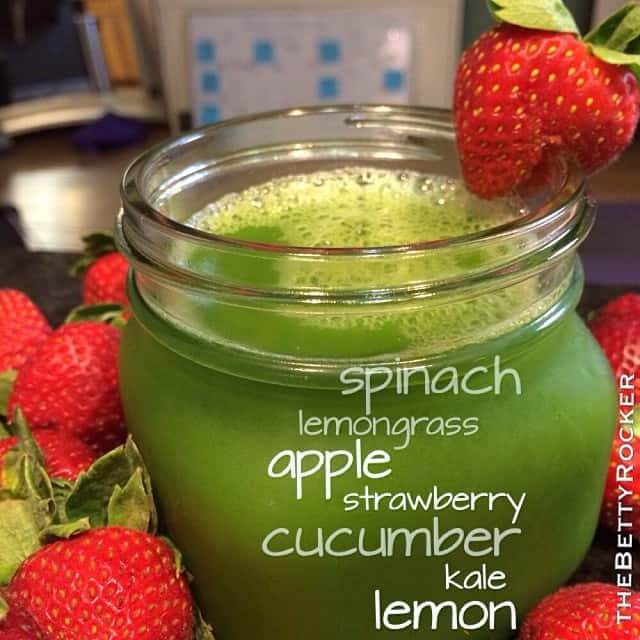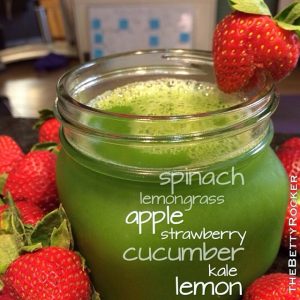 Hi FitFam! How was your day?
I just went to this great event in downtown Austin called a "Foodraiser" put on by my friends at App Sumo – and it was so cool, it was a fundraiser for Austin Pets Alive, and all these local restaurants donated amazing food to taste.
I had some delicious things – thai chicken lettuce wraps from Noble Sandwich, barbeque ribs from Kerlin, something with apples and bacon, and don't even get me started on the dessets….Austin's famous Gourdough's was there, and so many more….
But afterwards – and maybe this has happened to you? I felt just a little queasy from eating stuff outside of my norm, and I couldn't wait to come home and make a delicious green juice to reset my system.
One of the great things about making a smoothie or a juice or heck, even just eating some raw greens is the fiber and the nutrients can really help balance out your sugar highs and lows if you've had an NSA day or even a rough night out.
The  greens will also stimulate your anti-hunger hormones, and can really turn off more cravings that come from the sugar roller coaster that's induced by too much rich dessert or even alcohol. Combining some fresh herbs (like mint, basil, or in my case lemongrass) with a little citrus, fruit and greens can move anything through you that's fighting it out in your gut, and restore you with an abundance of phytonutrients that will have you back in shape in no time.
Have you ever tried lemongrass? It's a really nice plant, like an herb with a ton of anti inflammatory and anti carcinogenic properties. If you're not familiar with it, it's a stalky plant that smells like lemon and grows in many tropical climates. It's often featured in Thai dishes. When you get it, you'll just want to cut off the bulb and remove the thick outer leaves so you can use the inner yellow stalk. It's a fibrous part of the plant, so be sure your blender is up to the task – otherwise opt for dried lemongrass.
A good rule of thumb is to get about the same volume of greens to fruit. For this blend, which could either be a juice or a smoothie, I used:
1 apple
4-5 strawberries
1/2 lemon
1/3 cucumber
1 inch fresh lemongrass (add more to taste. If using powdered, start with about a 1/4 tsp, and increase if you like the flavor)
1 handful spinach
1 handful kale (I've got tender baby kale on hand at the moment. Remove any tough stalks or stems from your mature kale)
Did you have a green smoothie or a juice today? What was in it? I'd love to hear.