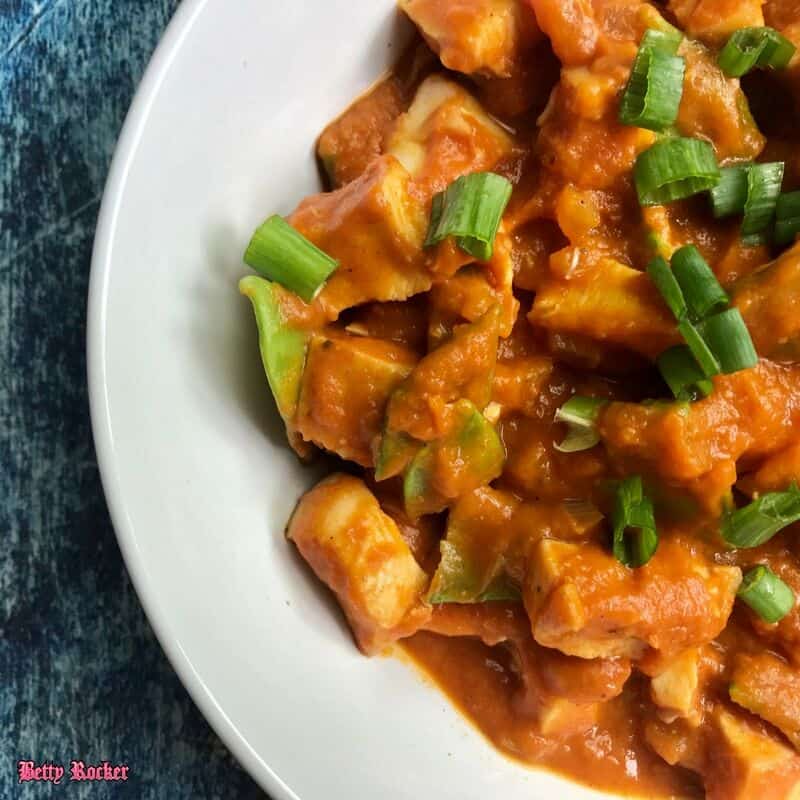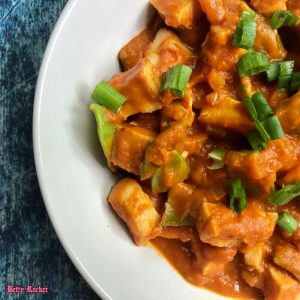 Calling all curry lovers!
I'm back with another easy-to-make gluten-free, dairy-free, curry dish that's not only bursting with flavor but also packed to the brim with whole foods boasting all sorts of nutritional benefits.
You're going to love this one!
I recently shared my fabulous Green Curry Turkey bowl, and today we're switching things up a bit with this amazingly delicious Red Curry Pumpkin Chicken bowl because variety, as they say, is the spice of life. 🙂
You'll gain a lot of the same whole food advantages from both recipes, like:
Curry relieves pain and inflammation, protects bones and heart, and promotes anti-bacterial activity.
Onions contain vitamins A, B6, C, and E, minerals such as sodium, potassium, and iron, and dietary fiber. In addition, onions are a good source of folic acid.
Snap Peas contain vitamin A, vitamin C, iron, potassium, dietary fiber, magnesium and folic acid
Coconut milk provides important minerals needed to maintain blood volume, regulate heart health and prevent dehydration. It's also an excellent anti-inflammatory food.
Chicken or tempeh give you the pop of protein you want to include in every meal you eat in order to build a lean physique and fuel your muscles in the right way!
Plus, this Red Curry bowl provides you with a hearty dose of pumpkin*, which contains Vitamins A, C, and E – all powerful antioxidants. It's actually one of the best sources of Vitamin A which is so good for our skin. Not only that, it's got essential minerals like copper, calcium, magnesium, phosphorus, AND B-vitamins.
*Not a fan of pumpkin? I've also made this dish with pureed sweet potato (buy it canned or make your own) and it's delicious!
Big benefits, gigantic taste!
---
Red Curry Pumpkin Chicken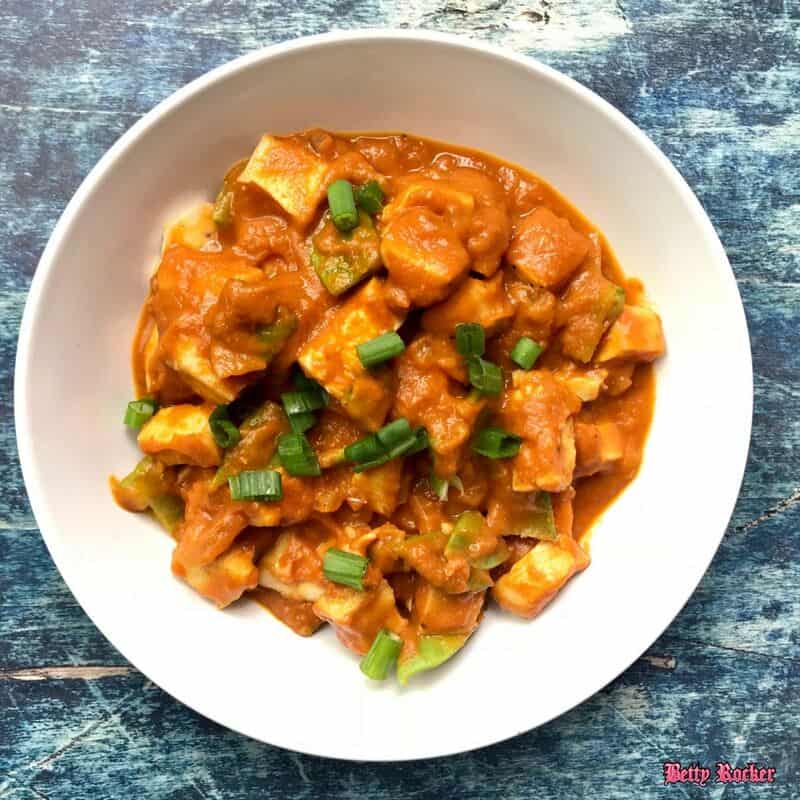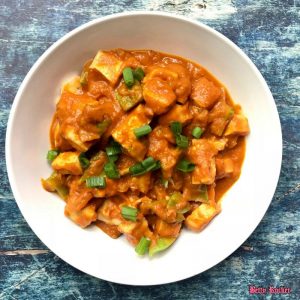 Yield: 4 servings
You will need: cutting board and knife, measuring cups and spoons, deep skillet with lid, mesh strainer, cooking oil spray, wooden spoon
KEY: T=Tablespoon; tsp=teaspoon
Ingredients:
1 pound chicken breast or 2 (8oz) packages of tempeh
1/2 cup onion, diced
1 cup lite coconut milk
1/2 cup chicken or vegetable broth
1 cup pumpkin puree
3-5 T red curry paste
2 cups snap peas, chopped
1/4 cup green onions/scallions for garnish (optional)
Instructions:
Add chicken (or tempeh) and salt to a pan with a little olive oil and brown over medium heat.
Remove chicken from heat and set aside. Add diced onion to the same pan and saute until translucent. Add a little salt if desired.
Add in coconut milk, broth, pumpkin and curry paste (add a small amount and taste to add more if you're new to curry) and stir to combine with the onions.
Cook until the mixture thickens up a bit and liquid is nearly gone.
Dice cooked chicken, and add back to pan with the chopped snap peas and mix it all together.
Cook for 1-2 minutes, or until warm.
Top with green onions to serve.
Nutrition Facts
Calories per Serving:

250
Drop me a line below to let me know YOUR favorite way to enjoy curry, and if you enjoyed this recipe, share it with your friends!
---
The 30 Day Challenge Meal Plan includes all the recipes and grocery lists for breakfasts, smoothies, sides, snacks and entrees for 4 full weeks – with plenty of delicious options and structure to help you eat right for YOUR life!

Save time and make this your own with everything all mapped out so you can shop and prep with ease – with 3 options for how to do your prep – all at once (batch), not much at all (minimal), or a flexible option in the middle called hybrid that lets you do some prep, and also cook on the fly.