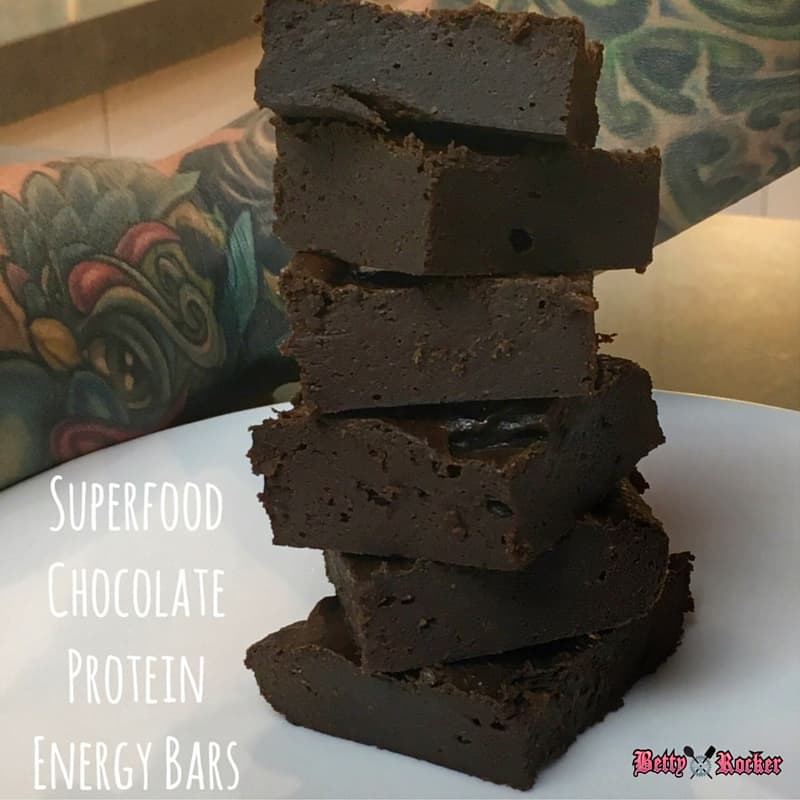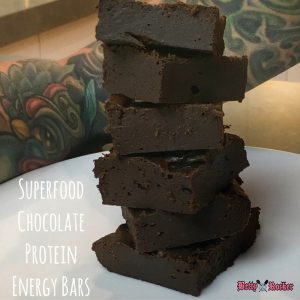 I've been wanting to make a new on-the-go protein bar for a while, and after some tweaking and testing it's ready for you!
I really don't like most of the pre-made protein bars on the shelves out there – they contain all kinds of additives and extra sugar and I'd rather skip all that and save my money for real food.
When I set out to create this recipe, I wanted something that was:
easy to whip up,
kept well both in a lunch cooler and for 5 days or so in the fridge,
packed a nutrient dense "punch,"
and provided my body with good protein, unprocessed carbs and healthy fats.
This recipe answers all of my requirements, and is a perfect snack, will stand in for you as a breakfast bar first thing in the morning if you're on the go, tastes delicious, and is super easy to make.
With quick energy from the bananas, a slow release of energy from the healthy, anti-oxidant rich fat from the almond butter, the combined superfood benefits of acai, cacao and all of the goodness and protein to replenish your muscle tissue in Berry Green Protein you'll be ready to conquer the day!
While cacao and acai powder may not be common staples in your kitchen, having them on hand is well worth it for much more than just this recipe – and you can easily swap them out for other superfood powders you want to try out as the amounts given will help you stabilize your recipe correctly for baking.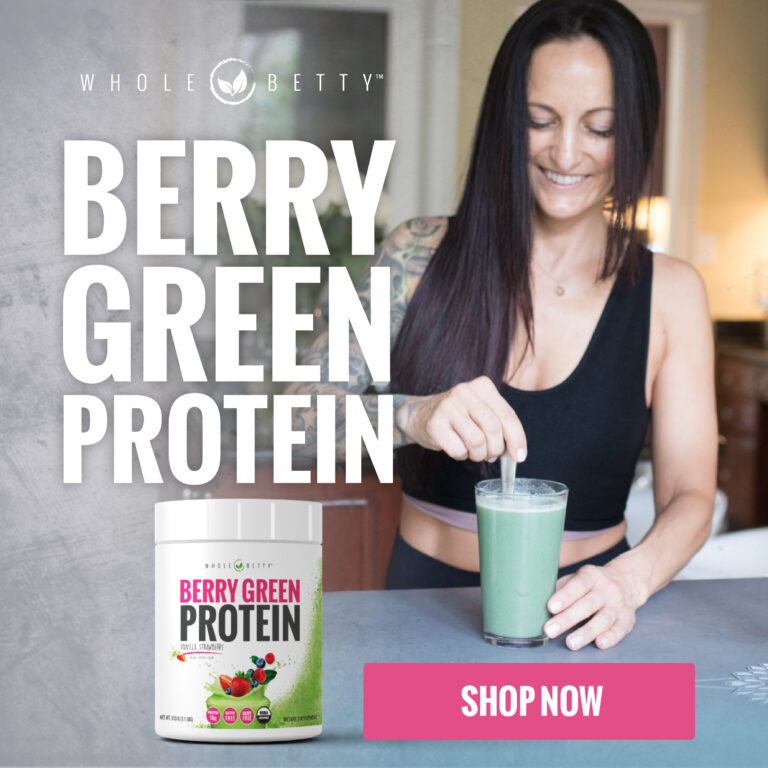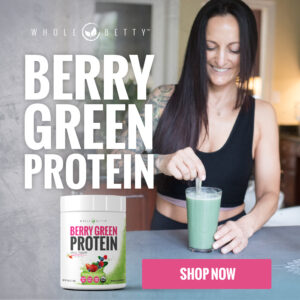 Berry Green Protein
I love Berry Green Protein when I'm busy or on the go, but I also like to add it into a smoothie or bake with it to give my body a broader spectrum of micronutrients from plant foods.
Being able to get the benefits of 15 different organic superfood greens and berries plus protein (22g protein per serving), in one delicious strawberry vanilla flavored powder, makes staying healthy and fueling my body easy!
Acai Powder
I add acai powder to my smoothies, stir it into my oatmeal and make "acai bowls."
Acai is the victim of many over sensationalized health claims but the truth is that it, like many dark colored berries and fruits, is an excellent source of antioxidants, fiber, iron, calcium and anthocyanins – all clinically proven to be beneficial to our health. It's so important to have a variety of plant foods in your diet for all their wonderful benefits, and I love the flavor of Acai.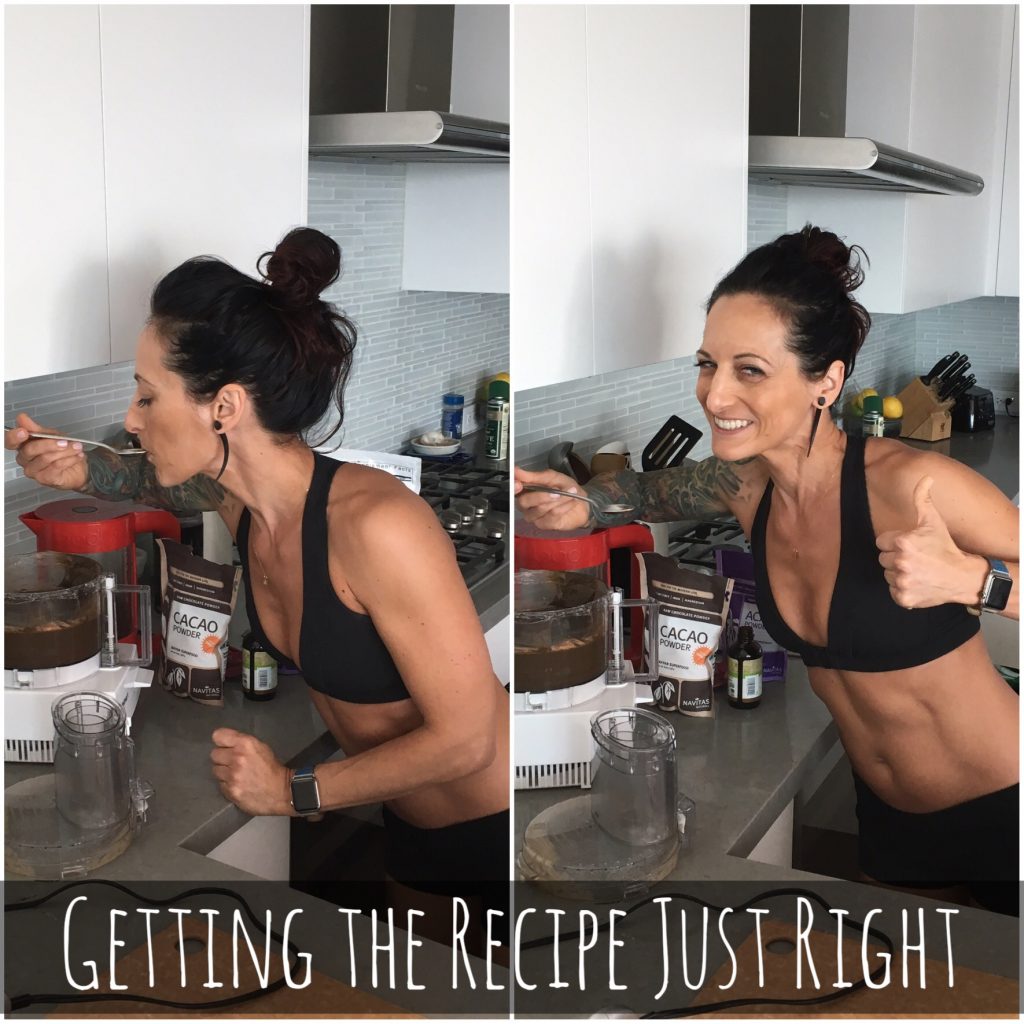 Cacao Powder
Curious about cacao? It is similar but different to the cocoa powder a lot of us grew up seeing in the cupboard. The cacao bean is the source of both COcoa and CAcao powder, and contains an abundance of antioxidants, fiber, magnesium, essential fatty acids, iron, copper, zinc, sulfur, and calcium.
Cacao powder (and cacao nibs) are the uncooked, unprocessed version of the bean and contain all the nutrients in their original state. To make cocoa powder, the cacao beans are roasted at high heat and processed which reduces their antioxidant activity.
If you have some cocoa powder in your cupboard, check to see what other ingredients have been added – unless it's labeled natural, unsweetened cocoa powder it probably has some added sweetener and possibly other additives like cocoa butter. It's just a different product at that point, and doesn't really pack the same nutrient punch as cacao powder. I only cook with raw cacao these days.
Superfood Chocolate Protein Energy Bars
When baking in a 9×9″ pan, cut into approximately 16 squares. 2 squares is one serving, so 8 servings.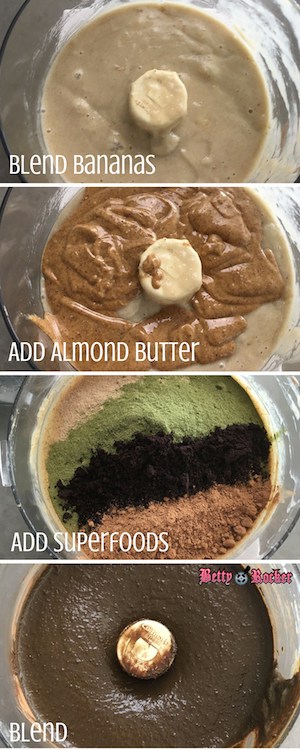 5 bananas
1 cup almond butter
2 tsp vanilla extract
3 T acai powder
5 T cacao powder
2 servings (64 grams) Berry Green Protein
Preheat oven to 350 F.
Mash bananas in a bowl.
Transfer bananas to a food processor and blend til smooth.
Add almond butter and vanilla extract, and blend again til smooth.
Add acai, Berry Green Protein and cacao powder and blend one final time.
Prep a 9×9″ baking dish with coconut or olive oil.
Transfer batter to baking dish and spread evenly.
Bake for 18-20 minutes, or until a toothpick inserted comes out clean and the edges of the bars begin pulling away from the sides of your pan.
NOTE: You can safely eat this batter RAW – it's epic 🙂
---
Substitution Questions:
I have not tried making this with alternative nut butters yet, however I'm sure it would do very well with peanut butter, cashew butter, or sunbutter (for those of you who are nut free).
I made the recipe pictured with organic Berry Green Protein but I also tested it with a plant-based chocolate protein powder which worked great too (check out my Top 5 list)!
Baking with protein powder does not alter your body's ability to use the protein. Before your body can digest protein, it denatures – or breaks it down into amino acids which are what your body uses. Heating protein powder, just like cooking meat or eggs, can denature the protein into these amino acids – it doesn't make them less available to your body.
If you don't have the other superfood ingredients on hand, I recommend trying a different one you do have – there are a lot of greens powders, and it's definitely a nice thing to have on hand to make a quick green drink if you're traveling or out of greens.
It would be absolutely fine to leave out any ingredients you don't have and swap in an equivalent amount of protein powder or cacao to balance the flavor out 🙂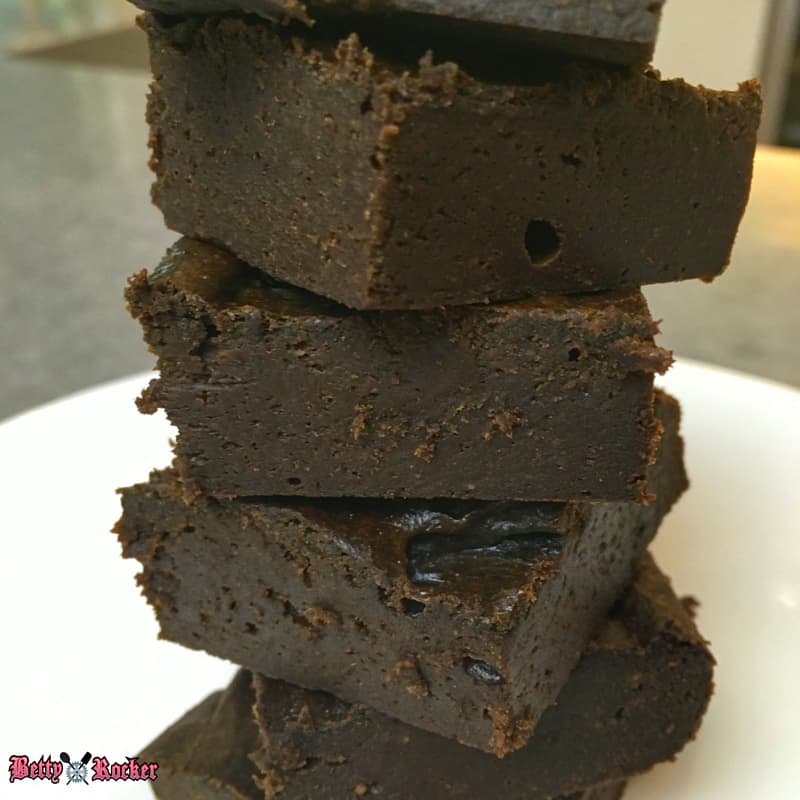 Looking forward to hearing from you! Post your comments, recipe photos and questions below, and feel free to share this with a friend who would enjoy it!
Nutrition Facts
Calories per Serving:

339
---
Incorporate delicious recipes like this into your complete healthy eating  every week with great recipe guides and meal plans!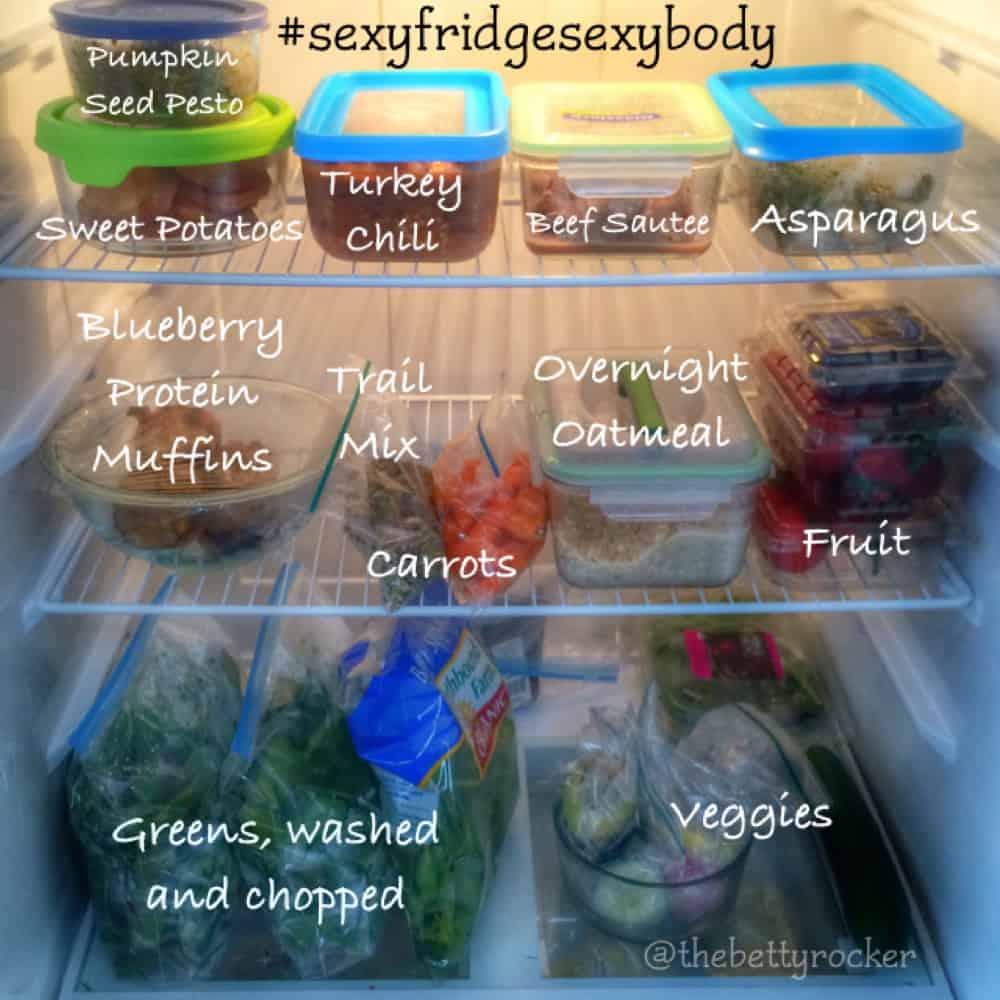 ---
Resources:
"What's So Special About Antioxidants?" Dr. Andrew Weil. Published 13 March 2009.
"Cacao seeds are a 'Super Fruit': A comparative analysis of various fruit powders and products" Stephen J. Crozier et al. Chemistry Central Journal published 7 February 2011.