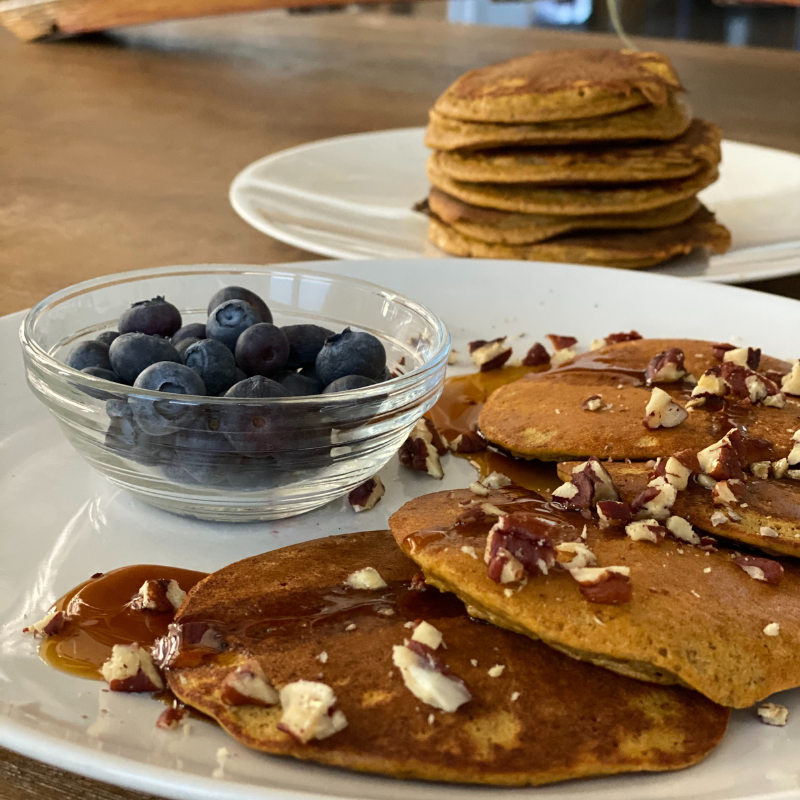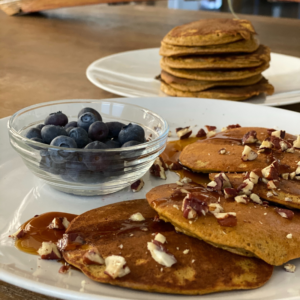 Just like mixing up my exercise program, I like to mix up my carb sources to keep my body fed with a variety of foods.
Sweet potatoes are amazingly nutrient dense, and naturally sweet. They are rich in Vitamin A, vitamin C and manganese (among other things), and they have anti-oxidant and anti-inflammatory benefits as well.
I also boosted this recipe with flax seeds. They are rich in omega-3 and fiber, with just a trace amount of carbs, substituting ground flax seeds in place of flour can enrich the nutritional profile of your recipes.
Sweet Potato Pecan Pancakes
**gluten-free, paleo-friendly
Yield: 8-10 pancakes
You will need: measuring cups and spoons, blender, skillet, spatula
1/2 cup sweet potato puree – canned or home made
6 egg whites (or 2-3 eggs plus some egg whites – about 1 cup total liquid)
3 Tablespoons flaxseed meal
1/4 cup plus 1 Tablespoon almond meal flour
1/4 tsp ginger
1/4 tsp cloves
1/2 tsp cinnamon
Topping:
1/4 cup chopped pecans
ghee, butter, or butter alternative
pure maple syrup or raw honey
(skip to step 5 if you're using canned sweet potato)
Method 1: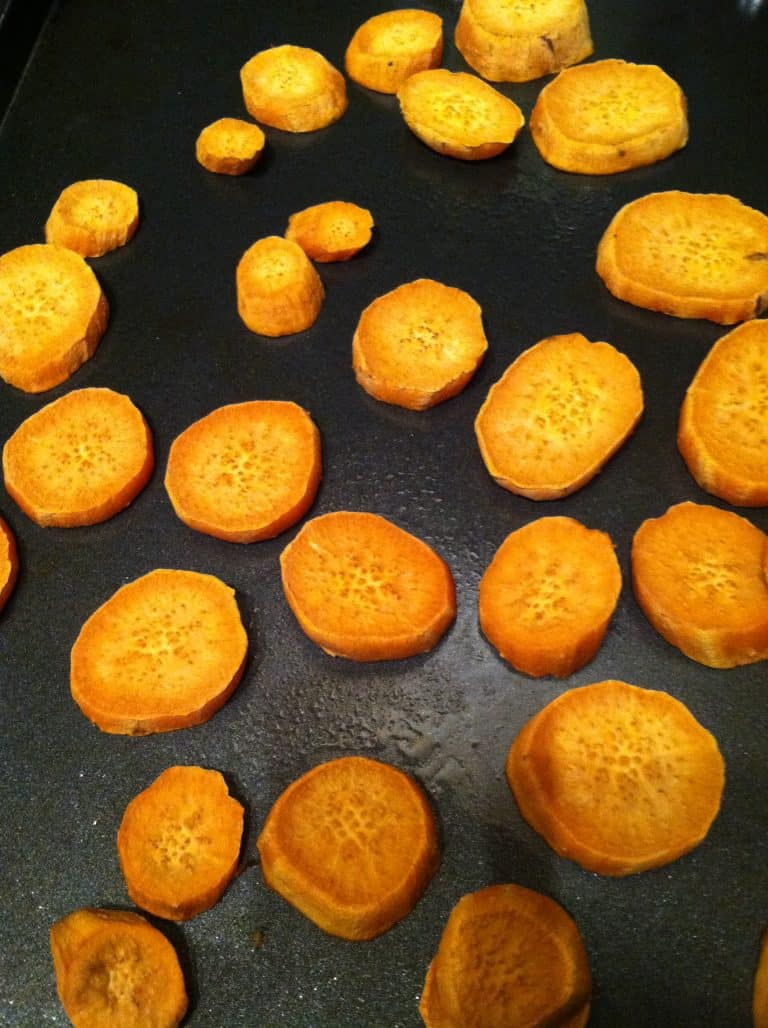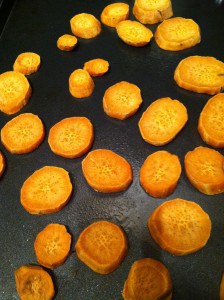 1. Preheat oven to 400.
2. Peel and slice a sweet potato.
3. Spray a cookie sheet with cooking spray and spread the pieces out.
4. Bake for 35 minutes.
Method 2:
1. Peel and chop sweet potatoes evenly.
2. Put about a cup of water in a medium-size microwave-safe bowl.
3. Microwave for 8-10 minutes, or until a fork easily pierces the sweet potatoes.
Continue here:
5. Measure a half cup of the sweet potato slices into the blender.
6. Add eggs, egg whites, flaxseed meal, almond meal flour,  and spices. Blend until smooth.
7. Pour or ladle the batter onto a heated skillet and cook the pancakes evenly on both sides. This is a thick batter, so a spatula may come in handy to spread the pancakes to an even consistency.
8. Serve with your choice of butter, pecans and syrup, agave or honey.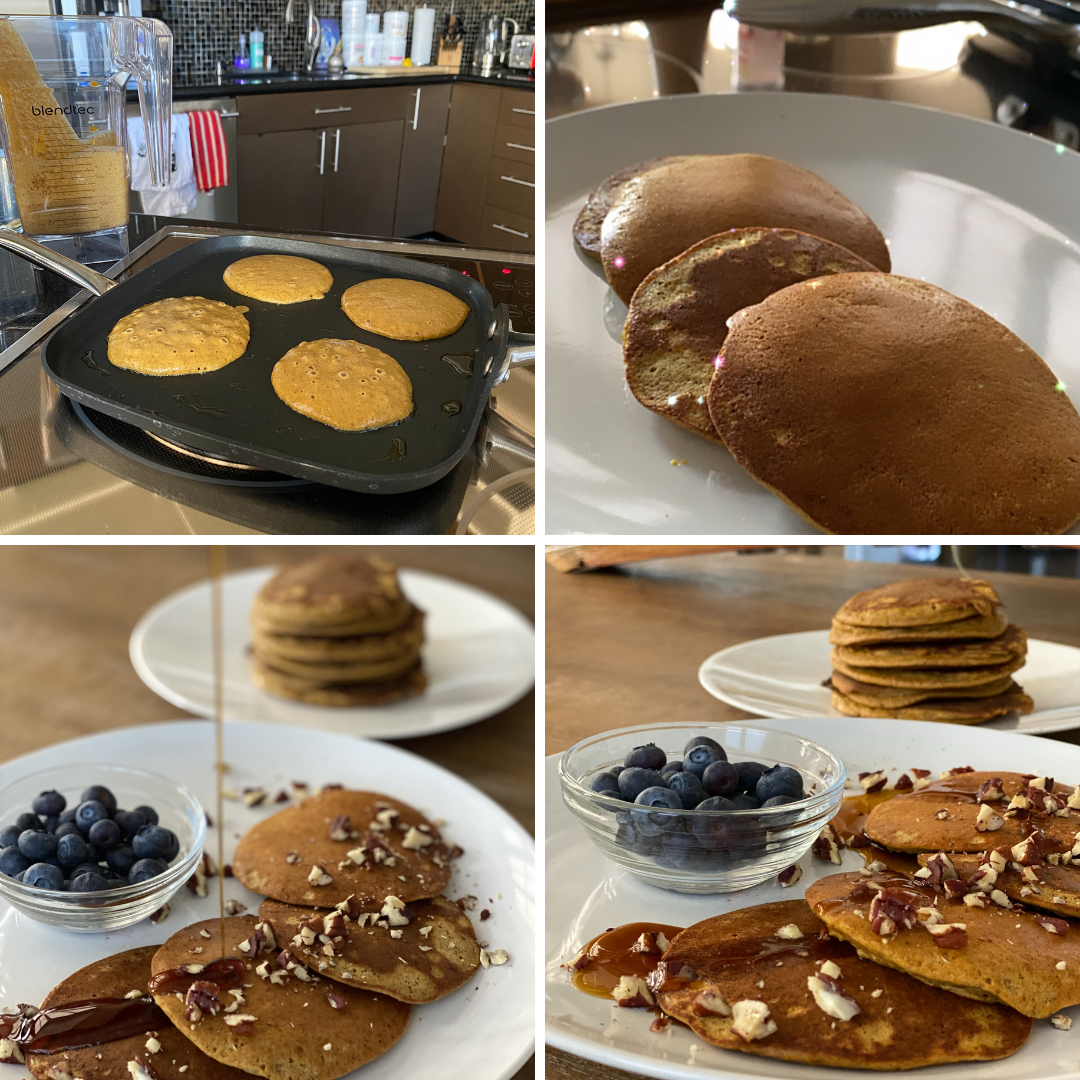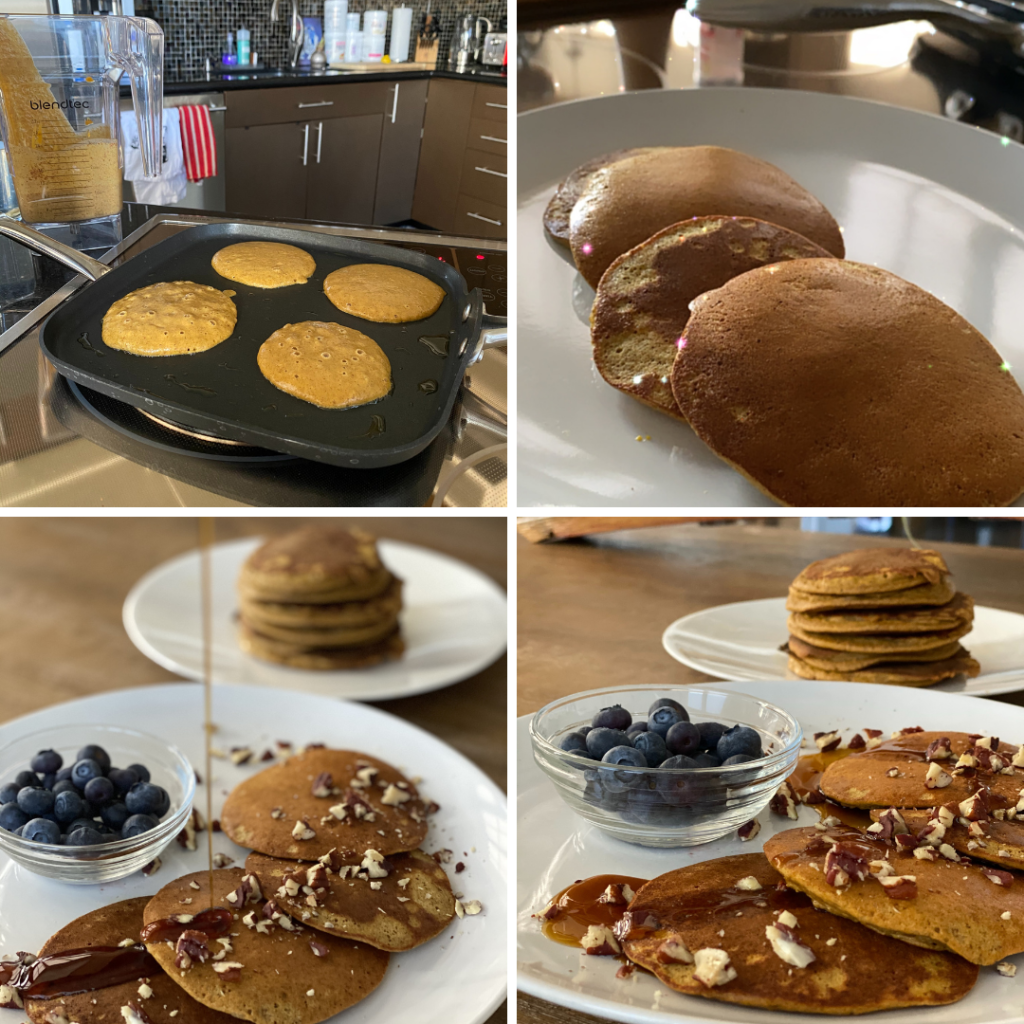 Nutrition Facts
Calories per Serving:

367
My Meal Plans are gluten free, dairy free and whole food based – perfect for anyone looking to balance their eating with real foods and easy recipes in a way that fits their life!