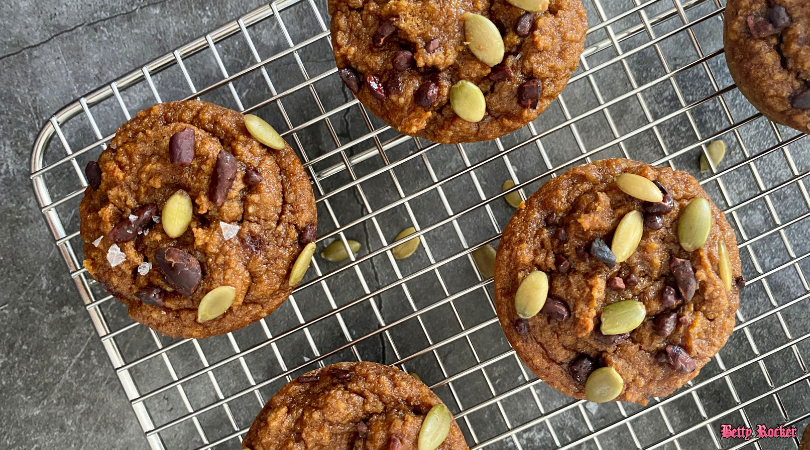 These muffins are one of my favorite muffin recipes because they are so incredibly fluffy and soft. And since this recipe is based off my famous pumpkin protein muffins, you can rest assured that the result is another epic muffin you won't be able to get enough of!
These muffins are also made with some seriously healthy ingredients:
Sweet potatoes are a great source of two really important antioxidants, Vitamin A and beta-carotene (1). They'll help protect your cells from harmful irritants and pollutants, and boost your immune system. Sweet potatoes are also a good source of fiber, helping you feel full longer and avoiding cravings (2).
The spices themselves have some great health benefits – get the freshest spices you can to maximize this. For example, cinnamon boosts brain activity, improves circulation and contains anti-inflammatory benefits (3). Both ginger and cloves are powerful antioxidants and can help block the growth of bacteria in the body preventing disease (4,5).
I used leftover roasted sweet potatoes to make this recipe come together in no time. But you can also peel and steam sweet potatoes for this recipe, or you can even buy canned sweet potato puree which is a very convenient option that works great.
These make a tasty grab and go breakfast for those busy mornings when you're on the run or don't feel like cooking!
---
I ❤️Vanilla Protein powder from Whole Betty by Betty Rocker works great in baking, and is also my staple protein shake! It's  organic and has 20 grams of plant-based protein blended from 4 different superfoods!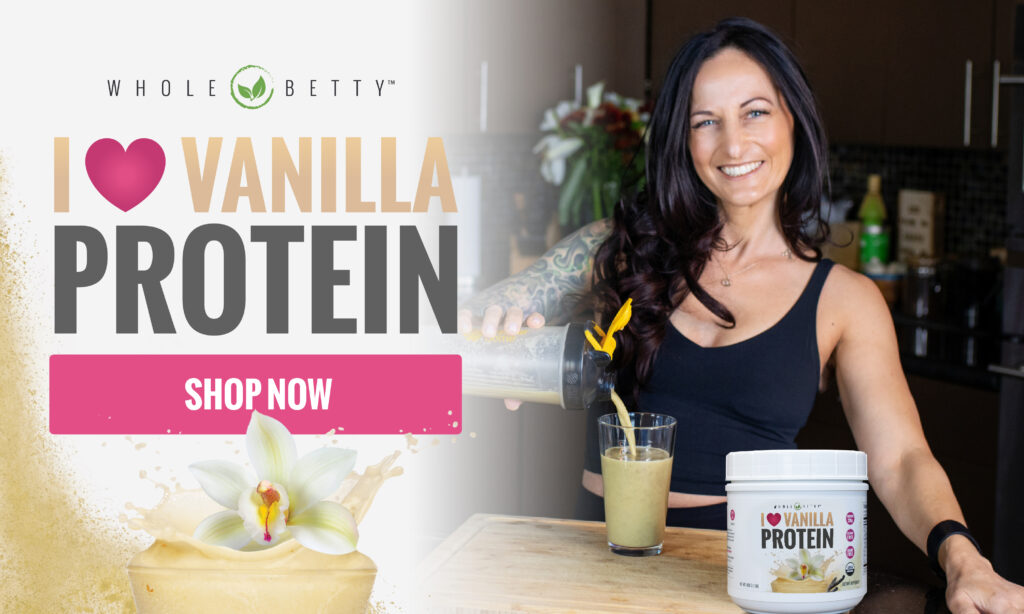 Sweet Potato Protein Muffins
Yield: 6 servings
You will need: food processor, mixing bowl, measuring cups and spoons, wooden spoon, muffin tin, cupcake liners (optional)
Key: T = Tablespoon; tsp = teaspoon
Ingredients: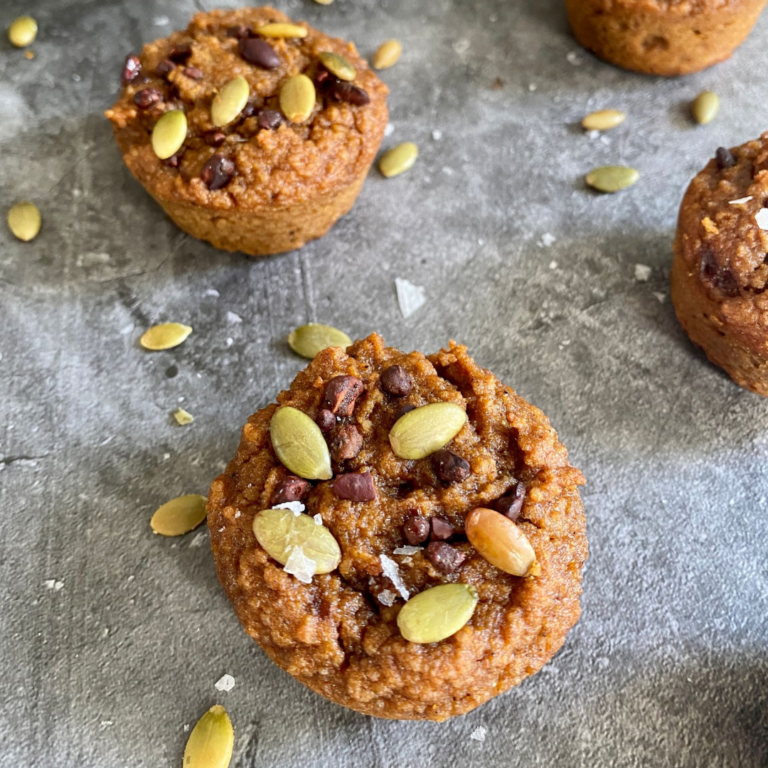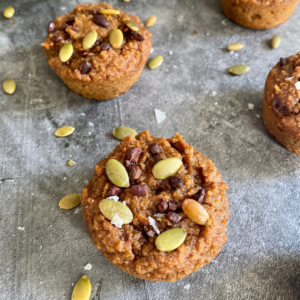 1 1/2 cups almond meal flour
3 servings (90 grams) I ❤️ Vanilla Protein powder
1 tsp baking soda
1/2 tsp sea salt
1 tsp cinnamon
1/2 tsp ginger
1/4 tsp cloves
1/4 tsp allspice
1 cup sweet potatoes, roasted (or canned sweet potato)
3 eggs
2 T olive oil
1/4 cup honey
Optional Topping
1/4 cup pumpkin seeds
1/4 cup cacao nibs
Directions:
1. Preheat the oven to 350 F. Puree the sweet potatoes in a food processor.
2. Measure the dry ingredients into a bowl and mix together.
3. Add in the sweet potatoes and eggs and whisk well.
4. Measure the olive oil and honey. Beat into the batter.
5. Line muffin tins with muffin liners or grease with cooking oil.
6. Evenly distribute the batter between the 12 cups. Fill about 3/4 of the way full.
7. Mix the topping and distribute evenly. Bake for 20-25 minutes.
Nutrition Facts
Calories per Serving:

349
Enjoy Rockstar! Leave me a comment below and let me know how your muffins turn out – I love hearing from you!
---
Incorporate delicious recipes like this into your complete healthy eating every week with great recipe guides and meal plans!