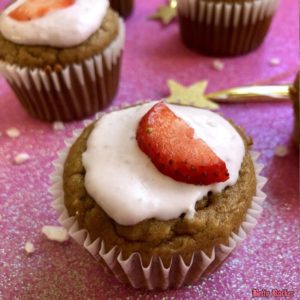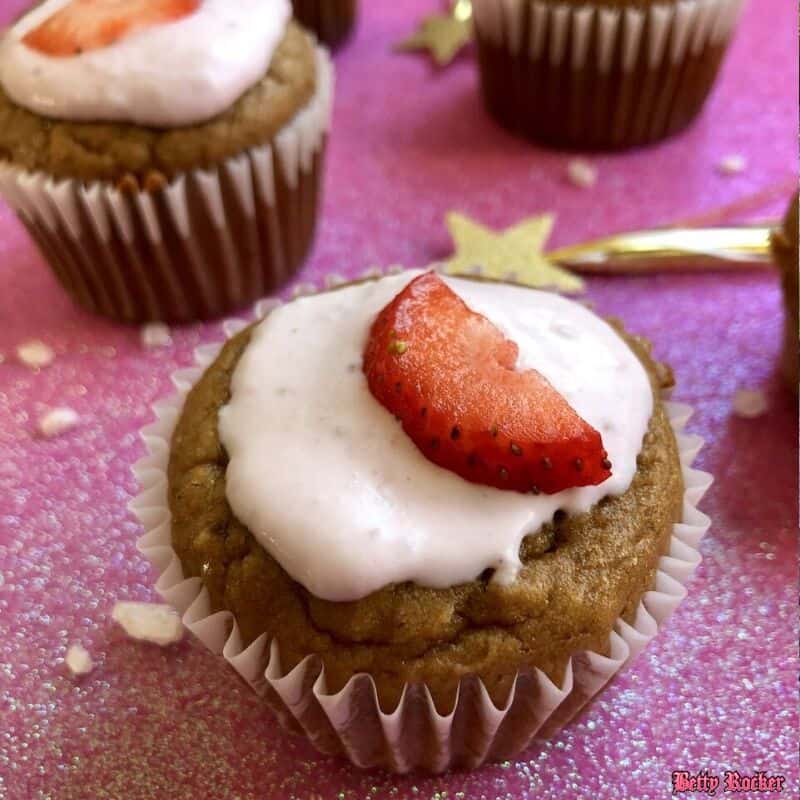 Happy New Year Rockstars! And welcome back to my kitchen. The beginning of a new year is something I am always excited about – but being able to celebrate my birthday only a couple of days later makes it extra special.
Thank you for all the birthday wishes and kind words. Turning 42 feels amazing, and I'm so grateful to have you in my life!
Speaking of birthdays….
I always get requests for healthy treats you can bring to a party or make for a special occasion like a birthday, so today I wanted to share these easy, healthy and delicious cupcakes (from the 30 Day- Challenge Meal Plan bonus Dessert Cookbook).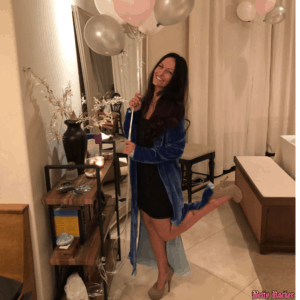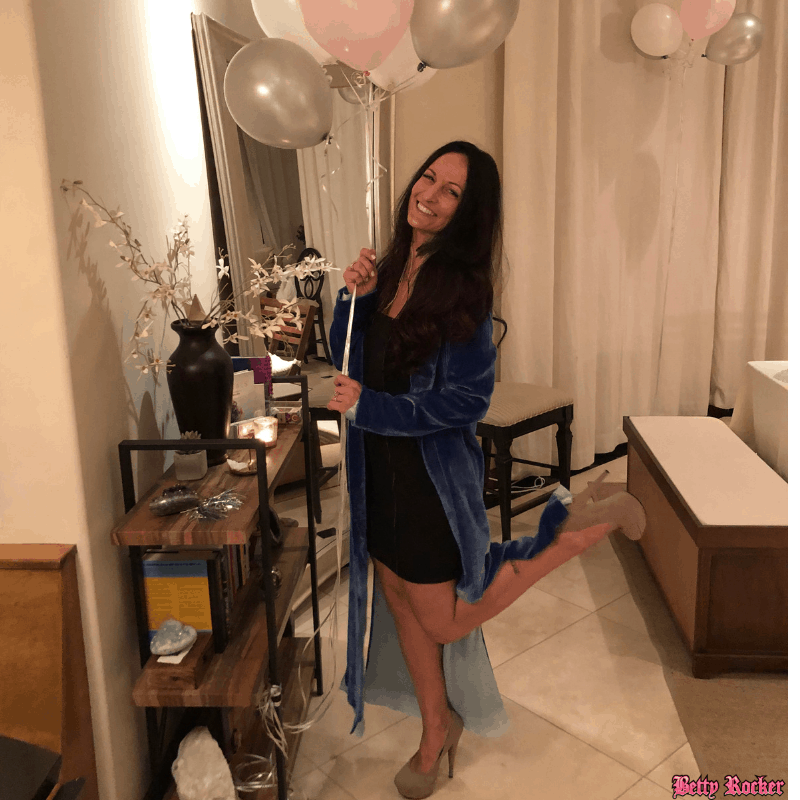 My friends and I decorated these for my birthday, but you could make these for any occasion! These delightful little bites also make for an ideal No-Strings-Attached (NSA) dessert if you are in the mood for something on the sweet side.
While sugar is always important to be mindful of in your overall daily intake, having it from natural sources like honey, maple syrup, and coconut sugar is ideal. This recipe uses coconut sugar which contains inulin – a fiber that stimulates the growth of good gut bacteria that helps your stomach restore its balance. Coconut sugar also has traces of zinc, iron, calcium and other vitamins, minerals and phytonutrients.
Gluten-free and dairy-free, these Vanilla Protein Cupcakes aren't just made of unicorn dust. They contain an excellent source of fiber-rich complex carbs and protein for stable energy, and healthy fat to help you know exactly when you've had just the right amount.
Leave me a comment and let me know how you like them, and what you make them for!
---
VANILLA PROTEIN CUPCAKES
Yield: 12 cupcakes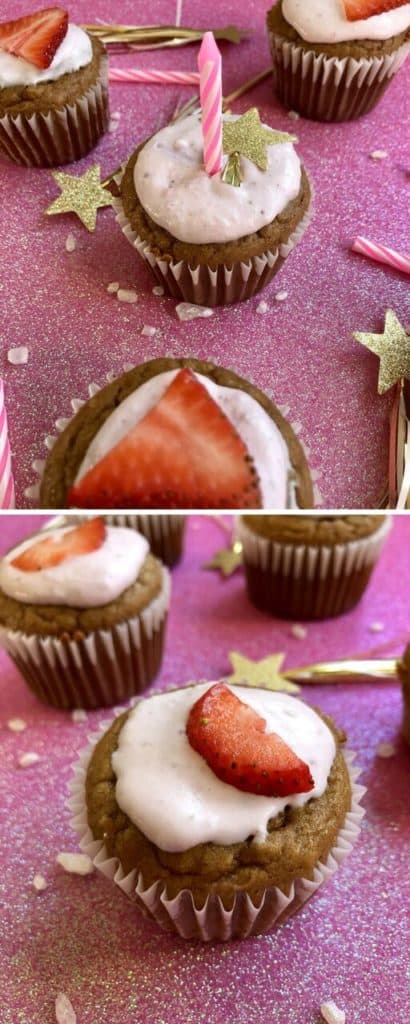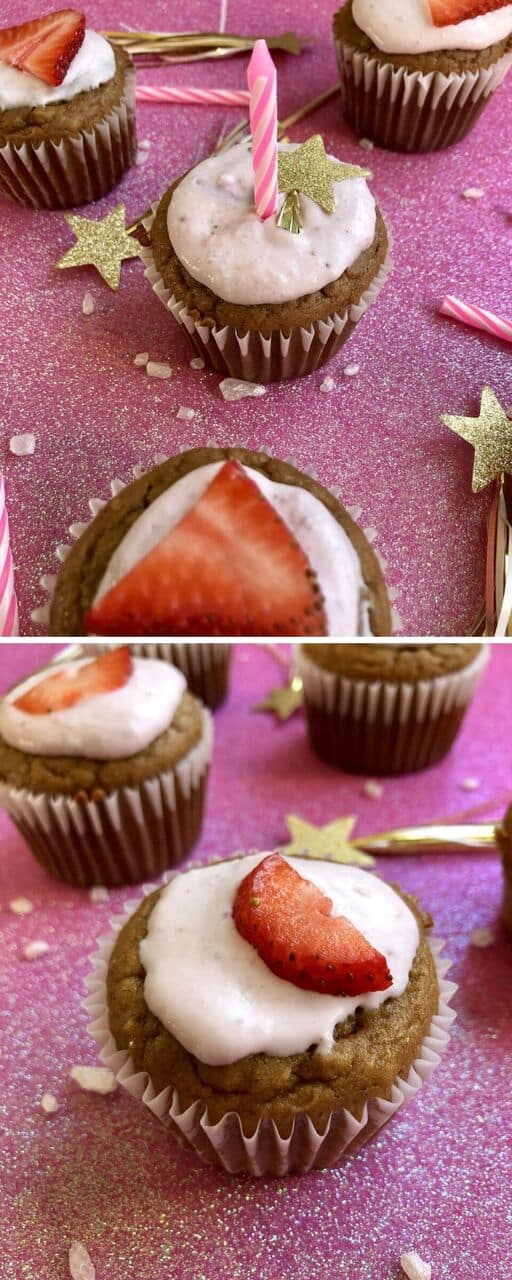 You will need: blender or food processor, measuring cups and spoons, muffin tin, cooking oil spray (or cupcake liners)
Key: T=Tablespoon; tsp=teaspoon
Ingredients:
Cupcakes
*use the sugar if this is a dessert, but if you want to make these as a healthy day time snack, your protein powder should have some sweetness so this recipe works as more of a muffin by leaving out the coconut sugar
Instructions:
1. Preheat your oven to 325 F. Prep a muffin tin with a little cooking oil to prevent sticking (or use cupcake liners).
2. Place all ingredients in a blender or food processor, and blend until smooth and combined.
3. Evenly distribute the batter among the muffin tins.
4. Bake 20-25 minutes.
5. While the cupcakes are baking, place the entire can of coconut milk in the fridge and chill.
6. Once the cupcakes are done, remove from oven and let them cool completely.
*I have not tried making this without eggs, so I can't speak to how well it will work if you use a flax egg since eggs are the base for this one. 
Strawberry Coconut Frosting (optional)
1 (13.5 oz) full fat coconut milk or coconut cream, chilled
1 cup strawberries, chopped (optional, you can leave these out and use a T of cacao powder for a chocolate version, or add 1 tsp vanilla for a vanilla version)
1 tsp – 1 T maple syrup (sweeten to taste)
Instructions:
1. Remove the can of coconut milk from the fridge, open it up and only scoop out the solid cream on top, don't use the liquid.
2. Blend the coconut milk with strawberries and maple syrup.
3. Chill the mixture again until it is thick, about 10-15 minutes
4. Top the cupcakes with icing and add any fun decorations!
Nutrition Facts
Calories per Serving:

233
Be sure to share this recipe with a friend who might like it, and comment below if you try it!
---
Looking for more healthy dessert options?
The 30-Day Challenge Meal Plan comes with a BONUS COOKBOOK, that is dedicated entirely to desserts!
The 30 Day Challenge Meal Plan includes all the recipes and grocery lists for breakfasts, smoothies, sides, snacks and entrees for 4 full weeks – with plenty of delicious options and structure to help you eat right for YOUR life!

Save time and make this your own with everything all mapped out so you can shop and prep with ease – with 3 options for how to do your prep – all at once (batch), not much at all (minimal), or a flexible option in the middle called hybrid that lets you do some prep, and also cook on the fly.

Never run out of healthy eating options again!