I got to stay at my good friend Maddy's house in Denver last weekend on my little trip to snow country and she happened to have a julienne blade in her drawer. Yes!! Zucchini Pasta happened!
To make dinner complete, I marinated Sea Bass in a little maple syrup, some slivered almonds,  olive oil, gluten free breadcrumbs and salt and pepper.
It was delicious, but the real star of the show was the zucchini!
You could top your noodles with guacamole, a little fresh lemon, salt and pepper, shrimp, toss in a saute pan with sesame oil and tofu, or with peanut sauce – they're light and delicious and the texture is great with a variety of different dishes.
If you've never seen a julienne blade, here's what it looks like: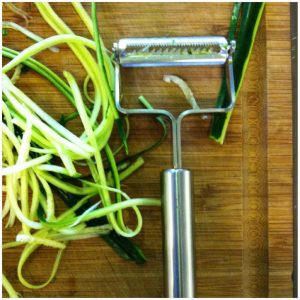 It's so easy to use. Wash the zucchini and hold it firmly with one hand while you swipe the serrated blade down the side. I like the skin, and include it. Once you get to the seeds, stop.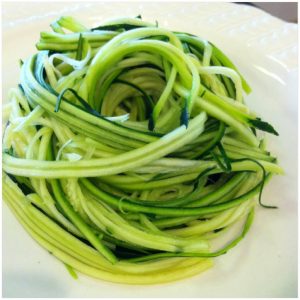 Arrange your noodles in a circular mound, like spaghetti.
Combine:
1 T gluten free breadcrumbs
2 T avocado oil (or coconut oil, or olive oil)
1 tsp maple syrup
1/4 cup sliced almonds
Salt and pepper to taste
Mix together and allow your Sea Bass filet to get well coated and absorb the liquid. Pan sear or bake.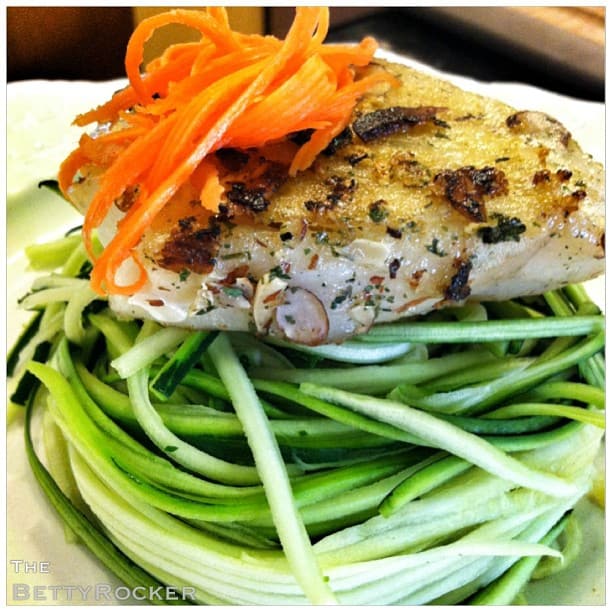 Nutrition Facts
Calories per Serving:

575
---