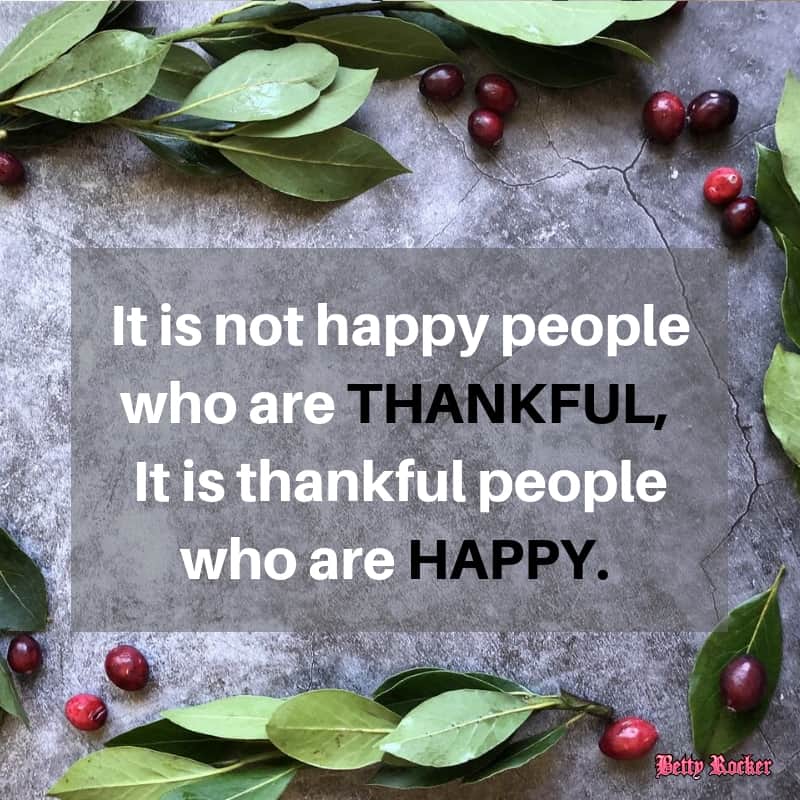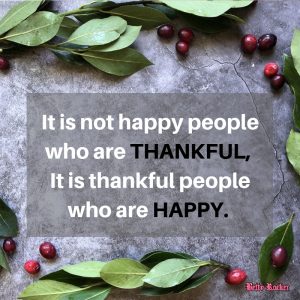 Tis the Season of Giving Thanks!
In this season of gratitude, it's easy to catch yourself doing a lot of nice things for other people (you go-giver, you!).
Running around getting everything done, often putting others before yourself. I see you, I applaud you and I feel your kind heart.
While you're taking care of others this holiday season, I want to also remind you to take care of yourself.
Speak kindly to yourself. Have patience with yourself. Be generous with yourself.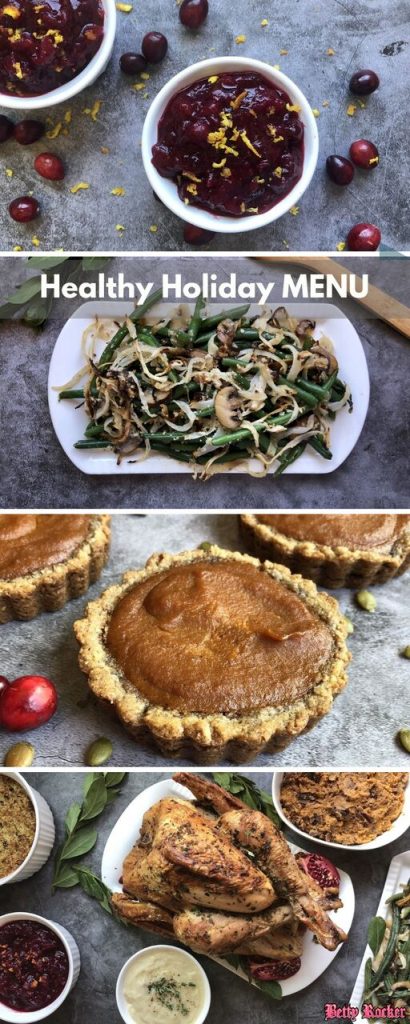 You know, all those things you do for everyone else without even thinking about it.You're pretty awesome, and you deserve the same generosity of spirit that you so freely extend to those around you.
When it comes to staying healthy through the holidays, you might feel like it's impossible to eat holiday meals that are both nourishing and delicious, but I've pulled together some of my healthy holiday favorites to inspire you.
With a focus on whole foods and delicious nutrient combinations, you won't be able to tell the difference between the classics and these variations – without having to sacrifice the hard work you've put in this year. And hey, if things get crazy, just remember my NSA (no strings attached) Jedi mind tricks and all will be well.
Whether you need to bring one dish to a big gathering, or you're making the whole meal for your family, I've got you covered from the sides to dessert with recipes that are:
gluten-free (GF)
dairy-free – milk/lactose (DF)
sugar free (SF)
made with whole-foods (WF)
vegetarian options (V)
---
Sweet Potato Casserole
(GF, DF, WF, V)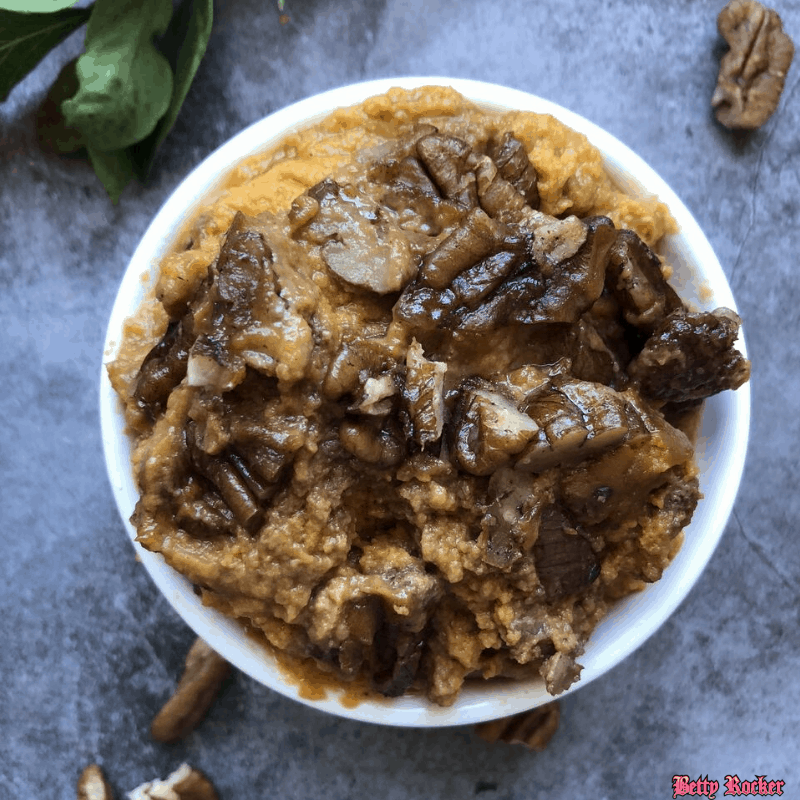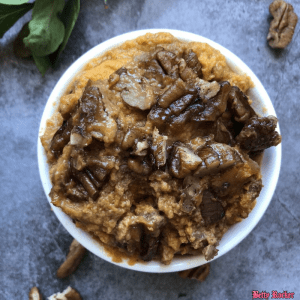 Yield: 8-9 servings
You will need: large pot, measuring spoons, measuring cups, small mixing bowl, 8×8 baking dish or 2 quart dish
KEY: T=Tablespoon; tsp=teaspoon
Sweet Potato Mash
2 lb sweet potatoes (about 3 medium potatoes), peeled and diced

⅓ cup unsweetened almond milk

3 T coconut oil

,

 melted

¼ cup pure maple syrup
1 tsp sea salt

1 tsp vanilla extract

2 eggs (1 T flax seeds + 3 T water will make 1 flax egg if you want to make this egg free)
Pecan Topping
1 1/2 cups pecans, roughly chopped

2 T butter, or coconut oil, melted

3 T maple syrup

1/2 tsp cinnamon

pinch salt
Instructions: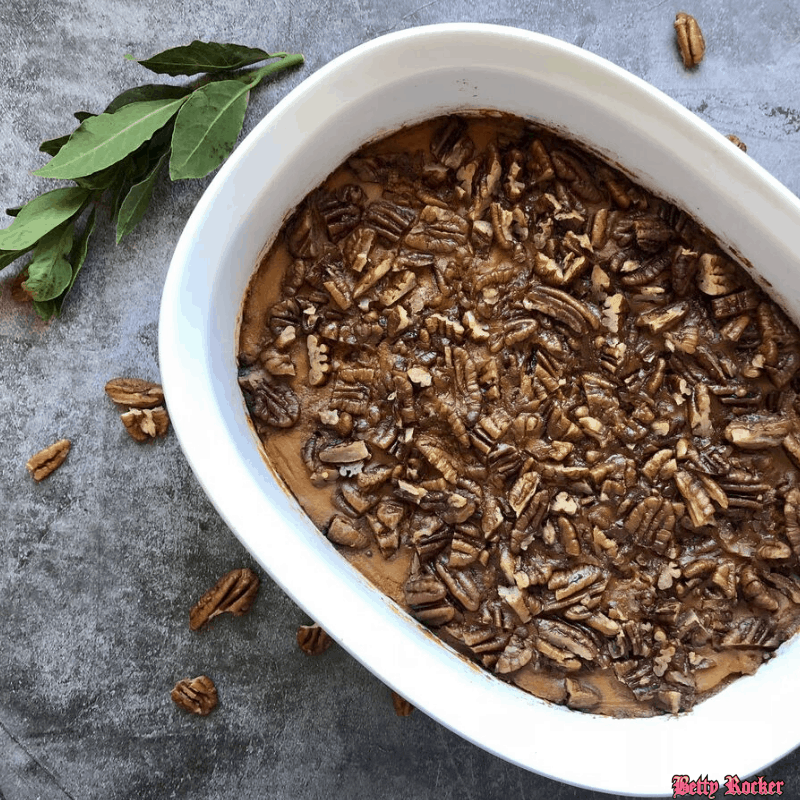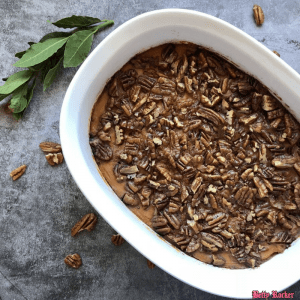 Place sweet potatoes in a large pot and cover with at least 2 inches of water.

Bring to a boil over medium-high heat. Boil until completely tender (potatoes can be easily pierced with a fork).

Drain and t

ransfer to a large mixing bowl.

Add almond milk, coconut oil, syrup, salt, vanilla, and egg.

Mash until no lumps remain. Add 2-3 T additional milk if it seems a little too thick.

Pour mixture into an 8×8″ or 2-quart baking dish and smooth the surface.
Topping:
Preheat the oven to 375 degrees.

Combine pecans, coconut oil, syrup, cinnamon, and salt in a small bowl.

Sprinkle over the sweet potato mash.

Cover the dish with foil and bake 20 minutes.

Remove foil and bake another 20-25 minutes
---
Green Bean Casserole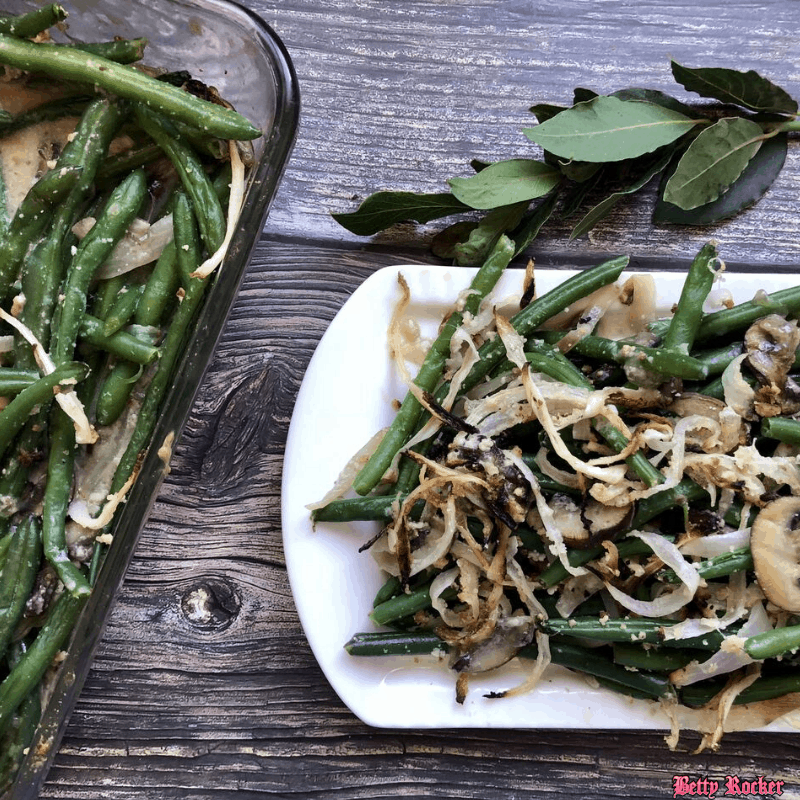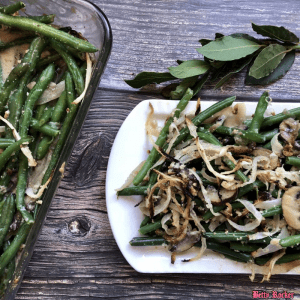 (GF, DF, WF, SF, V)  
Yield: 8 servings
You will need: large pot, skillet or saute pan,  measuring spoons, measuring cups, mixing bowl, baking sheet, parchment paper, serving dish
KEY: T=Tablespoon; tsp=teaspoon
Green Beans and Sauce
1 lb fresh green beans, trimmed

2 T olive oil

12 oz mushrooms, cleaned and sliced

2 cloves garlic, minced

2 T arrowroot flour, or non-GMO cornstarch)

1 cup chicken broth

1 cup unsweetened plain almond milk

¼ tsp ground nutmeg

salt, black pepper to taste
Topping
Instructions: 
Preheat oven to 400ºF.

In a large bowl place the onions, almond flour and salt and toss to coat.

Line a baking sheet with parchment paper.

Evenly spread the onions on the baking sheet and bake until golden brown (approximately 10 min) – stir them a couple times during cooking,

 and then remove from the oven and set aside.

Bring a pot of water to boil and add salt. Once boiling, add green beans and cook for 5 minutes.

Drain and immediately transfer the beans to a large bowl of ice water.

Heat the olive oil in a skillet set over medium heat, a

dd mushrooms and cook, stirring occasionally, for 4 to 5 minutes.

Stir in garlic and nutmeg,  and s

prinkle the arrowroot flour over the mixture and stir until golden.

Mix in the broth and almond milk and c

ook over medium-low heat until the mixture thickens, stirring occasionally, for about 6 to 8 minutes.

Remove from the heat and stir in the green beans and 1/4 of the onions.

Season with salt and black pepper to taste.

Top with the remaining onions and b

ake in preheated oven for 15 minutes.

Remove and serve.
Orange Cranberry Sauce 
(GF, DF, WF, V)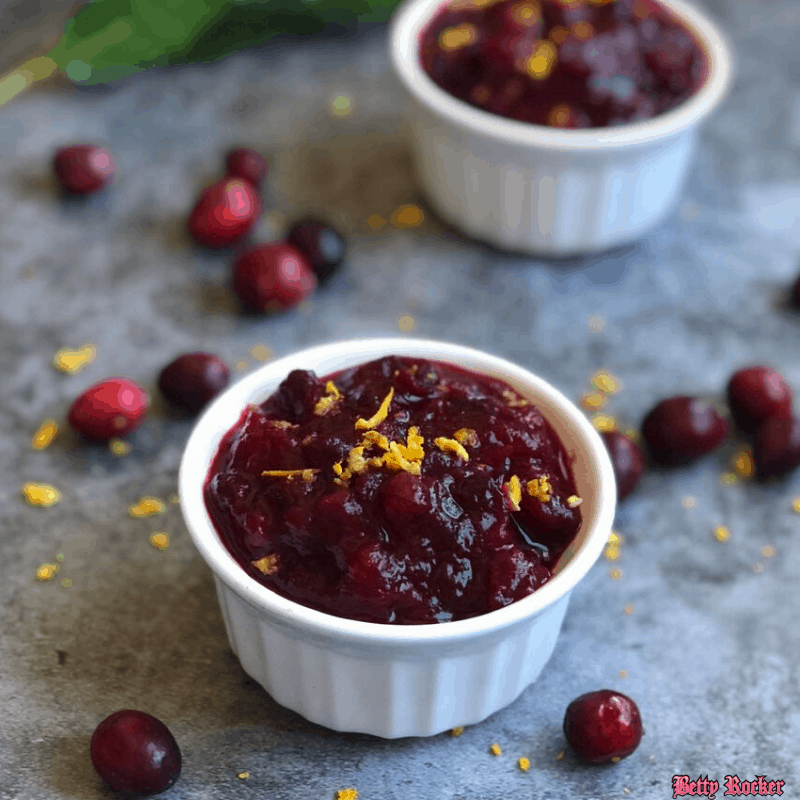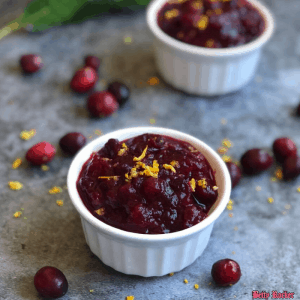 Yield: 8-10 servings
You will need: saucepan, measuring spoons, measuring cups, mixing bowl, 8×8 baking dish
KEY: T=Tablespoon; tsp=teaspoon
2 lb fresh cranberries

2 cups freshly squeezed orange juice

1 cup pure maple syrup

1 tsp vanilla extract

1 T whiskey, bourbon or brandy

Zest of 1 orange
Instructions: 
Combine cranberries, orange juice, maple syrup, vanilla extract and bourbon in a small saucepan over high heat.

Bring to a  boil, then reduce to medium low, cover and cook for an additional 10-15 minutes or until the sauce becomes thick.

Remove from heat and set aside to cool. Sometimes the cranberries burst open, which is normal – don't worry if you hear popping.

Refrigerate until ready to serve, then garnish with orange zest.
---
Quinoa Sage Stuffing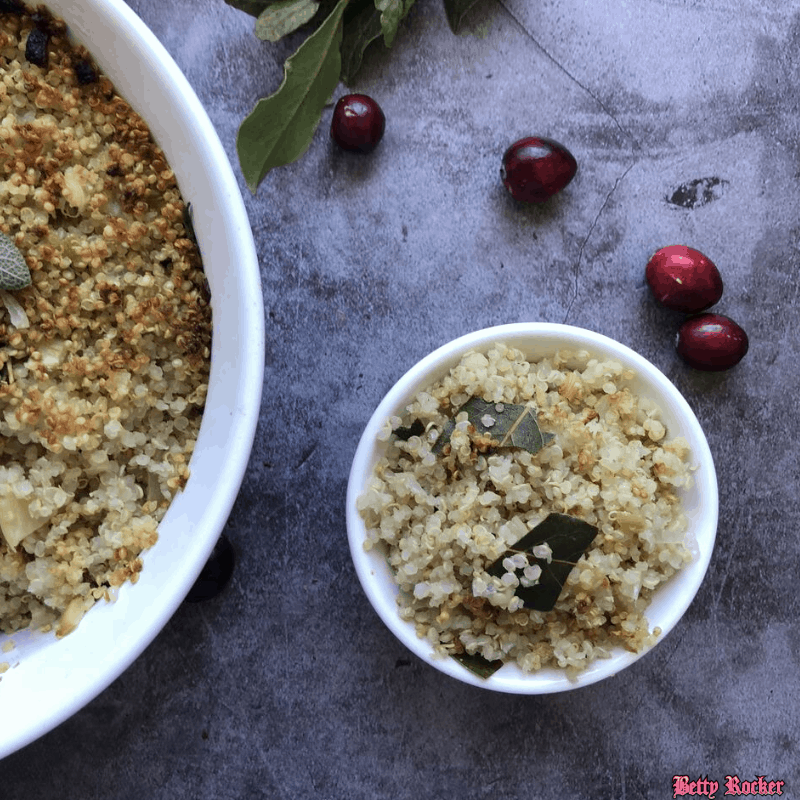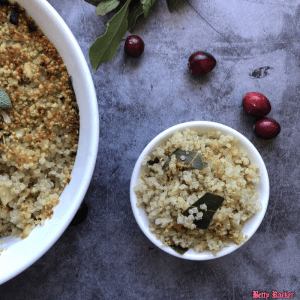 (GF, DF, SF, WF, V) 
Yield: 8 servings
You will need: skillet or saute pan, measuring spoons, measuring cups, baking dish
KEY: T=Tablespoon; tsp=teaspoon
1 ½ cups (ideally sprouted) quinoa

,

rinsed well
2 ½ cups organic vegetable broth
2 bay leaves
1 heaping cup of celery, diced
1 medium white onion, diced
Small handful of fresh sage, chopped (about 2 T)
½ tsp garlic powder
2 T virgin olive oil
sea salt to taste
fresh ground coarse pepper to taste
Instructions: 
Preheat oven to 375 degrees.
In a medium sized pot bring 1 cup of vegetable broth to a boil. Add in the quinoa and bay leaf, salt, pepper and stir.
Set to low heat and simmer with a lid on for 10 minutes. Turn off the heat (do not lift lid) and allow the quinoa to steam for another 10 minutes.
Heat the olive oil in a skillet over low heat and add in the chopped celery and onion. Cook for 5-10 minutes, stirring regularly, until they begin to become translucent.
Increase heat to medium and add in the vegetable broth, sage, garlic powder and simmer for a few minutes.
Combine the quinoa with the veggie mixture and add in the last 1/2 cup of vegetable broth. Taste – add any additional salt and pepper if desired.
Place the stuffing mix into a greased oven safe dish and bake at 375 for 10 minutes.
Transfer the dish to the broiler and broil under low flame until the top becomes golden brown.
---
Gravy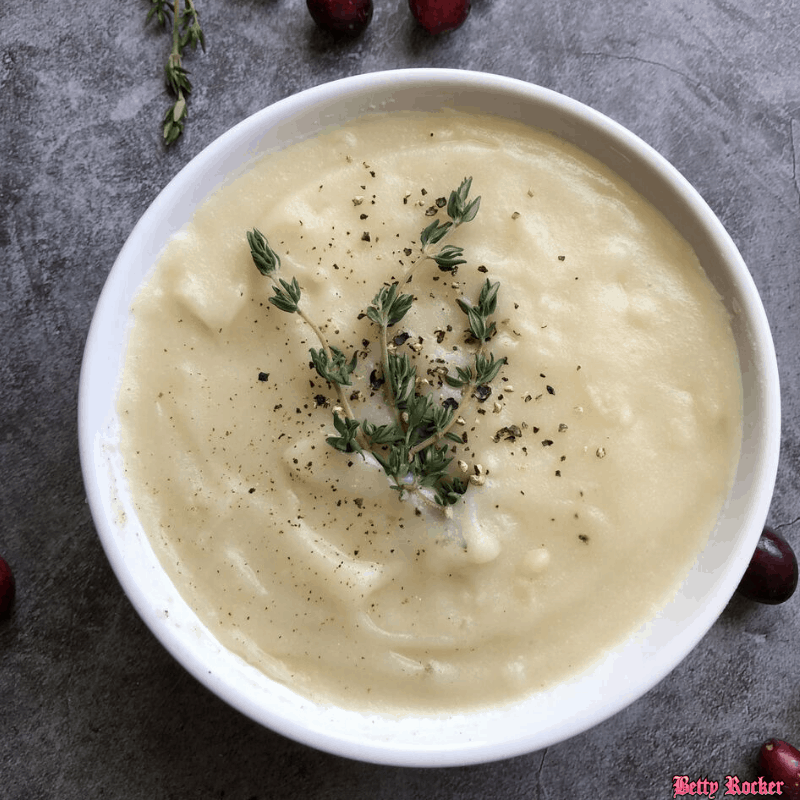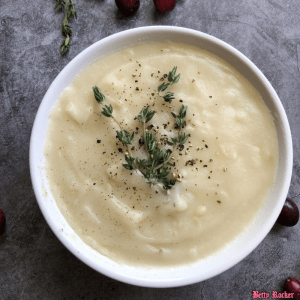 (GF, DF, SF, WF, V)  
Yield: 8 servings
You will need: pan, measuring spoons, measuring cups, fork, small mixing bowl
KEY: T=Tablespoon; tsp=teaspoon
2 cups chicken broth or vegetable broth

3 T tapioca flour

3 T turkey drippings (if you have them from your turkey, or you can leave these out)

1/4 tsp garlic powder

1/2 tsp onion powder

salt and pepper to taste
Instructions: 
Place the chicken broth and drippings (if using) in a pan and bring to a boil.

Place the tapioca starch in a small mixing bowl and add 1/4 cup of the hot broth. Whisk well with a fork.

Add the starch and broth mixture to the pan.

Add the garlic powder, onion powder, and salt and pepper.

Cook over medium heat while whisking to remove any lumps. The gravy should thicken pretty quickly. If it is too thick, add some more broth.

Season with more salt and pepper if desired before serving.
---
Red Curry Pumpkin Tempeh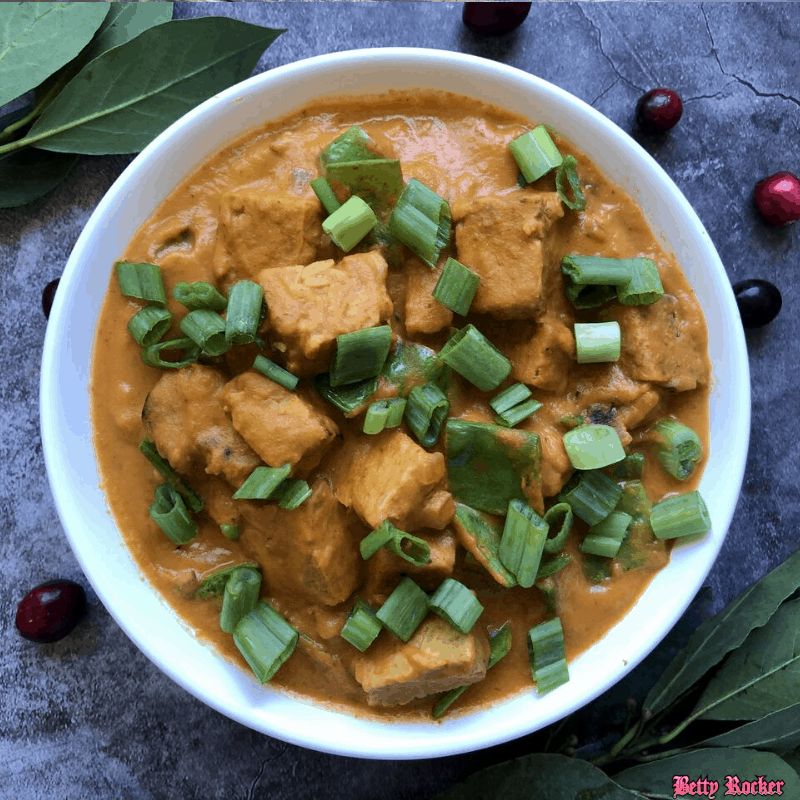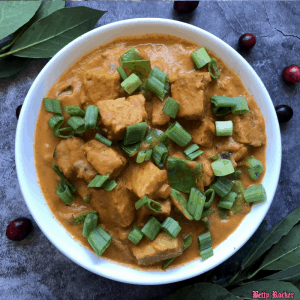 (GF, DF, SF, WF, V) 
Yield: 8 servings
You will need: skillet or saute pan,  measuring cups, spatula, serving dish
Ingredients:
4 (8oz) packages of tempeh
2 cup Pumpkin Puree
2 cups coconut milk 

1 cup vegetable broth
1/4-1/2 cup red curry paste
4 cups snap peas, chopped
1 cup onion, diced
Optional topping: diced green onion 
Instructions:
Add tempeh and salt to a pan with a little olive oil and brown over medium heat.
Remove tempeh from heat and set aside. Add diced onion to the same pan and saute until translucent. Add a little salt if desired.
Add in coconut milk, broth, pumpkin and curry paste (add a small amount and taste to add more if you're new to curry) and stir to combine with the onions.
Cook until the mixture thickens up a bit and liquid is nearly gone.
Dice cooked tempeh, and add back to pan with the chopped snap peas and mix it all together.
Cook for 1-2 minutes, or until warm.
Top with green onions to serve.
---
Herb Roasted Turkey
(GF, DF, SF, WF)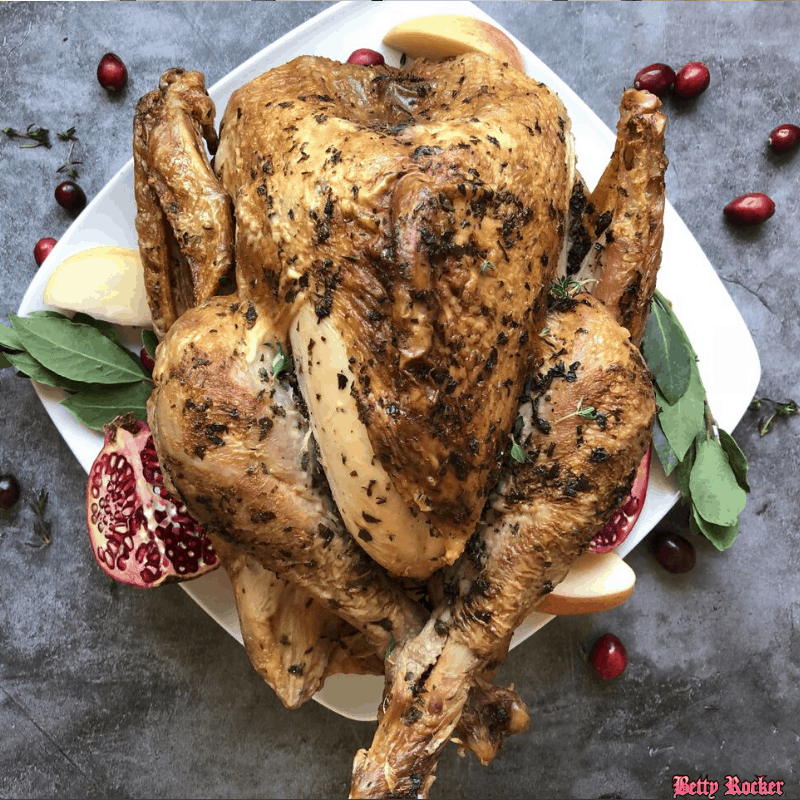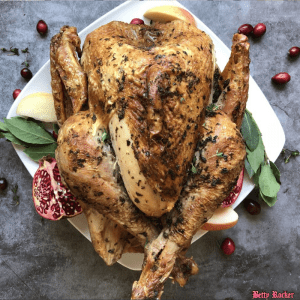 Yield: 8-10 servings
You will need: roasting pan, blender or food processor, measuring spoons, baking sheet, kitchen twine, meat thermometer, serving platter
KEY: T=Tablespoon; tsp=teaspoon
1 10-12 lb turkey, thawed if frozen

8 T unsalted butter (you can also use coconut oil which tastes awesome)
Grated zest of 1 lemon
2 handfuls of fresh flat-leaf parsley
2 handfuls of fresh thyme leaves
2 handfuls of fresh sage leaves
3 tsp coarse salt, plus more for seasoning
2 tsp freshly ground pepper, plus more for seasoning
2 lemons, cut into halves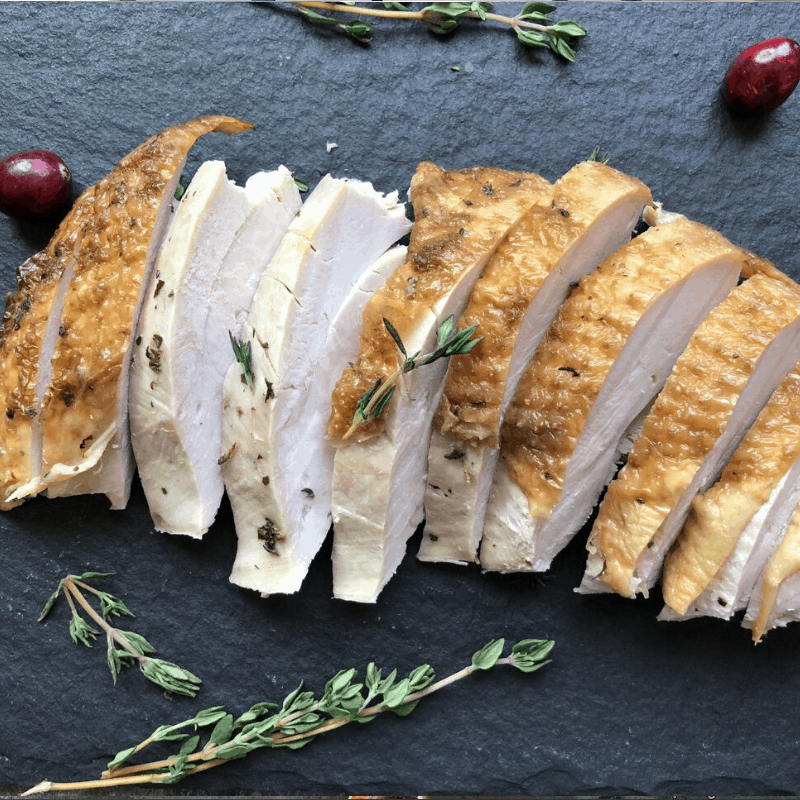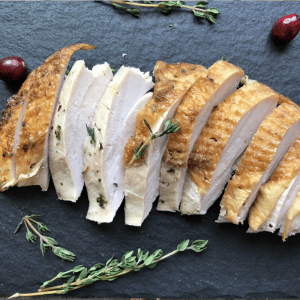 Instructions: 
If you are using a frozen turkey, remove the turkey from the freezer a few days before your holiday meal and let it thaw out in the refrigerator.

When you're ready to roast the bird, remove the turkey from the refrigerator, remove the giblets from inside, rinse turkey with cool water, and pat dry with paper towels. Let it rest on a baking sheet for 2 hours until it comes to room temperature.

Preheat oven to 450 F, with rack on lowest level.

In a food processor, combine the butter, lemon zest, 1 handful of parsley, 1 handful of thyme and 1 handful of sage leaves and pulse for 1-2 minutes until everything is evenly incorporated.

Add 1 tsp of salt and 1/2 tsp of pepper and pulse for a few seconds more.

Remove the mixture from the food processor and set aside.

Once the turkey is at room temp, place it in a large roasting pan, breast side up on a metal rack.

Using your hands, smear the seasoned butter mixture all over the turkey. Season with salt and pepper and use your hands to pat everything down onto the skin.

Fill the inside of the bird with the remaining handfuls of herbs and the halved lemons.

Tie the legs together with a bit of kitchen twine and place the bird into the oven

Roast for 30 minutes at 450F.

After 30 minutes, reduce the oven temperature to 350, and continue to cook for about 2 more hours, basting turkey with drippings from the bottom and rotating the pan every 30-45 minutes.

After 2.5 hours of cooking time, use a meat thermometer and check the thickest part of the turkey so make sure the internal temperature is 175 F. The turkey should be golden brown at this point.

If the turkey is not done, continue to cook it until the thermometer registers at 175 F.

If the turkey is done but isn't quite golden brown yet, turn the heat up to 450 for 15 minutes to crisp up the skin.
---
Pumpkin Pie Tartlets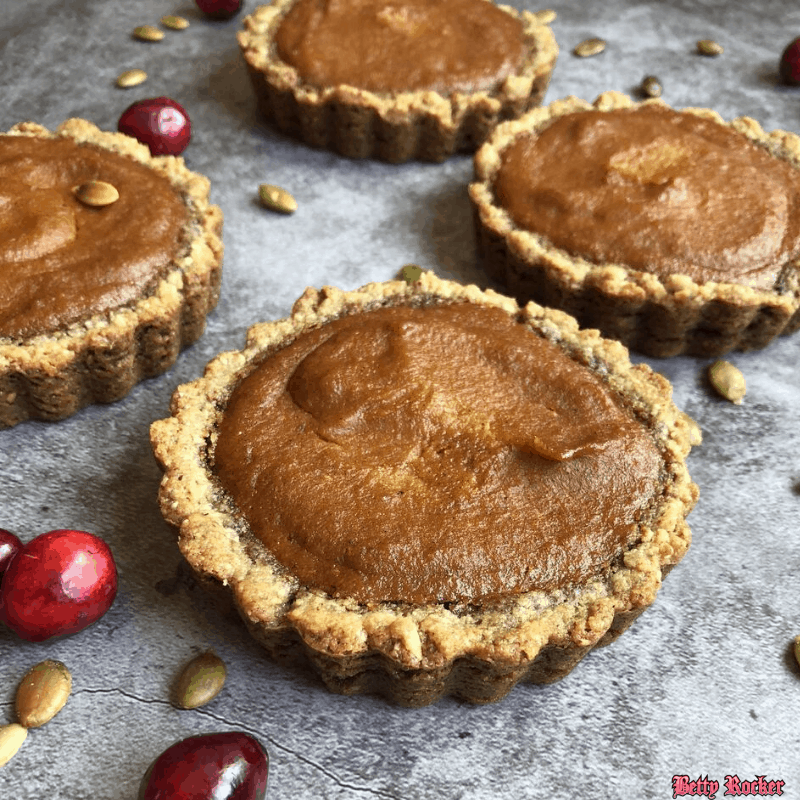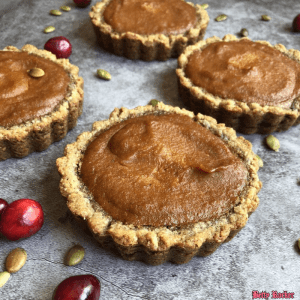 (GF, DF, WF, V) 
Yield: 12 mini pies/servings
You will need: food processor, measuring cups and spoons, muffin tin, can opener, mixing bowl, whisk
Note: the cashews for the filling should be soaked for 3 hours, so pre-plan for that before making this recipe.
KEY: T=Tablespoon; tsp=teaspoon
Nut Crust
Pie Filling
2 1/4 cups pumpkin puree (1 15 oz can)
1 cup cashews, soaked for about 3 hours, then drained and rinsed
1/2 cup maple syrup
2 T tapioca flour
2 T almond milk
2 tsp vanilla extract
2 ½ tsp pumpkin pie spice
Coconut Whipped Cream
1 can coconut milk, refrigerated for at least 4 hours (or freeze it for an hour or so!)
1-2 T honey
1/4 tsp nutmeg
Instructions: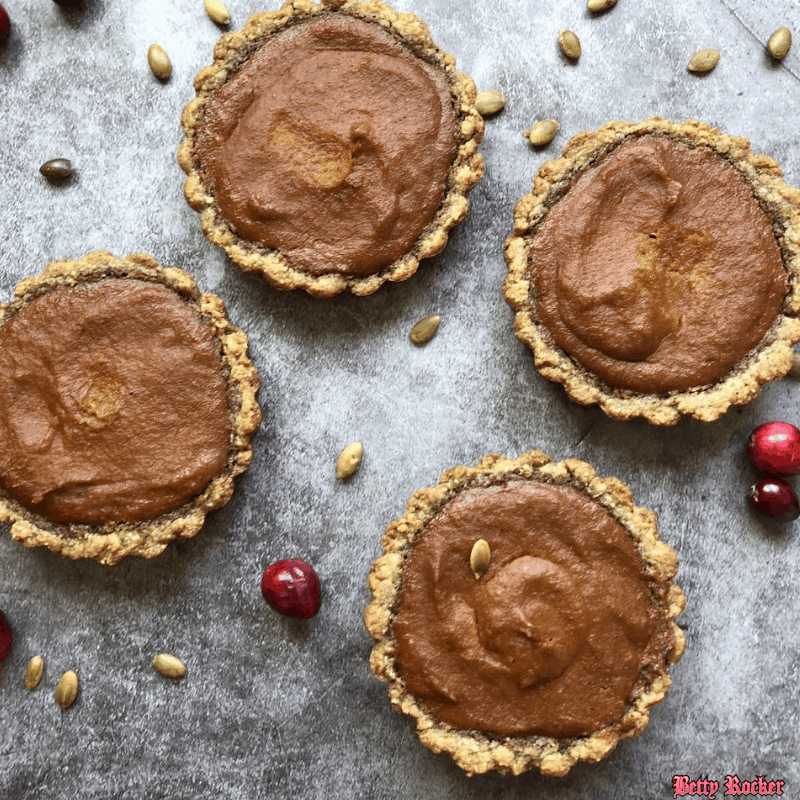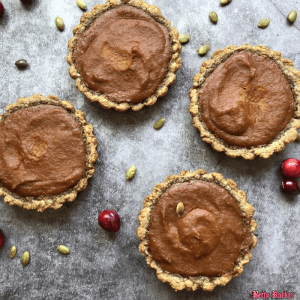 Preheat oven to 350.
To make the crust, place the pecans, walnuts, baking soda, and salt in your food processor and pulse and chop to a fine, even consistency. Scrape down as needed.
Measure your maple syrup, and turn the food processor back on as you drizzle the liquid into the nut mixture. Add just enough for it to stick together to form a dough. 1-2 T is usually sufficient.
Remove from the mixer and divide evenly between the 12 muffin tins. Press into each muffin tin so it goes up the sides slightly.
Bake for 10 minutes, then remove to cool slightly while you make the filling.
Pie Filling
Blend the cashews in the food processor until semi-smooth.
Add in pumpkin, maple syrup, tapioca starch, molasses, almond milk, and vanilla and blend well.
Add in the spices and blend again. Scoop by the 1/4 cup into the muffin tin.
Bake for 30 minutes, check with a cake tester, and bake for an extra 5-7 minutes if necessary.
Let them cool slightly and then remove from the tins to cool on a cooling rack.
Coconut Whipped Cream
Take the coconut milk out of the fridge and open the can.
Scoop the thick cream off of the top and place it into a bowl. Be careful not to get the liquid at the bottom.
Whisk the cream and then add in the honey and nutmeg. Stir well.
Top the cooled pumpkin pie tartlets with the coconut cream.
---
This time of year, if you start to get overwhelmed just come back to your 4 Pillars of Health (Sleep, Nutrition, Stress Management and Exercise) and check in with yourself in each area. So often just getting one of your pillars dialed back in will bring you back to your best self.
This menu has your nutrition leg covered but be sure to spend time on the other three as well, showing your body some love and appreciation. Nurture yourself with positive self-talk, staying grateful, and of course getting in a great sweat sesh.
Enjoy, Rockstar! I am so grateful for you!
---
Want even more recipes?
Be sure to check out my Thanksgiving Recipe Round-Up for more tasty Turkey Day ideas, and leave me a comment to let me know what YOU'RE cooking!
---
Looking for a 30-Day Challenge to finish the year STRONG?